This recipe for honey glazed carrots is a sweet, healthy, and cheap 15-minute side dish that your kids will love, too!
This recipe originally appeared on Catz in October of 2013. We've re-made it and re-photographed it and it is ready to serve as your easy, healthy side dish this fall! This is one of those rare, 15-minute, two-ingredient side dishes that goes with a ton of different autumn dinners. Carrots and honey – who knew?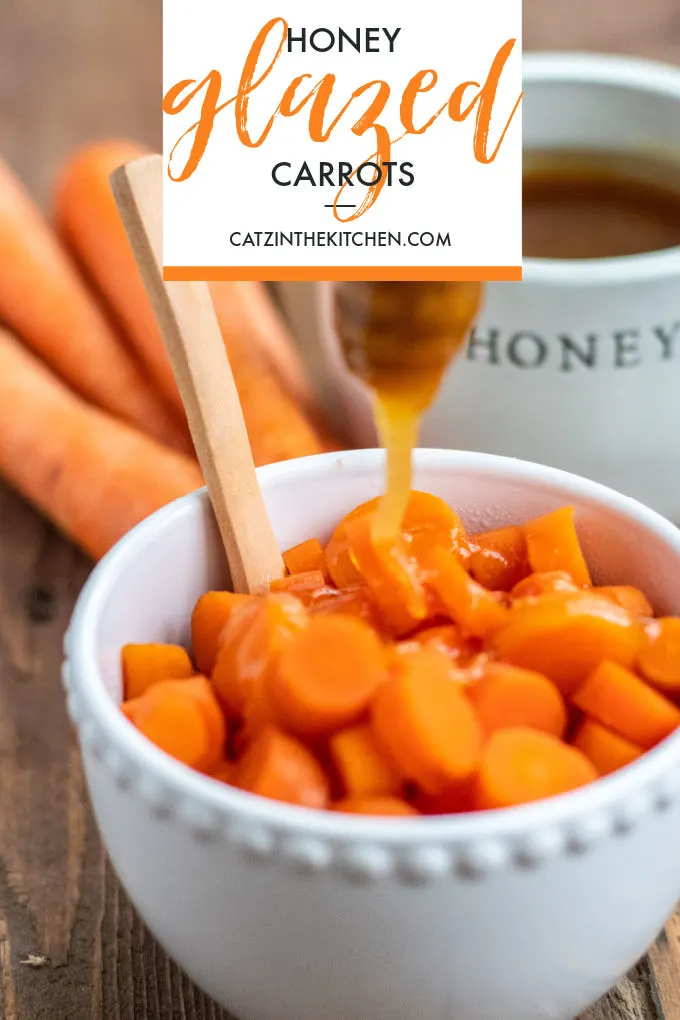 One of the most common problems in dinner planning is what cook on the side to accompany the main course. Here's the problem: A lot of times, you're cooking the main entree, and that can either be a little time consuming or prep-intensive and it doesn't leave you a lot of time to fix something on the side, other than maybe a salad…which is great. I serve a simple garden salad a lot! But salad can be boring if you've had it too often recently…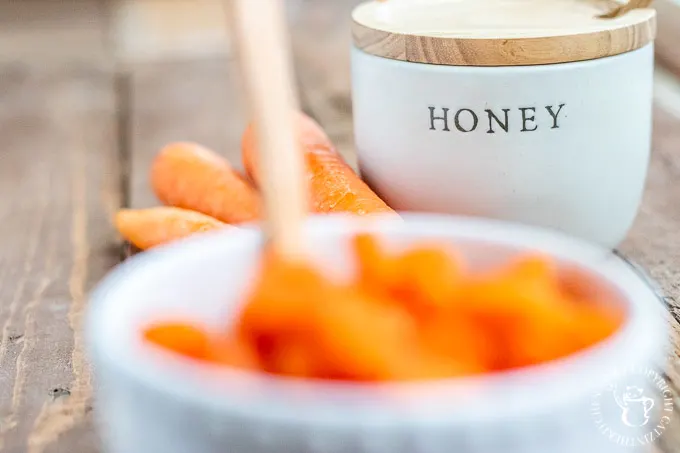 I'm all for cheap and easy side dishes. I'm not sure if you've noticed (I mean, my wallet certainly has!), but prices in the grocery store are only going up. It seems like each week I'm fighting to find the best deals for coupons and plan meals that will keep some of that money in my pocket.
If you're looking for a side dish that is colorful, cheap, sweet, and tasty, then I've got you covered. All you need are some carrots and some honey. Carrots! Such a perfect side to many dinners. At our market they are only about $0.49 a pound! Which means the grocery store is practically begging for me to take those carrots off their hands. And I ALWAYS have carrots on hand. Grace's pet bunny Ashley loves carrots (who knew?), so I keep one bag in the crisper for Ashley and another bag in the crisper for us.
All you need to do is peel that icky first layer of skin off the carrot and slice it into little rounds. For our family I use one carrot per person.
Place the slices in a small pot and cover them with water, then boil for 5-10 minutes, drain, and drizzle a little honey over them. Toss and serve!
It is so so easy and so good! It's a great way to add additional nutrition to my kids' diet and give them that extra helping of vegetables that they may not be getting otherwise.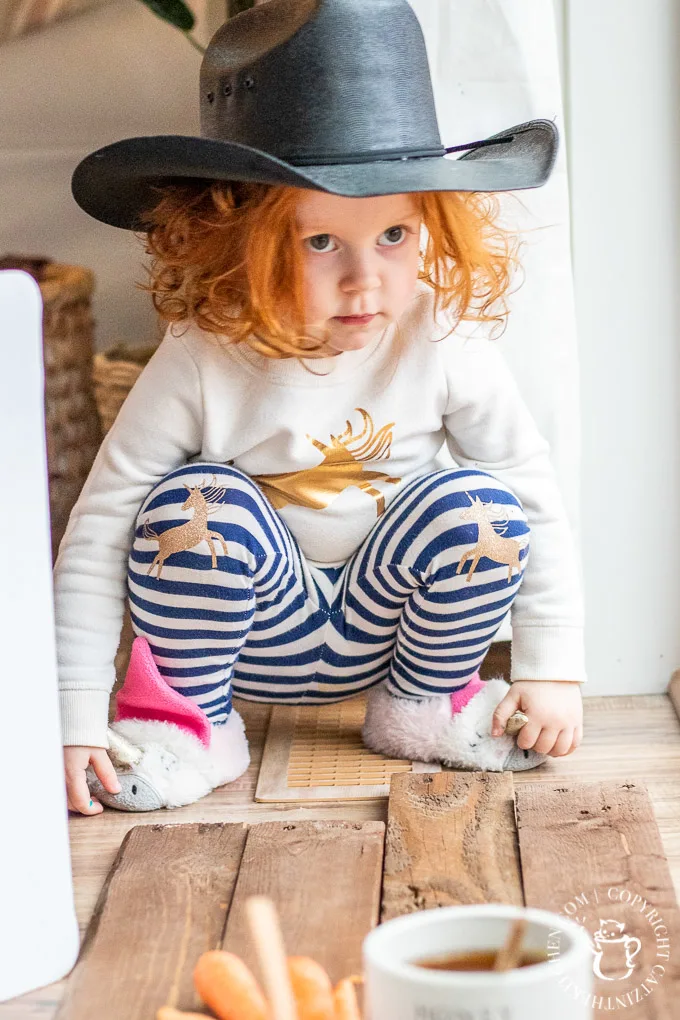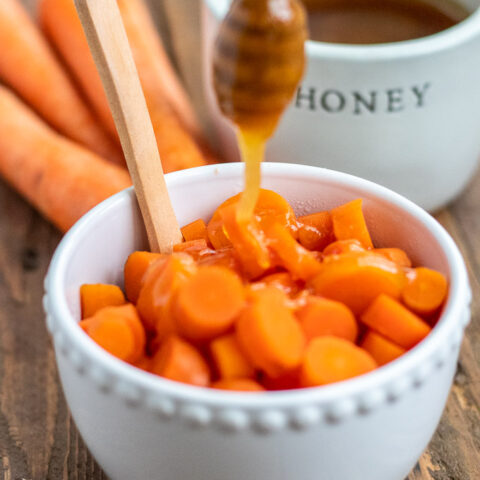 Honey Glazed Carrots
This recipe for honey glazed carrots is a sweet, healthy, and cheap 15-minute side dish that your kids will love, too!
Ingredients
4-5 medium carrot stalks, peeled and sliced into 1/2 inch thickness
1 tbsp honey
Instructions
Peel and slice carrots and throw into the bottom of a small pot. Pour water over the carrots, filling the pot about half-way.
Boil for 5-10 minutes, until they are fork tender, but not mushy. Drain.
Pour carrots back into pot or serving bowl and toss with honey. Serve immediately.
Nutrition Information:
Yield:

4
Serving Size:

1
Amount Per Serving:
Calories:

36
Total Fat:

0g
Saturated Fat:

0g
Trans Fat:

0g
Unsaturated Fat:

0g
Cholesterol:

0mg
Sodium:

34mg
Carbohydrates:

9g
Fiber:

2g
Sugar:

6g
Protein:

0g
Nutrition information isn't always accurate.