This pumpkin spice coffee cake with brown sugar glaze is light enough for a breakfast treat or indulgent enough for dessert!
This recipe was originally published back in September of 2014. It's been re-made, re-photographed (see complaints about lighting six years ago!), and it's ready to be enjoyed again this autumn season!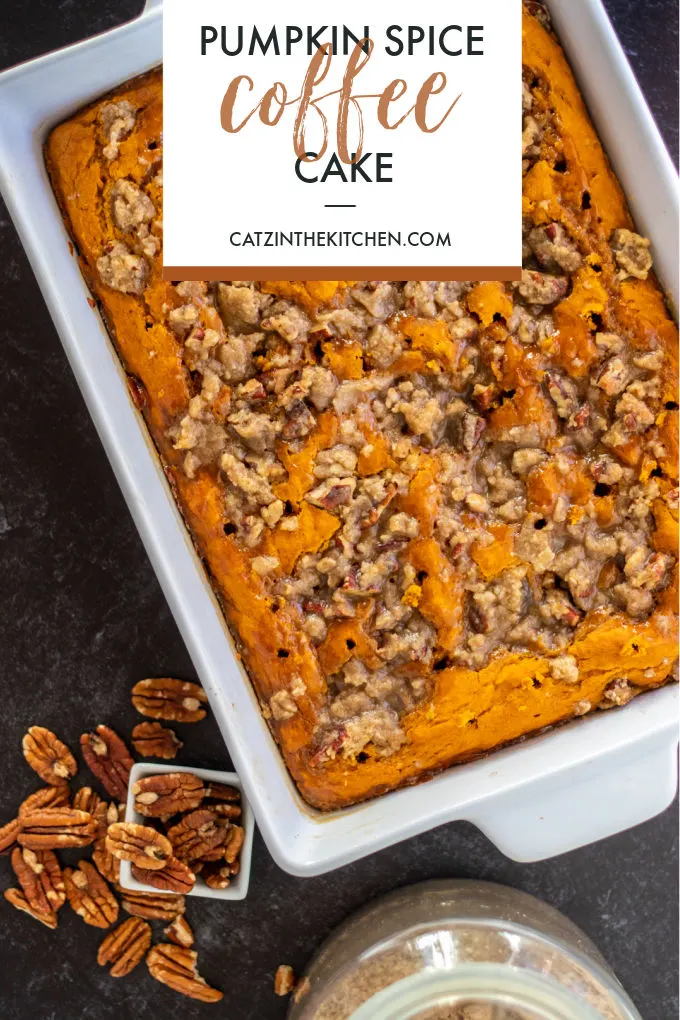 There are several glimpses here and there that tell me fall is fast approaching, but if I wasn't convinced by the leaves slowly changing color and dropping to the ground, or the cooler weather in the mornings and evenings, then it would be the sun setting sooner that did me in. You know how I know that fall is only two and a half weeks away? I know because I was trying to shoot our dinner the other night and the lighting was TERRIBLE!
#foodbloggerproblems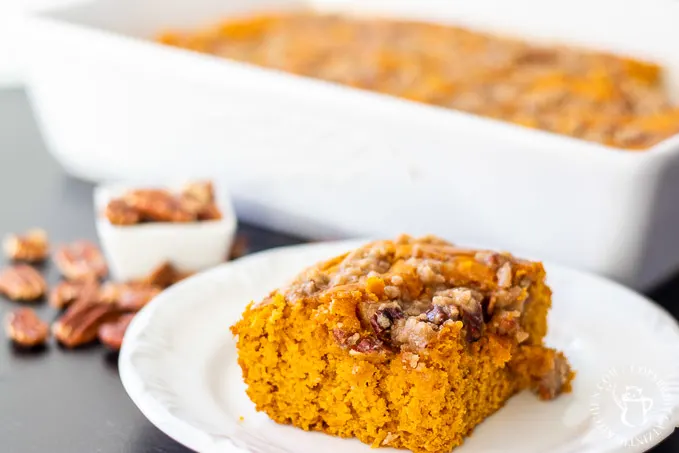 The natural light is such a blessing during the late spring and summer because here in the Pacific Northwest, it gets dark fast, whether it be gray skies, rainy days, or just the sun setting sooner. You have to act fast to get decent pictures in this area of the country, and I was quickly reminded of that the other night. Well, I've learned my lesson. I guess it's time to start making dinner earlier in the evening or buying the lighting equipment I've had my eye on for over a year now.
But seeing as fall is only like 19 days or so away, I am relishing every other bit that this beautiful season has to offer. Except the sun setting. We just won't discuss that anymore. September is here and I've been drooling over pumpkin recipes for a month, but seeing as how my husband goes into mourning with the death of summer, I've held off with the pumpkin recipes for his sake.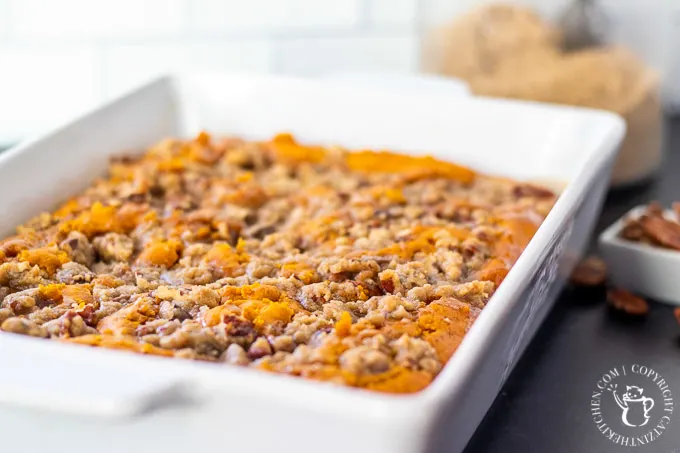 I'm sweet like that.
In fact, I've even promised to hold off on the autumn decorating until the first day of fall. Can you believe that? Last year, I decorated the first or second day of September. But here I am, waiting for the official start of fall.
I can wait to decorate. But the pumpkin flavored everything is on like Donkey Kong! I'm no longer holding myself back, and thank goodness, because this coffee cake is aaamazing! Seriously, you might just die with a bite of this beauty.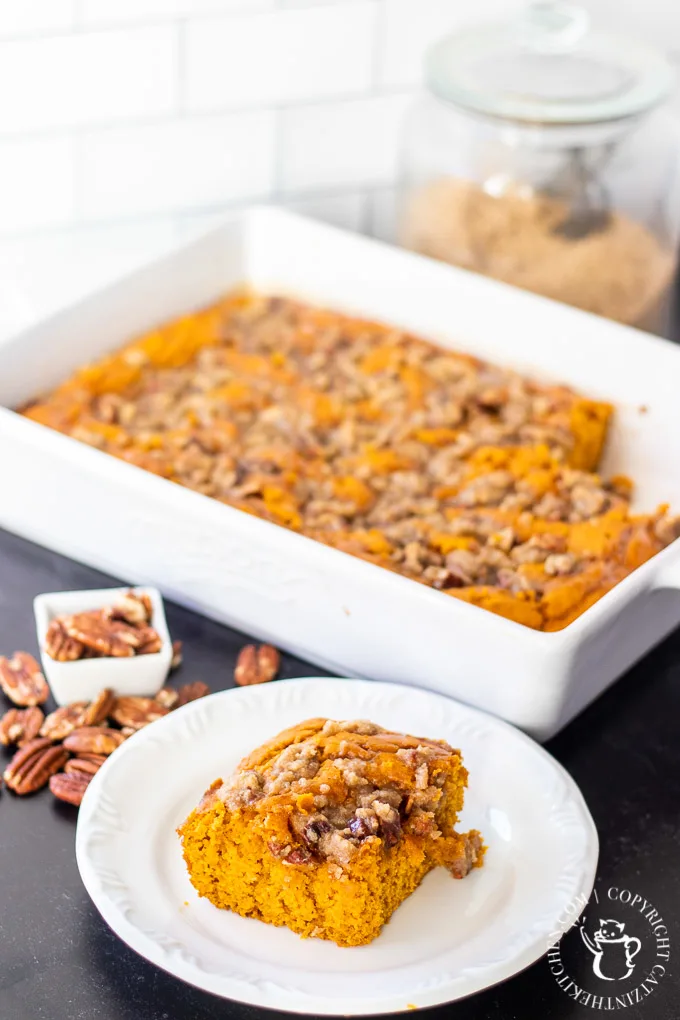 Confession – Josh ate three slices in one day. Sssshhh, don't tell him I just revealed that little tidbit on the internet. If it helps win him over and helps him embrace the upcoming season, then I say he can have the whole baking dish!
But then he would go on a diet for the rest of the season, lol!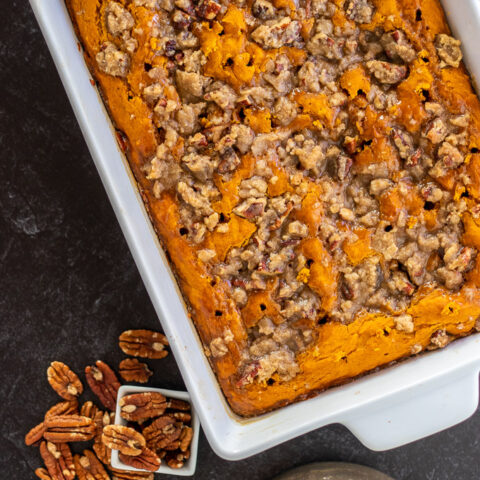 Pumpkin Spice Coffee Cake with Brown Sugar Glaze
This pumpkin spice coffee cake with brown sugar glaze is light enough for a breakfast treat or indulgent enough for dessert!
Ingredients
1/3 cup water
1 can (15 oz) pureed pumpkin
2 whole eggs
1 tbsp vanilla extract
2 tsp pumpkin pie spice
1 box (18 oz) yellow cake mix
1 tsp baking soda
1 cup brown sugar, divided
1/2 cup flour
1/3 cup chopped pecans, toasted
4 tbsp butter, melted
1/4 cup sugar
1 tsp vanilla extract
1/4 cup heavy whipping cream
Instructions
Pre-heat oven to 350 degrees.
In a large bowl with your stand mixer, using the whisk attachment, mix together the water, pumpkin, eggs, 1 TB vanilla, and pumpkin pie spice until well combined. Add the cake mix and baking soda and mix until just combined. (I find using the whisk attachment helps separate the clumps in the cake mix.)
Grease a 9x13 baking dish with butter and pour batter into pan.
In a small bowl, mix together 1/2 cup brown sugar, 1/2 cup flour, toasted pecans, and melted butter. Use fingers to sprinkle over the top of the cake. Bake at 350 degrees for 25-30 minutes or until a toothpick inserted in the middle comes out clean.
For the glaze, combine the other 1/2 cup brown sugar, sugar, 1 tsp vanilla extract, and heavy cream in a saucepan and bring to a simmer. Remove from heat and stir until all the sugar is dissolved.
When cake is finished baking, poke holes with a toothpick. Pour glaze over the top of the cake, making sure to cover all the surfaces. Serve cake warm or at room temperature.
Nutrition Information:
Yield:

12
Serving Size:

1
Amount Per Serving:
Calories:

349
Total Fat:

10g
Saturated Fat:

5g
Trans Fat:

0g
Unsaturated Fat:

4g
Cholesterol:

47mg
Sodium:

472mg
Carbohydrates:

61g
Fiber:

1g
Sugar:

39g
Protein:

4g
Nutrition information isn't always accurate.