This recipe for crispy baked parmesan rosemary chicken thighs finishes off with a sweet and tangy homemade honey mustard sauce!
This post originally went up on the blog back in October of 2014. Since then, Chels has reworked the recipe and we've rephotographed it, as well as updating the separate recipe for the honey mustard sauce that goes along with it! Apparently Chels was recovering from a surgical procedure when she originally wrote this post, which seems like a long time ago indeed, but also serves to illustrate how easy this dinner is to whip up!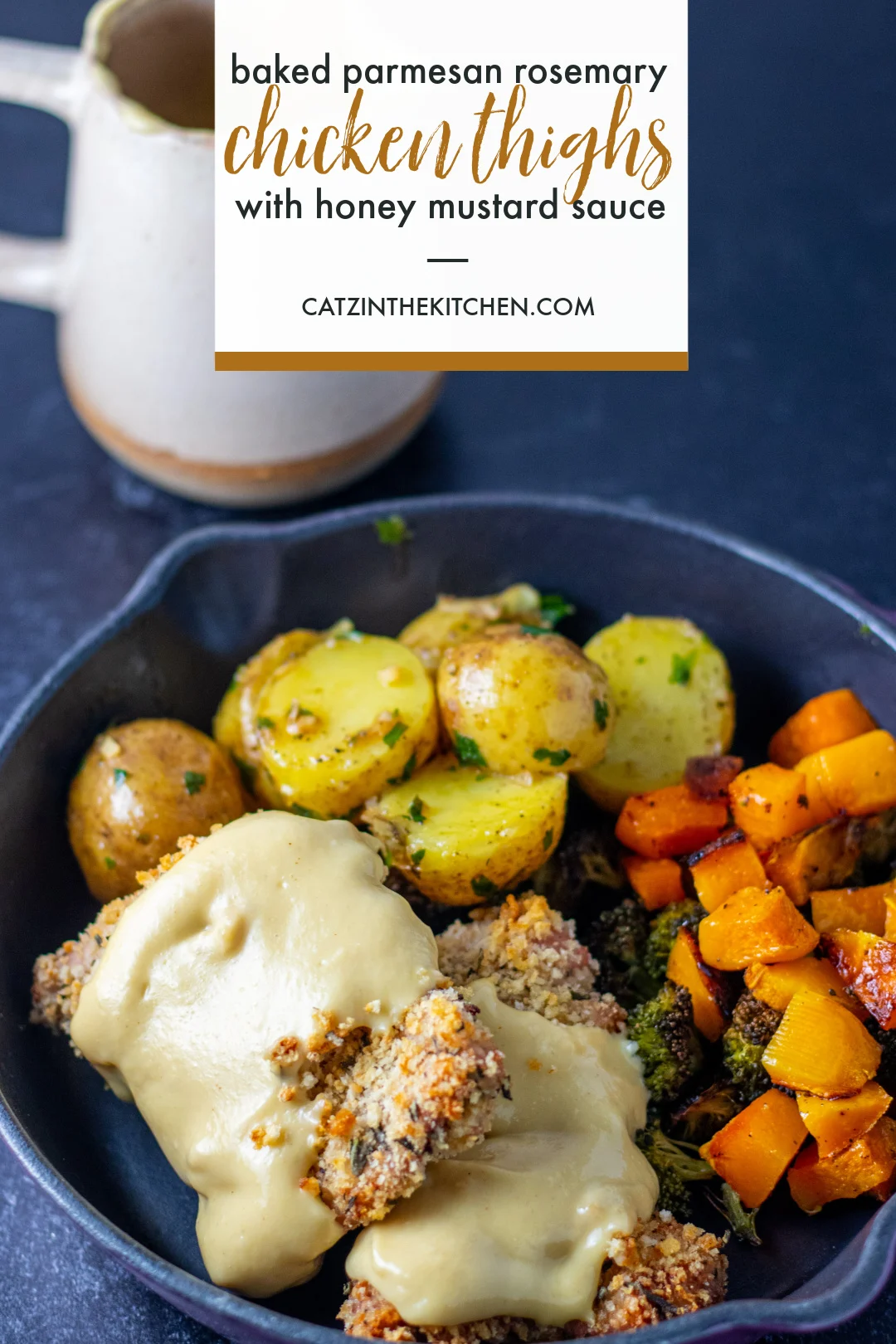 In case you missed it, I had surgery on Tuesday. Not a big surgery. I was home by the early evening day of, but I guess I had other ideas about my recovery. For one thing, I didn't think my face would hurt so much. Also, I never took into account how my body would feel after an IV and anesthesia were injected into me.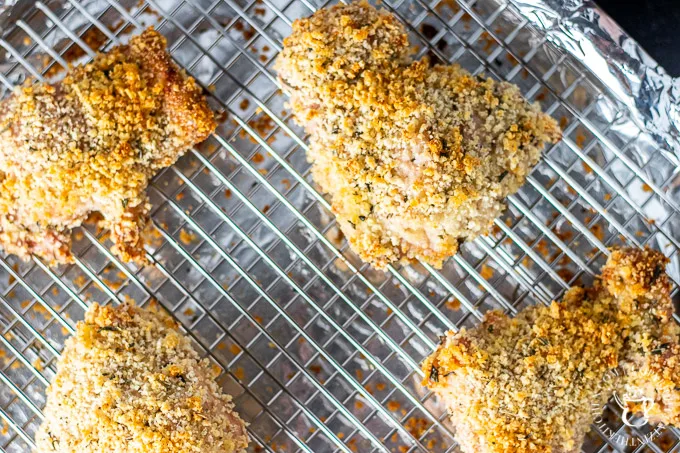 I also never took into account how I would feel after having low-blood sugar from not eating. Or how the pain meds I was put on would make me feel like I'm losing my mind. Seriously, I never get the jitters from coffee, but pain meds, I'm one big jittery, muddled, confused, can't focus, can hardly text mess. It's been fun.
I can't say the first day I was home I was making things easy on Josh. I didn't want to stay in bed. I wanted to get out and do things. I didn't want to sleep. Basically, I was in denial that I had surgery. I had blocked it out.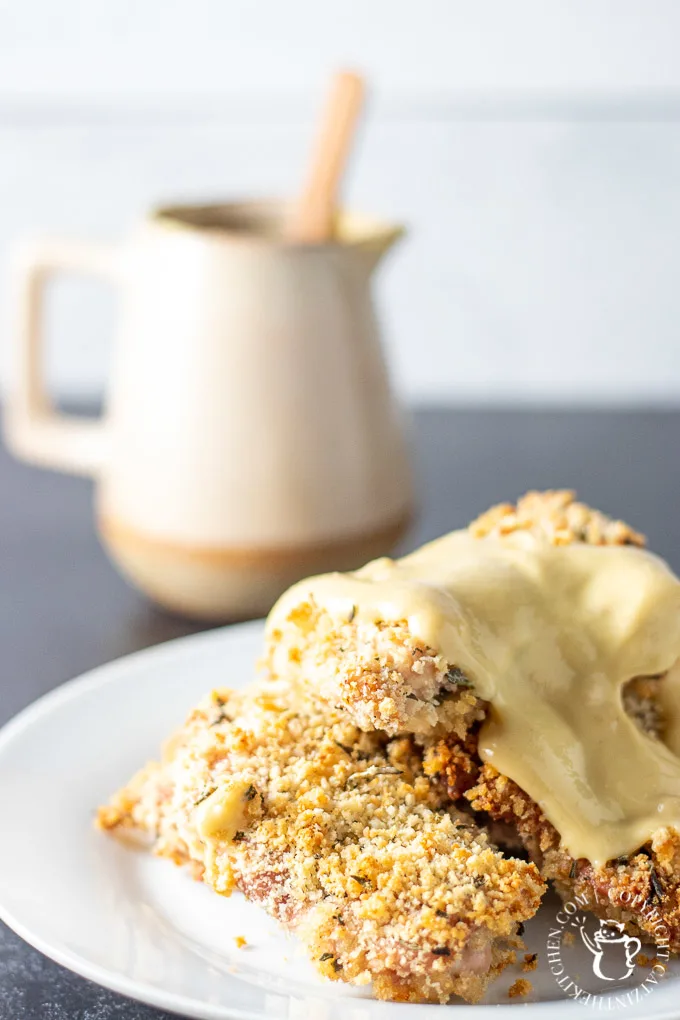 Yesterday, (Thursday) was the worst day yet! Oh my gosh – the pain. The nausea. My doctor called to check up on me and I don't even know what we talked about because I can't even remember the conversation. I really can't. I finally decided to get away from the Vicodin, and that was also a bad choice because then hours later after not being able to keep any food down, my mouth was throbbing. Now, Josh has me taking a mixture of Ibuprofen and Tylenol to help with the pain and it's better. I can think better. I'm still on the jittery side, but it kicks in faster and I don't feel so muddled. Thank goodness.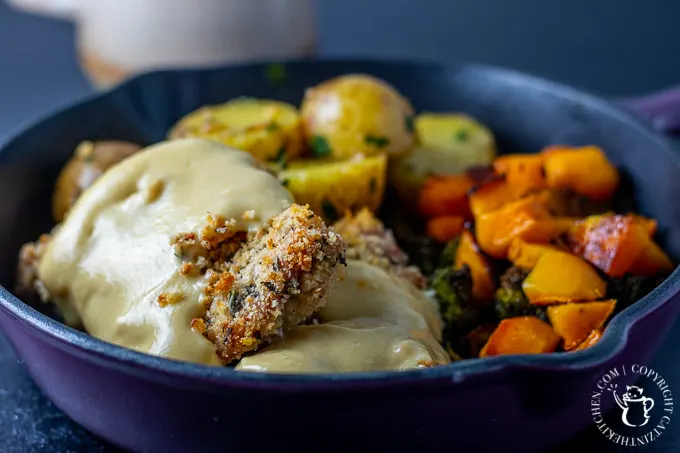 Enough about me, let's talk about food. I love food! I love this dish! It is the easiest thing to throw together. I'm all about keeping that crispy topping which is why it is super important place the chicken on a cooling rack over a baking sheet. What this process does is ensure that the air is circulating around the chicken and letting the chicken keep that crispy coat. If you were to just place the chicken with the breading on a baking sheet, one side would be toasty and the other side would be mush. Ick!
I'm a big fan of honey mustard sauce and that sauce pairs beautifully with this chicken. We kind of like to drizzle the sauce over the chicken, but you could also just throw a dollop of the sauce on the side and dunk your chicken into that.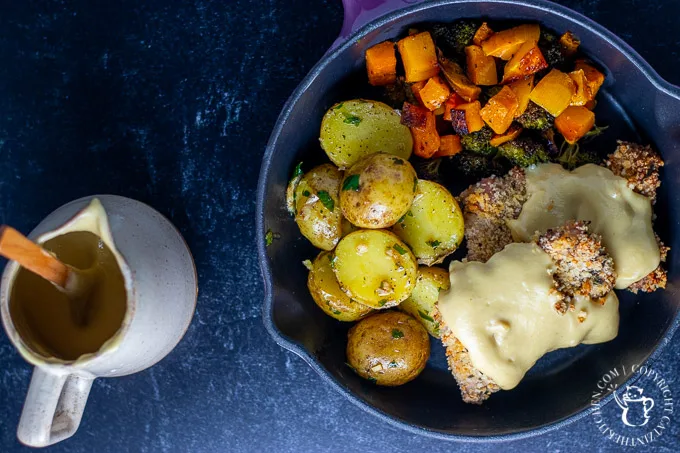 I wish recovering from surgery was as easy as this dinner, because then I would be in a good place!
Happy Cooking!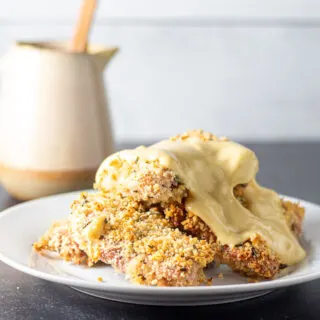 Baked Parmesan Rosemary Chicken Thighs with Honey Mustard Sauce
This recipe for crispy baked parmesan rosemary chicken thighs finishes off with a sweet and tangy homemade honey mustard sauce!
Ingredients
8 boneless, skinless chicken thighs
1 1/2 cup Panko bread crumbs
1/4 cup parmesan cheese
1/2 tsp Kosher salt
1/2 tsp ground black pepper
2 tbsp fresh rosemary, chopped
3 egg whites
Instructions
Preheat oven to 400 degrees. Spray a cooling rack with nonstick spray and lay the rack over a baking sheet. Set aside.
In a shallow bowl (I like to use a pie plate), combine panko, parmesan, salt and pepper, and fresh rosemary. In another shallow bowl, whisk in separated egg whites.
Pat the chicken dry with a paper towel and place chicken in egg white, dipping on both sides and then dredge the chicken in the panko mixture, tapping off any excess.
Line the chicken on wire pan and repeat the dipping/dredging process until the cooling rack is filled with chicken. Bake for 25-30 minutes, until done about 165 degrees on the inside when tested with a food thermometer. While the chicken is cooking prepare the honey mustard sauce for dipping. Serve chicken immediatlely.
Serve chicken with Honey Mustard Sauce
Nutrition Information:
Yield:

4
Serving Size:

1
Amount Per Serving:
Calories:

568
Total Fat:

21g
Saturated Fat:

7g
Trans Fat:

0g
Unsaturated Fat:

14g
Cholesterol:

279mg
Sodium:

1004mg
Carbohydrates:

31g
Fiber:

2g
Sugar:

3g
Protein:

64g
Nutrition information isn't always accurate.