I feel bad that I didn't do this last week. Josh had a few days off and whenever that happens my time is absorbed in him and my family and everything else takes the back burner. And then since I was so behind on housework and stuff…it just never happened. But…here it is this week.
I probably have the most fun with this than I do with anything else. I just get really excited when a recipe calls for the zest of (insert food here). It's my Micro-Plane Zester! Even the word Zester…is just fun to say…ZESTER!!! I first came across the zester on where else…but the Rachael Ray show. I saw her using it and I thought…wow- that's cool and I have to have it. And within a few months, I finally picked one up at Bed, Bath, and Beyond. I think it only cost like $13.99. So yeah, it was expensive…but it has paid for itself many times.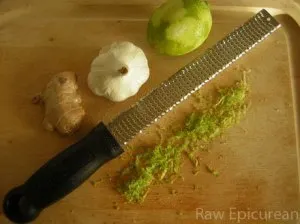 You can literally zest anything with it. I use it for grating garlic and fruits like lemons or limes. And like in the picture you could even do ginger root. Onions are incredibly easy to grate and you don't tear up at all. I feel like flavors are really enhanced when you include the zest into your food. Of course my favorite thing to zest is Garlic. I'm obsessed with garlicky foods and I love the way my hands smell after touching garlic that's been squeezed out of it's wrapper. Anyways, this is my kitchen item of the week. It's a small fortune to buy it, but worth every penny!