I think I've mentioned before that I am a potato girl. I love Potatoes…always have. I think I inherited that from my dad (step-dad)…he is the same way. I also love French Fries…but I hate ordering them from fast food places (except BurgerVille) because I know they are not the most healthy thing. The deep fryer is a horrible way to cook things…except that everything always tastes so good after being cooked in a deep fryer. But since I love Fries…I wanted to learn how to make my own.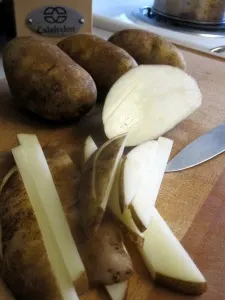 The whole French fry thing was a graduated process for me. I had to really learn which seasonings I liked with them first, because I wasn't just going to salt them to death. So I tried different seasonings with frozen french fries…Ugh…now that I make fries pretty well now, I hate to admit that I bought that frozen stuff. But I did. But let me just tell you what I do now.
Obviously, you need to wash the potatoes. So do that. I use normal baking potatoes but eventually someday, I would like to make sweet potato fries. It just sounds good to me. So give the potatoes a good scrub…if your lucky like me…you may have one of those potato scrubby things with the bristles, they are wonderful. Then I pat them down to wipe off the extra water….I hate cutting slippery wet potatoes…your going to lose a finger that way. As a rule of thumb…( no pun intended) I use a potato per person…and I count little Eden because she loves my fries. but if you feel once you've got your fries all sprawled out on your cookie sheet and it doesn't look like there will be enough…by all means…cut more. I cut the potatoes in half length wise and then again down the half of one of those sides and I just start cutting them like your cutting french fries. If some of the potatoes are really long or big… shorten them a little bit…( I leave the skin on btw, because I love the flavor) or cut them anyway you want…they are your fries after all, and no one is going to judge you!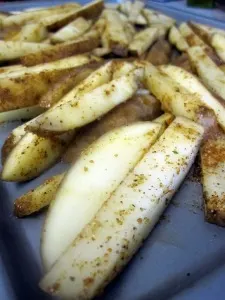 Once you have all your fries cut into their fry strips…it's time to season. I generally start with some garlic powder ( I don't measure any of this) I just shake the containers until I'm happy with where the seasonings fall over the fries. Then I add some grill seasoning…I love the smoky flavor of it. And then I continue to do the same with Paprika and Pepper. I leave the salt for last…because I'm not big on the salt. But just scatter enough to your preferred liking. Once all the fries are seasoned…drizzle some EVOO on all over. Once the evoo is on, your going to get your hands dirty. So take off those rings and dig in. Mix with your hands all of the fries around so that all of the seasonings have been coated to all the fries.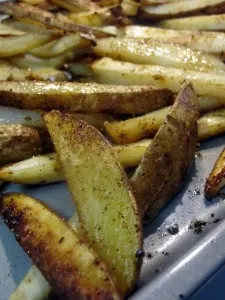 Once all this is done…all you need to do is pop them into the oven. I throw mine in on 450 for 20+ minutes. 20 minutes is the least amount of time…but depending on how many fries you have cooked up…they may need to go longer. If you want, you can open the oven at the half way mark and take a spatula and toss the fries around…the fries most likely will stick a little but doing that will prevent it a bit. My homemade fries go perfectly with a Burger and Hotdogs or any other food that fries go nicely with. Just make sure you don't make the mistake that I almost always make. I always forget that potatoes seem to be one of the longest cooking vegetables ever. So start them first. Get that oven pre-heated and throw those fries in the oven as soon as you can. That way…there is no waiting when the rest of the food is done. A fork should be able to poke through the fries with ease…and when that happens your good to go. I hope you enjoy them. They are very, very tasty!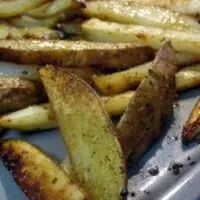 Homemade French Fries
The deep fryer is a horrible way to cook things…except that everything always tastes so good after being cooked in a deep fryer. But since I love Fries…I wanted to learn how to make my own.
Ingredients
4 baking potatoes, cut into French fry strips
Garlic Powder
Pepper
Grill Seasoning
Paprika
Salt
Extra Virgin Olive Oil
Instructions
Preheat oven to 450, and get out a large cookie sheet. Wash and cut potatoes into French fry strips. Once all potatoes are cut, spread them out on cookie sheet and start seasoning with all the spices listed above, to your taste.
Drizzle evoo on top and mix to coat evenly.
Bake for 20 minutes. Add additional baking time as needed to achieve preferred tenderness.
Notes
The number of fries you get from this recipe will depend on how you cut your potatoes, how large your potatoes are, etc, so the nutrition information and yields here are general estimates.
Nutrition Information:
Yield:

5
Serving Size:

10 fries
Amount Per Serving:
Calories:

236
Total Fat:

6g
Saturated Fat:

1g
Trans Fat:

0g
Unsaturated Fat:

5g
Cholesterol:

0mg
Sodium:

262mg
Carbohydrates:

40g
Fiber:

4g
Sugar:

2g
Protein:

5g
Nutrition information isn't always accurate.