It's been such a long long time, since I've posted a Kitchen Item of the Week. But here it is, at long last. :)
Let me ask you a question. How do you store your potatoes?
Potatoes, take up a lot of space and like to be kept in cool dark places. They're a pretty needy little vegetable.
When I was a little girl, my grandma bought my mom a potato bin. I thought it was the coolest thing I had ever seen when I was little and my mom has been using it for like 16 years. But as I got older, I made no secret to her, letting her know how much I wanted it someday. I even went as far as trying to coax my dad into making one for me.
But, my mom finally broke down and gave it to me. I think she was tired of me asking for it and it was taking up space in her pantry hallway, so over to my house it came.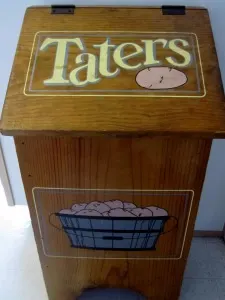 I remember, I stayed home from church the day Josh brought it home for me from my mom's house. He walked in the door carrying the bin…and said something like," Um, your mom told me to give you this…what is it, why does it say Taters, and your not really going to keep this in the kitchen are you?" LOL!
I do admit, though I thought this was really cute when I was younger, it is kind of hokey looking now, but I love it's purpose. To store my potatoes.
I would like to repaint this and make it a more modern potato bin so it could match the rest of our home decor. And the word Taters on it, now reminds me of that scene in Lord of the Rings when Sam is telling Gollum what a tater is "PO-TA-TOE" and that even Gollum couldn't turn his nose up at it, heehee.
Hopefully, once we've moved and got settled in and Spring decides to show it's pretty shining face I can turn this into a potato bin that goes with everything else :)