Happy Holidays, everyone! I don't know how often I will actually have the opportunity to post on CatzintheKitchen this holiday season, but I wanted to get this tip out to you. In this season of leftover ham (you did realize this was that season, right?), it is vital to know how to handle such overwhelming quantities of pork and pork-based substances. In typical Catz fashion, have we got a solution for you!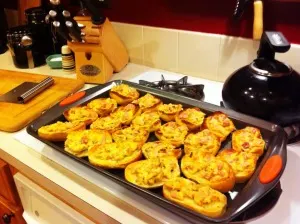 This idea is not my own, I must admit – to the best of my knowledge, it is my mother's. Around the holidays, when we had extra ham lying around (to be clear, it was normally lying around in the fridge or the freezer, not like the backs of the sofas or anything), she would fix up these marvelous treats with the bags of rolls from Costco. You know the ones – they make you feel like the Santa Claus of starch when you throw them over your shoulder – big, plastic bags full of thousands (okay, maybe 30 or 40) of little dinner rolls? We were lucky if they made it home with us – super tasty! Those rolls are absolutely perfect for this easy meal tip, but you can certainly use others if you like.
It's simple. Take your leftover ham (cooked, of course) and dice it up into little squares. These squares should be quite tiny – not more than a quarter inch or so in length or width. Throw them in a bowl (the measurements are totally abstract – maybe a cup of ham for every ten or fifteen rolls?) and add a couple tablespoons each of mustard and mayonnaise. Now, this is very much by feel – you want the ham to be a bit beyond coated, so make sure every piece is covered, and then that there is still some extra forming a "sauce," as it were. Take the entire mixture and spoon it out over the rolls, which should be cut in half. The mixture should be applied to the cut side of each half roll, while the crust side of the roll should be against a baking pan – you can probably fit 20+ of these little guys on your average 10″ x 13″ baking pan.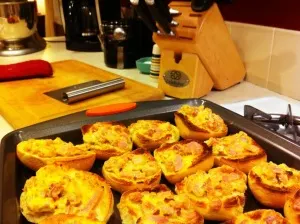 When you have them all ready to go, flip on your broiler and slide that baking pan in the oven. Keep a very close eye on the rolls – when their edges are turning brown, you're done. This should be around three or four minutes of cooking time. Get this – you're done. That's it. This is actually a full meal, believe it or not. A serving size is between four and five of these, so with a cup of diced ham, a few tablespoons of common condiments and ten to twelve dinner rolls sliced in half, you have a full meal four. See why we like it?
"Ham Rolls"
ten to twelve dinner rolls
one to two cups of diced cooked ham
two to three tablespoons of mayonnaise
two to three tablespoons of mustard
Slice dinner rolls in half. In a medium bowl, mix ham, mustard and mayonnaise. Spread ham mixture on top of sliced rolls. Broil rolls on baking pan for three to four minutes, or until brown around the edges. Serve immediately. Serves four to five.