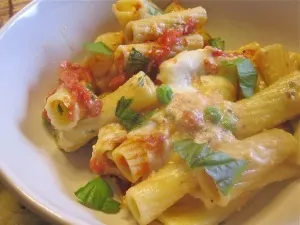 I enjoyed watching the Rachael Ray Show episode with Giada where she cooked her homemade marinara sauce so much, that I had to make another recipe from the show, this time by Rachael herself. Rachael was modernizing a pasta recipe that her mom's family used to make and it looked so good, I was drooling the entire time. How can you go wrong with browned mozzarella, a tomato/white cheese sauce, and fresh basil? You can't!
This dish was devoured by my family. My girls kept telling me how good it was and that I should make it every night. Josh even loved it, despite the peas in it, which I really enjoyed. I was happy to see that there was enough for leftovers, which suited us well when it reheated beautifully, a life saver for Josh and I when we didn't want to cook later in the week.
If you're looking for a fresh modern twist on pasta – this is the dinner for you!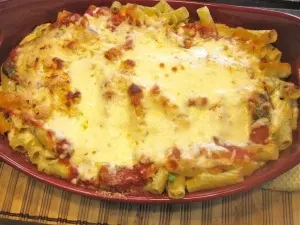 Rigatoni with Ricotta
2 TB evoo
2 cloves garlic, finely chopped
1 32 oz can whole San Marzano Tomatoes ( I couldn't find these in my store, so I used whole tomatoes and added a tiny bit of sugar)
1 small onion, peeled and halved
a few leaves of torn basil
1 fresh bay leaf
salt and pepper
2 TB butter
1 1/2 cups ricotta cheese
3 TB fresh thyme, finely chopped
1/4 cup flat-leaf parsley, finely chopped
1/4 cup mint, finely chopped
2 tsp lemon zest
1 ball fresh mozzarella cheese, shredded
1 1/2 cups grated parmesan cheese
1/2 cup frozen peas-unthawed
1 pound box rigatoni
Preheat oven to 425 degrees.
In a saucepan, heat evoo over medium to medium-high heat. Add butter and melt. When it starts to foam, add garlic, stir a minutes and add tomatoes, mashing them up. Add onion, basil, and bay. Season with salt and pepper; simmer 30 minutes over low heat. Remove onion. Add butter to sauce to finish.
Combine ricotta, salt, pepper, thyme, parsley, mint, lemon zest, half of the mozzarella and half of the parmesan.
Salt pasta water. Boil rigatoni for about 7-8 minutes, under cooking it just a bit. Reserve 1 cup of starchy cooking water. Drain pasta and return to hot pot, stir in ricotta mixture, peas, and starchy cooking water to combine as needed. Transfer to a baking dish.
Pour red sauce evenly over the top of pasta in baking dish, top with remaining mozzarella and parmesan cheese. Bake until bubbly and cheese is browned, 15-18 minutes.