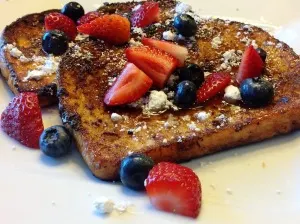 In the spirit of Catz in the Kitchen's breakfast week, I present for your consideration, Caramelized French Toast. And, yes, it's as yummy as it sounds. Actually, the idea here is very simple – rather than cooking your French toast in a more standard ingredient like butter or oil, cook it in something that will caramelize it. It's virtually irrelevant what French toast you make; the key is what you cook it in. The Bon Appétit recipe that served as my inspiration here called for thick slices of French bread, but I used the sandwich-style sourdough that I had in the cupboard. I think you could use this recipe on essentially any standard kind of sandwich bread and be quite happy with the result.

When it comes to the caramelization, which is the key differentiator in this recipe, it's all about the brown sugar. I've found myself making a number of breakfasts lately that require an initial whipping together of brown sugar and butter, and the result is always scrumptious. Normally, the whipped brown sugar butter is used as a topping, but here it's simply the pan greaser! I started with a couple of tablespoons of the stuff in my pan, and added a tablespoon each time I added more bread. The end result is a wonderfully sweet, slightly crispy crust on the bread, while the inside of the toast remains light and fluffy and full of flavor. Lastly, serving with berries really brightens the whole plate up, both for the eyes and the palate. Give it a shot – you won't be sorry!
Caramelized French Toast
Equal amounts brown sugar and butter (approx. 6 tbsp each)
1 1/2 cups milk
3 large eggs
1 tablespoon vanilla extract
1 1/2 teaspoons ground cinnamon
1/2 teaspoon ground nutmeg
8-12 slices bread (sourdough or French suggested)
Powdered sugar
Fresh blueberries and strawberries
Syrup
Soften butter. Whip together butter and brown sugar in a small bowl using a hand mixer until smooth and creamy. Set aside.
Add eggs, milk, vanilla, cinnamon, and nutmeg to a medium size bowl and beat until mixed well.
Heat skillet over medium heat and add two tablespoons of the butter/brown sugar mixture. Melt evenly in pan. Dip two slices of bread in milk mixture and allow to soak through. Add to hot skillet and cook approximately three minutes per side, or until a deep brown color (cooking time will depend on thickness of bread). While cooking remaining slices, place cooked French toast on a baking pan in an oven heated to 170 degrees.
When plating, drizzle lightly with syrup, sift powdered sugar generously on top, and finish with berries. Enjoy!