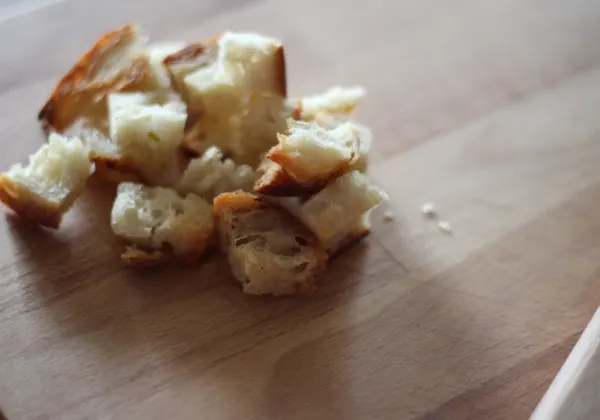 I absolutely cannot stand croutons that you buy in the store. All I taste is salt. I don't mind salt and as long as it's a subtle and emphasizes the flavor, not detracts. I think a lot of people think that making your own croutons is hard to do. But really, it is super easy. You can basically use any kind of bread you want (as long as it isn't moldy) and use whatever seasonings you like. Usually I just make my fall-back croutons when I'm running low, but my mom brought a new recipe to my attention and I just had t make it for myself.
Instead of using whatever leftover bread slices I had lying around, I took my mom's suggestion and bought some rustic bread. Yes, it is actually called rustic bread. We have a local bakery here in Portland called the Portland French Bakery and they make all kinds of really delicious loaves of bread. So, taking my mom's suggestion, I used the rustic bread and the results were incredible; really thick, crunchy, and flavorful croutons.
If your grocery store doesn't carry this awesome product, then any crusty loaf of bread will work.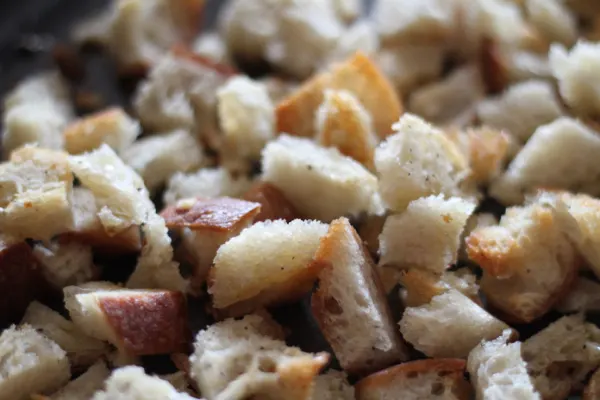 Garlic Butter Croutons
Sourced: Winter Cottage Magazine
The perfect addition to your salads and bowls of soup.
Prep Time: 10 minutes
Cook Time: 10-15 minutes
Total Time: 20-30 minutes
Ingredients
1/2 cup butter, unsalted
2 cloves of garlic, minced
1 tsp salt
1/2 tsp pepper
4 1/2 cups bread cubes, use crusty bread
Directions
Pre-heat oven to 400 degrees. In a small saucepan over medium-low heat, melt butter. When butter has melted, add in garlic and cook for about 2 minutes.
Remove from heat and stir in salt and pepper.
In a large bowl, combine bread cubes and butter mixture, tossing to combine.
Transfer to a baking sheet and bake for 10-15 minutes, or until brown and crisp.
Store in a ziplock back or airtight container.