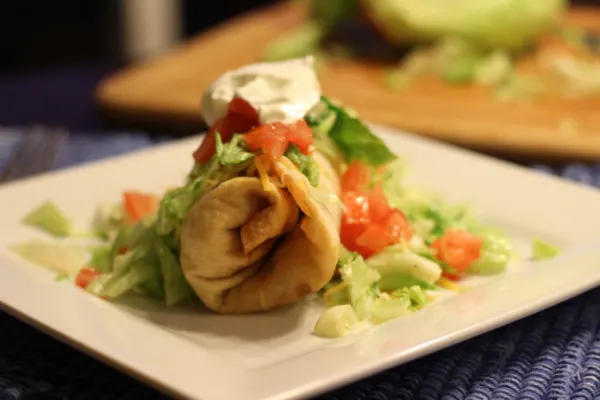 For as long as I can remember, chimichangas have been one of my favorite types of "Mexican" food. I say "Mexican," because chimichangas aren't authentically from Mexico, or even from the category of Latin food in more general sense. We group them there, simply because they are built on the foundation of a Mexican classic – the burrito – and use ingredients we normally think of as Latin. The reality is that they are more of an Americanized, Tex Mex style meal. Ultimately, though, who cares? They're delicious.

Chimichangas, much like steak or big beef burgers, should be one of those meals you make a couple of times a year, not every weekend. Why? Well, first, they're a bit of work, and secondly, they're not very good for you. Sad, I know. But, if you take a step back and say – what is a chimichanga? – the answer is, a deep-fried burrito. Sounds delicious and unhealthy, and that's about where it's at. But with Cinco de Mayo approaching, one of those appropriate days for celebrations involving chimichangas is definitely coming up!
All of that being said, while a chimichanga is simply a deep-fried burrito, it is important to make a few modifications to the classic burrito recipe. First, don't put anything inside that shouldn't get fried. For example, with a chimichanga, the lettuce, cheese, sour cream, salsa, guac, and tomato go on top when it's done, not inside. In fact, the only things that should really go inside are meat, beans, an seasoning, though you're welcome to experiment, of course! Secondly, while you can grill chicken breast for this meal as well, oftentimes it's much easier to just grab a rotisserie chicken from your local deli and shred that. Third, while we're fortunate enough to own a deep frier, if you don't, you can do this in a deep pan with hot oil – you'll just have to do a bit of turning and it could get messy! Lastly, have some toothpicks on hand. You're going to need something to pin these bad boys down so they don't unravel on you in the fry basket – that's a mess you don't want to deal with!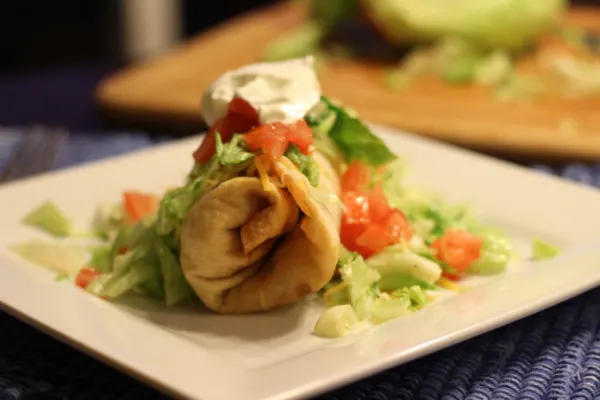 Chicken Chimichangas
How do you make a classic burrito even better? Deep fry it, of course!
Serves: 6
Prep Time: 10 minutes
Cook Time: 30 minutes
Total Time: about 45 minutes
Ingredients
1 can pinto beans
2 cups shredded chicken breast
1 cup shredded cheese (Mexican blend recommended)
2 diced tomatos (4 if using small Romas)
half a head chopped iceberg lettuce
6 10-inch ("burrito size") flour tortillas
taco sauce or hot sauce
sour cream
vegetable oil for frying
Directions
Combine pinto beans and shredded chicken in a small saucepan over low heat and simmer, stirring frequently, for about 5 minutes. For additional flavor, you may add cumin or chili powder to the mixture, to your own personal taste. Heat oil in deep fryer or in deep frying pan, depending on what you have available. If using a frying pan, ensure that the oil is at least an inch to an inch and a half deep.
Warm tortillas per packaged directions, normally by microwaving under a damp paper towel for about 45 seconds.
Lay out the tortillas one a time, and cover the side closest to you with the beans and chicken mixture. Spread out the mixture so that it covers your side of the tortilla, extends out to about an inch from the edge on the right and the left, and about three to four inches from the far side. Fold the uncovered right and left sides of the tortilla in, and then roll the tortilla tightly away from you, ending on the uncovered portion on the far side. Promptly use two toothpicks to hold the burrito together while you prepare the remaining chimichangas.
Preheat the oven to 170 degrees, and prepare a cookie sheet, covered in paper towels. Set a cooling rack or similar structure on the paper towels, and place in the oven.
Fry the chimichangas until light brown and crispy. In a frying pan, carefully turn the chimichangas from time to time to ensure an even frying on both the top and the bottom.
As each chimichanga is completed, use tongs to move it to the rack in the oven, which will allow some of the oil to drip off.
Remove the toothpicks from the chimichangas and serve topped with cheese, lettuce, tomatos, sour cream, and taco or hot sauce. Enjoy!
Nutrition Information
Approximate, per chimichanga
Calories: 420
Carbs: 61 g
Fat: 8 g
Protein: 26 g
Sodium: 1012 mg