This strawberry rhubarb pie recipe is marriage of sweet and tart all wrapped together in one delicious pie crust.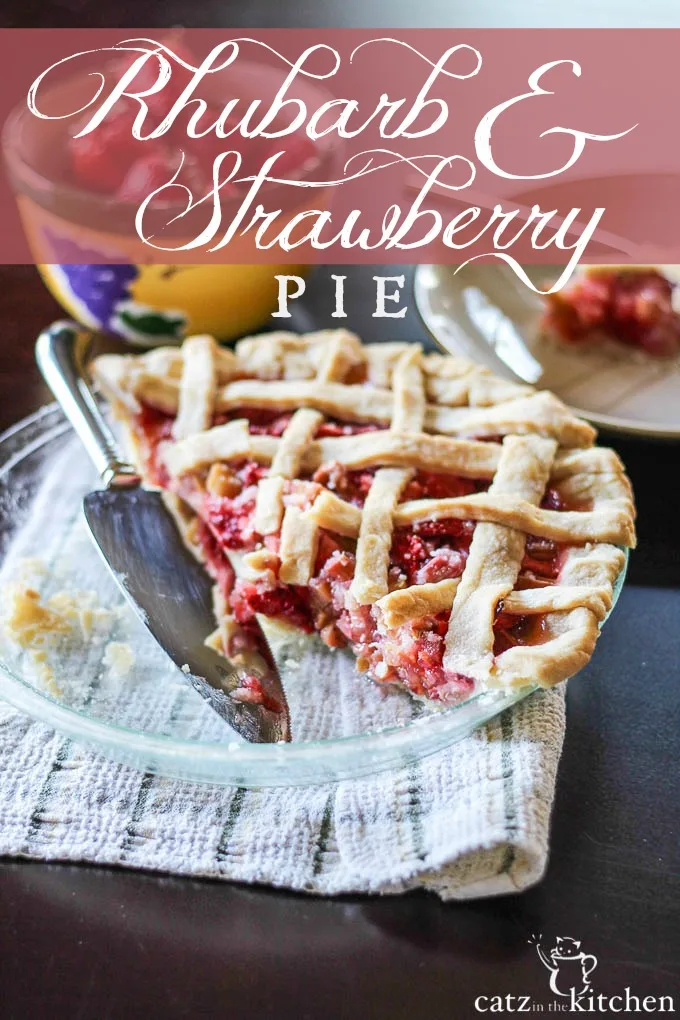 ***Disclosure*** This pie was made possible by one of the sweetest ladies in our church, who offered me up a bag of freshly-picked rhubarb! Thank you, Romayne!
First of all, cast no judgement on the imperfection that is my pie crust. As most of you know, pie-making is still relatively new territory for me, and while it may not be the prettiest pie with the most perfectly-fluted edges or wide latticed-strips, it is still a very pretty pie and quite delicious!

So let's talk rhubarb. You either love it or you hate it. My first introduction to rhubarb was last year when I decided to make a rhubarb cobbler. The recipe turned out perfectly, though I wasn't a fan. I couldn't place my finger on what it was that made me shirk my shoulders at it. But I knew that one chance wasn't enough and that before I decided I didn't like it for reals, I needed to make a different rhubarb recipe.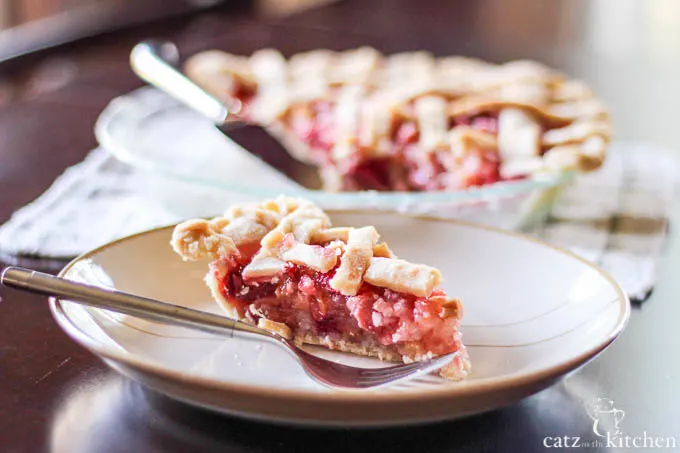 I had heard amazing things about rhubarb and strawberry pie, (even though I had never tasted one before. I know, just shameful) and I figured that I should give that pie a whirl – if I didn't like that, then there was no hope for me.
Right off the bat, I was captivated by the colors. The pretty "kiwi" green from the rhubarb to the bright vibrance of the strawberries. Those colors just looked like they belonged together. And so together, they became one beautifully colored, sweetly fragranced pie filling.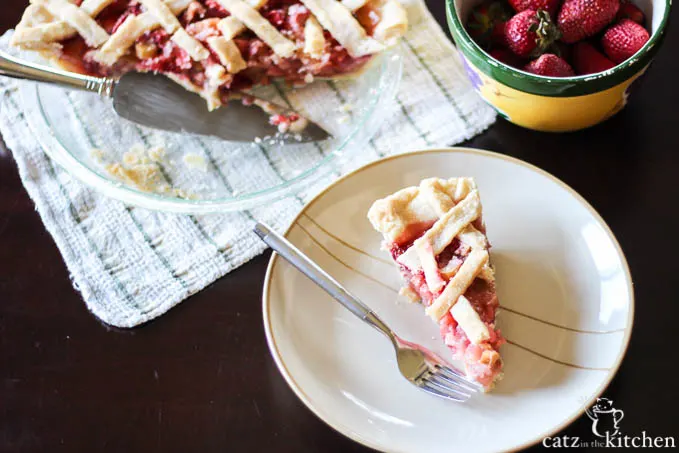 Now here is where I have to apologize. There is half a pie here. Where did the other half go, you might be wondering? While I had fully intended to snap photos the night of, the day got away from me, with a teething, grumpy baby boy, my date with the treadmill at the gym, our 8:45pm dinner (yes, we ate that late), followed by little girls who had watched me make this pie with their huge hungry eyes! How can you say "no" to the huge, hungry eyes of little girls? Well, I couldn't. So I gave them permission to dig in and gave Josh specific instructions to not destroy the beautiful lattice atop the pie. He did quite well, if I may say so.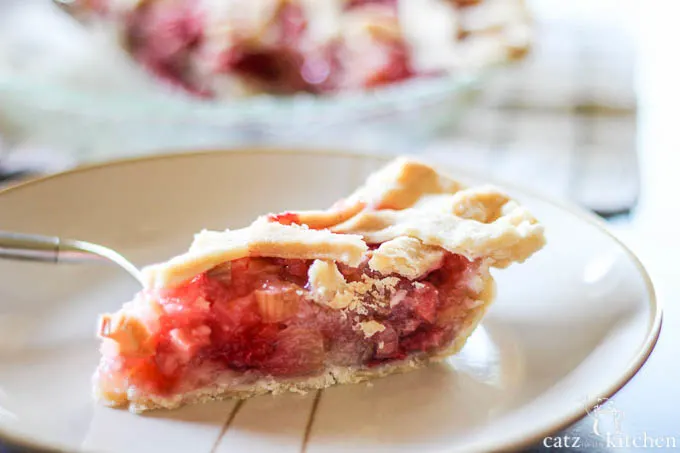 The pie was delicious! I'm now a believer in rhubarb! I've been healed of my former distaste for it. The flavor is surprising…a beautiful balance of sweet and tart accompanied by a deliciously buttery flaky crust. (Pssst….there isn't any butter in the crust.)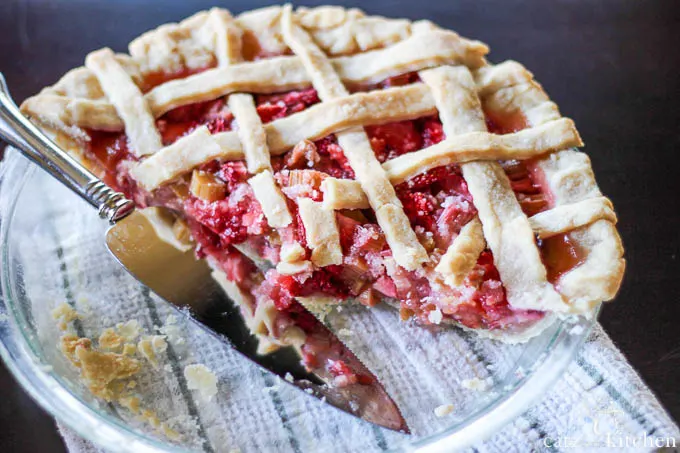 If you are lucky enough to have your own rhubarb growing in your yard or you live near a farmers market where you can purchase the stalks yourself, I highly recommend this pie. Here's a thought – wouldn't this be quite the treat to make for your mother this Mother's Day? I'm sure she would be delighted, and I even bet you would become her favorite. Just kidding, we all know every child is their mother's favorite. Speaking of favorites, this pie is one of mine now, and if it's not already, I'm sure it will be yours, too.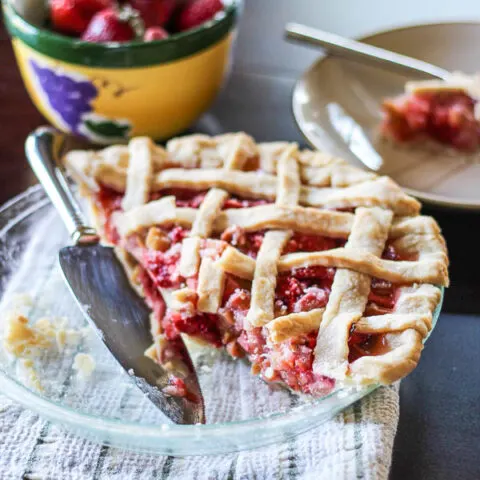 Rhubarb & Strawberry Pie
This strawberry rhubarb pie recipe is marriage of sweet and tart all wrapped together in one delicious pie crust.
Ingredients
3/4 cup sugar
1/4 cup quick-cooking tapioca
3 cups sliced fresh rhubarb (1/4 inch pieces)
3 cups sliced strawberries
1/3 cup orange juice
4 1/2 tsp orange marmalade
1/4 tsp grated orange zest
Instructions
In a large bowl, combine sugar and tapioca. Add fruit and toss to coat. Gently stir in orange juice, marmalade, and zest. Let stand for 15 minutes.
Line a deep-dish 9 inch pie plate with bottom crust; trim excess pie dough. Add the filling.
Roll out the remaining pie dough; make a lattice crust. Trim, seal, and flute the edges. Cover edges with foil.
Bake at 400 degrees for 40-50 minutes or until the filling is bubbly and rhubarb is tender. Remove the foil. Cool on a wire rack and store in the refrigerator.
This pie is delightful warmed up and with a dollop of whipped cream!
Nutrition Information:
Yield:

8
Serving Size:

1
Amount Per Serving:
Calories:

232
Total Fat:

6g
Saturated Fat:

2g
Trans Fat:

0g
Unsaturated Fat:

4g
Cholesterol:

0mg
Sodium:

95mg
Carbohydrates:

44g
Fiber:

3g
Sugar:

26g
Protein:

2g
Nutrition information isn't always accurate.