Need to whip up a fresh, yummy summer dessert in a hurry? This strawberry icebox cake is tasty, creamy, pretty, and ready in 20 minutes!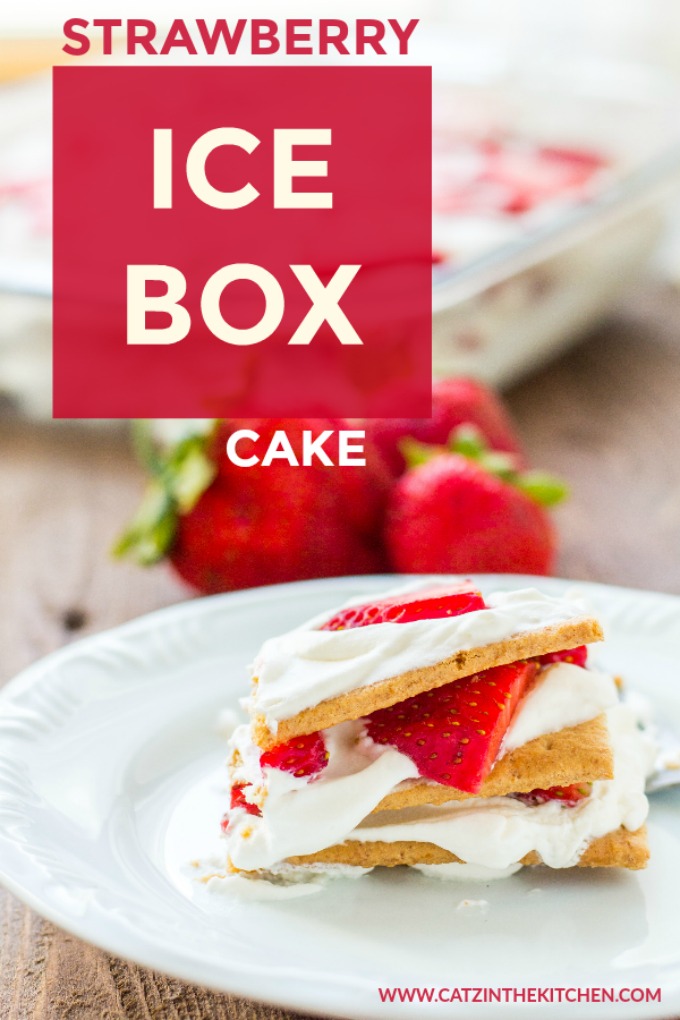 If you've been following this blog for awhile (like…five or six years), then you might remember this recipe. It's kind of old. A lot like the pictures. One of my goals is to go back through some of my favorite, older posts and rephotograph them and/or rewrite them.
I felt like this cake post just needed a complete makeover. We're on the brink of summer and strawberries are abounding around us (depending on where you live and the amount of sun you've had) and I really just wanted to take the opportunity to give you a truly easy dessert that you can rely on all summer long.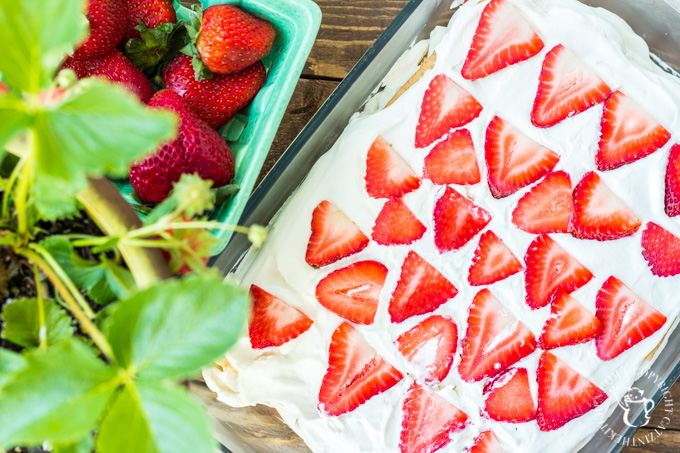 I admit, this post does have a bit of an ulterior motive. I'm only a few weeks away from my third trimester and I'm definitely starting to feel it. Standing on my feet for hours cooking is getting harder and slightly more uncomfortable. But I do so enjoy the cooking and baking process during our brief sunny months, so I just want to take advantage of it.
I feel like this super easy, strawberry icebox cake helps me accomplish that. Ingredients are minimal…and so is the amount of time that goes into preparing it.
I promise, this WILL be one of the desserts that you keep in your back pocket as your trusty "no-fail" summer friend!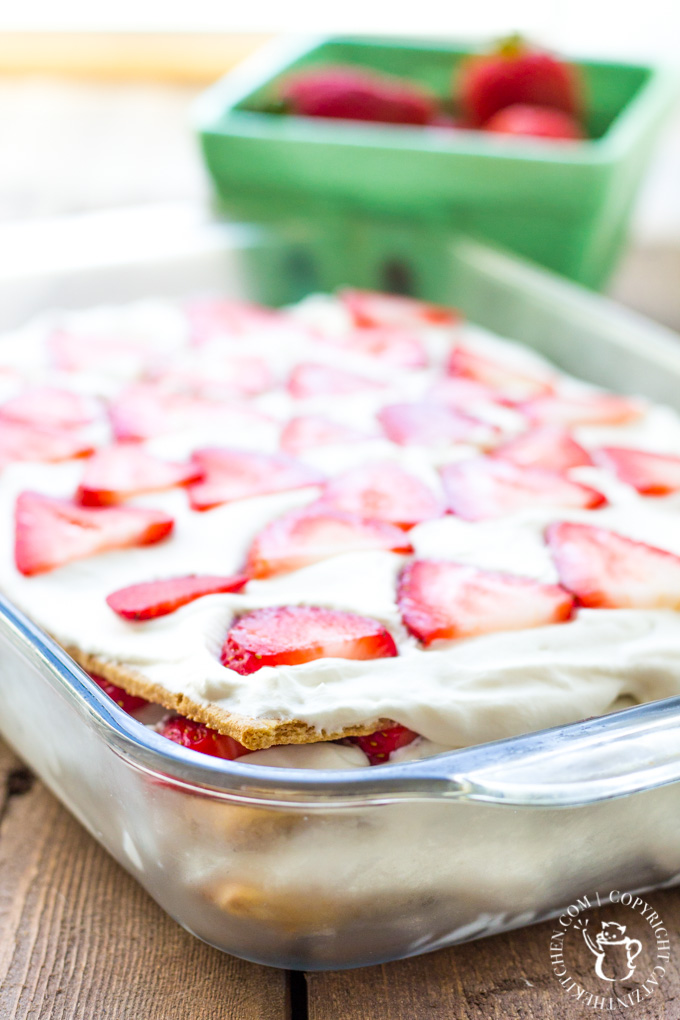 I actually made this cake the morning of Memorial Day, and because it was so easy, it freed up a bit of my time to play with a potato salad for dinner later that evening (the potato salad was so delish and I plan on sharing that recipe with you, too). The cake was, of course, a hit because who doesn't love homemade whipped cream (though, to make it easy on yourself you could always use CoolWhip), fresh strawberries, and graham crackers.
Um, yeah – aside from the vanilla extract and powdered sugar that you use to make whipped cream, this recipe is really only three ingredients, which I'm sure helps stretch your grocery budget out a bit!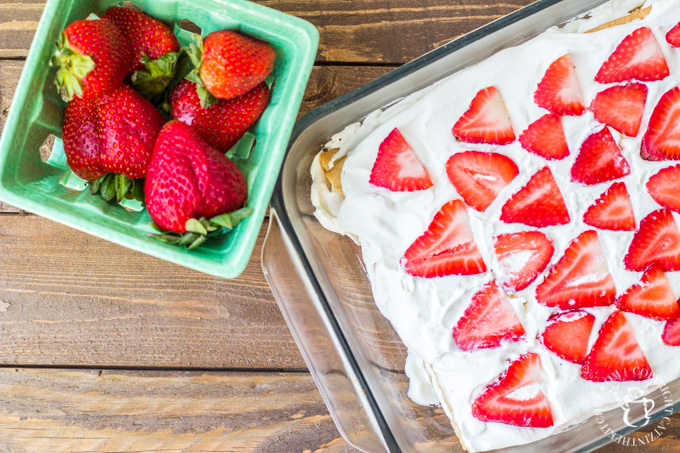 Now, you could get a little fancy and add a chocolate drizzle on top if you wanted to…but, in my opinion, while it does make it a bit more decadent, this cake doesn't really need it. Instead, you could always zest some fresh lemon into the whipped cream and that would be dreamy and bright. But again, I just felt like keeping it simple. I'll include those ideas as options in the recipe card in case you want to try that, but I'm telling you…the simplicity of this cake is really just easy and perfect as is.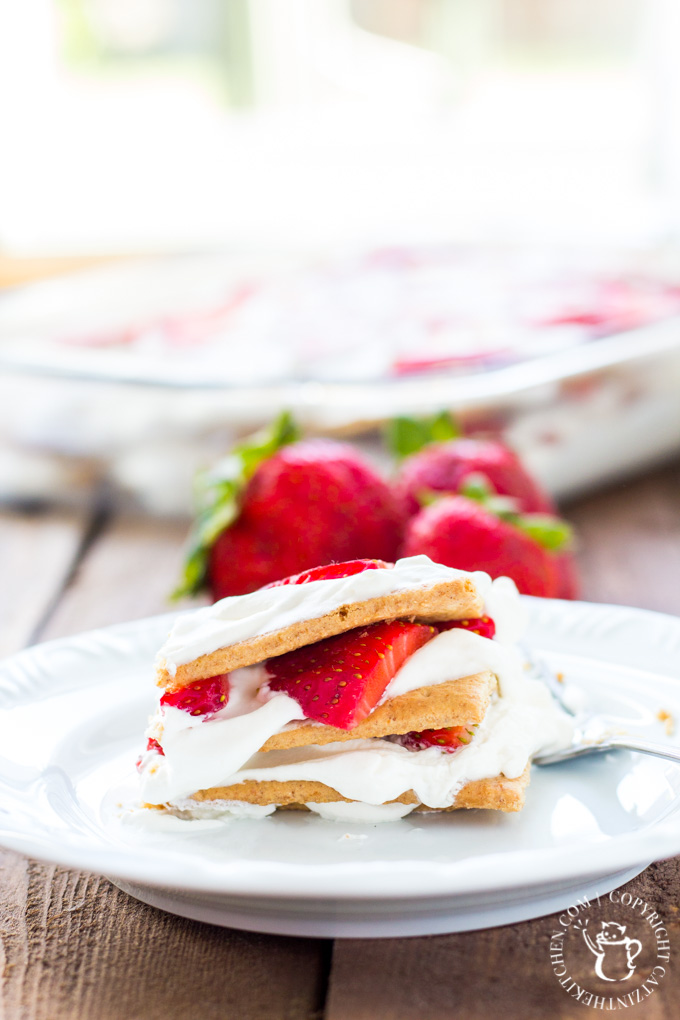 I don't think you need to pair it with ice cream or anything like that, but if you skipped the lemon zest in the whipped cream, you might consider pouring a glass of lemonade to serve on the side – that would be a delightful pairing to go with your sweet summer treat!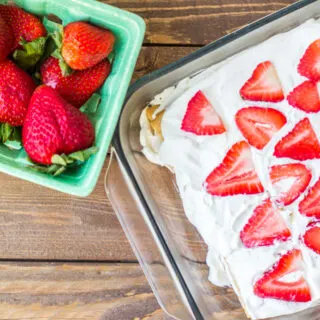 Strawberry Icebox Cake
Need to whip up a fresh, yummy summer dessert in a hurry? This strawberry icebox cake is tasty, creamy, pretty, and ready in 20 minutes!
Ingredients
2 lbs fresh strawberries, rinsed and thinly sliced
3-4 sleeves of whole graham crackers (roughly 24-28 whole squares )
Optional Toppings:
1 lemon zested into the whipped cream
OR
1/4 cup heavy cream
2 oz semi-sweet or dark chocolate roughly chopped
Instructions
In a large bowl with an electric beater or a stand mixer, prepare the homemade whipped cream into a smooth, pudding like mixture (if adding lemon zest - this is where you would add it). We don't need to have stiff peaks here. Spread a dollop of whipped cream onto the bottom of a 9x13 baking dish.
Place the first set of graham crackers over the cream, approx 12 large squares. Add a light layer of whipped cream over the crackers, and top with a single layer of sliced strawberries over the cream.
Repeat the layering process 3 more times until you have a total of 4 layers, ending with whipped cream and sliced berries.
Store in the fridge for at least 4 hours.
Optional Topping Directions: To make the ganache, place the chocolate in a double boiler, stirring. When the chocolate is halfway melted, add the 1/4 cup of cream and whisk until smooth and combined. Drizzle over the top of the icebox cake.
Notes
This dessert can be made 24 hours in advance. I would cover the dessert with a lid or foil "carefully" though.
Nutrition Information:
Yield:

12
Serving Size:

1
Amount Per Serving:
Calories:

112
Total Fat:

7g
Saturated Fat:

4g
Trans Fat:

0g
Unsaturated Fat:

2g
Cholesterol:

18mg
Sodium:

10mg
Carbohydrates:

12g
Fiber:

2g
Sugar:

8g
Protein:

1g