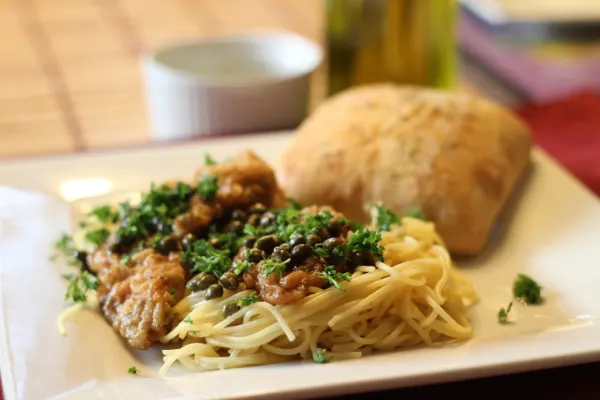 For me, at least, chicken piccata always seemed intimidating. It's really a very simple Italian staple, but I think the complexity of the flavors in the sauce coupled with the attractiveness of the finished product always made me feel that it was something far beyond my skill level. Nevertheless, one night shortly after Christian was born, the girls were over at their grandparents, the baby was sleeping, and I wanted to make a special meal for Chels and I to enjoy during our few minutes of alone time. She is wild about chicken piccata, so I thought I'd give it a whirl, with no promises for a pleasing result! As I alluded to at the beginning of this paragraph, it's much easier than it appears, but every bit as enjoyable as I'd hoped.

For a perfect side, Chels and I prepare rosemary and sea salt ciabatta rolls, which we then tear chunks from and dip in olive oil mixed with freshly ground black pepper. Unless you have a particular aversion to ciabatta (and in that case, what?!), I strongly recommend pairing these two together during your first go around with the piccata – they're a wonderful combination, both simple and, to my American palate anyway, strikingly Italian. We got the idea for preparing ciabatta this way a few years ago when we went to Macaroni Grill. It's very similar in taste and texture to the bread they serve while you wait for your food – or at least, I think it is. They closed up all of the Macaroni Grills in Oregon awhile back! Very sad!
Searching "chicken piccata recipes" on Google yields about seven and a half million results. I'm not at all surprised that there are so many recipes out there – like I said, it's a staple. For my first time out, however, I decided to go with one I was sure would be good, and reasonably authentic –
Giada De Laurentiis' version
. It's a popular Food Network recipe, with an average of five stars from almost 1200 reviews! While I've certainly seen instances where 1200 people can be wrong, this isn't one of them. The recipe is fantastic. I've made it twice now, and we've been "wowed" both times.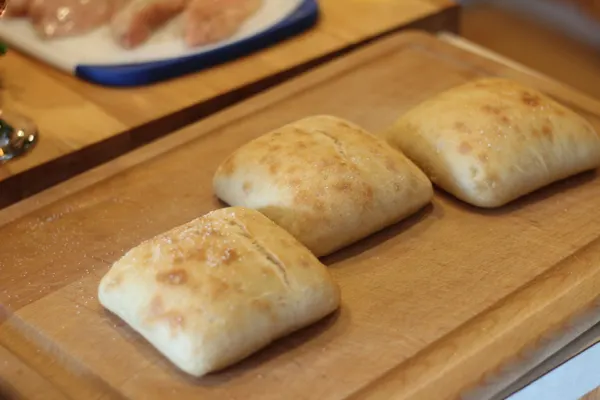 Let's start with the ciabatta. Dang do they look yummy. This is pretty simple stuff, too. Brush them with extra virgin olive oil, and then sprinkle them with sea salt and rosemary. Give them a good dose of the rosemary, and hit them pretty heavily with the sea salt as well. Remember, a decent amount will fall off while you're eating them, so you'll probably only end up tasting about half of what you put on. These little guys will take about ten minutes to heat up at 350 degrees. Pour some extra virgin olive oil into a ramekin or small bowl, grind some pepper in, and you're in business.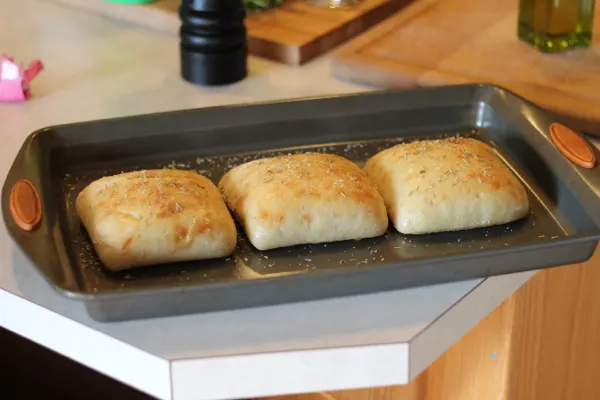 What's next? Butterflying your chicken breast, of course.
Giada's got a great video
showing how to butterfly chicken breast, but I will add that the process varies based on the type and size of breasts you're working with. You may need to modify the procedure. Start with Giada's basic process in the video, and then work them down to what you want. I wanted something a little closer to chicken tenders in size, so that's what I cut down to.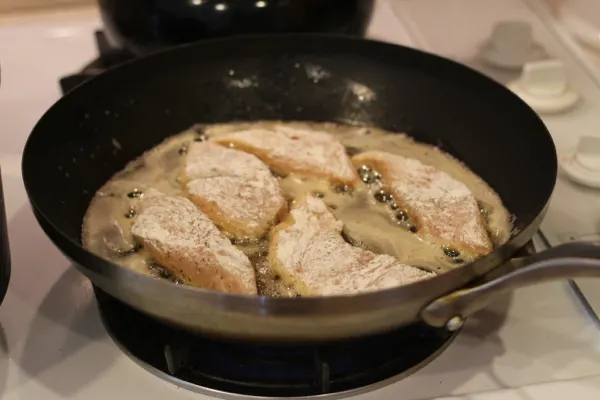 You'll salt and pepper them, dredge them in flour, and get them in a tasty mix of butter and olive oil in the frying pan – and even though raw chicken is far from appetizing, at this point the aroma alone will have you desperately wanting dinner to be done. The torture (or aromatherapy, if you prefer) is far from over, however. We haven't even gotten to the capers yet!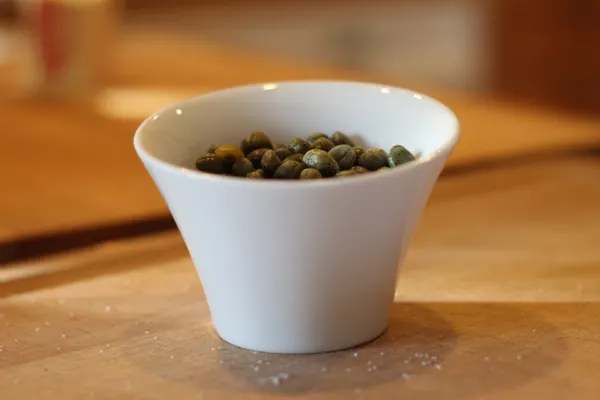 Mmm. Capers. Mental note: find more recipes that call for capers! These little guys are so ridiculously tasty and full of flavor, it doesn't even make sense. When the chicken is done, as in browned on both sides, you'll remove it and add lemon juice, capers, and chicken stock. At this point, the aroma is a blissful blend of citrus, sweet, sour, and savory smells, and only the heat of the frying pan will keep you from sticking a straw into the mixture. That, and the fact that raw chicken stock is odd. Moving on.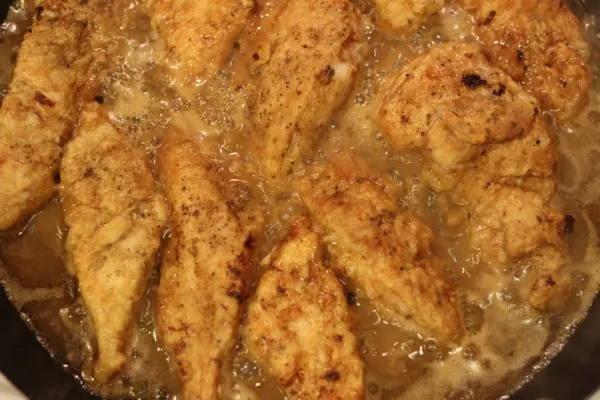 When the olive oil/butter/chicken stock/lemon juice/caper mixture is back to boiling, you'll add all of your chicken back to the pan and cook it for about five minutes, just letting it simmer in the mixture, soaking up ridiculous amounts of flavor. When you're done cooking the chicken this second time, you'll remove it for good, and add a couple tablespoons of butter to the remaining sauce, whisking it in.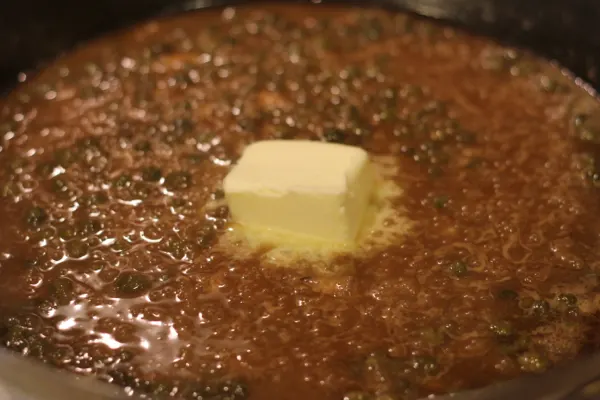 At this point, you're basically done. It's really up to you how you serve it – Giada says just to put the chicken on a plate and pour the sauce over it, topped with fresh parsley, but Chels and I really prefer it over some thin spaghetti noodles.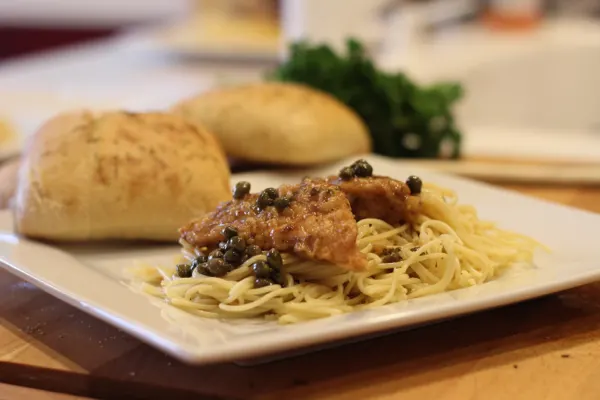 Personally, I spoon the sauce mixture over the chicken after it's been laid across a bed of pasta, and then top with parsley. I'm sure there are some other ways to serve piccata than the way we're doing it, or even the way Giada does it, but we've had it served this way at our local Italian restaurant as well, and it makes this simple dish more of a complete meal. See the recipe below for all of the precise times and measurements, grab some fresh ciabatta, and get cooking!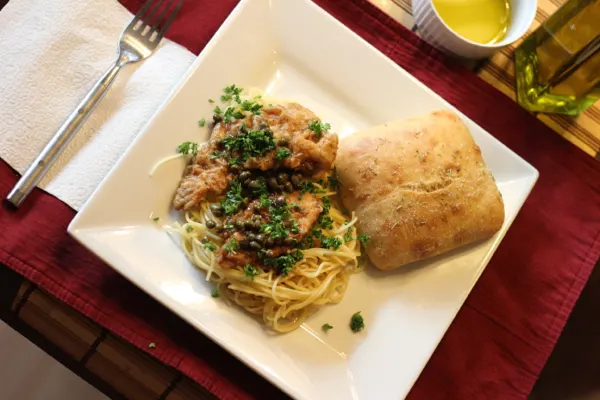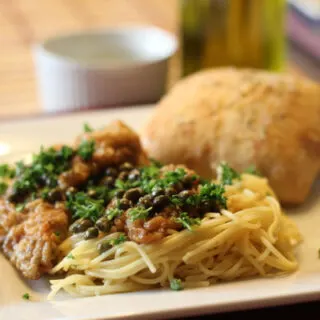 Chicken Piccata with Rosemary Ciabatta
Craving a light, citrusy Italian dish that doesn't require Tuscan culinary school beforehand? Here's your answer!
Ingredients
4 small loaves of ciabatta
5 tbsp extra virgin olive oil, plus extra for dipping and brushing
Flour, for dredging
Sea salt, black pepper, and dried rosemary for sprinkling on the chicken, the ciabatta, and the oil
2 skinless, boneless chicken breast
1/3 cup lemon juice
1/2 cup low-sodium chicken stock
1/3 cup fresh, chopped parsley
1/4 cup non-pareil brined capers, rinsed
6 tbsp unsalted butter
1/2 pound thin spaghetti
Instructions
Butterfly the chicken breast, and then cut it in half or to desired portion size. Season the chicken with the sea salt and black pepper, and then dredge it in flour.
Brush the ciabatta loaves with olive oil, and then sprinkle them heavily with sea salt dried rosemary. Preheat the oven to 350 degrees.
Prepare spaghetti according to box directions.
In a large, high-sided skillet, melt three tablespoons of olive oil and two tablespoons of butter together over medium heat. When sizzling, add chicken breast. Depending on the size of the chicken breast and the size of your pan, your may need to cook the chicken in stages. If so, cook each set of breast pieces for approximately three minutes per side, or until browned. For each additional stage, add two more tablespoons or butter and two more tablespoons of olive oil. When all chicken is browned, remove to a plate.
Place ciabatta in oven and cook for about ten minutes.
Add lemon juice, capers, and chicken stock to the pan, and bring to a boil while scraping up brown bits left over from cooking the chicken (for extra flavor). Once boiling, return all of the chicken breast pieces to the pan, and simmer for approximately five minutes. Remove chicken and return to plate.
Add two tablespoons of butter to the pan and whisk (vigorously). Add pasta to plate, top with chicken, and then spoon sauce mixture over the top. Finish by sprinkling with fresh parsley. Serve immediately.
Serve ciabatta alongside small bowls or ramekins containing olive oil and ground black pepper for dipping.
Nutrition Information:
Yield:

4
Serving Size:

1
Amount Per Serving:
Calories:

741
Total Fat:

44g
Saturated Fat:

15g
Trans Fat:

0g
Unsaturated Fat:

27g
Cholesterol:

117mg
Sodium:

1170mg
Carbohydrates:

53g
Fiber:

4g
Sugar:

2g
Protein:

33g
Nutrition information isn't always accurate.