This incredibly simple recipe for grilled chicken bruschetta is one of our longest running family favorites during the spring and summer! It is fresh, full of flavor, light, and actually quite elegant!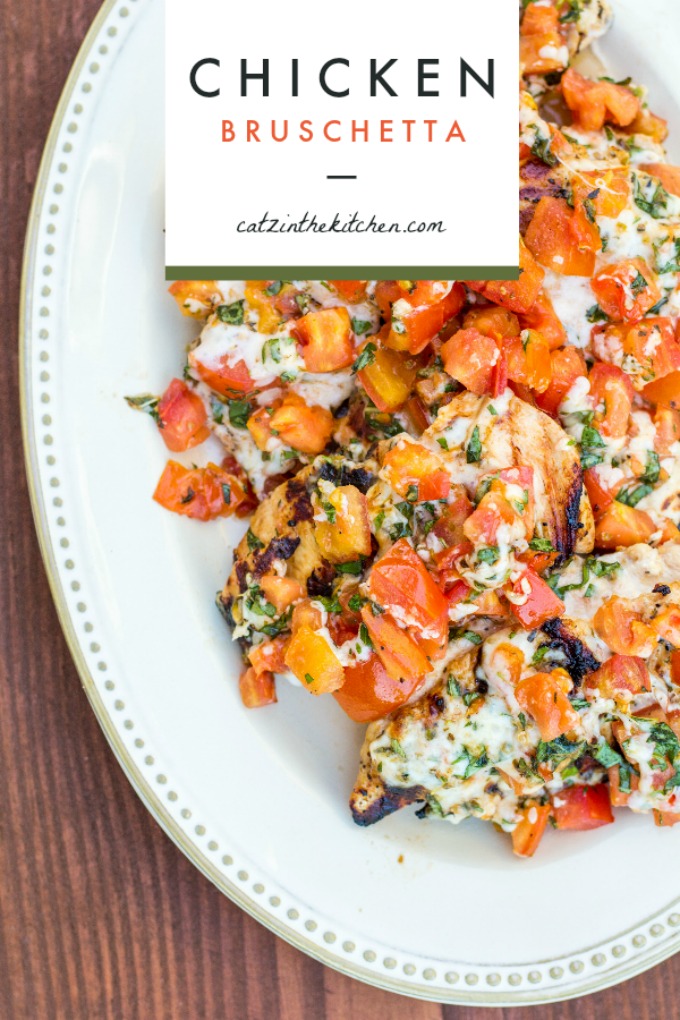 This recipe originally appeared on Catz in July 2013. Since then, we've made some updates to the recipe, and, of course, updated the photos! It continues to be one of our all-time family grilled favorites – we hope you love it as much as we do!
Truth be told, this was probably one of the first things I ever grilled beyond the standard hotdogs and hamburgers fare. Chels found the recipe online or on the back of a box or something (I'm pretty sure it was a kraft recipe originally – a way to use a new dressing they were promoting), and we made it over and over and over again, making small changes and adjustments here and there. The biggest change was simply to dramatically increase the amount of the "bruschetta" style topping the recipe calls for – trust us, with this topping, more is better!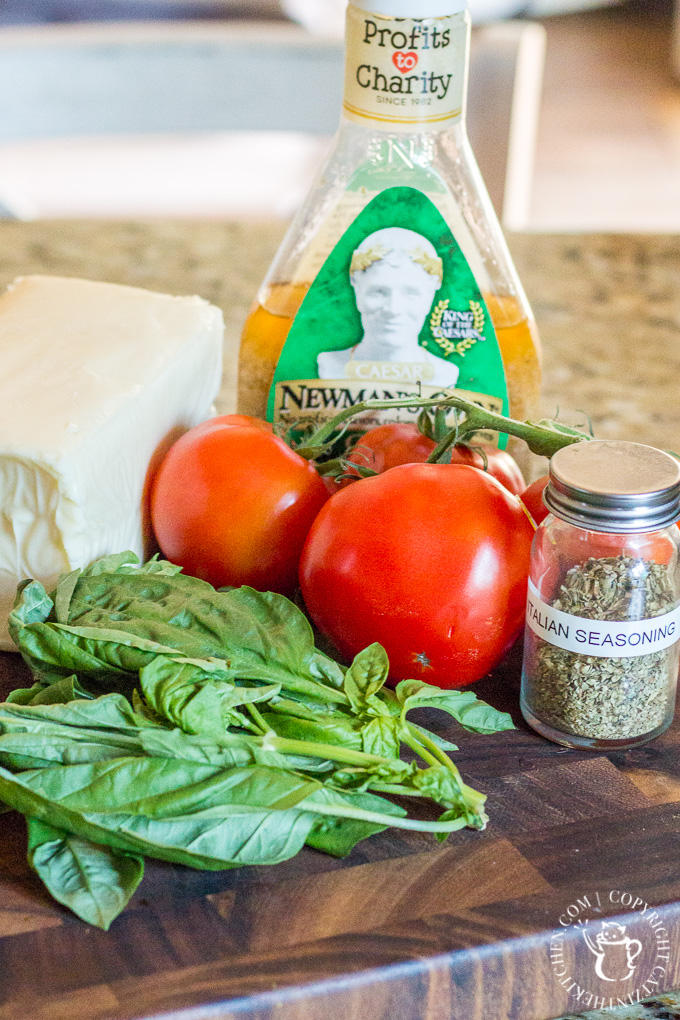 The wonderful thing about this entree is that while it's very simple to prepare, it comes across quite elegant in presentation and taste. I would have no qualms whatsoever about serving this dish to a guest upon whom I was hoping to make a good impression. Depending on what you're in the mood for, you can marinate the chicken in whatever dressing happens to be speaking to you that day. A raspberry vinaigrette is delicious (and I think what the original recipe actually called for), but so is just about any other "Italian-style" dressing, which is what we typically use. The key is simply that whatever dressing you use for marinating the chicken, you also use when mixing your topping together (the same flavor – don't reuse the marinade!).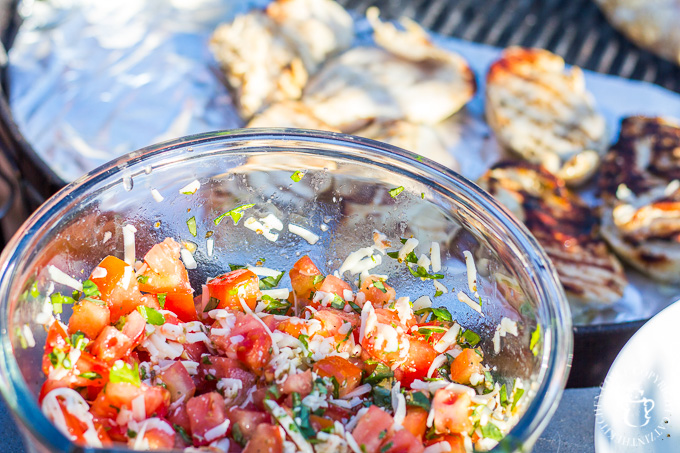 At any rate, this is a fun meal to have in your grilling repertoire for those nights when you need to entertain without a lot of notice, or you feel like enjoying a "nice" dinner, but don't have the time or energy to put in the work!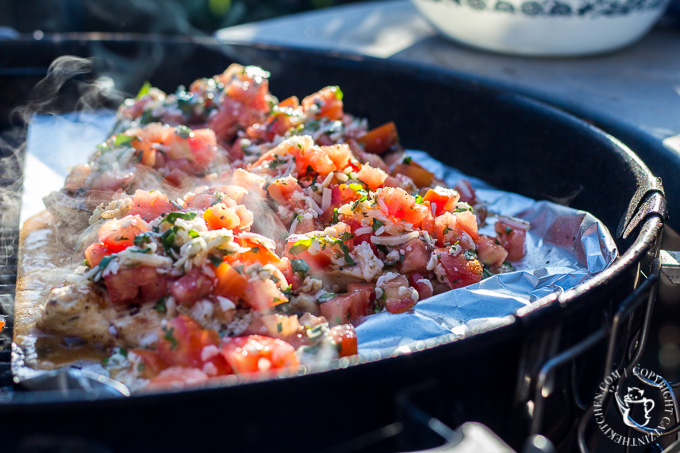 You could always use sliced mozzarella instead of shredded too and just place it directly on top of the chicken as it finishes its last few minutes of cooking, but we've found that it's a bit easier for the kids to cut their chicken and get little bites of everything without the cheese sliding off with a chunk of chicken.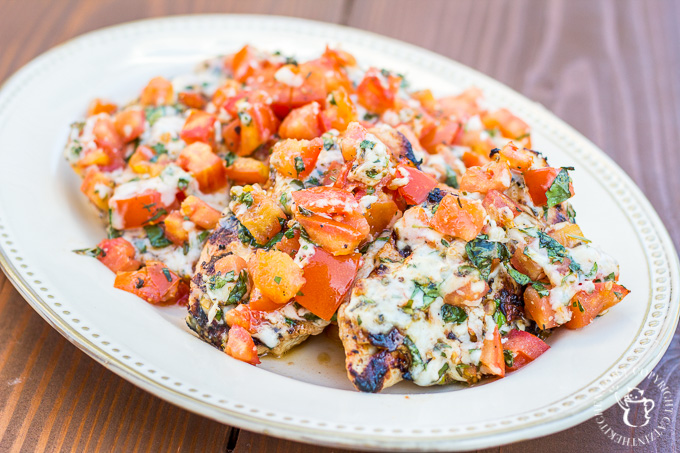 Simple Grilled Chicken Bruschetta
This incredibly simple recipe for grilled chicken bruschetta is one of our longest running family favorites during the spring and summer! It is fresh, full of flavor, light, and actually quite elegant!
Ingredients
3-4 skinless, boneless chicken breast cut length-wise
1 cup shredded mozzarella
3/4 cup, divided Newman's Own Family Italian Dressing (this is our favorite brand of Italian dressing)
6-7 roma tomatoes, diced
1/4 cup fresh basil, chopped
2 tsp dried Italian seasoning
Fresh black pepper, to taste
Instructions
Place sliced chicken breast in a 1 gallon ziplock bag. Pour 1/2 cup of the Italian dressing into the ziplock bag and gently toss the chicken and dressing together until evenly distributed. Allow the chicken to marinate for at least 3 hours but up to 4 hours.
Preheat grill to medium-high heat. While the grill is heating up, place the diced tomatoes in a bowl and combine it with the shredded cheese, Italian seasoning, pepper, and the remaining 1/4 cup of salad dressing. Gently stir until combined.
Cover half of the grill with nonstick foil (or spray the foil). Grill marinated chicken on the uncovered side of the grill with the lid closed for about 6 minutes. Transfer the chicken to the covered side of the grill, turning the chicken over so the grill-marked side is facing up and the uncooked side is against the foil. Cover the chicken generously with the tomato mixture, close the lid and grill for another 8-10 minutes, or until cooked through.
Remove from grill and sprinkle with chopped basil and allow to rest 1-2 minutes before serving.
Nutrition Information:
Yield:

6
Serving Size:

1 half chicken breast
Amount Per Serving:
Calories:

285
Total Fat:

14g
Saturated Fat:

4g
Trans Fat:

0g
Unsaturated Fat:

9g
Cholesterol:

77mg
Sodium:

550mg
Carbohydrates:

9g
Fiber:

1g
Sugar:

6g
Protein:

29g
Nutrition information isn't always accurate.
SaveSave
SaveSave