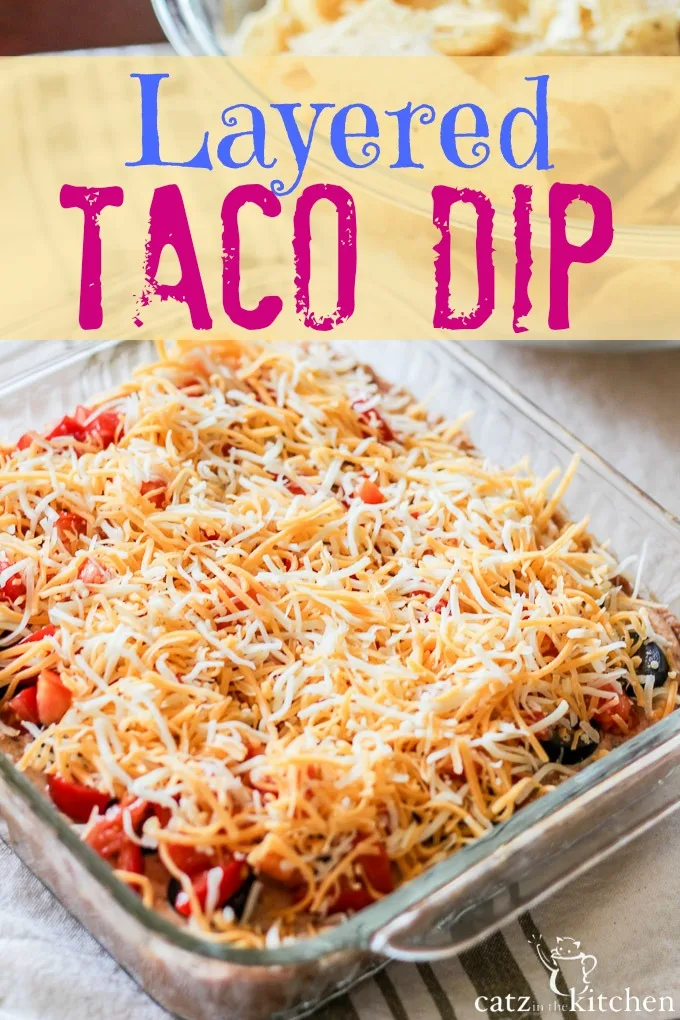 It's football season. Yippee. I'm sorry, I'm sure you failed to hear the sarcasm in my voice. I'm not really so much of a sports person. I really enjoy going to live sporting events. I think that's fun and it's easy to get caught up in the moment and excitement. But, watching sports on TV? I would rather clean my bathrooms, lol! I just don't see how yelling at the TV for hours is fun?? I just don't get it. But I know many do get it, and for those people, I bring you a layered taco dip.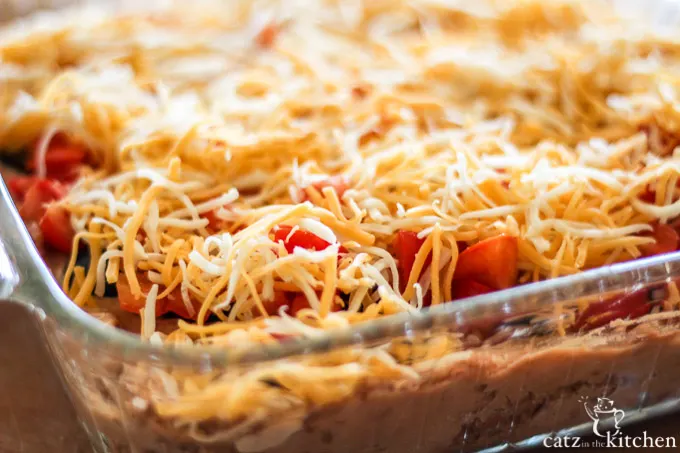 This taco dip is actually a recipe from Josh's grandmother, Nani. Nani gave the recipe to me quite a few years ago and it has been a favorite in our family ever since. It's easy enough to make for potlucks, game nights, and….yes, it's perfect for chowing down in front of the TV while watching football (or in our case, reruns of The West Wing).
We've got some easy ingredients here: refried beans, olives, tomatoes, shredded cheese, and a zesty sour cream mixture.
In an 8×8 baking dish, spread a 30 oz can of refried beans evenly on the bottom. If you can't find a 30 oz can, that's okay. I typically use two 16 oz cans of vegetarian refried beans because I usually can't find the vegetarian variety in that size.
In a bowl combine the sour cream (our favorite brand is Daisy or Tillamook) and taco seasoning together. Once that's done, spread the zesty sour cream over the refried beans.
Add a layer of sliced black olives next.
Throw on some diced tomatoes, any variety. These tomatoes were the very last of what we got out of our garden. :)
Last, but not least, top with your favorite shredded cheese! I used a shredded Mexican blend from Costco, but any of your favorites cheeses would be great here. I've been wanting to try a layer of queso fresco or cotija cheese, just to mix things up.
Obviously, you could always add other ingredients if you wanted to like chopped bell peppers or jalapeño, if you've got it. You could even add a 4 oz can of diced green chiles, that have been drained and mix it with the sour cream and taco seasoning. What I like about this recipe as it is, is because it's a great base if you want to jazz it up. I usually don't because all of the ingredients that go into this dip are perfect pantry ingredients that allow you to make this easily and on a whim if you feel like it.
The only thing left to do is start scooping the dip with crisp tortilla chips (we really like Juanita's tortilla chips) and maybe a Corona (if that's your thing) and enjoy this fun and easy appetizer with your family and friends.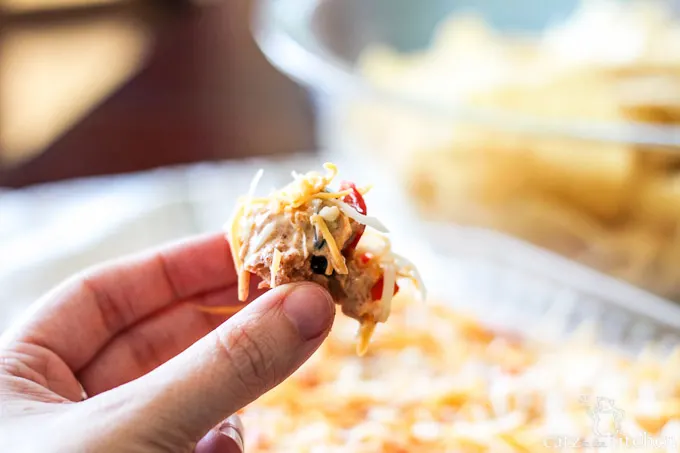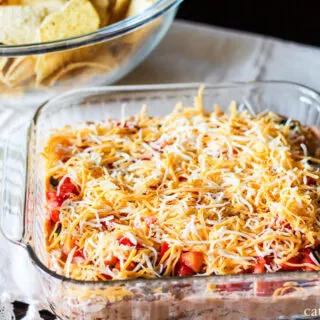 Layered Taco Dip
Enjoy your game day, game night, or potluck with this zesty dip! It's like eating a taco without the shell!
Ingredients
1 can (28 oz) refried beans
8 oz sour cream
1 packet (3 tbsp) taco seasoning
1 can (2.25 oz) sliced black olives
2 medium tomatoes, diced
1 1/2 cups shredded cheese (Mexican blend, cheddar, or pepper jack are recommended)
Instructions
In an 8x8 baking dish, evenly spread out the refried beans out.
In a small bowl, combine the sour cream and taco seasoning until mix through. Spread the layer of zesty sour cream on top of the refried bean layer.
Arrange a layer of sliced black olives on top of the sour cream mixture.
Toss the diced tomatoes on top of the black olive layer.
Top with shredded cheese.
Refrigerate if not eating right away. Serve with tortilla chips.
Nutrition Information:
Yield:

10
Serving Size:

1
Amount Per Serving:
Calories:

142
Total Fat:

10g
Saturated Fat:

6g
Trans Fat:

0g
Unsaturated Fat:

3g
Cholesterol:

30mg
Sodium:

247mg
Carbohydrates:

8g
Fiber:

1g
Sugar:

4g
Protein:

6g
Nutrition information isn't always accurate.