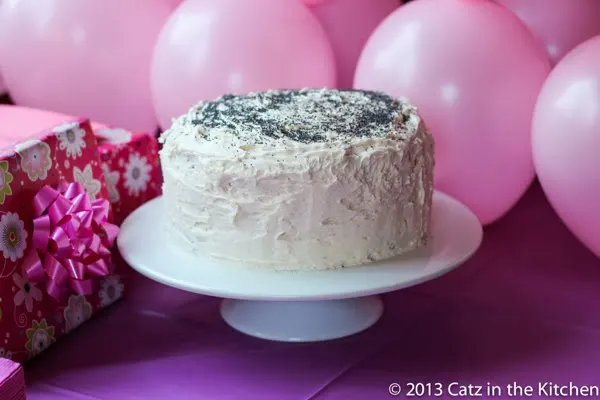 As you already know if you read our weekly musings here at
Catz
, we celebrated my beautiful bride's thirtieth birthday this week. And, since you only turn thirty once, I decided to make her the cake of her choice (okay, that's not the only thing I did, but it was part of the celebration plan)! Being the cake connoisseur she is, my Chelsia picked out no fewer than four cakes she would like, and gave me the option of choosing one or making all four. I took the latter as being a bit facetious, and chose what the one she obviously wanted most and had chosen first –
Bake at 350's
Spiced Poppy Seed Cake with Almond Buttercream Frosting
. In fact, I'm relatively certain she chose the others simply because she thought this one was a bit beyond my culinary reach, which is fair. Three layers, almond, vanilla, poppy seeds, folding of batters, cream of tartar – it's an ambitious cake for someone who doesn't prepare baked goods on an ongoing basis.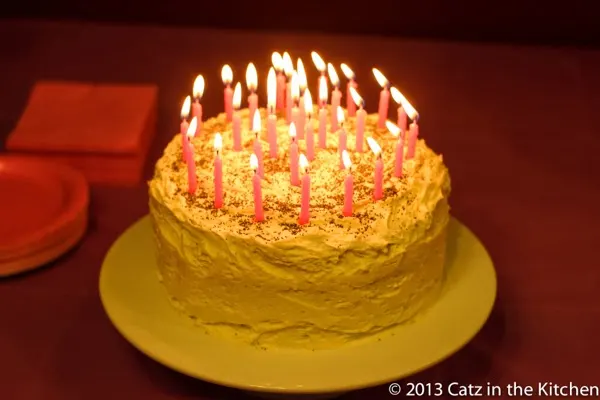 I'm very comfortable in the kitchen, and especially in front of the grill, but I generally don't bake. Sure, I make pie crusts from scratch for my quiches, but outside of that, baked penne is generally the extent of my relationship with that lower part of the stove known as "the oven." And the KitchenAid stand mixer? I get confused every time I try to use it. Turns out, it's incredibly simple, but to me it seems like it ought to be more complex, so I end up overcomplicating whatever it is I'm trying to do. But, my lovely wife loves cake, and I was bound and determined to give her what she wanted this year. Oh, also, I had her around as a safety net… (Honey, why is the KitchenAid smoking?)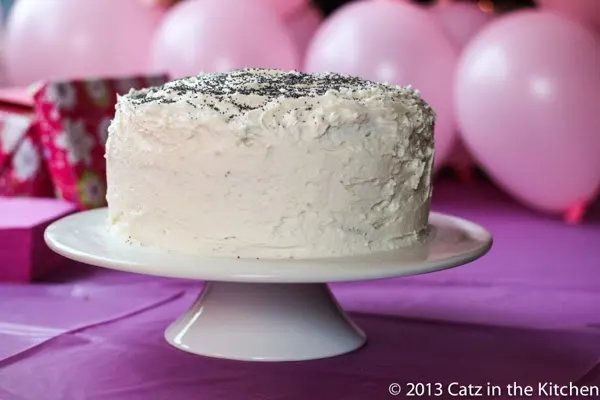 In the end, it turned out, and, I must say, is a truly spectacular cake recipe (I say this as someone who is not a cake person). It's rich, creamy, moist, and dense enough that you don't need to eat three pieces (benefit: one cake fed twenty-two people!). Caveat: don't make this cake unless you like almond. If you don't like almond…well, it's an almond cake with an almond frosting, so, why are you still reading this post? Go make some
Caramel Apple Spice Poke Cake
instead! I made some minor adjustments (primarily to up the almond ante – that's a thing, right?), notably one to compensate for my unwillingness to drop $16 on a small jar of cardamom. If you find yourself similarly resistant, you'll appreciate that particular modification. Get baking! It's not as scary as you might think – I speak from experience!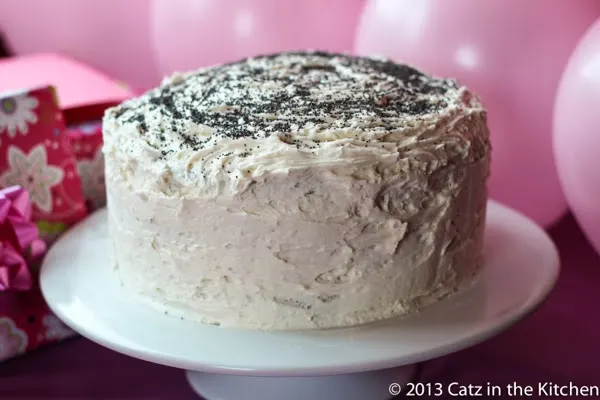 Almond Poppy Seed Spice Cake
Recipe by Bake at 350 (slightly modified)
Love almond poppy seed muffins? Love buttercream frosting? Wish you could eat them in cake form? Need to feed a crowd? Stop whatever you're doing and make this recipe!
Prep time: 30 min
Cook time: 30-40 min
Total time: about an hour
Yield: 12-20 slices
Ingredients
1 & 1/2 cupsunbleached all purpose flour
1 & 1/2 cupswhite whole wheat flour
1 tbspbaking powder
1/4 cupcornstarch
1 heaping tspground nutmeg
1 heaping tspcinnamon
6egg whites, room temperature
6egg yolks, room temperature
1/2 tspcream of tartar
1 cupsalted butter, room temperature
2 cupssugar
1/2 cuphoney
2 cupsmilk, room temperature
2 tbspvinegar
1 tbspalmond extract
1/2 cuppoppy seeds
Cooking Directions
Preheat oven to 350 degrees. Grease three 9″ round cake pans with shortening, use the pans as a pattern to cut round pieces of parchment paper to place in the bottom of each (the shortening will act like an adhesive to keep it there), and sprinkle the inside of each pan lightly with flour.
Add flours, baking powder, cornstarch, nutmeg, and cinnamon to a sifter and sift into a large bowl.
Using the whisk attachment on a stand mixer, whip egg whites and cream of tartar on high until soft peaks form. Set aside.
In another large bowl, add butter, sugar, and honey. Cream together using the paddle attachment on a stand mixer until light and fluffy.
Setting mixer to low speed, add egg yolks one at a time, beating briefly after each addition. Continually scrape the inside of the bowl while beating to ensure mixture is smooth and creamy.
Combine milk, vinegar, and almond extract in a medium bowl.
Add dry mixture to butter mixture in three separate additions, alternating with the milk mixture. Between additions, mix lightly until just combined. Scrape inside of bowl as necessary.
Fold in poppy seeds all at once, and then egg whites in three separate additions. You may need to whip the egg whites briefly again if they have begun to separate.
Fold batter evenly into pans and place in oven. Bake for 30 minutes, then check for doneness. Bake up to an additional 10 minutes if necessary, until a toothpick in the center comes out relatively clean, the top is springy, and the edges are lightly browned.
Cool in pans for 10 minutes, then transfer to wire racks. When cakes are still warm to the touch, but cool enough to handle, wrap tightly in plastic wrap, then again in foil, and place in freezer overnight.
When ready to frost (recipes follows), remove from freezer and allow to defrost for several hours (original post recommends defrosting in refrigerator – I neglected to use the plastic wrap, so I pulled the foil off of mine immediately the following morning and defrosted in a cake dome).
Almond Buttercream Frosting
Ingredients
1 & 1/2 cupssalted butter, room temperature
7 1/2 cupspowdered sugar
1 tbspvanilla extract
1 tbspalmond extract
6 tbsphalf & half (plus additional as necessary)
1-2 tbsppoppy seeds, for topping
Cooking Directions
Cream butter and powdered sugar together using the paddle attachment on a stand mixer on high speed until it forms a thick paste.
Beat in vanilla and almond extract, followed by half and half. Beat until fully combined, adding additional half and half one tablespoon at a time as needed to achieve a fluffy consistency. Beat until all lumps are gone and frosting is fluffy.
Place first layer of cake on frosting surface. Spread a heaping half cup of frosting on top. Add second layer and repeat. Add third layer and frost top and sides generously.
Sprinkle poppy seeds on top.