These adorable Moscato Cupcakes are a festive spring and summer dessert! They're easy to whip up and showcase a subtle moscato flavor.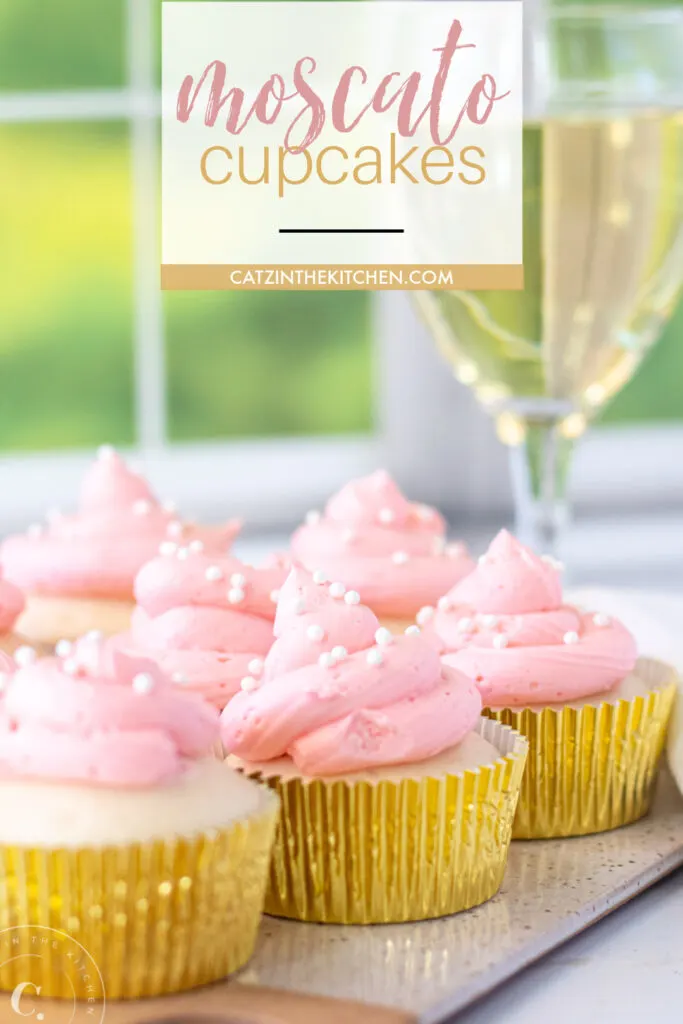 I shared these Moscato Cupcakes years ago with a website I use to work with called Evermine. Evermine is a cute shop where you can create all kinds of personalized labels and gifts for all sorts things, and I would feature their products along with a recipe over here on my blog and on their website. I haven't worked with Evermine for years now, but these Moscato Cupcakes definitely require an updated recipe card and a new photo or two!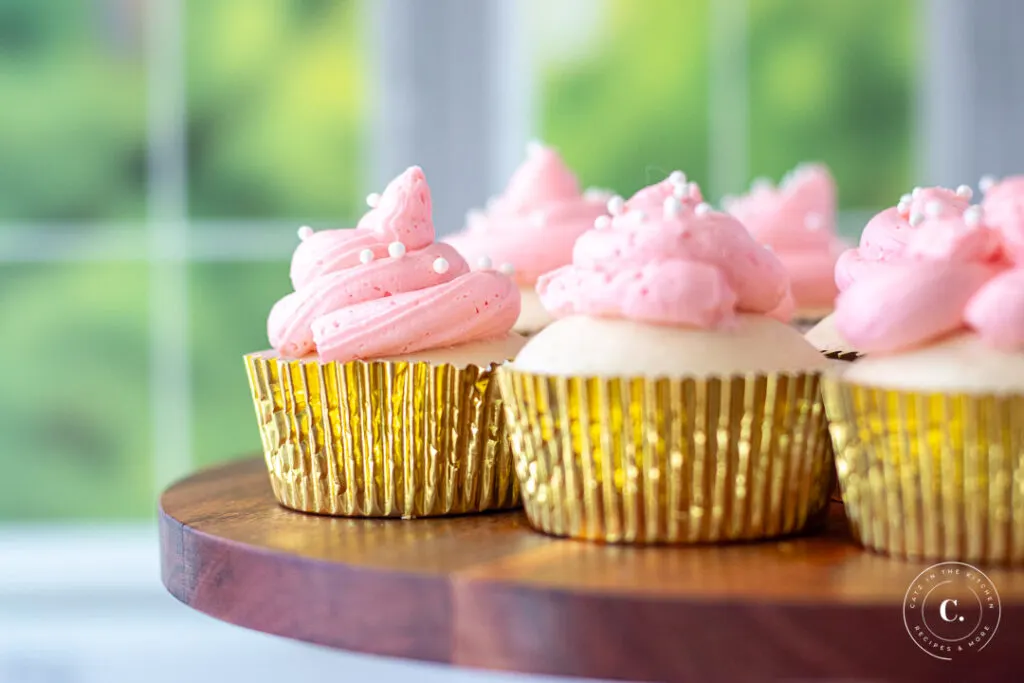 I originally made these cupcakes to help celebrate my parents' anniversary years ago – which in my opinion is such a yummy way to celebrate…who doesn't love a good cupcake? I mean, they did, because the cupcakes were a hit. I've since updated the recipe a smidge and I think they're even better than ever now.

I really enjoy a good glass of moscato wine in the warmer months. During fall and winter, I gravitate toward red wines, but when it is warm and sunny, I want something crisp and clean. My palette has changed a lot over the years, and now drinking moscato can be a little sweet on my tastebuds, so I love this idea of infusing the Moscato flavor into the cupcakes. Let me just say the flavor is out of this world and perfect for the beautiful sunny weather we're having right now.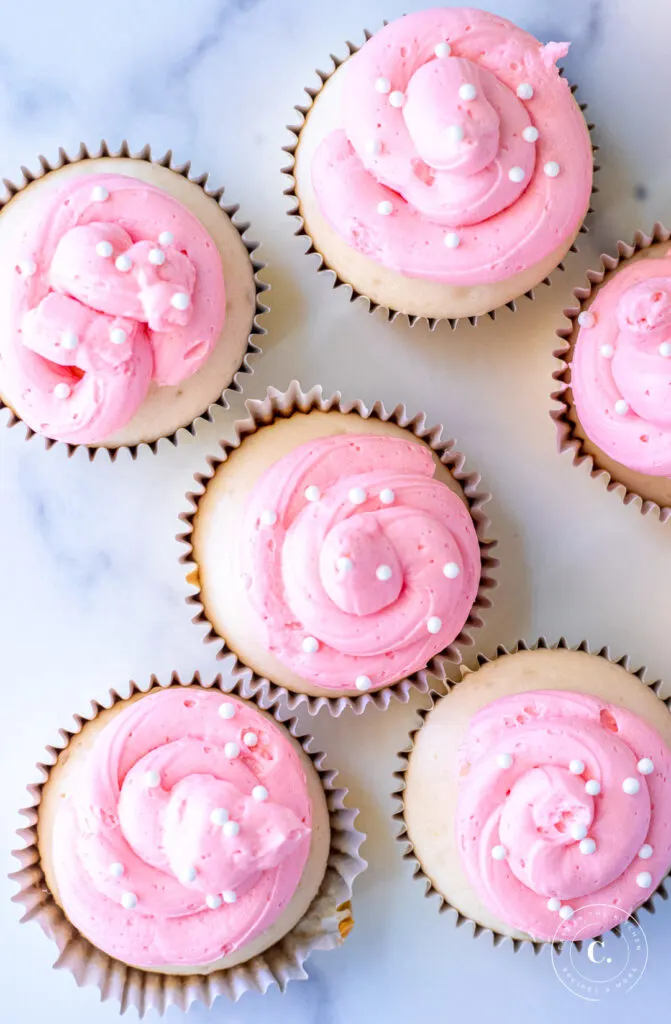 Of course, you can enjoy these cupcakes just because you love a good cupcake and because Moscato wine is delicious. But these cupcakes would also be fun for a bridal shower, bachelorette party, wedding, birthday party, book club, summer garden party, or just because. I mean I can keep on giving you reasons why you should make these and how they work for all kinds of occasions, but I think you get the idea.
I made these cupcakes and quickly realized I wasn't going to be able to eat 20+ of them on my own. I gave some to Grace as dessert for a movie night she was having, and also shared a few with some nearby moms who happened to be home at the time!
Everybody got a taste and I didn't have to eat all of the cupcakes by myself… #Winning
And if you think these aren't for guys, I'll just say, Josh also enjoyed a cupcake. He's not much of a cupcake guy and definitely not a Moscato guy, but he found them equally delightful.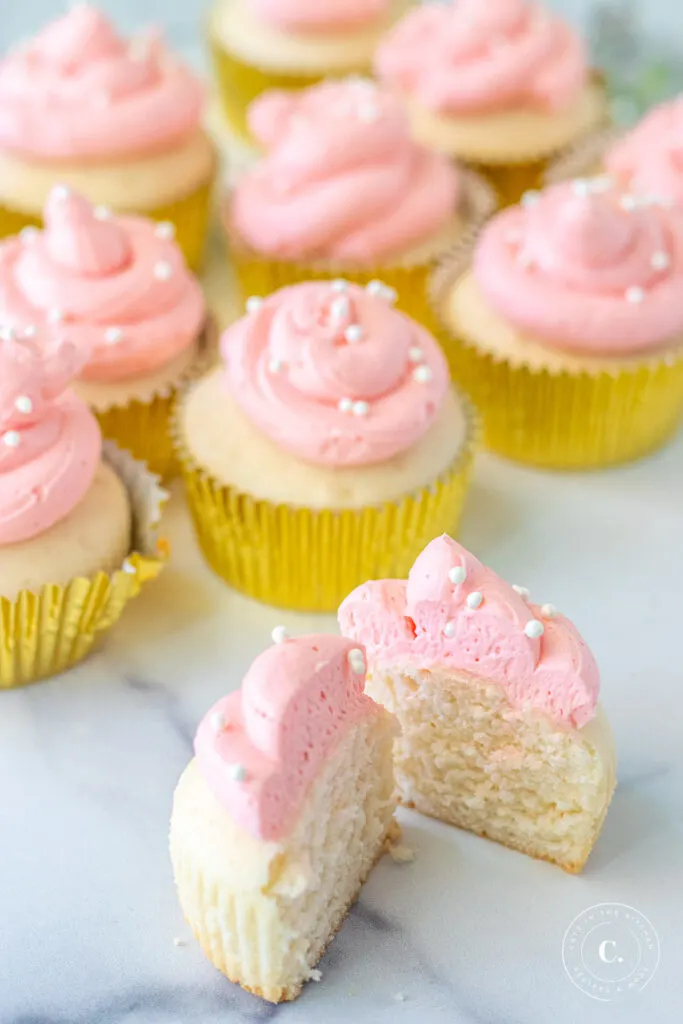 A couple of things I want to mention…these cupcakes do have a small amount of alcohol in them, so just be aware of that. There is over a cup in the batter and that does get baked out so you're only left with flavor, however, there is a bit in the frosting. I took one cup of Moscato and reduced it on the stove till there was only about 2 tablespoons left – so more flavor and more concentrated but in a small amount and then I added an extra tablespoon of Moscato to the frosting to thin it out a bit more and what you're left with is probably the best buttercream frosting you've ever eaten. So you're talking one uncooked tablespoon of moscato divided into 22 cupcakes. There's probably more alcohol in this cherry vanilla crisp (another delightful summer dessert, by way)!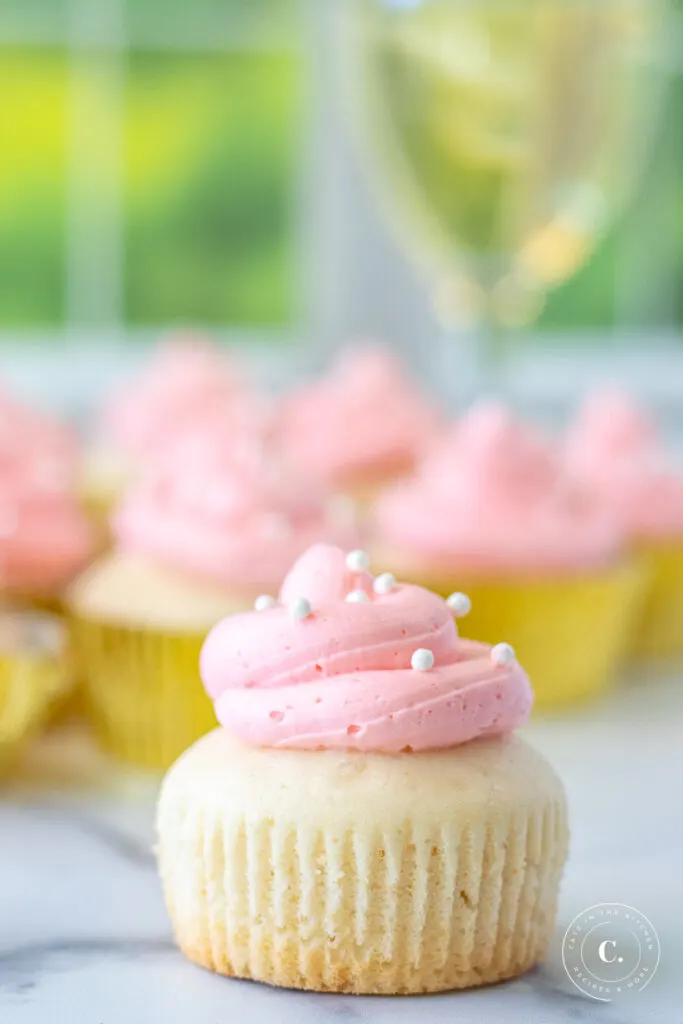 I mention all of this because you could always substitute the buttercream without the Moscato and just have buttercream, or you could add in some lemonade or sparkling cider for the kiddos.
If you don't like Moscato or don't have it on hand, you could use a different wine, too. Rose would be delish; a Rose Moscato would also be delightful. A fruity Pino Grigio also would be lovely. Or like I said above, sparkling cider also works for a non-alcoholic option.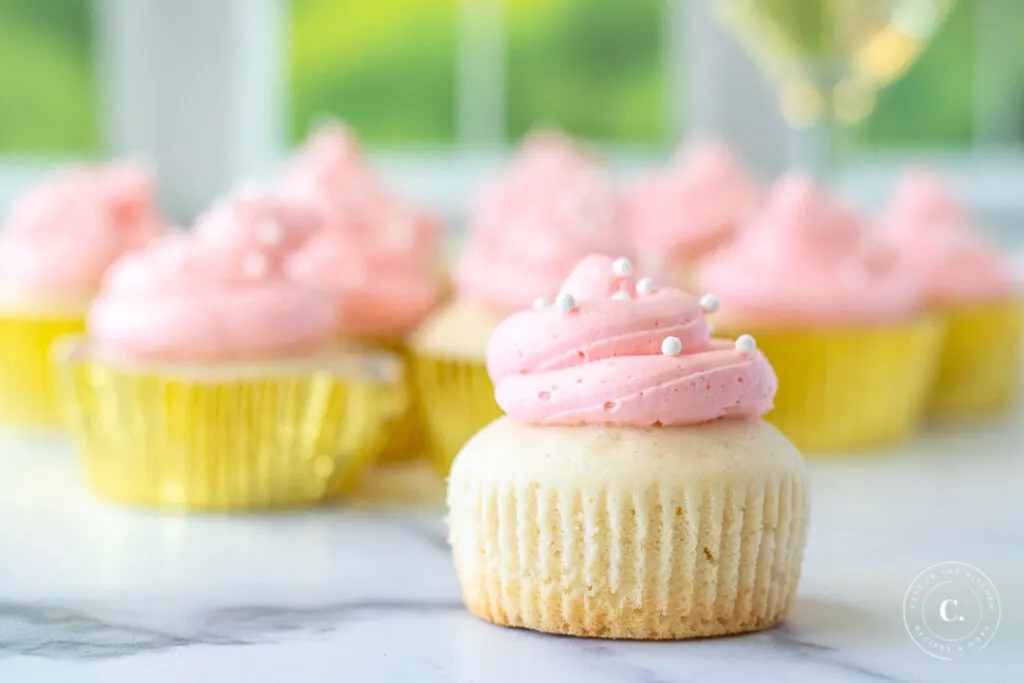 These Moscato Cupcakes are such a perfect treat for the summer. I hope you make them and then let me know what you thought or what changes you made.
Happy Baking, friends!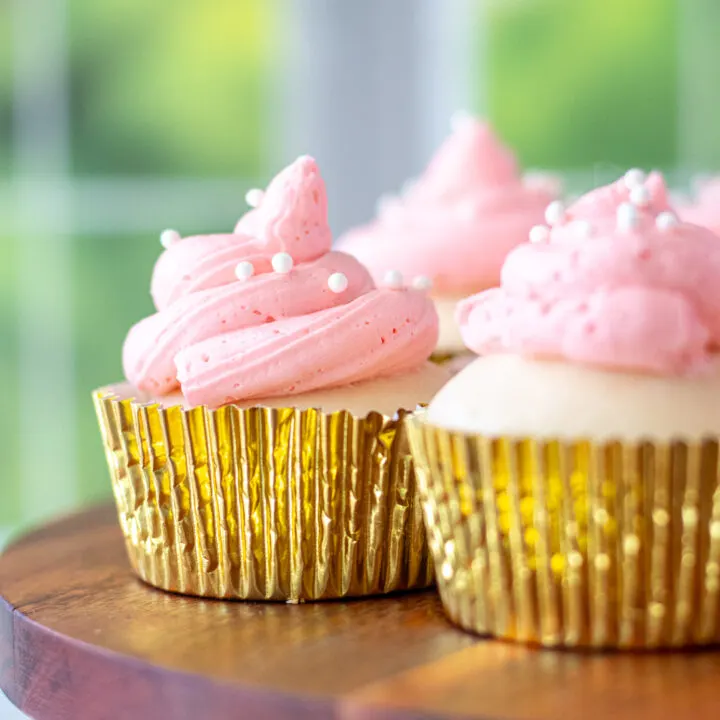 Moscato Cupcakes
These adorable Moscato Cupcakes are a festive spring and summer dessert! They're easy to whip up and showcase a subtle moscato flavor.
Ingredients
1 (15.25 oz) box white cake mix
1/3 cup sour cream (plain Greek yogurt works too)
1 1/3 cup Moscato wine
3 egg whites
Moscato Buttercream Frosting
1 cup moscato + 1 tbsp
2 sticks salted butter, softened
2 1/2 cups powdered sugar
2 tbsp heavy cream
*optional 1 drop red food coloring
Instructions
Preheat oven to 350 degrees and fill two cupcake pans with cupcake liners, yielding about 22 cupcakes in total
With an electric blender, beat together white cake mix, greek yogurt, Moscato wine and egg whites together for about 3 minutes or until the batter is smooth and creamy.
Spoon batter into cupcake liners and bake for 18-20 minutes, or until a toothpick inserted in the middle comes out clean.
Allow cupcakes to cool completely before frosting them.
To make the frosting: In a small pot, pour in the moscato wine and reduce on high-medium heat to reduce until there is about 2 tbsp of moscato.
While the moscato is reducing, combine the butter, powdered sugar, and heavy cream together in a large bowl or the bowl if your KitchenAid mixer fitted with the whisk attachment. Blend on medium-to high speed until creamy, light, and fluffy, about 3-5 minutes.
When the moscato has reduced down to 2 tbsp, pour in the reduced moscato along with the 1 tbsp of reserved moscato. Blend on medium speed until incorporated.
At this point feel free to add in one drop of red food coloring or preferred color and mix until evenly blended. Scoop half of the frosting into a piping bag fitted with a piping tip of your choice and frost cupcakes, adding more frosting to the bag as needed or until cupcakes have all been frosted and decorate with sprinkle.
Nutrition Information:
Yield:

22
Serving Size:

1
Amount Per Serving:
Calories:

161
Total Fat:

10g
Saturated Fat:

6g
Trans Fat:

0g
Unsaturated Fat:

3g
Cholesterol:

26mg
Sodium:

86mg
Carbohydrates:

15g
Fiber:

0g
Sugar:

14g
Protein:

1g
Nutrition information isn't always accurate. In this case, the calculation does not appear to be taking the box of cake mix into consideration, which adds approx 70-80 calories per cupcake.