A beautiful, festive bundt for the holidays or any special occasion, this delectable cocoa chiffon cake with vanilla glaze is a delight!
This post originally appeared on the blog back in March of 2010, very early on for us! Chels had just started the blog as a way of learning more about cooking and baking and generally trying to improve our family's diet, and this recipe and post is a fun walk down memory lane for us. But, here we are 10 years later, and this poor recipe, which is excellent and from a cookbook that is hard to find anymore, was looking rather sad and neglected. Chels made it again, we re-photographed it, and we ate it again. Yum! We hope you enjoy this updated recipe for Cocoa Chiffon Cake!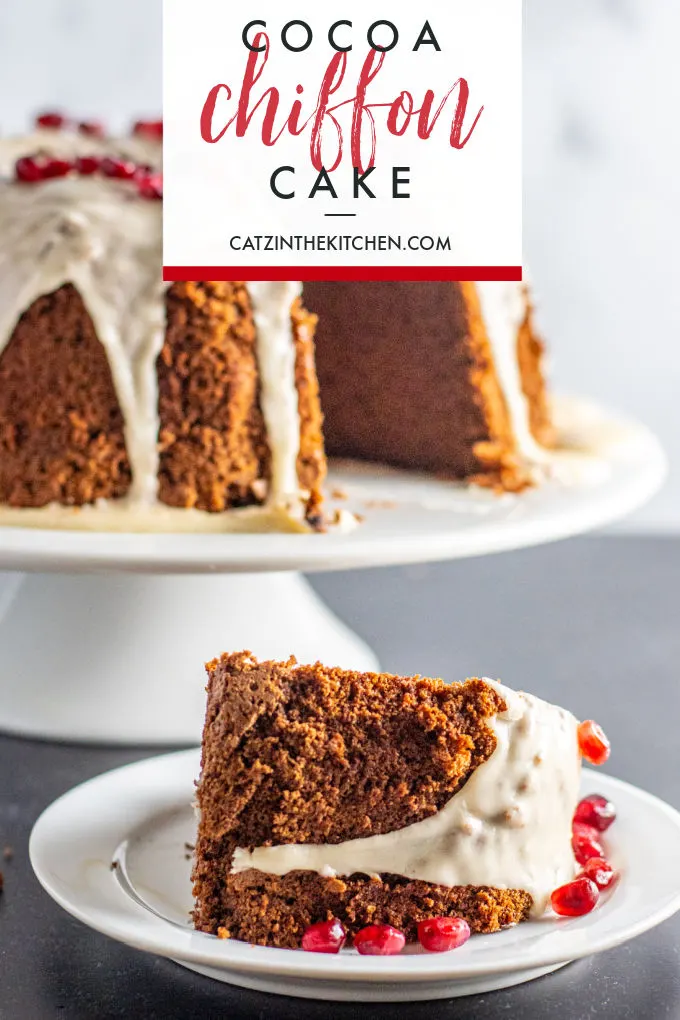 My all time favorite dessert has always been cake. Nothing gets me more excited than a yummy fluffy cake with frosting that melts in your mouth. Which is why the bakery was always my favorite section of the grocery store!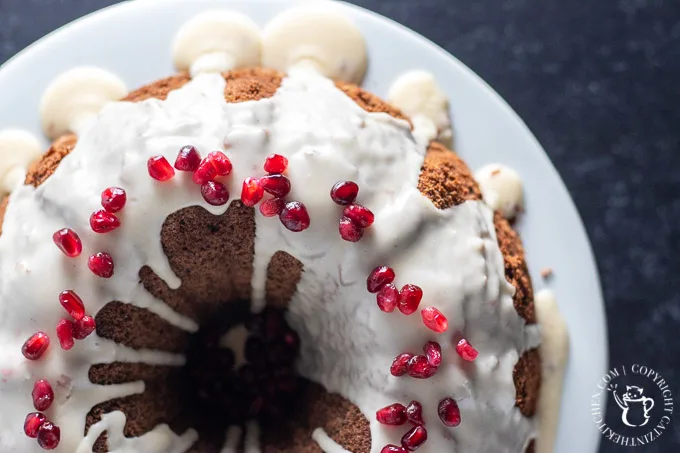 As I would walk through, I would just stare at all the cakes. Wedding Cakes, birthday cakes, holiday cakes…they all looked so fragile and gorgeous, and most of all…they looked yummy.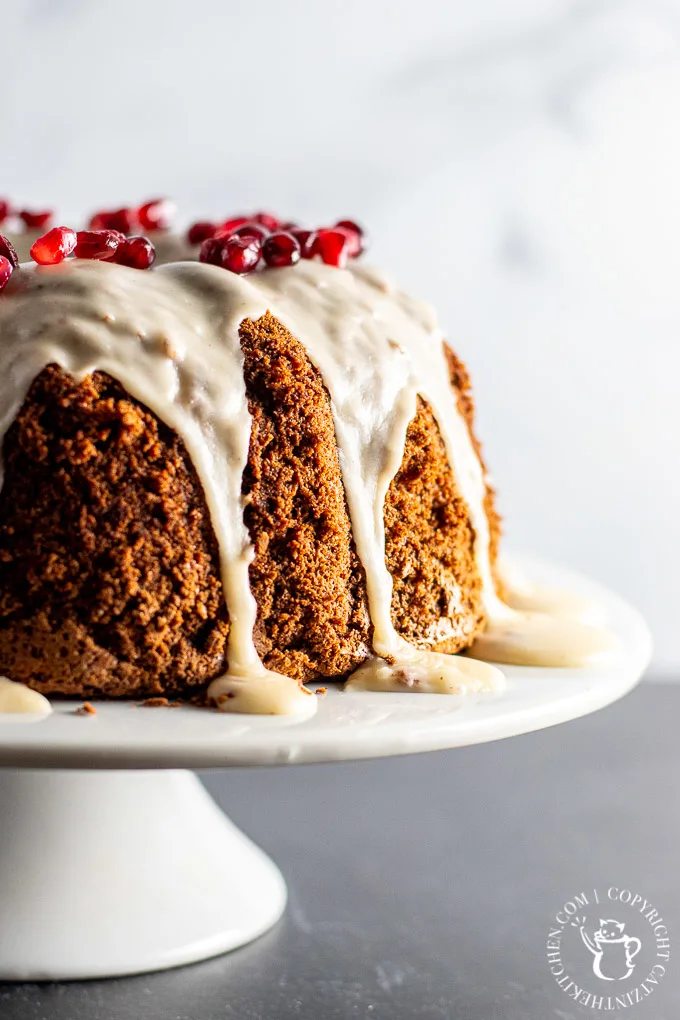 I've been wanting to push myself a bit more in the dessert area…but baking can easily get expensive, with all of the different tools you need…and it can get confusing…quickly….if you don't understand what a cookbook is trying to tell you. But nevertheless, I wanted to bake something…and I had my heart set on a homemade cake.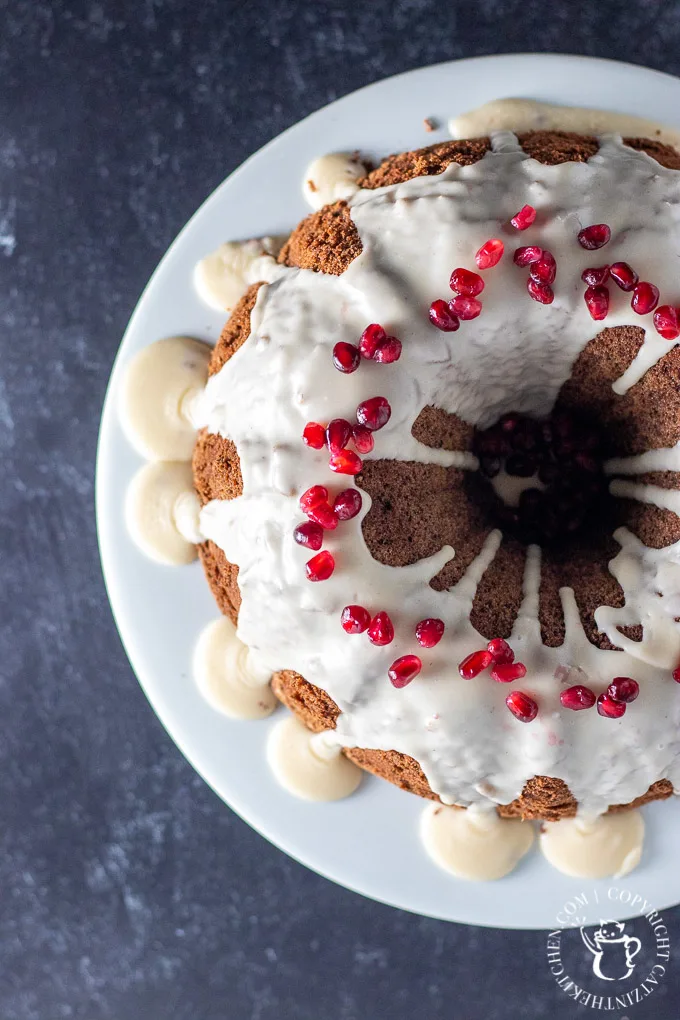 A couple of weeks ago, I bought a bundt pan. I think Bundt Cakes always look elegant…probably because of the rippled mold. So I took out my Hershey's Fabulous Desserts cookbook and started flipping through the pages looking for a cake that I could possibly create. I came across a picture of a Cocoa Chiffon Cake…and after mulling through the directions and ingredients, I decided that I could do this.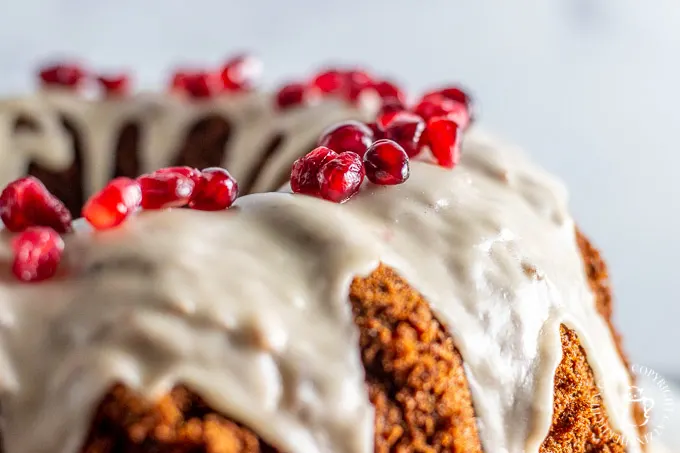 But I needed Cake Flour! I knew exactly where it was in my grocery store and I knew the box it came in…but I had to make the case for buying somewhat more expensive flour on top of all the other flour we already buy! (2020 Note: Now we buy it all at Costco in 25 lb bags! How times have changed!)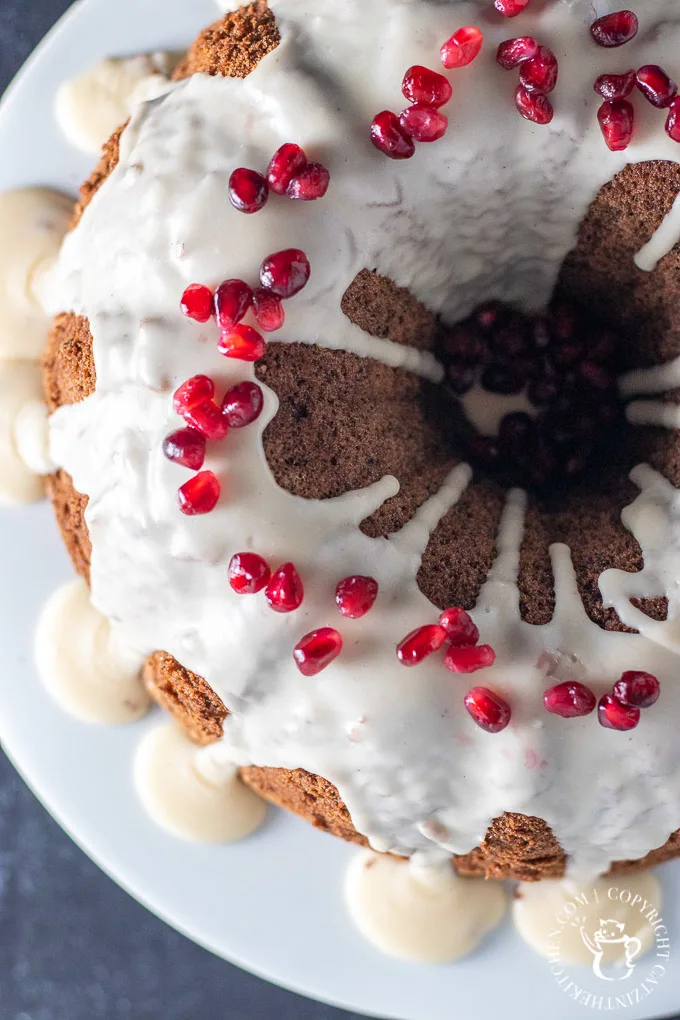 Monday night, Josh and I made a yummy steak dinner. The weather was decent enough for grilling and the food was incredible. But I wanted something sweet to finish off the evening. The night before I had convinced Josh that I needed to remodel my farm on the FB game Farmville (it's really a stupid pointless game, but it entertains me). (2020 Note: Oh, my gosh. Farmville. The shame.) So while he worked on my farm, I got to work on the cake.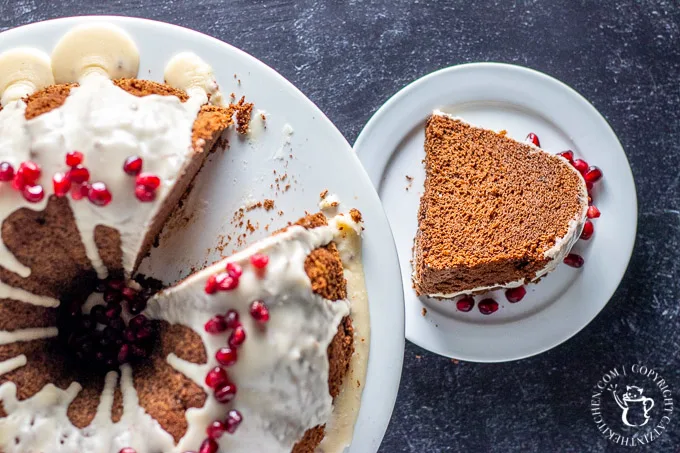 I successfully separated seven egg whites from the yolks and made the cake batter…Can I just say YUM! Homemade batter is way more tasty than that stuff out of a box. The I got to work on the egg white bit. I had to mix the egg whites and cream of tartar until stiff white peaks formed…??? Um, what? What is a stiff white peak? Well, I had an idea…I kind of pictured whipped cream peaking…so I decided to use my mixer…but after several minutes of using the mixer, nothing was happening so I went the old fashioned route and used the hands God gave me…OW! Boy, I have a new appreciation for the people who had to do all of their baking and cooking by hand.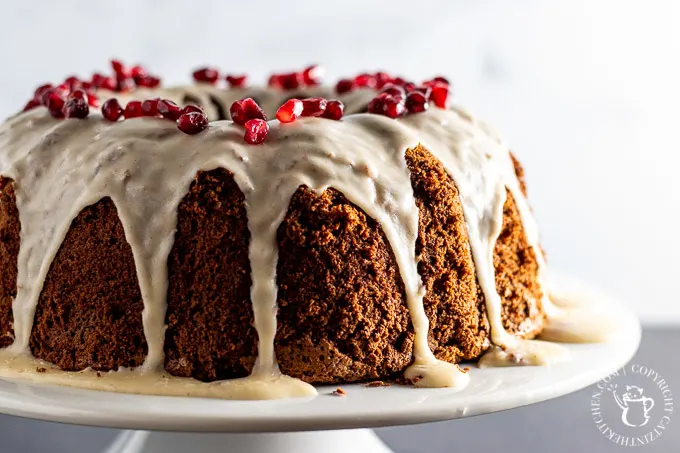 Finally, everything started to thicken up and I can't say I really ever saw too many stiff peaks…I got too irritated with the waiting process. And when Josh and I thought it was good enough, we folded in the cake batter to the egg whites. I say we, because I started it…but then Josh finished my farm and well…I made Josh finish the folding, Hahaha! He put it in the bundt pan and into the oven and got it cooking.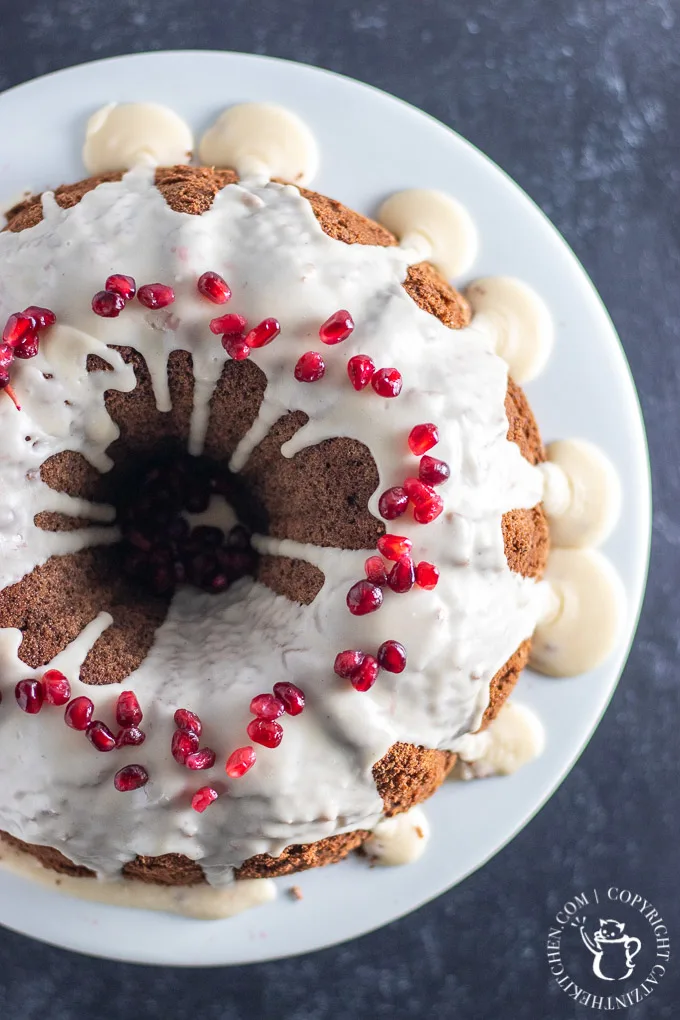 After the oven beeped we took the cake out…looked beautiful and it was springy….just like it was supposed to be. So we read we were supposed to "invert the pan on a heatproof funnel until completely cool"….what is a heatproof funnel? No idea…but google was helpful enough with its pictures to inform me that I did not own that particular item and I was out of luck. So, we just let it cool in the pan. Sometimes in life, you gotta improvise.
After it was cooled…the cake wouldn't come out of the mold, heehee, so Josh took one of my spatula's and we started loosening the edges and shaking the cake…well as you can imagine…that worked…but a few pieces of the cake broke off. It didn't look too bad.
I quickly made the recipe for the vanilla glaze…couldn't be more simple or tasty…and my cake was finished…and it was after midnight! Needless to say, we were both tired so we didn't eat any till Tuesday night. But it was sooo good. Josh, who is not a cake person, told me, and I quote, "This is the type of cake I could get into." Which meant, he really liked it. He liked it so much he had two slices. Grace ate all of hers, Eden ate some, and I had a slice. It was delicious and a recipe I would make again!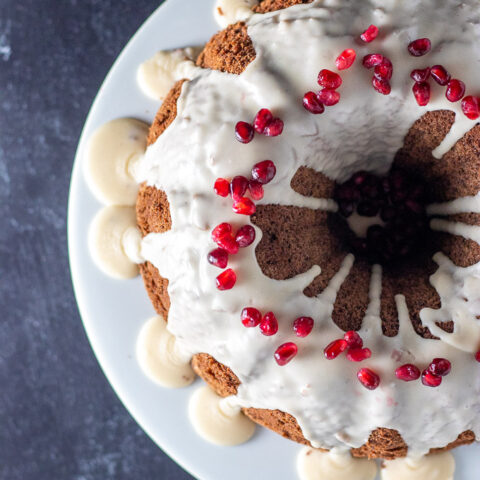 Cocoa Chiffon Cake
A beautiful, festive bundt for the holidays or any special occasion, this delectable cocoa chiffon cake with vanilla glaze is a delight!
Ingredients
Cocoa Chiffon Cake
2 cups sugar, divided
1 1/2 cups cake flour
2/3 cup Hershey's Cocoa
2 teaspoons baking powder
1 teaspoon salt
1/2 teaspoon baking soda
1/2 cup veggie oil
7 eggs, separated
3/4 cups cold water
2 teaspoons vanilla extract
1/2 teaspoon cream of Tartar
Vanilla Glaze
1/3 cup butter or margarine
2 cups confectioners sugar
1 1/2 teaspoons vanilla extract
2-4 tablespoons hot water
Instructions
Cocoa Chiffon Cake

Heat oven to 325.
In a large bowl combine 1 3/4 cups sugar, flour, cocoa, baking powder, salt, and baking soda. Add oil, egg yolks, water, and vanilla; beat until smooth.
In a large mixer bowl beat egg whites and cream of tarter until foamy. Gradually add remaining cup 1/4 cup sugar, beating until stiff peaks form.
Gradually pour chocolate batter over beaten egg whites, folding with a rubber spatula just until blended.
Bake 1 hr and 20 min or until top springs back when touched lightly. Invert pan on heatproof funnel until completely cool. Remove cake from pan; invert onto serving plate.
Spread top of the cake with Vanilla Glaze, allowing some to drizzle down the sides.

Vanilla Glaze

In a medium saucepan over low heat melt butter. Remove from heat.
Stir in confectioner's sugar and vanilla.
Stir in water, 1 Tablespoon at a time, until smooth and until desired consistency.
Notes
Optionally, you may choose to top your cocoa chiffon cake with some pomegranate arils. This gives the cake a bit more of a holiday flair, if that is your desire, and a wonderful pop of flavor as well!
Nutrition Information:
Yield:

16
Serving Size:

1
Amount Per Serving:
Calories:

339
Total Fat:

13g
Saturated Fat:

4g
Trans Fat:

0g
Unsaturated Fat:

8g
Cholesterol:

91mg
Sodium:

295mg
Carbohydrates:

51g
Fiber:

1g
Sugar:

39g
Protein:

5g
Nutrition information isn't always accurate.