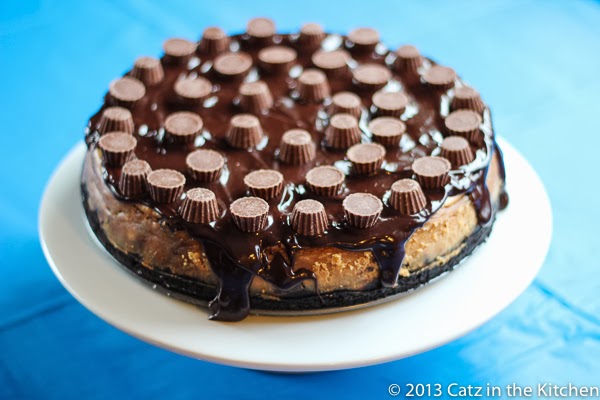 I've been having "one of those weeks." I feel like I've been having "one of those weeks" for the past few weeks now. It kind of bites. There just do not seem like enough hours in the day and no matter how good my intentions are or how planned out my plans are, something seems to go awry. I've been tired lately. I'm sure that is very much a contributing factor. I'm sure that is most "mom problems" when you have a toddler in the house. Ohmygosh…did I just call Christian a toddler? Say it isn't true! Where did the time go? Come Baaaaccck!
Sleep derivation causes lunacy. It's a fact. Wanna hear another fact? I knew that as soon as I saw my friend Deborah from Taste and Tell posted this cheesecake back in the beginning of December, I just knew Josh was going to want me to make it for his birthday. I just knew it! And I was right! I know my husband so well!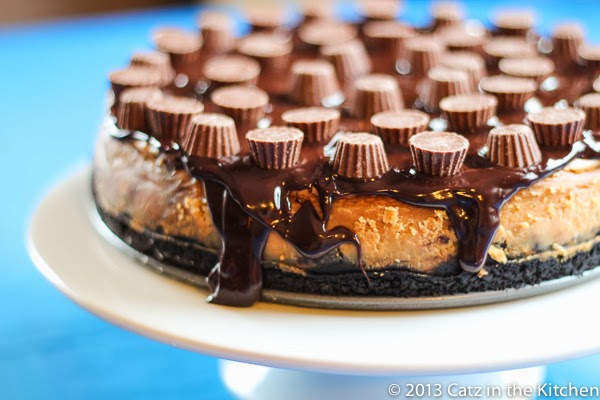 This is one decadent, rich, utterly fantastic cheesecake! I've made several cheesecakes in my life and this one is probably one of the better ones! It out does any cheesecake at the Cheesecake Factory, I promise!
Sadly, as it is with birthday parties, I don't have a picture of a cut slice of the cheesecake. We took some, but by the time we did take those pictures, the light had already gone and the pics were yellowy, blurry, and not at all good! Another thing that didn't go my way, lol! Oh well, such is life. The inside of the cheesecake is just gorg though. More Reese's Peanut Butter Cups are chopped into chunks and proportioned throughout the entire cake. It is a thing of beauty and a taste of heaven! If everything else is going wrong in life, I promise that you can make this cheesecake (it's not hard at all) and everything will be right with the world and perfectly balanced. This cheesecake fixes everything!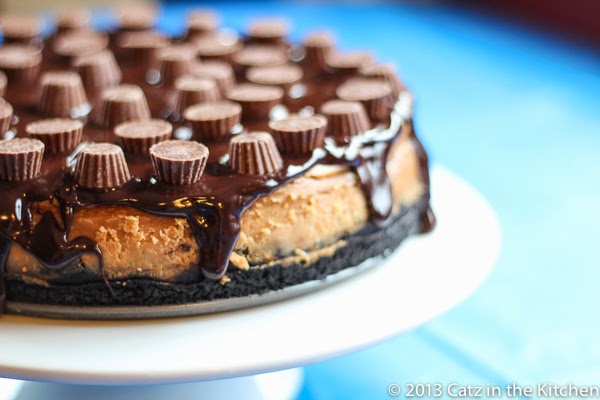 Reece's Peanut Butter Cup Cheesecake
Peanut butter lover? This cheesecake is for you! A creamy peanut butter center with chunks of Reese's Peanut Butter Cups topped with deliciously smooth chocolate and more Reese's peanut butter cups.
Prep time: 25-30 minutes
Cook time: 1 hour and 15 minutes
Total time: 5 hours
Yield: 20-23 servings
Ingredients
30

oreo cookies

6 TB

butter, melted

Dash

of salt

32 oz

cream cheese, softened

5

eggs

1 1/2 cups

brown sugar

1 cup

smooth peanut butter

1/2 cup

heavy cream

1 tsp

vanilla extract

12 oz

Reese's Peanut Butter miniature cups, unwrapped and roughly chopped into chunks

1/2 cup

heavy cream

1 cup

semi-sweet chocolate chips

1 (8 oz)

pkg Reese's Minis
Cooking Directions
Pre-heat oven to 325 degrees.
In a food processor (or blender) place the chocolate cookies inside and process or blend until they form a fine crumb. In a medium sized bowl, pour in the cookie crumbs, melted butter, and salt and stir with a spoon until it's combined and resembles the look of wet sand. Press the crumb mixture into the bottom of a 9-inch springform pan and bake for 10-12 minutes. Set aside to cool. Once cooled, wrap foil tightly around the bottom and sides of the springform pan.
In a large bowl, beat the cream cheese until smooth, adding the eggs one at a time. Scrape the sides of the bowl if needed. Add the brown sugar, peanut butter, cream, and vanilla extract, beating until combined. Fold in the chopped Reese's Miniatures and pour the mixture into the cooled crust.
Place the pan inside a large high rimmed baking sheet and carefully add about 1 inch of hot water into the larger pan. Bake the cheesecake until set, about an 1 hour and 15 minutes. When the cheesecake is set, turn the oven off and allow the cheesecake to slowly come down in temperature for 1 hour. Remove from oven and place pan on a wire rack to finish cooling. Place the cheesecake in the fridge to cool all the way.
When cheesecake is completely cooled and you are ready to make the topping, gently run a small knife along the edges inside the spring form pan just in case some of the sides sticks to the pan. Carefully, unclamp the pan and gently lift the outer pan off the cheesecake.
To make the topping, heat the heavy cream just until it simmers. Remove from heat and pour in the chocolate chips. Let the chocolate soak in the simmered milk for a few minutes, then stir until it becomes smooth. Carefully pour the chocolate over the top of the cheesecake and decorate the top with the Reese's minis.