This recipe for Italian Chicken with angel hair pasta is marinated in Italian dressing and spooned over delicate noodels with fresh parsley and parmesan.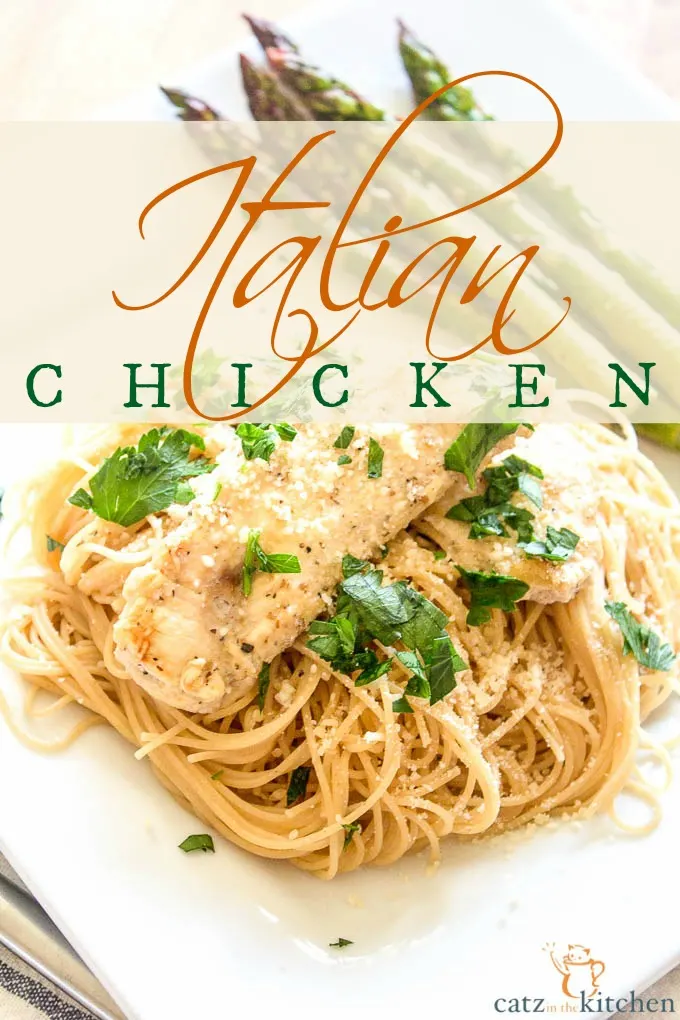 Our homeschooling year is just about over. In fact this week, because it was a holiday week we're only having 3 days of school and then we're done. Actually, officially tomorrow we'll be done because it will be Thursday and we school Monday-Thursday. But because Monday was a holiday, there wasn't any school And since today is Wednesday, this only leaves Grace with one day left. Did you catch all that? Did you like how I kind of repeated the same thing twice but said it in a different way? Clever ain't I? Don't worry, I'm here all week for your amusement.
Last week, because I'm kind of totally ready and halfway out the school door, I casually suggested to Josh that maybe we just let the last week slide and just surprise her and be done with it all until the fall. You know what he said? "No.." That's right. He shut me down! Hard. Like it was a firm no, meaning zero discussion. I'm all like, "c'mon, have a heart! She has done so well this year. It's only THREE days." Nope, he didn't budge. I thought about turning on the water works. But since I'm already allergy ridden with a nose that can't decide if it wants to be stuffed up or runny and sneezes randomly, LIKE WHEN I'M DRIVING or just plucking my eyebrows and my eyes are just seconds away from having itchy watery eye syndrome, (yes it's a thing. Not really.) Anyone else sneeze when they pluck their eyebrows? Didn't think so. #weirdo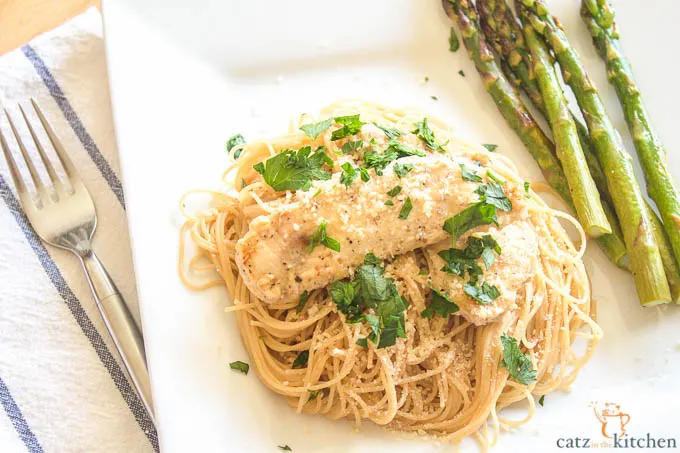 Poor Grace. She has a dad that really wants her to succeed and not take any easy ways out…even if it's only a three day school week. Secretly, I think he is harboring some resentment towards me because I forgot to wash out the coffee maker a few times last week and he was forced to do it. I think the whole doing the last 3 days of school thing is a conspiracy against me. His wife who sends replies to text messages in a really sappy, dopey, lovesick, clingy kind of way, like this: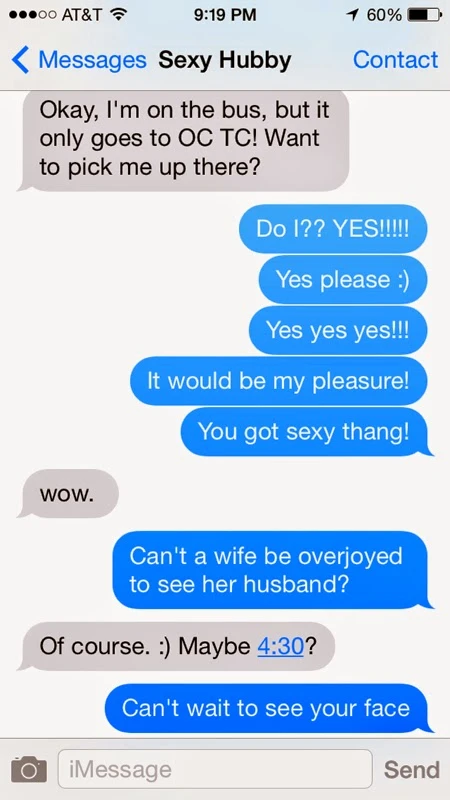 But whateves! I'll see his conspiracy and raise him…dirty coffeemakers all week long!
Just kidding. I'm not that immature. Or am I?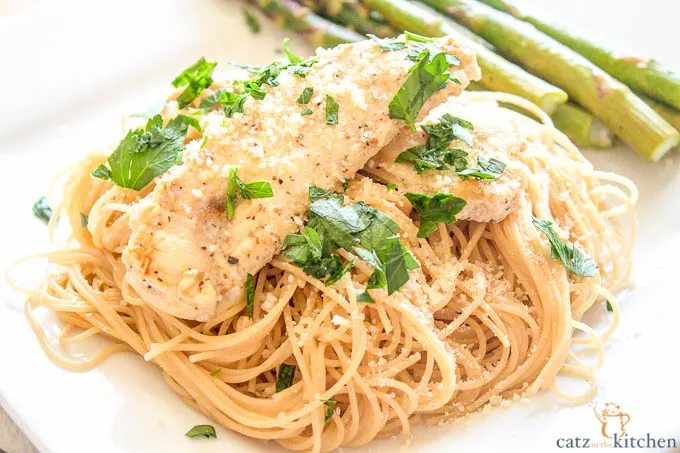 Enough about school and all the hardships that befalls it. Let's talk about this dinner. Could there be anything easier? She says in a Chandler Bing tone of voice.
This recipe is one that we often enjoy with Josh's family. It is so super simple. One of the reasons why I LOVE it! We use chicken tenderloins for this dish because they thaw faster so you can marinate them longer and they drape over the pasta so beautifully. Literally, this dish goes, thaw, marinate, bake, serve. You can't screw it up, it's a fail-proof chicken dish that is packed with delicious flavor and only calls for five ingredients. Which leaves you time to do the dishes, make a side dish, have the kids set the table, and put your feet up while you check your Facebook feed. Trust me, I know this from experience. :)
Italian Chicken with Angel Hair Pasta
Total Time:
2 hours
30 minutes
This recipe for Italian Chicken with angel hair pasta is marinated in Italian dressing and spooned over delicate noodels with fresh parsley and parmesan.
Ingredients
8-10 boneless, skinless chicken tenderloin (figure 2-3 tenders per person)
1/2-3/4 cup Newman's Own Family Recipe Italian Dressing
1 lb angel hair pasta
4 tbsp flat-leaf parsley, finely chopped
Grated Parmesan cheese for topping
Instructions
Marinate the chicken with the dressing in a ziploc bag for at least 2 hours and keep in the fridge until ready for use.
Pre-heat oven to 350 degrees. Empty the chicken and dressing into a 9x13 baking dish. You can add a bit more dressing at this point if you like. (The dressing turns into a sauce that you can just drizzle over the chicken and pasta. ) Bake for 20-30 minutes until chicken is cooked through.
While the chicken is baking, prepare pasta according to the box's directions. Drain pasta and return to pot.
Place some pasta on a plate and top with the baked Italian chicken. Drizzle some of the dressing from the baking dish over the chicken. Sprinkle a little bit of parsley over the pasta and chicken. Top with grated parmesan cheese and serve.
Nutrition Information:
Yield:

6
Serving Size:

1
Amount Per Serving:
Calories:

702
Total Fat:

30g
Saturated Fat:

8g
Trans Fat:

0g
Unsaturated Fat:

18g
Cholesterol:

220mg
Sodium:

618mg
Carbohydrates:

28g
Fiber:

1g
Sugar:

5g
Protein:

75g
Nutrition information isn't always accurate.