Last week, because I'm kind of totally ready and halfway out the school door, I casually suggested to Josh that maybe we just let the last week slide and just surprise her and be done with it all until the fall. You know what he said? "No.." That's right. He shut me down! Hard. Like it was a firm no, meaning zero discussion. I'm all like, "c'mon, have a heart! She has done so well this year. It's only THREE days." Nope, he didn't budge. I thought about turning on the water works. But since I'm already allergy ridden with a nose that can't decide if it wants to be stuffed up or runny and sneezes randomly, LIKE WHEN I'M DRIVING or just plucking my eyebrows and my eyes are just seconds away from having itchy watery eye syndrome, (yes it's a thing. Not really.) Anyone else sneeze when they pluck their eyebrows? Didn't think so. #weirdo
But whateves! I'll see his conspiracy and raise him…dirty coffeemakers all week long!
Just kidding. I'm not that immature. Or am I?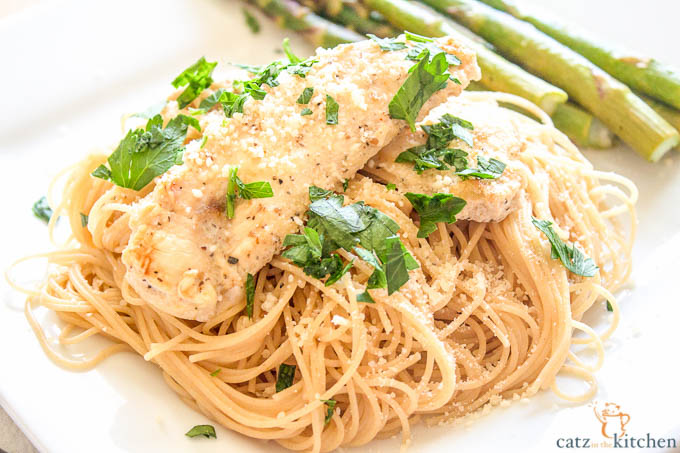 Enough about school and all the hardships that befalls it. Let's talk about this dinner. Could there be anything easier? She says in a Chandler Bing tone of voice.
This recipe is one that we often enjoy with Josh's family. It is so super simple. One of the reasons why I LOVE it! We use chicken tenderloins for this dish because they thaw faster so you can marinate them longer and they drape over the pasta so beautifully. Literally, this dish goes, thaw, marinate, bake, serve. You can't screw it up, it's a fail-proof chicken dish that is packed with delicious flavor and only calls for five ingredients. Which leaves you time to do the dishes, make a side dish, have the kids set the table, and put your feet up while you check your Facebook feed. Trust me, I know this from experience. :)