Sweet and Salty is the theme of this creamy peanut butter Butterfinger pie. With chunks of Butterfinger and a salty pretzel crust, it's the perfect dessert to serve this summer.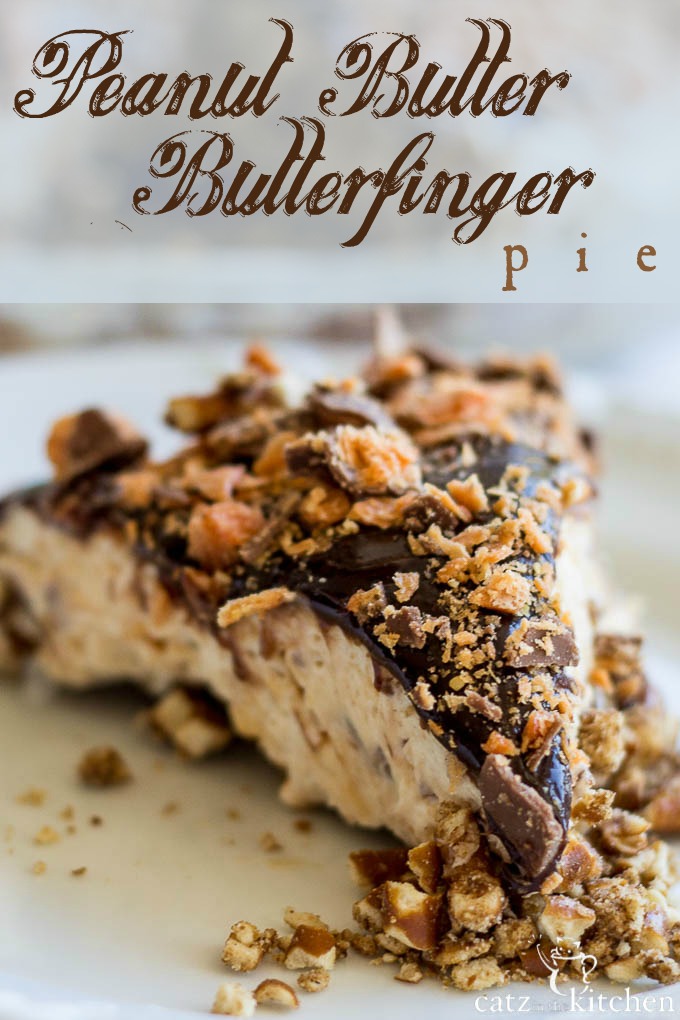 In China, it's customary or tradition to bring candy over to someone's house for the little kids if you are visiting. When my dad and step-mom visited us back in June, that's exactly what they did. They brought a 2 pound bag of fun size Butterfingers and Butterfinger Crisps into my home. I've been eating my way through the bag trying to use them up ever since.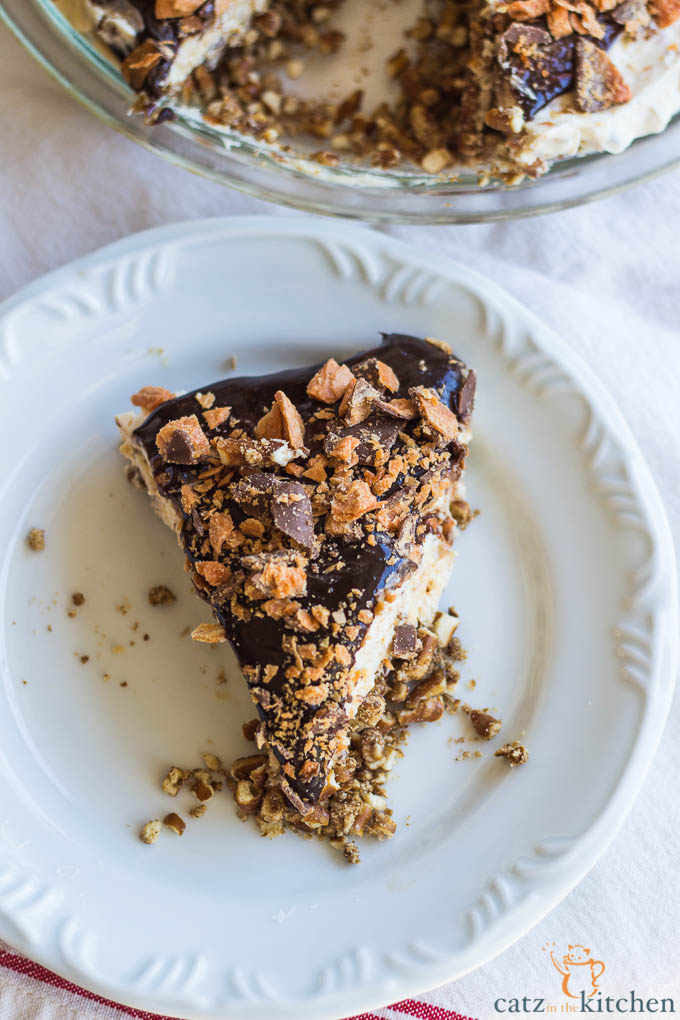 I've never been a fan of Butterfingers. I discovered that they are much better tasting when frozen (but what candy bar isn't better frozen?) and I've discovered that I'm slightly obsessed with the Butterfinger Crisps! You can't stop with just one fun sized candy bar. It takes an amount of self-control that I do not possess.
In an attempt to get rid of the candy that is yes, still sitting in my freezer (it barely looks like I made a dent in it), I bring you this pie. The idea of the pie filling and topping came first, the crust later.
The pretzel crust is a great salty addition to all of the sweet flavors and textures going on. It's crumbly, it's creamy, it's sweet, it's rich, it's decadent, it's probably one of the best pies I've ever made. Even Christian thought so, because he helped taste test with me in the kitchen. He kept coming back for more from the spatula with his little finger sticking out so he could swipe and go and say," Mmmm." on his way out of the kitchen. I had all of my brothers and sister have a go at the pie the other night and there was only a little blob left after they were all done with it. I think I like my brother Jeffrey's reaction best," WOW! That's Amazing!"
This pie was toddler tested and family approved. The crust is a little crumbly, as in it still held it's shape, but was ya know. Crumbly. I would add more butter to it next time so it didn't crumble so much, but everyone said they liked that it kind of crumbled. They got a piece pretzel in every bite. So if you don't want your crust to be crumbly go ahead and add one whole stick of melted butter to the pretzel crumbs. Otherwise, leave it as is.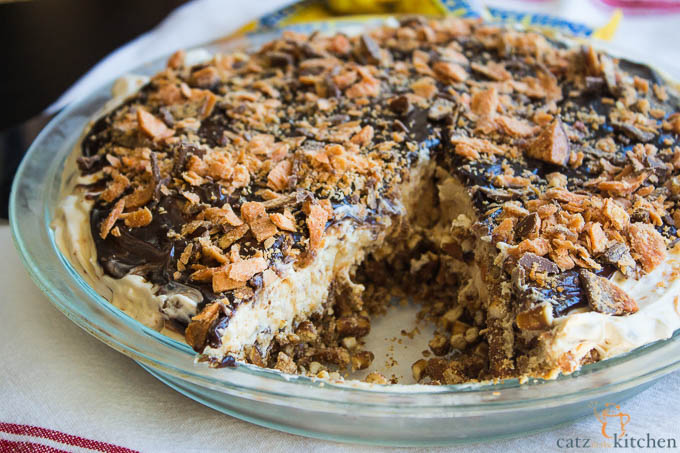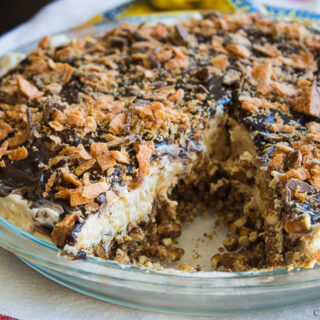 Peanut Butter Butterfinger Pie with a Pretzel Crust
Prep Time:
6 hours
30 minutes
Total Time:
6 hours
40 minutes
Sweet and Salty is the theme of this creamy peanut butter Butterfinger pie. With chunks of Butterfinger and a salty pretzel crust, it's the perfect dessert to serve this summer.
Ingredients
1 pkg (8 oz) cream cheese, softened
1/2 cup sugar
1/4 cup creamy peanut butter
2 cups Cool Whip, thawed
12 (fun sized) Butterfinger candy bars, finely chopped
1/2 cup hot fudge topping, melted
2 cups crushed pretzel crumbs
6-8 tbsp butter, melted
Instructions
Pre-heat oven to 250 degrees. In a food processor, process pretzels until they are fine little pieces. (You do not want a true crumb. You want the pretzel to still have some of it's former shape.) In a saucepan or microwave safe bowl, heat butter until melted. Use 6 tablespoons of butter if you want your crust to be crumbly. Or 8 tablespoons if you want a slightly firmer crust. Combine pretzel crumbs and butter until completely incorporate and pour into a 9-inch pie plate, make sure the bottom is evenly covered and the crumbs go up the sides.
Bake the pie crust for 10-12 minutes. Remove and place on wire rack and allow to cool.
Finely chop 9 of the fun-sized candy bars, reserving 3 for topping the pie.
In a large bowl of your stand mixer using the paddle attachment, combine cream cheese, sugar, and peanut butter and beat until blended. Add whipped cream and the chopped Butterfingers and beat gently on a low speed until evenly distributed. Pour the peanut butter batter on top of the baked pretzel crust and gently, using a spatula, spread the mixture until it is evenly spread over the crust.
Add the hot fudge topping to a microwave-safe bowl and heat for 30 seconds. Stir. It may not be completely melted after 30 seconds, so heat for an additional 10 secs, stirring after each interval. Gently pour and spread the hot fudge topping over the top of the pie, gently spreading the chocolate around, but leaving about a 1/2-inch space around the edge of the pie.
Chop the remaining 3 Butterfinger bars and scatter the Butterfinger crumbs over the chocolate. Refrigerate for 6-8 hours before serving.
Nutrition Information:
Yield:

10
Serving Size:

1
Amount Per Serving:
Calories:

744
Total Fat:

66g
Saturated Fat:

41g
Trans Fat:

2g
Unsaturated Fat:

21g
Cholesterol:

150mg
Sodium:

681mg
Carbohydrates:

36g
Fiber:

1g
Sugar:

22g
Protein:

5g
Nutrition information isn't always accurate.