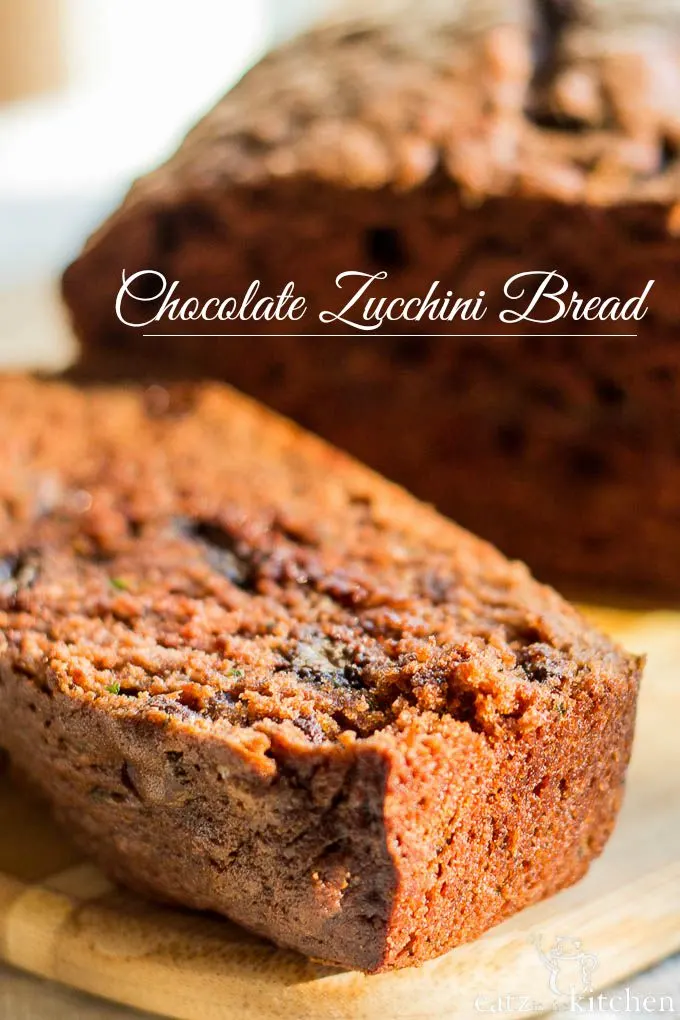 I'm kicking myself for not making more time to plant a garden this spring. Josh planted two tomato plants and a few herbs while I napped one Sunday afternoon. That was it. Our tomatoes are gorgeous and our herbs are beautiful, but I'm wishing we had more planted more tomatoes. That there is nothing else planted may be for the best, though. We've taken a few trips this year, and have had several hot days while we were gone on both trips. In fact, our second trip out of state ruined my hanging flower baskets and now it is too late in the season to plant more flowers…unless I want to pay a fortune for new baskets. Which I don't.
Thankfully, there are many people who did plant more of a garden and are sharing the vegetables of their labor. Last Sunday, one of our sweet elderly ladies in the church dropped off a boat load of zucchini. I snatched three zuchs and I knew exactly what I was going to make with one of them – chocolate zucchini bread.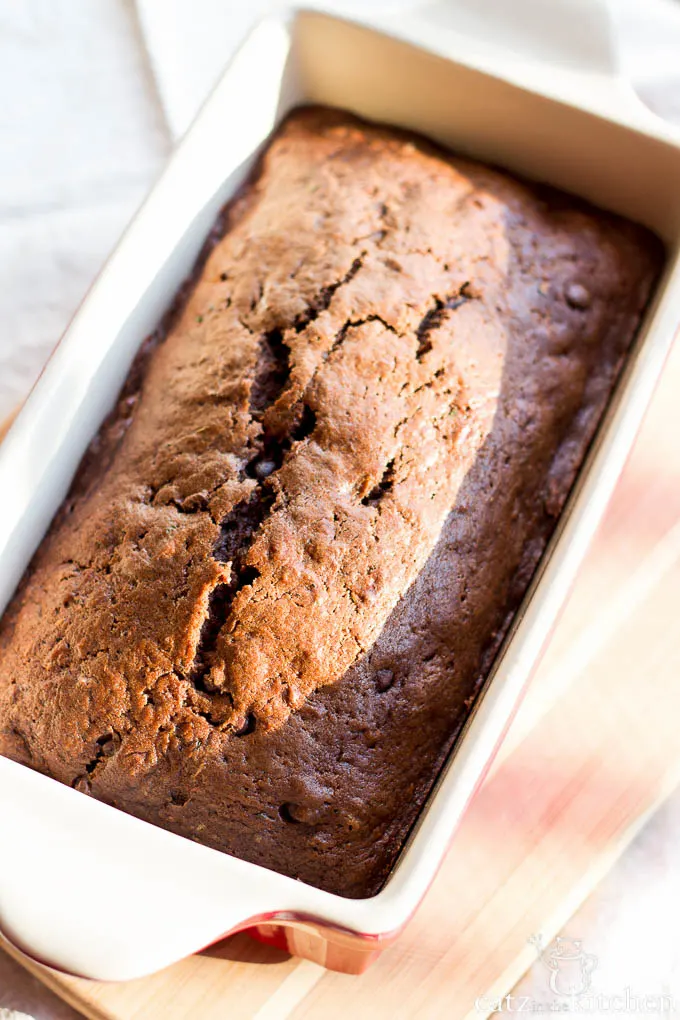 Believe it or not, this is a recipe I posted way back when I first started blogging – but the post is atrocious. A lot of bad photos, bad writing, and the worst part was, I didn't even take the time to write out the recipe. I just gave you a link.
WHAT WAS I THINKING??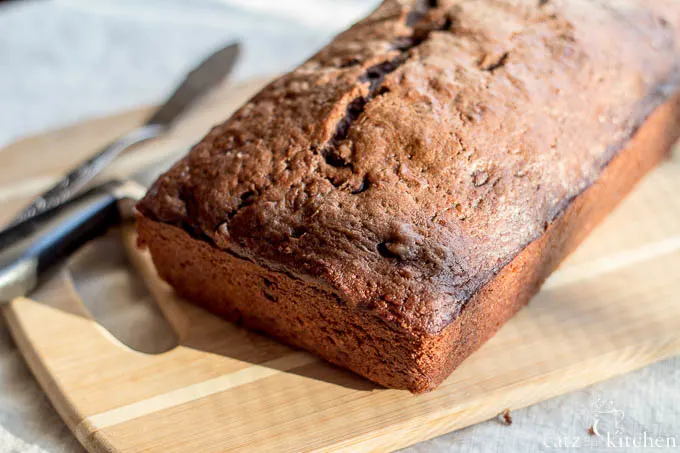 Every year that goes by, I always try and remind myself to remake this recipe because I remember really liking it. Why, oh why, did I take so long to remake it? The smell alone of the bread baking in the oven is worth it. But the taste…is something else all together. Something wonderful. Something indulgent. Something sweet, fudgy, and rich. Like a brownie. Wash it down with a glass of milk and I tell ya, you're set for life!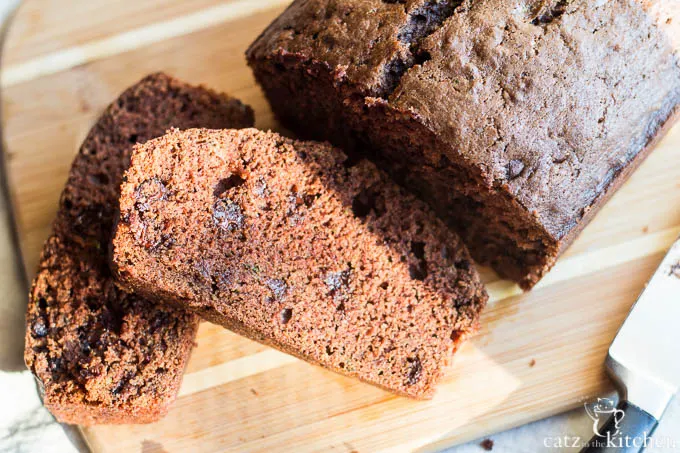 You would never know that zucchini was hiding in there. But there is, and it adds flavor and keeps the bread moist. This bread is also the perfect way to add more veggies to your diet. Craving some chocolate? No problem. Bake this bread up and add some grated zucchini and you'll be right as rain.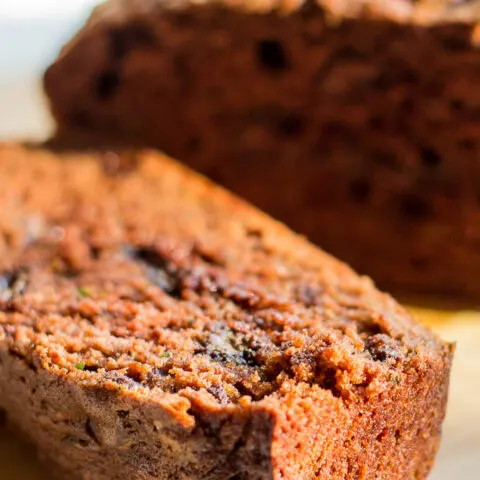 Chocolate Zucchini Bread
Total Time:
1 hour
15 minutes
Looking for a way to use up zucchini from your garden? Look no further, this chocolatey, rich, loaf has got tons of flavor and looks gorgeous too, with all the pops of green from the zucchini. Your family will gobble this down!
Ingredients
1/2 cup butter, softened
1 cup sugar
2 eggs
1 tsp vanilla extract
1 1/2 cups all-purpose flour
3 tbsp baking cocoa
1/2 tsp salt
1/2 tsp baking soda
1/2 tsp ground cinnamon
1 cup grated zucchini, unpeeled
1/2 cup semi-sweet chocolate chips
Instructions
Pre-heat oven to 350 degrees. Grease a loaf pan and set aside.
In a large mixing bowl, cream the butter and sugar together. Beat in eggs and vanilla. Combine the flour, cocoa, salt, baking soda, and cinnamon into a medium sized bowl and gradually mix into the creamed mixture. Stir in the grated zucchini and chocolate chips
Pour into greased loaf pan and bake for 60-70 minutes or until a toothpick comes out clean when inserted into the middle of the loaf. Cool for 10 minutes before removing from pan and transferring to a wire rack to finish cooling.
Wrap leftover slices of the loaf in plastic wrap to keep fresh.
Nutrition Information:
Yield:

10
Serving Size:

1 slice
Amount Per Serving:
Calories:

294
Total Fat:

13g
Saturated Fat:

8g
Trans Fat:

0g
Unsaturated Fat:

4g
Cholesterol:

62mg
Sodium:

269mg
Carbohydrates:

42g
Fiber:

2g
Sugar:

25g
Protein:

4g
Nutrition information isn't always accurate.