This sweet and savory Apple & Onion Stuffing is just as easy to make as the stuff from the box, but tastes better, looks better, and is better for you, too!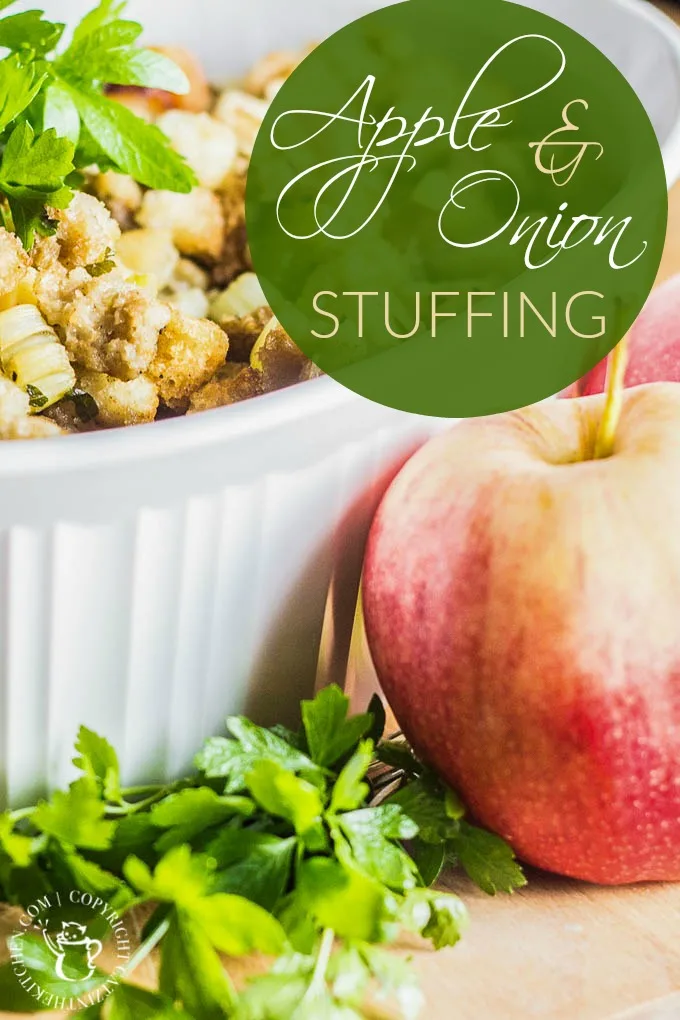 Believe it or not, I've never made stuffing from scratch. Believe it or not, I actually like the stuffing from the box.
*Gasp*
I've always wanted to make my own stuffing, and I seriously considered making some last year when we hosted Thanksgiving at our house, but not enough time to experiment and so many coupons later, I figured it would just make more since for me if I took some help from the store – that way I could focus on other dishes that needed my attention, like this sugar cream pie, my mom's candied yams, and this broccoli salad.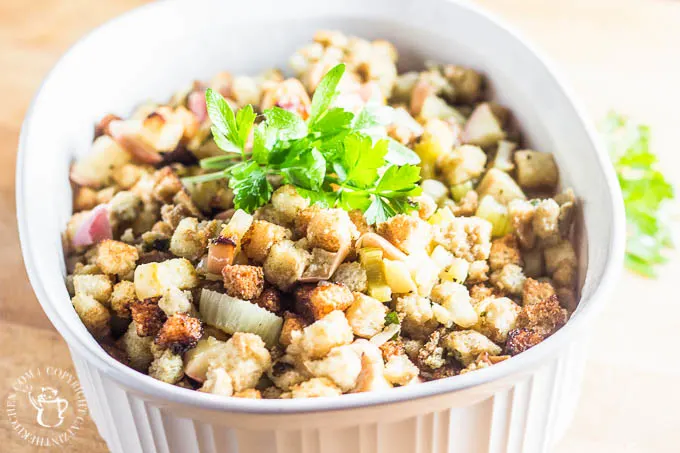 This year I promised myself that I was going to make stuffing regardless of whether I was hosting Thanksgiving or not. Since I'm a food blogger and part of my job is helping all of you readers get ready for Thanksgiving with some new and fun ideas, we had Thanksgiving a little early at my house. I spent a whole day working on stuffing, pie, and yes, turkey.
Not that this apple & onion stuffing took long to make. It was by far the easiest of the three recipes I'm sharing with you this week and also the last of the dishes I made. The pie cooled while the turkey finished roasting and I got working on the stuffing. Yes, preparing homemade stuffing takes a few minutes longer than opening a box of the pre-made stuff, but in my opinion it tastes way better and is so much prettier to look at!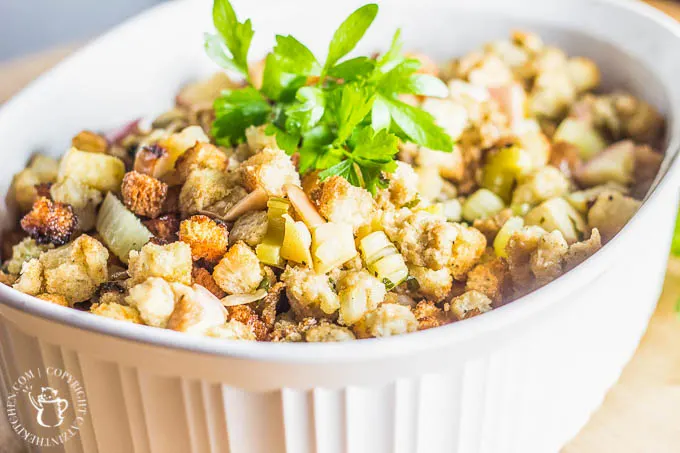 This Thanksgiving, try making this sweet and savory apple & onion stuffing. It doesn't take long and it feeds a crowd. If you don't have a crowd coming over, then hello black Friday leftovers!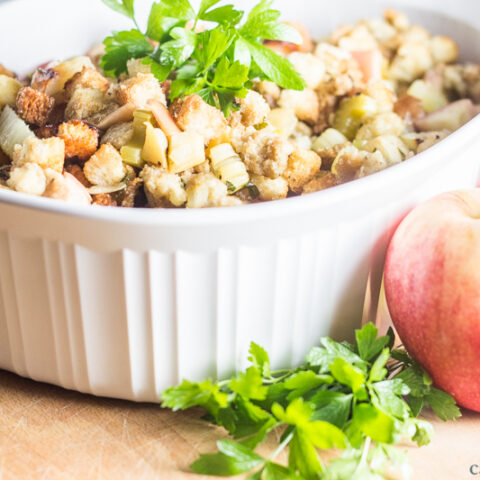 Apple & Onion Stuffing
This sweet and savory Apple & Onion Stuffing is just as easy to make as the stuff from the box, but tastes better, looks better, and is better for you, too!
Ingredients
2 tbsp extra-virgin olive oil
1/2 stick butter, softened
1 fresh bay leaf
4 ribs celery and greens from the heart, chopped
1 medium yellow onion, chopped
3 Gala apples, quartered and chopped
Salt and Pepper
2 tbsp poultry seasoning
1/4 cup parsley leaves, chopped
8 cups cubed stuffing mix
4-5 cups chicken broth
Instructions
Pre-heat oven to 400 degrees. Pre-heat a large skillet over medium-high heat. Add the extra-virgin olive oil to the skillet and butter. When the butter melts, add the bay leaf, celery, onion, and apples. Season with salt and pepper, and poultry seasoning and cook for 5-6 minutes, or until the vegetables and apples begin to soften.
Add the parsley and stuffing cubes to the pan and combine. Moisten the stuffing with chicken broth until all the bread is soft, but not wet. Remove the bay leaf and let the stuffing cool either in the pan or in a bowl.
Brush cookie sheet with additional olive oil. Form a loaf shape out of stuffing and bake until set and crisp on top, about 15-20 minutes.
Scoop the stuffing into a serving bowl and serve warm.
Nutrition Information:
Yield:

12
Serving Size:

1
Amount Per Serving:
Calories:

377
Total Fat:

23g
Saturated Fat:

6g
Trans Fat:

3g
Unsaturated Fat:

16g
Cholesterol:

18mg
Sodium:

2249mg
Carbohydrates:

36g
Fiber:

3g
Sugar:

10g
Protein:

7g
Nutrition information isn't always accurate.