Ready for a totally different, more sweet-than-savory slightly nutty take on sweet potato pie? Dig in to this nutella sweet potato pie!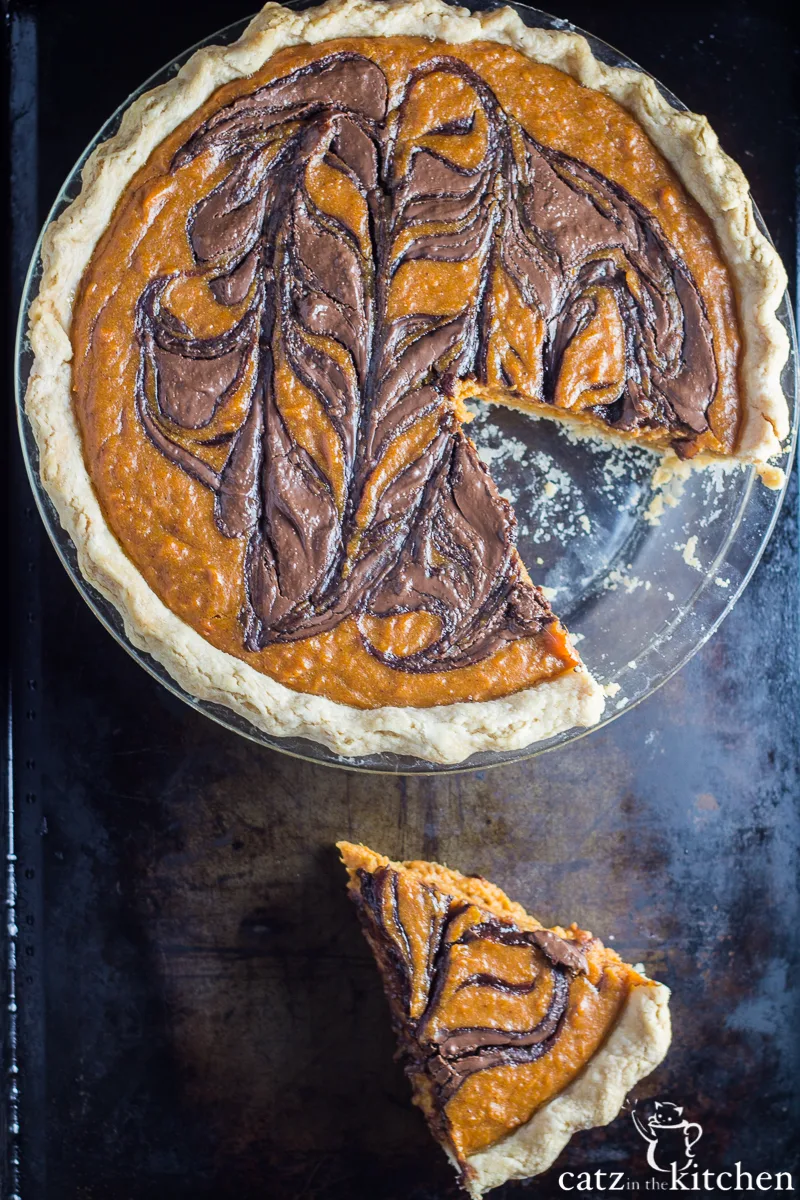 As a family, we love to watch cooking shows on the Food Network channel. Primarily, the competition-based ones, though occasionally on a Saturday morning (if I'm awake early enough) you can find me watching The Pioneer Woman or Giada. But usually on Sunday evenings or the occasional weeknight, we'll have a laid back dinner at the coffee table and watch Chopped or Cutthroat Kitchen.
A few years ago when we were watching Chopped, one of the contestants in the dessert round decided to make a sweet potato pie. I was intrigued! From that moment on, I couldn't get this pie out of my head. What a great substitute it would make to the classic pumpkin pie for the holidays.
I usually volunteer to make a dessert for the holidays. I'll help out in other areas too – I'll make or bring rolls, stuffing, and once I even made a green bean casserole (though I don't think it turned out very good). But 99.9% of the time, I'll bring a dessert. Even if there are several desserts and even if I'm bringing another side dish – I'll bring one more dessert with me because I love to bake and try new things.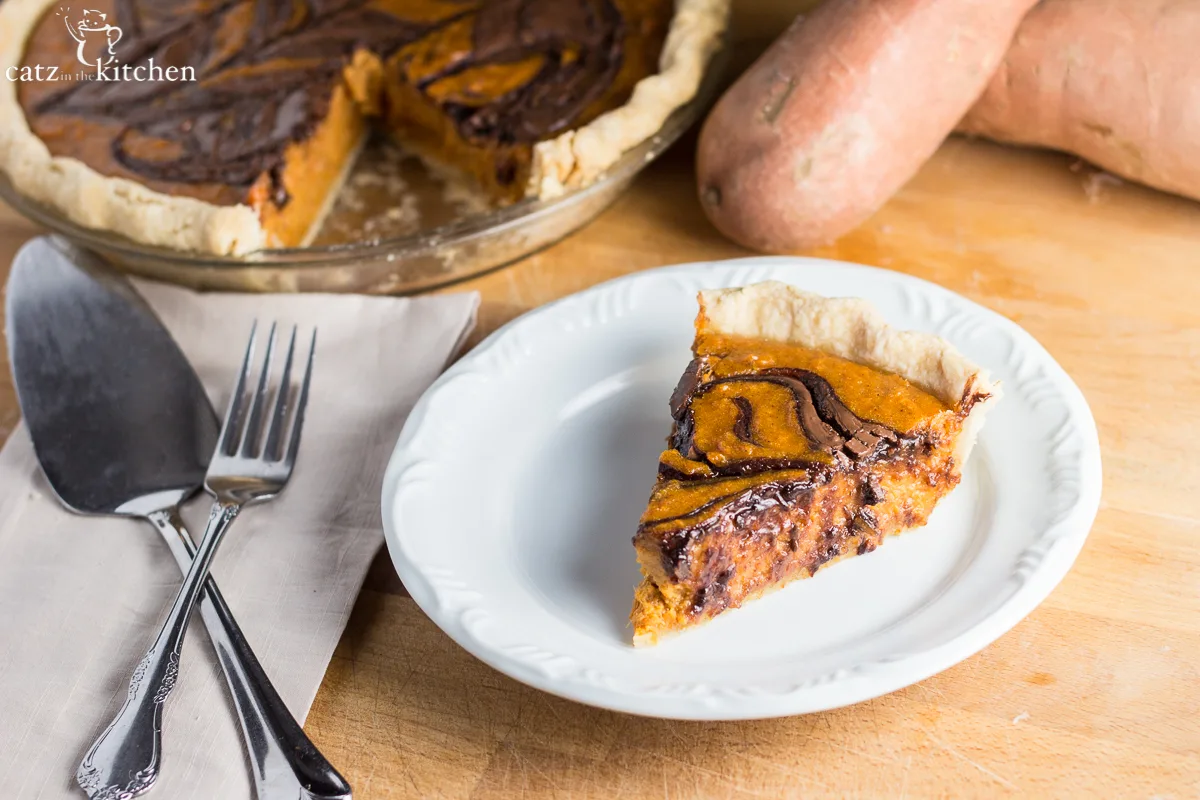 As I tossed the idea of this pie over and over again in my head, I couldn't help thinking it needed something else, though. I'm sure a sweet potato pie would have been incredibly delicious all on its own, but I'm all for mixing things up and trying new things that will give it that unexpected flavor that just deepens the whole bite.
Nutella to the rescue!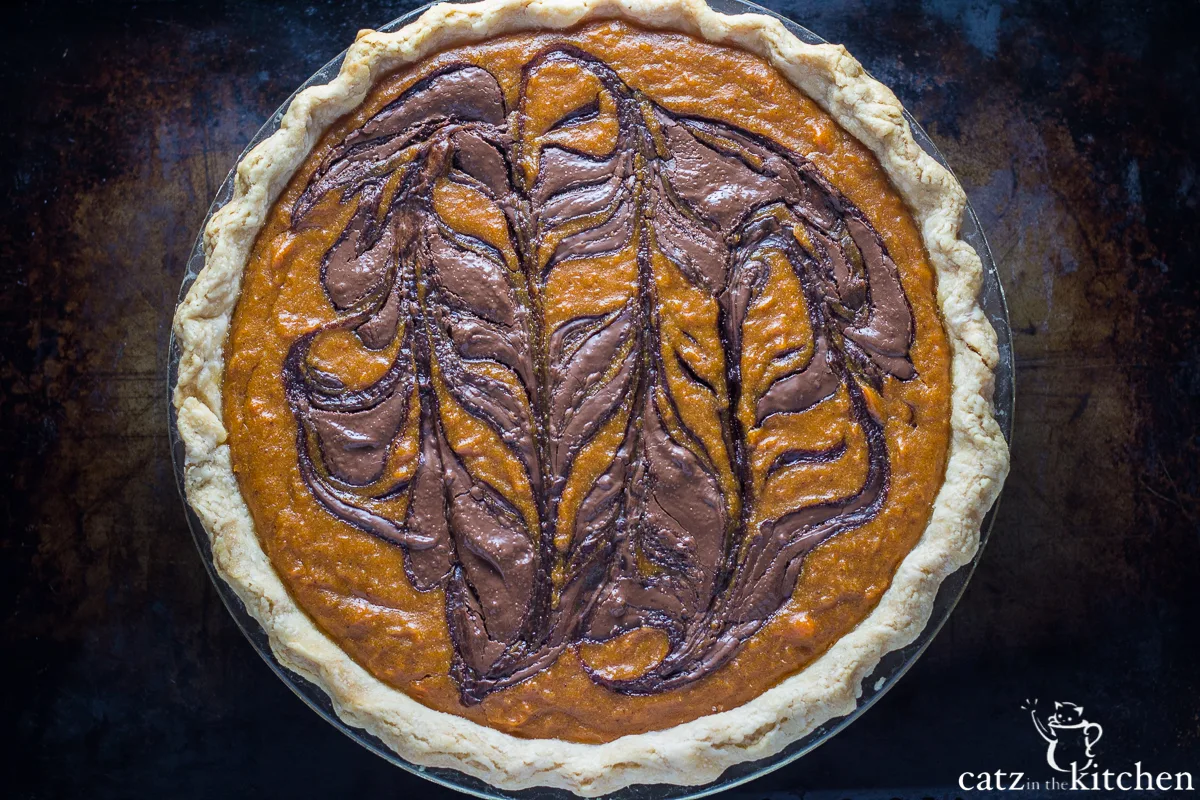 Not only does the Nutella give the pie a gorgeous appearance, but it also gives each bite a decadence. It seems like a fancy desert with the swirling effect, but I promise you this pie is just as easy as the Libby's pumpkin pie you make each Thanksgiving (unless you are lucky enough to have a family pumpkin pie recipe that you use!).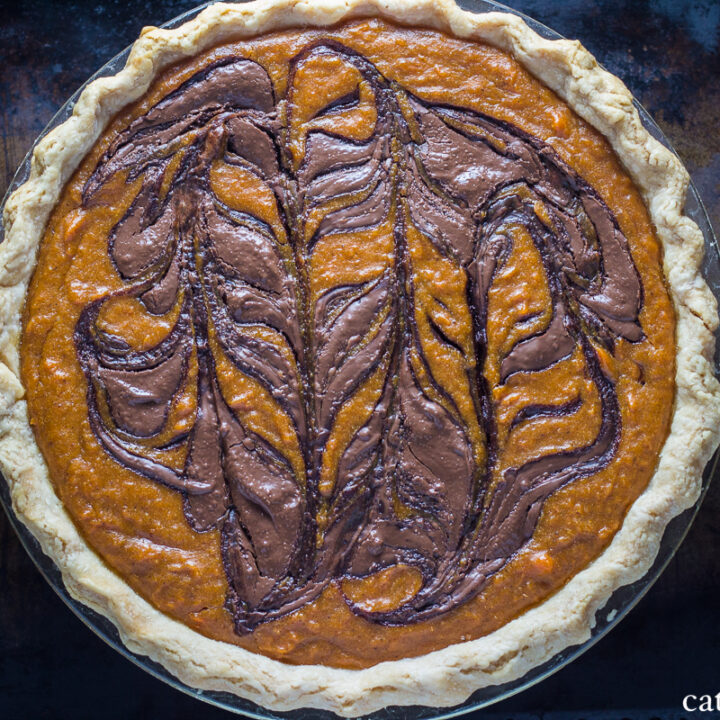 Nutella Swirled Sweet Potato Pie
Cook Time:
1 hour
50 minutes
Total Time:
2 hours
20 minutes
Ready for a totally different, more sweet-than-savory slightly nutty take on sweet potato pie? Dig in to this nutella sweet potato pie!
Ingredients
1 (9 inch) unbaked pie crust
1 lb. sweet potato
1/2 cup butter, softened
1 cup brown sugar
1/2 cup evaporated milk
2 eggs
2 tbsp lemon juice
1 tbsp all-purpose flour
1/4 tsp ginger
1/4 tsp cloves
1/2 tsp ground nutmeg
1/2 tsp ground cinnamon
1 tsp vanilla extract
1/2 cup nutella, warmed
Instructions
Boil sweet potato whole in skin for 40-50 minutes, or until done. Run cold water over the sweet potato and remove the skin.
Break apart sweet potato in a bowl. Add butter and mix well with your mixer. Beat in brown sugar, evaporated milk, eggs, lemon juice, flour, ginger, cloves, nutmeg, cinnamon, and vanilla extract. Beat on medium speed until the mixture is smooth. Pour filling into an unbaked pie crust.
In a microwave safe bowl, warm nutella for about 30 seconds and stir. Drop spoonfuls of the nutella over the pie and then using a butter knife, gently swirl the nutella in a figure eight motion. Don't over swirl.
Bake at 350 degrees for 55-60 minutes or until a toothpick inserted in the middle comes out clean.The pie will puff up like a soufflé and then sink down as it cools.
Allow to cool for 2 hours before serving. Refrigerate any leftovers.
Notes
Nutrition Information:
Yield:

8
Serving Size:

1
Amount Per Serving:
Calories:

460
Total Fat:

24g
Saturated Fat:

14g
Trans Fat:

0g
Unsaturated Fat:

8g
Cholesterol:

82mg
Sodium:

249mg
Carbohydrates:

57g
Fiber:

3g
Sugar:

36g
Protein:

6g
Nutrition information isn't always accurate.