This easy recipe for one, big bacon upside down pancake to share is easy, tasty, and quick – you're going to have to try it!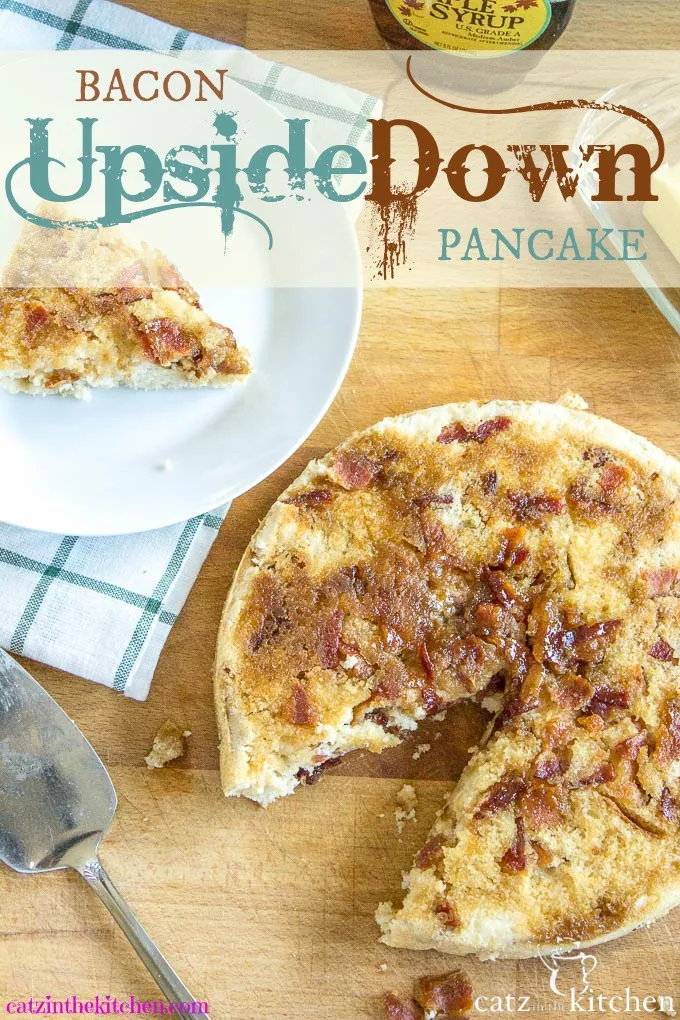 When Josh went out of town in February, the girls insisted on staying up and sleeping with me…in my queen size bed. That's right – one adult, one preteen, and one little girl in my queen size bed. Plus three stuffed animals. Yes, three. One for each of us. Piggy belonged to Grace, Munsey belonged to Eden, and I sleep with my Becca. A bear I've slept with every night since I got the chicken pox in fifth grade. Needless to say, there wasn't any room in my bed.
Grace was on one side and Eden was in the middle. Somehow, Grace was the one who ended up with all the room while Eden was practically on top of me, tossing and turning, and I was on the very edge, sweating from all of these extra bodies and stuffed animals.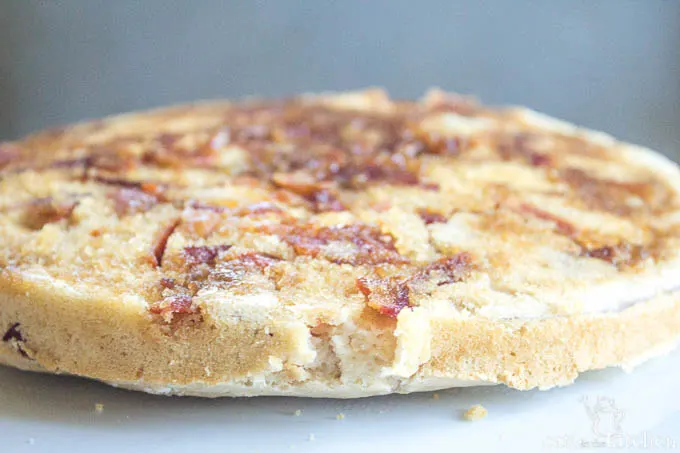 While I'm sure this is common for some parents, it isn't for me. Our kids don't ever sleep with us. The only person I'm fighting with at night for more blankets and space is Josh! I ended up kicking the girls out of my bed around midnight, and after I had tucked the girls back into their bed, I practically fell into my bed exhausted!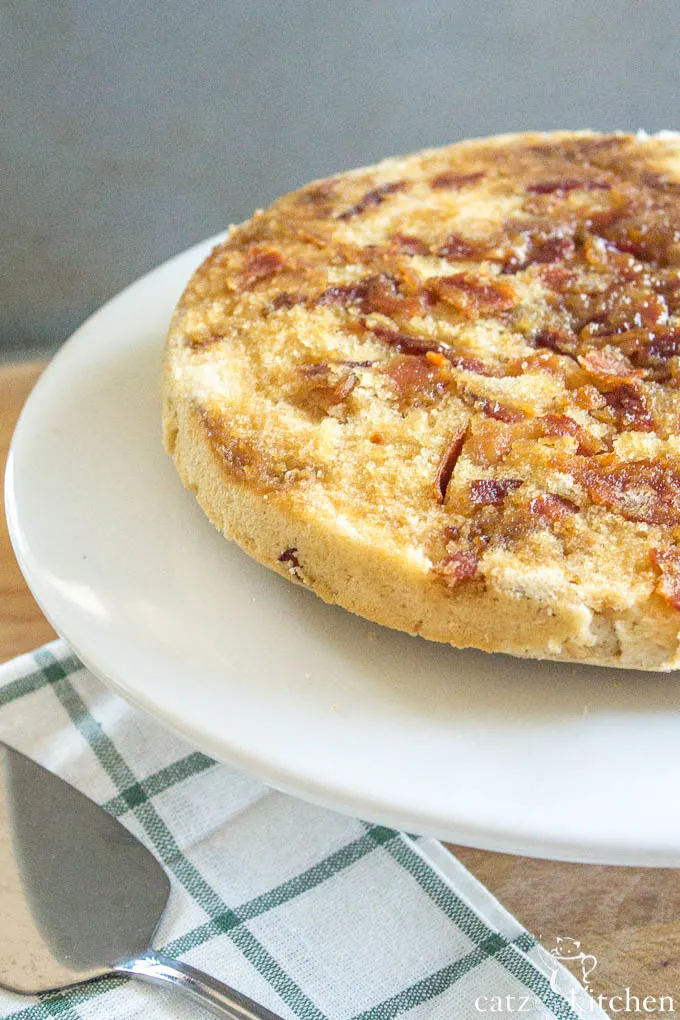 In the morning, I was just beat. But you know that feeling, where you get an idea in your head and you just want to dismiss because it seems like a lot of work and you're just tired? That's what happened with this upside down bacon pancake. I wanted to make breakfast, but didn't want to go to the work.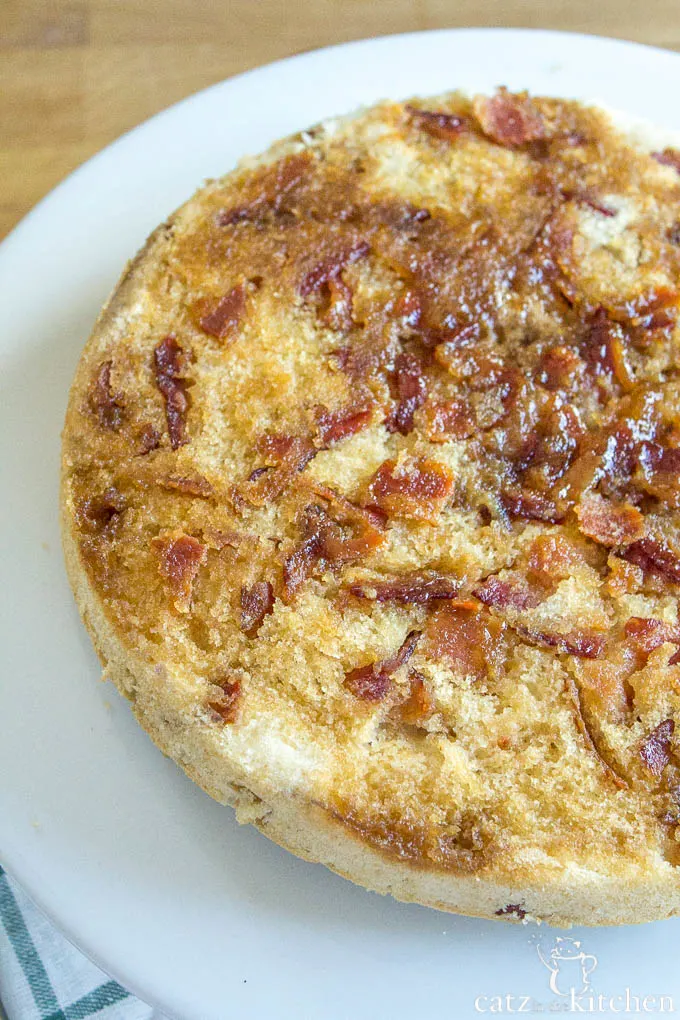 That's where baking bacon in the oven comes in. So easy! I also had some boxed pancake mix in the cupboard…not sure why it was there or where it even came from. But there it was.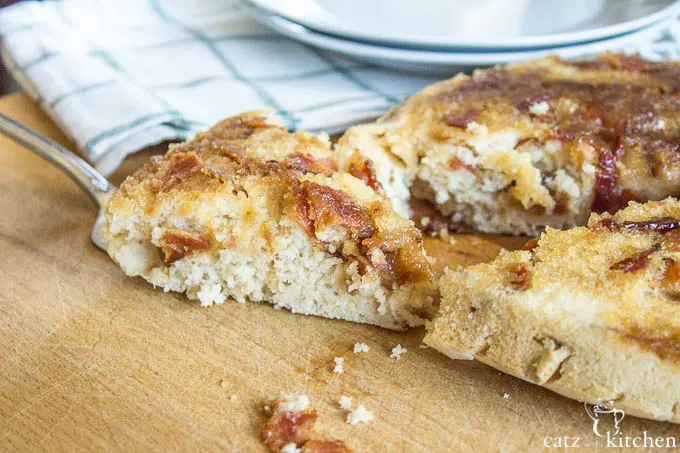 I quickly mixed the pancake mix together and poured it over the crumbled bacon and brown sugar in my cake pan and threw it in the oven and that was that! Such a simple breakfast that required almost zero work from me. #win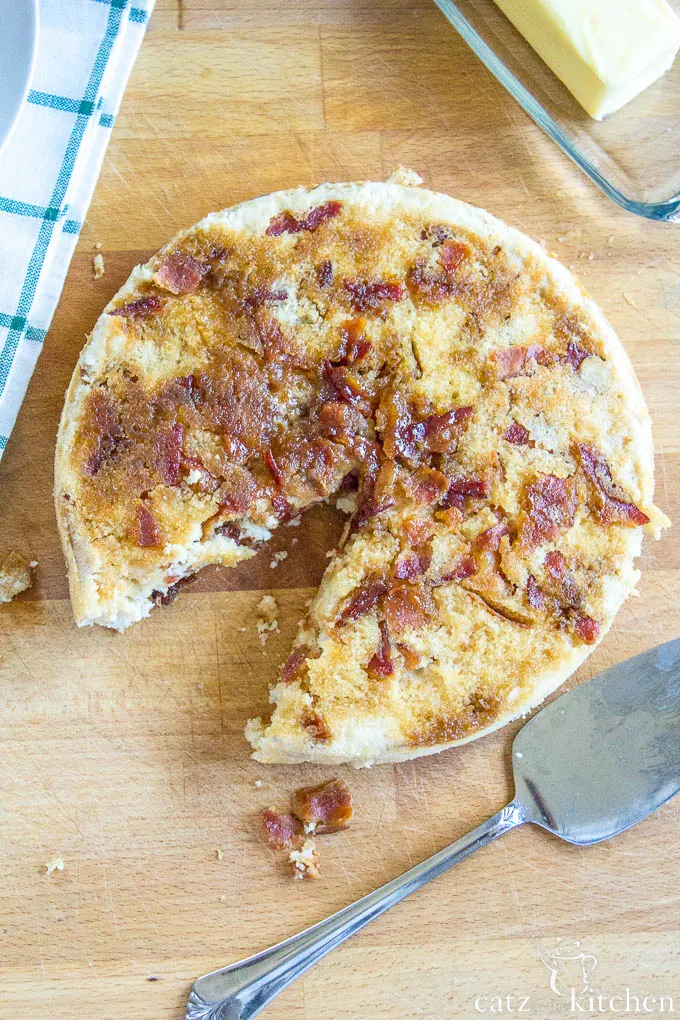 This was such a fun way to enjoy our breakfast. I got to eat pancakes without standing over a skillet. I got to eat my beloved bacon without grease splattering all over me and my kitchen, and I fed my kids a breakfast they all absolutely loved! It's sweet and salty, soft and chewy, and completely finger-licking good!
Josh was pretty jealous that he missed out on such a fun breakfast, so it looks like I'll be making this again soon!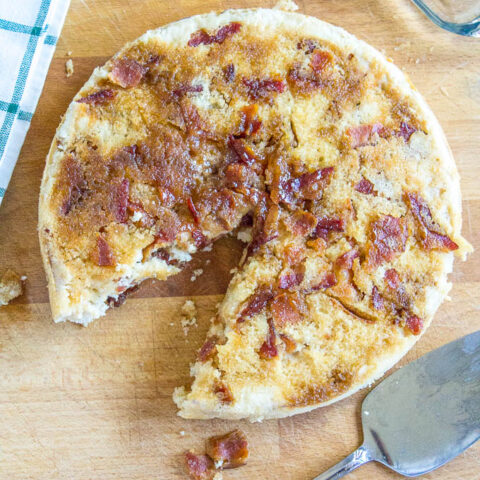 Bacon Upside Down Pancake
This easy recipe for one, big bacon upside down pancake to share is easy, tasty, and quick - you're going to have to try it!
Ingredients
6-8 cooked bacon strips, crumbled
1/4 cup packed brown sugar
2 cups complete buttermilk pancake mix
1 1/2 cups water
1 tsp vanilla extract
1/2 tsp ground cinnamon
Maple syrup and butter (optional)
Instructions
Prepare bacon according to your preference. I prefer the method of baking it in the oven. Crumble the bacon and reserve about 2 tablespoons of the bacon drippings. Spread the crumbled bacon, drippings in the bottom of a greased cake pan. Sprinkle with brown sugar.
Pre-heat oven to 350 degrees. In a small bowl, combine pancake mix, water, vanilla extract, and cinnamon until just moistened. Pour into cake pan.
Bake for 30-35 minutes or until a toothpick inserted near the center comes out clean. Cool for 10 minutes before inverting cake pan onto a serving place. Serve warm with maple syrup and butter if desired.
Nutrition Information:
Yield:

8
Serving Size:

1
Amount Per Serving:
Calories:

225
Total Fat:

11g
Saturated Fat:

3g
Trans Fat:

0g
Unsaturated Fat:

7g
Cholesterol:

48mg
Sodium:

505mg
Carbohydrates:

24g
Fiber:

0g
Sugar:

7g
Protein:

8g
Nutrition information isn't always accurate.