In the PNW, we can't always grill, but thanks to this oven baked fajitas recipe, we can have smoky flavors & beautiful colors year round!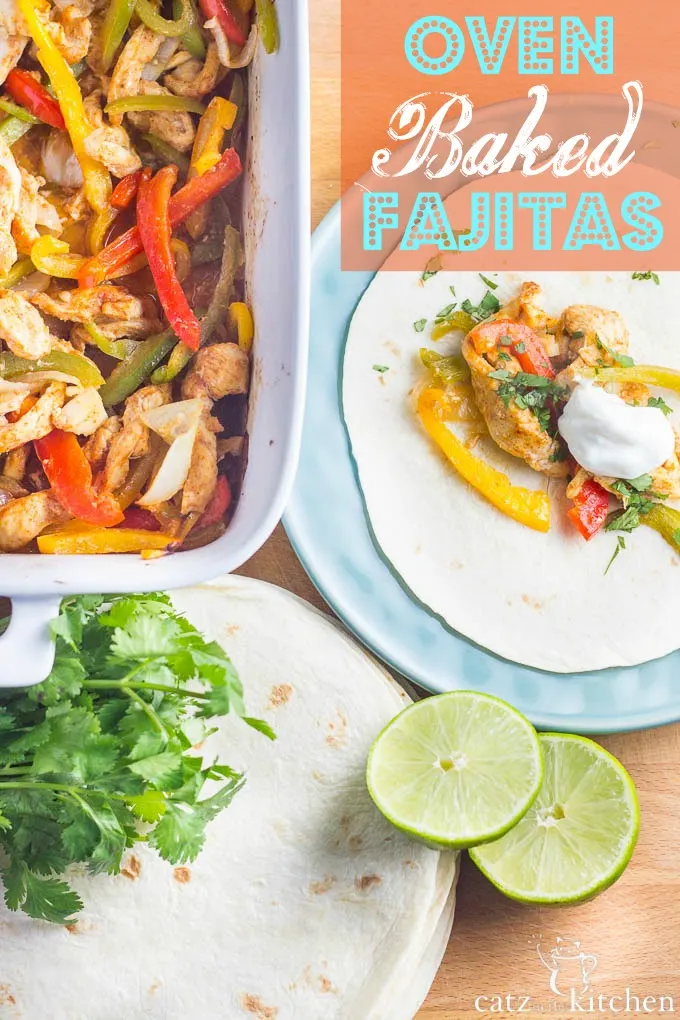 We're settling into the new house and transitioning from leasing to owning and let me tell you, is it exciting and kind of strange. You go from this mindset of having to clear things with your landlord or not being able to do things because it's not your house to having freedom to do what you want…and total responsibility for what you do!
It's taking time to adjust. I mean, the idea that we could get another pet and not have to clear it with anybody or pay a deposit is AMAZING! Not that we're going to get another pet anytime soon.
But we could. On the other hand, knowing that we're responsible for fixing anything that needs fixing…scary much?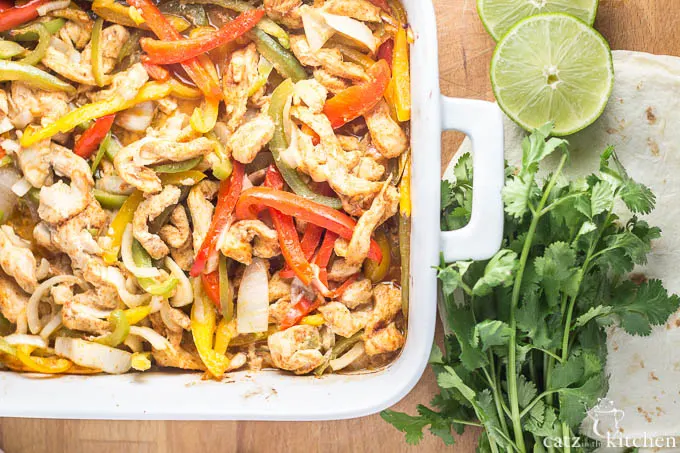 Since we've moved in, we've painted almost the entire inside of the house – with A LOT of help I might add. Josh and I had big plans and his dad and brothers just joined us for the ride, bless their hearts. Also, we installed our first brand new microwave! The one here just plain didn't work, so we went and found another one for a screaming deal (open box deals at Lowes are the best!) and installed it. Josh read that this kind of DIY thing was not a simple task, but we got 'er done. And it only took like four hours…oh, and one of the bolts got screwed in crooked. But it's secure and it works.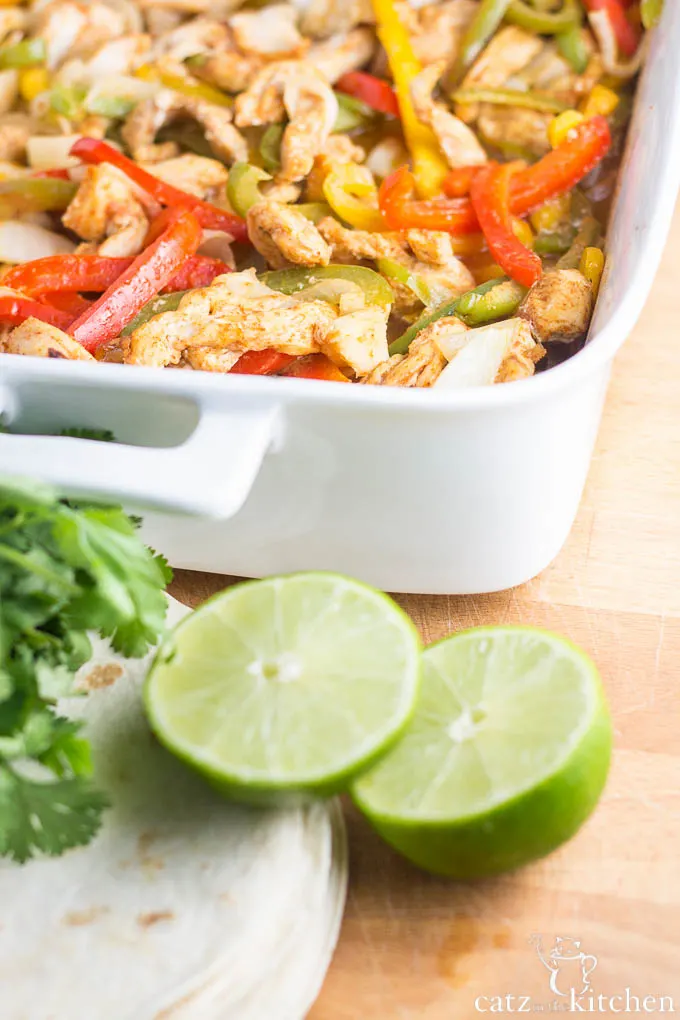 Watching Josh install our TV and secure it to the wall was a little scary. He took a circular drywall saw and cut two holes into the wall for the wiring. I had that moment where I asked myself if I trusted his judgement and skill because he just took chunks out of my wall and there really isn't a way to tape it up again. #SCARY
Enough about housing, let's talk about these ridiculously easy and delicious oven baked fajitas. I can't even tell you how many times we've made these over the last few months. Probably five or six times – they are that good!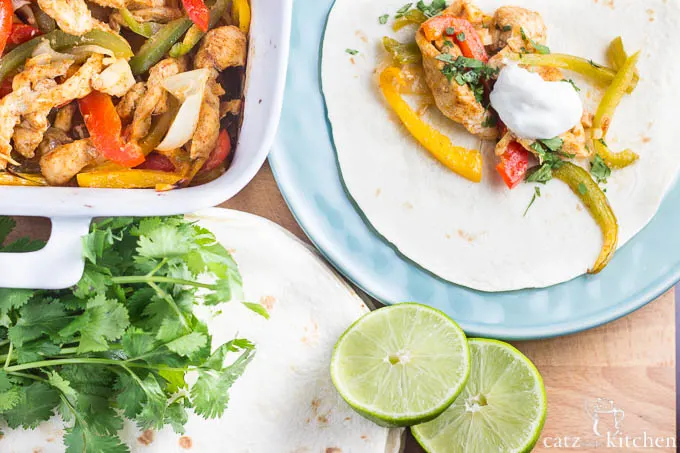 Josh was skeptical about baking something that should be grilled, but once it's been cooking for about 20 minutes, your kitchen starts smelling like an authentic Mexican restaurant. The flavors are spot on, and you still somehow get that smoky flavor we all love. And to be quite honest, it is a really inexpensive meal as well.
These oven baked fajitas are now frequently requested and well-loved in our home and – I'm sure they will be in yours, too!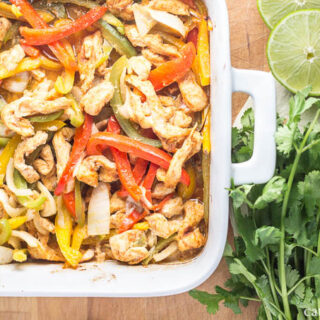 Oven Baked Fajitas
In the PNW, we can't always grill, but thanks to this oven baked fajitas recipe, we can have smoky flavors & beautiful colors year round!
Ingredients
Fajitas
10 fajita-size flour tortillas
1 onion (cut into thin strips)
1 green bell pepper (cut into thin strips)
1 red bell pepper (cut into thin strips)
1 yellow bell pepper (cut into thin strips)
1 large Anaheim chile (cut into thin strips)
2 chicken breasts (cut into thin strips)
2 tbsp vegetable oil
1 lime
Seasoning
1 tsp smoked paprika
1 tsp chili powder
1/2 tsp onion powder
1/4 tsp garlic powder
1/8 tsp cayenne pepper
1/4 tsp cumin
1 tsp sugar
1/2 tsp salt
1/2 tbsp corn starch
Instructions
Preheat oven to 400 degrees.
Mix seasoning ingredients together in small bowl.
Add all sliced vegetables and chicken to large casserole dish and sprinkle with seasoning.
Drizzle vegetable oil over vegetables and chicken, and toss to thoroughly coat with seasoning.
Bake for 35-45 minutes, until chicken is cooked through and vegetables have slight char on the edges.
Serve immediately on tortillas with toppings of your choice!
Nutrition Information:
Yield:

10
Serving Size:

1
Amount Per Serving:
Calories:

1505
Total Fat:

59g
Saturated Fat:

18g
Trans Fat:

1g
Unsaturated Fat:

35g
Cholesterol:

274mg
Sodium:

1983mg
Carbohydrates:

133g
Fiber:

11g
Sugar:

10g
Protein:

106g
Nutrition information isn't always accurate.