Frugal, easily doubled or tripled, warm and comforting, endlessly flexible – what more could you ask from this delectable recipe for white chicken chili?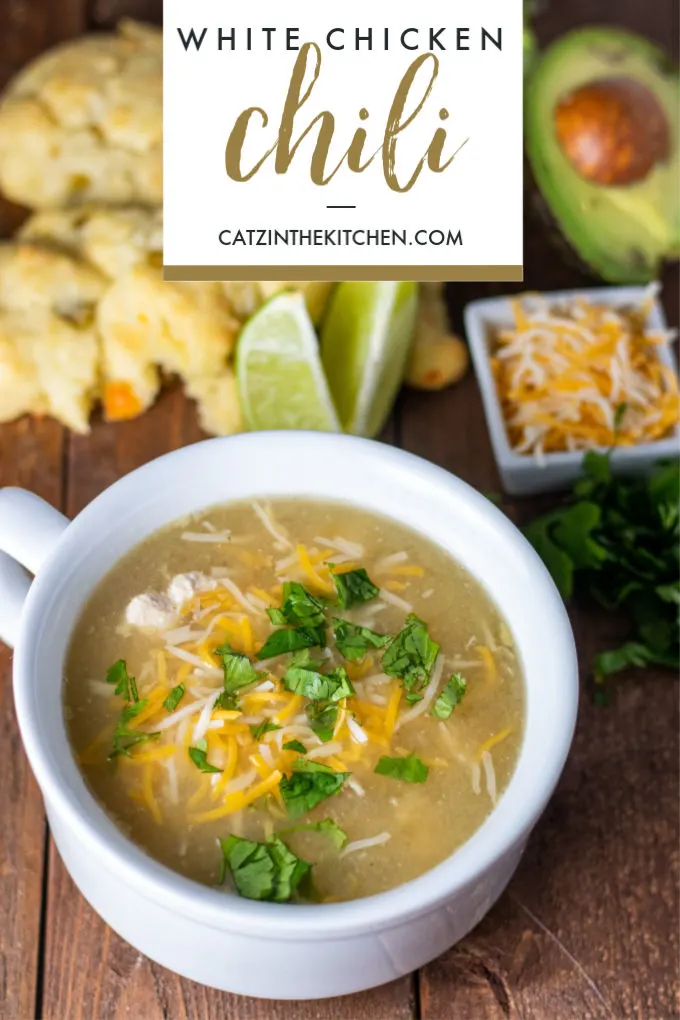 One of my favorite things to do with this blog and this sweet community of all of you who have chosen to read (and occasionally make) our recipes and stay connected on Facebook or Instagram is try to provide you with recipes that fit with your life. I know you are all busy, have families, and often strict grocery budgets and I truly want to help you feel encouraged when you begin your weekly menus and set meals on the table.
Which is why I need to apologize for just now getting this recipe to you. Because it's a real winner! I've been making this white chicken chili for over a year now and it is just so simple and easy! I've made this for our family on numerous occasions and doubled it for company multiple times.
Did I mention that it's only four ingredients? It's also gluten-free and dairy-free. It's also completely adaptable to what you have on hand in the pantry.
I've made this with boneless skinless chicken breast instead of boneless skinless chicken thighs. I've also made it with a mixture of both. I've even used rotisserie chicken in a pinch!
I've thrown in black beans when I was short on white beans, used vegetable broth instead of chicken broth, and even tossed in diced green chilis for more flavor.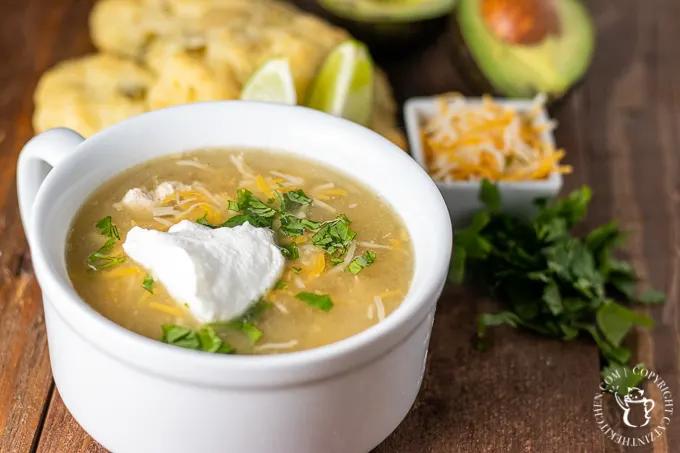 When I serve white chicken chili to my family or for a crowd, I like to serve it with these green chili & cheddar cheese scones or chips and salsa with sliced avocado, cheese (almost any kind will work), or sour cream. Top it with a sprinkle of chopped cilantro and you've got the simplest meal that is sure to be a crowd pleaser!
I know some people think that chili isn't a nice enough meal to serve to company, but can I tell you that some of my best memories have been around a big pot of chili. You know this sweet potato chicken chili is one of our favorite recipes – one that my mother-in-law made one night when we came over for dinner – and it's been a family favorite ever since.
Don't ever feel like the food you're serving to the people that come into your home isn't good enough or fancy enough. Chili is the people's food! It's warm. Flavorful. Comforting. It makes people (read: me) feel loved, safe, and warm.
Like I said. The people's food.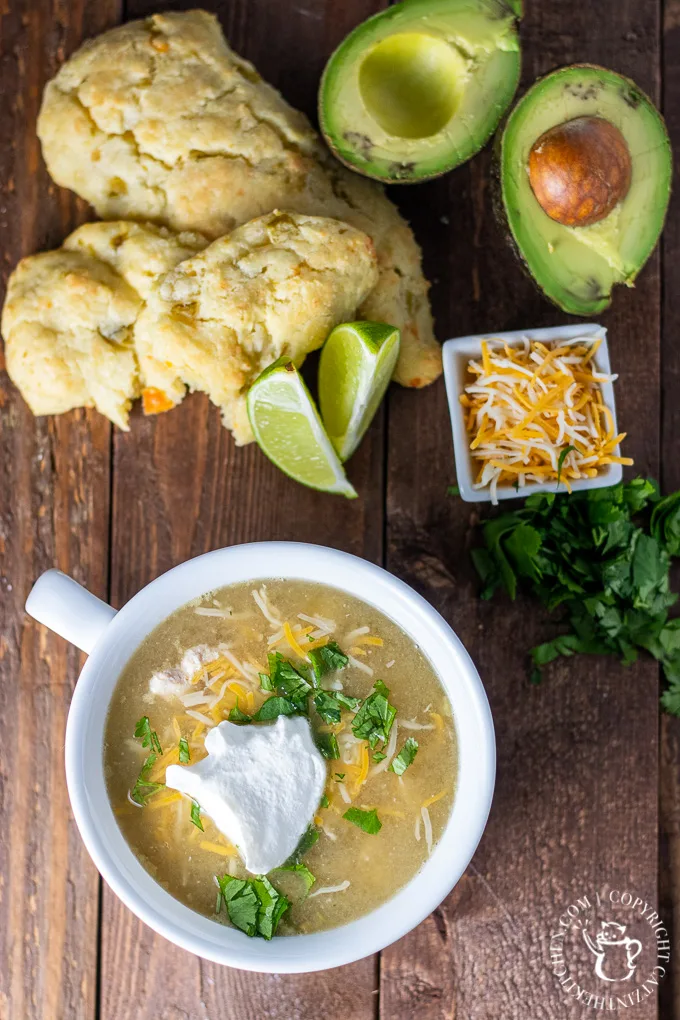 I do want to mention that this recipe is another favorite from the book Bread & Wine. Remember the Winter Cassoulet I featured last year? It's from the same book and I highly recommend it. I've made several of the recipes in the book and I've found each one to be delicious and delightful – I think you will, too. #NotSponsored
I hope you enjoy this warm, comforting bowl of chili as much as we do!
White Chicken Chili
Frugal, easily doubled or tripled, warm and comforting, endlessly flexible - what more could you ask from this delectable recipe for white chicken chili?
Ingredients
1 -1 1/2 lbs. boneless, skinless chicken (thighs, breasts, tenders, cut into bite-sized pieces
1 (16 oz) container of green salsa, like salsa verde
4 cans (15 oz) white beans, with liquid
4 cups chicken broth
Instructions
In a dutch oven or soup pot, cook over medium heat until chicken is almost cooked through, about 5 minutes. Add salsa and beans, including the bean liquid, and broth.
Bring to a boil, then reduce heat to a simmer, stirring occasionally.
Simmer for at least 30 minutes. Feel free to let it simmer for longer. It gets better the longer it simmers.
Nutrition Information:
Yield:

6
Serving Size:

1
Amount Per Serving:
Calories:

407
Total Fat:

10g
Saturated Fat:

3g
Trans Fat:

0g
Unsaturated Fat:

6g
Cholesterol:

107mg
Sodium:

1404mg
Carbohydrates:

38g
Fiber:

7g
Sugar:

15g
Protein:

43g