Craving an indulgent, but not heavy, zesty Italian pasta dish? This Sausage & Pea Manicotti recipe will feed the whole family and take care of that craving at the same time.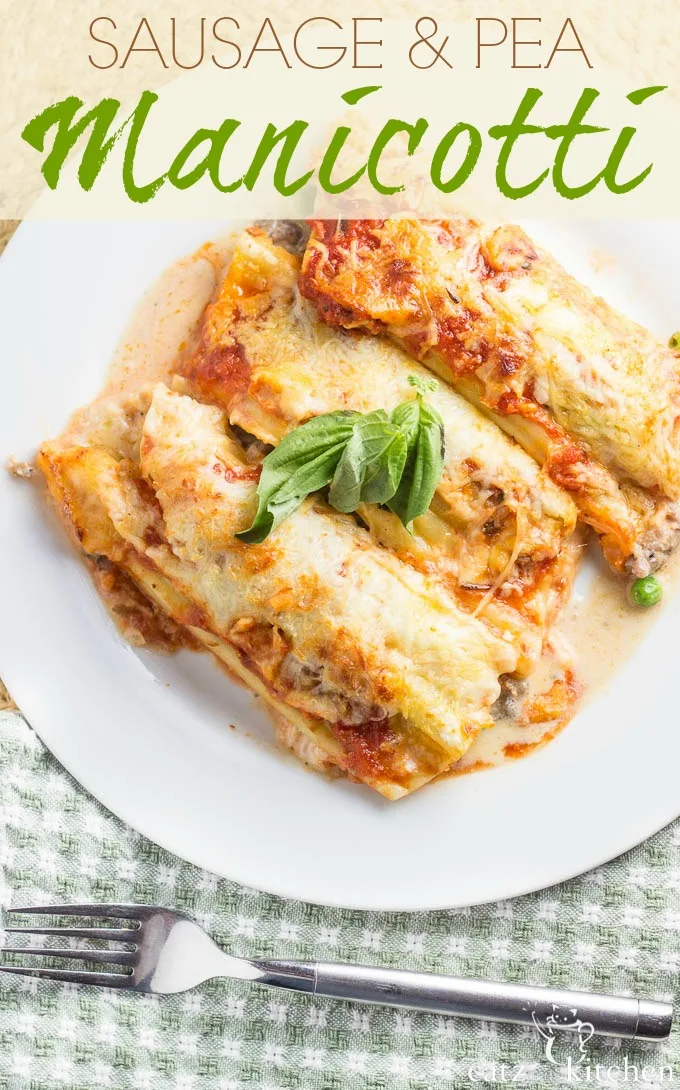 Awhile back, Josh got me this Sling TV thing. Have you guys heard of it? It's like a little streaming doohickey that allows you to get channels without having to do the whole cable or dish thing. This thing has made my little housewife life more amazing. You know why? I can get ALL of the Food Network I want!!! (no compensation from Sling here, I swear…)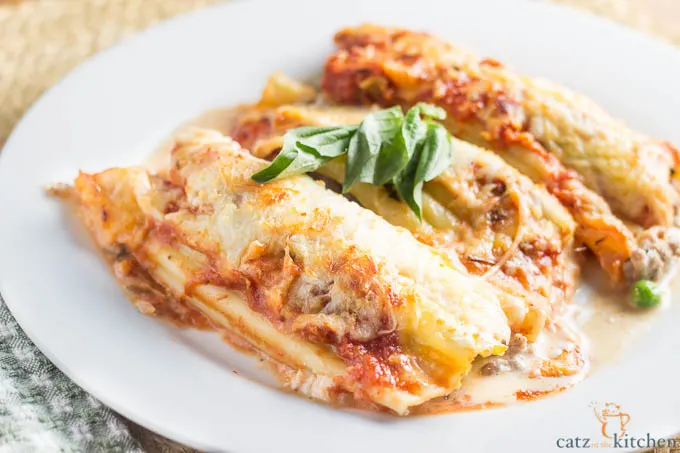 Since I've been using Sling non-stop, I've been enjoying some of my favorite cooking shows like 30 Minute Meals and discovering new ones, like Trisha's Southern Kitchen, too. I also like Farmhouse Rules and, of course, The Pioneer Woman!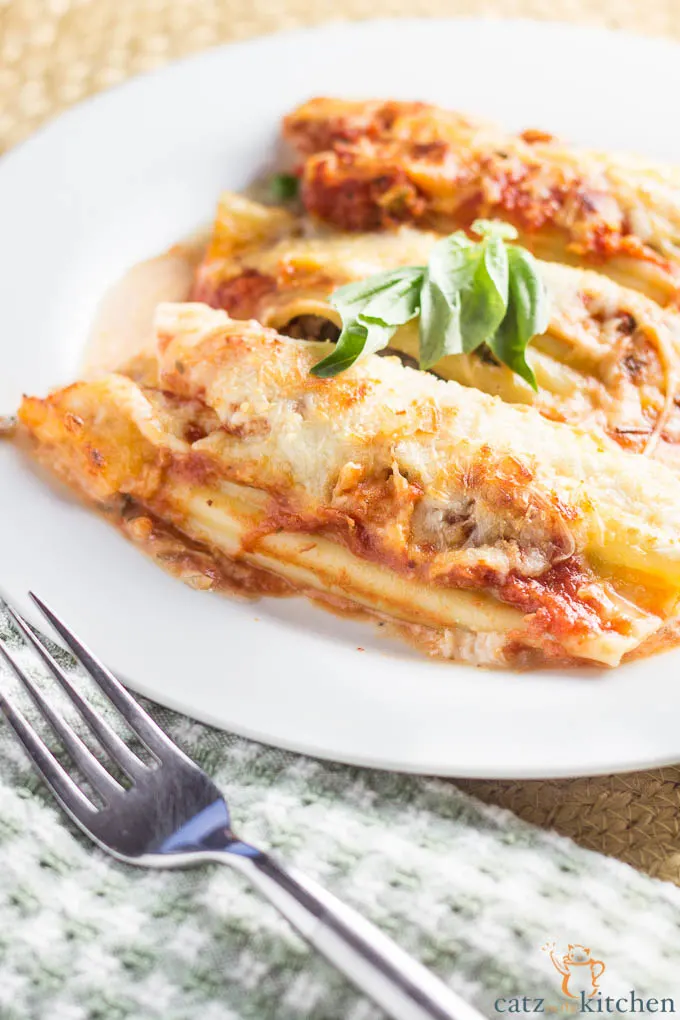 But what I've really enjoyed is Giada at Home. I think Giada is a really graceful cook, and I love the recipes she prepares. She recently made this manicotti on one of the episodes, and it reminded me of when my dad comes to visit from Las Vegas. Sometimes he'll make us a manicotti dinner, and while his version is a bit simpler than this one, it just reminds me of him since I don't get to see him very often.
I will not lie, this recipe is a bit involved, and, of course, Giada made it look really simple on her show, but this manicotti is so worth all of the work that goes into it. It tastes amazing! The flavor of the ground sausage gives the dish that bit of zest it needs, and the peas give it that texture pop in your mouth. By the way, we had zero leftovers. We inhaled the whole pasta dish that night, which kind of sucked, because I'm a leftover girl.
When my dad comes to town again, I know we're going to need to make this for him because he will love it as much as we did.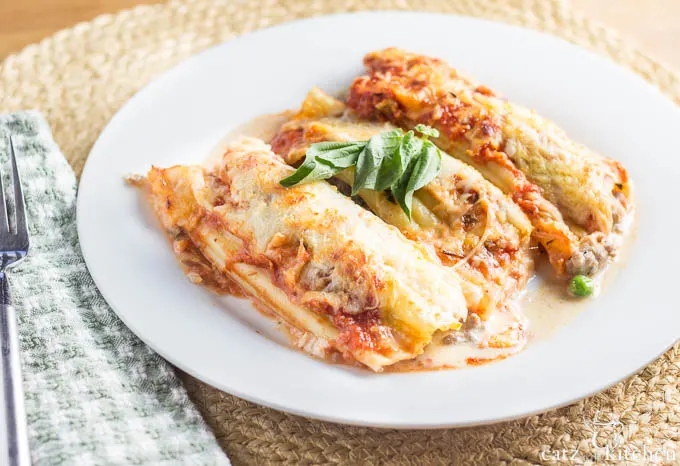 Sausage & Pea Manicotti
Craving an indulgent, but not heavy, zesty Italian pasta dish? This Sausage & Pea Manicotti recipe will feed the whole family and take care of that craving at the same time.
Ingredients
3/4 cup milk
1/2 cup heavy cream
6 oz (about 3 cups) grated Romano
1/4 cup fresh basil leaves, chopped
2 tbsp extra-virgin olive oil, plus extra for drizzling
1 lb ground sweet Italian sausage
2 small shallots, finely chopped
2 cloves garlic, minced
1/4 tsp + 1/2 tsp kosher salt
1/2 tsp freshly ground pepper, divided
1/4 cup white wine, I used Pinot Grigio
3/4 cup frozen peas, thawed
1/2 cup part skim ricotta
12 manicotti shells
1 (26 oz) jar marinara sauce
2 cups shredded mozzarella cheese
Instructions
Pre-heat oven to 350 degrees. Spray a 9x13 baking dish with vegetable oil cooking spray, set aside.
For the Fonduta sauce: In a medium saucepan, bring the milk and cream to a simmer over medium heat. Reduce the heat to low. Add the Romano and whisk until cheese is melted and the sauce is smooth. Remove the pan from the heat and stir in the basil. Set aside.
In a large skillet, heat 2 tablespoons of olive oil over medium-high heat. Add the sausage, shallots, garlic, 1/4 tsp salt and 1/4 tsp pepper. Cook until the sausage is cooked through and the vegetables have softened, 8-10 minutes. Increase the heat to high and add the wine and scrape up the brown bits that cling to the bottom of the pan with a wooden spoon. Cook until wine has evaporated, about 2 minutes. Remove the pan from the heat and set aside to cool slightly. Add the peas, ricotta, and 1 cup of the fonduta sauce. Season with remaining 1/2 tsp kosher salt and 1/4 tsp ground pepper.
Bring a large pot of salted water to boil over high heat. Add the pasta and cook until tender, 7-8 minutes. Drain and set aside.
Spread half of the marinara sauce over the bottom of the prepared baking dish. Using a small spoon, fill the manicotti shells with the sausage filling and arrange in a single layer in the baking dish. Pour the rest of the marinara sauce on top of the filled shells. Spoon the remaining fonduta sauce on top and sprinkle with mozzarella cheese. Drizzle with olive oil and bake until bubbly and golden brown, 30-35 minutes.
Nutrition Information:
Yield:

6
Serving Size:

1
Amount Per Serving:
Calories:

649
Total Fat:

35g
Saturated Fat:

17g
Trans Fat:

0g
Unsaturated Fat:

14g
Cholesterol:

102mg
Sodium:

1383mg
Carbohydrates:

40g
Fiber:

3g
Sugar:

5g
Protein:

38g
Nutrition information isn't always accurate.