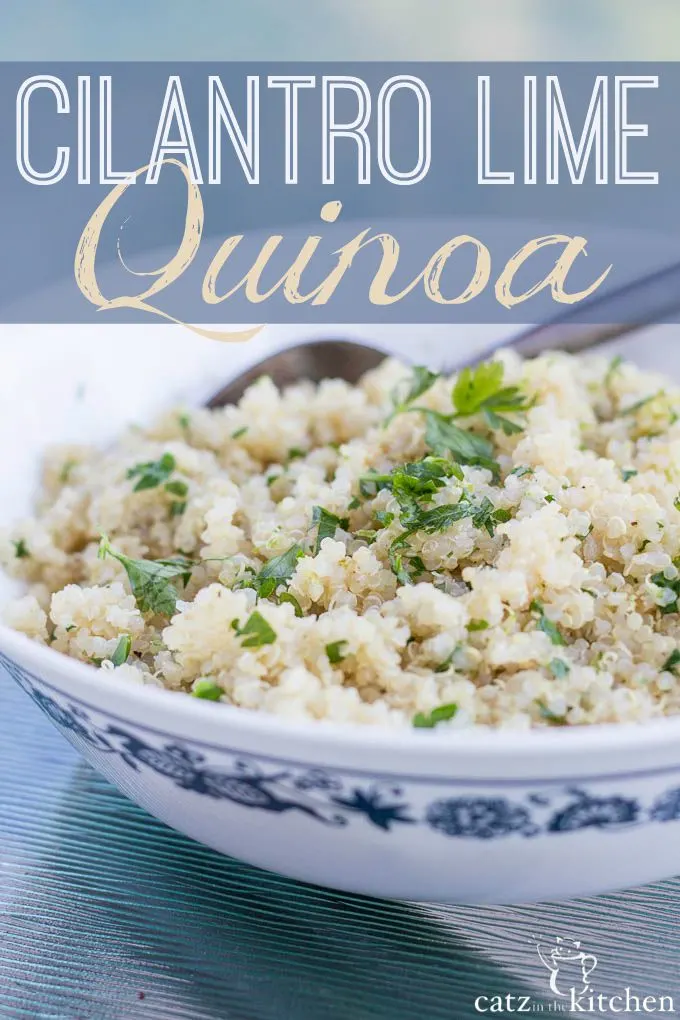 Quinoa. Apparently it is (or was) trendy, healthy, and, God forbid, perhaps even a bit faddy (fads are the worst, generally speaking…). I think Chels and I started eating quinoa about the same time everybody (and I do mean everybody) else did, sometime in 2011 or 2012. I honestly can't recall what encouraged us to try it – we like to eat healthy, but we aren't big on healthy kicks or fads, so I doubt that was it. More likely, we saw it in a recipe we liked, bought it, cooked it, and thought, hey, this stuff is pretty good! That's almost always how new foods enter the Rief household!
Apparently 2013 was the International Year of the Quinoa. Wow. How'd we miss that? Anyway, just in case someone isn't familiar, quinoa is often used as a substitute for rice that's higher in protein, but it's actually a grain crop close to the cereal family, apparently originating in the Andes in South America thousands of years ago. Wikipedia tells me its closely related to the tumbleweed, which is fascinating, but there's no reference listed for that tidbit, so you never know…
In addition to being interesting and yummy, there are a number of surprising health benefits to quinoa – it's high in fiber and gluten-free, for example!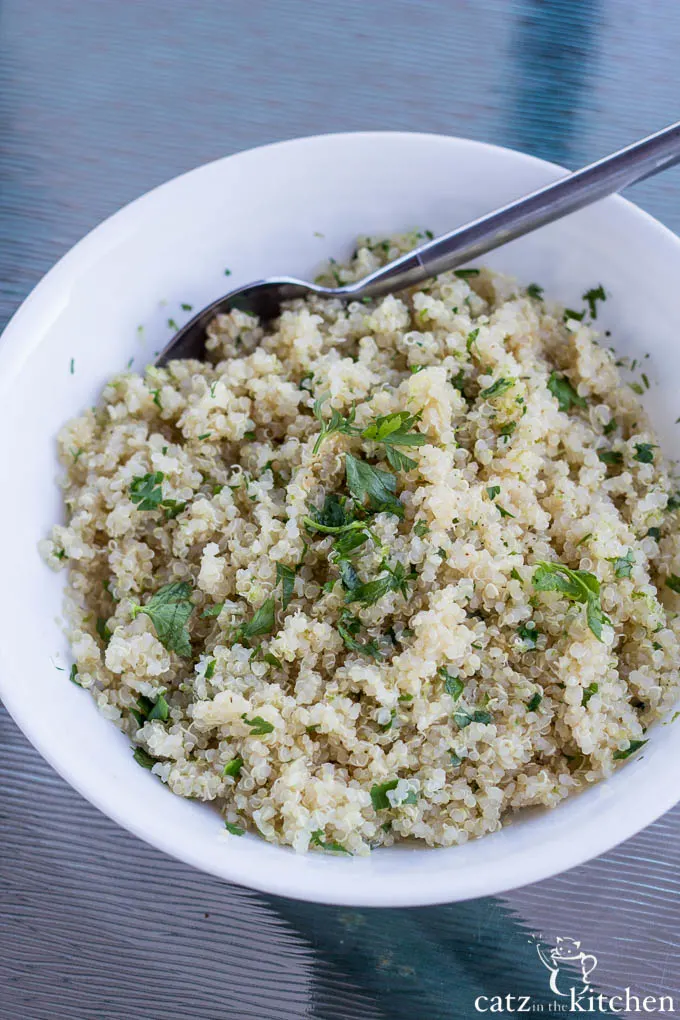 The first time I can personally recall making quinoa was when I made this dish by Sarcastic Cooking (the entire recipe is excellent, by the way – It was once grilled it for a family gathering of about 15 people, and it was very well received!). While the blackened chicken and the avocado cream sauce are both amazing, the cilantro lime quinoa is the unsung hero, flavorful, flexible, and useful in a wide variety of culinary applications. It can be a side dish all on its own, but most of the time I find myself using it as the "bed" for the star protein to rest on.
Chels will be sharing her new Margarita Chicken recipe with you a little later this week, and that was in fact the latest application for which I prepared this quinoa! Sliced and laid atop a fluffy pile of cilantro lime quinoa, the tasty chicken dish is more filling, and, might I say, just a bit more elegant!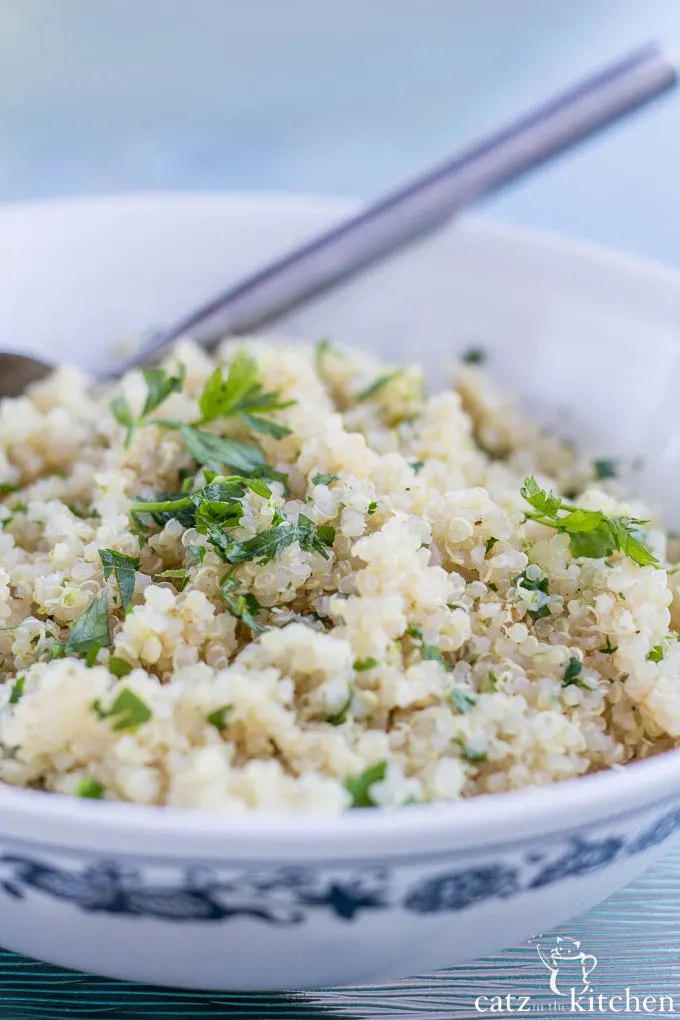 File this recipe away for use as that base when you've got a great southwestern-style protein on the grill, and you're just not sure how to finish the dish – the cilantro flavor is subtle, and the lime adds a cheery brightness to the rather blank slate the quinoa provides. Enjoy!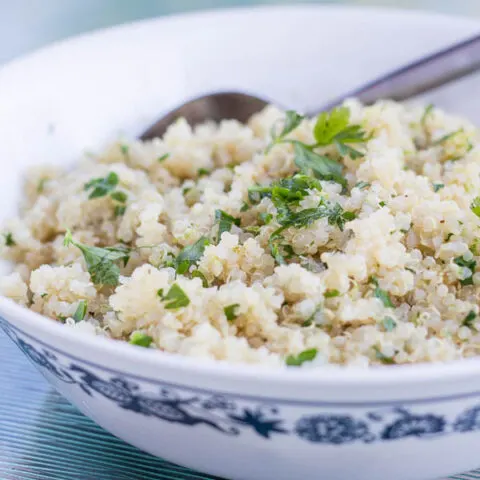 Cilantro Lime Quinoa
A fluffy, tasty, flexible southwestern-style side - start putting this cilantro lime quinoa under all of your favorite proteins!
Ingredients
1 cup quinoa
2 cups chicken stock
1 lime
chopped cilantro, to taste
salt and pepper, to taste
Instructions
Prepare quinoa in a rice cooker if available. Otherwise, prepare as directed on package, substituting chicken stock for water.
When quinoa is cooked, add to a bowl and zest the lime on top of the quinoa.
After zesting, cut lime in half and squeeze juice of both halves into bowl as well.
Salt and pepper to taste, and add about 1-2 tablespoons of chopped cilantro, to taste.
Toss well and serve.
Notes
Substitute vegetable stock for the chicken stock for a vegetarian version.
Nutrition Information:
Yield:

4
Serving Size:

1
Amount Per Serving:
Calories:

104
Total Fat:

2g
Saturated Fat:

1g
Trans Fat:

0g
Unsaturated Fat:

2g
Cholesterol:

4mg
Sodium:

250mg
Carbohydrates:

16g
Fiber:

2g
Sugar:

3g
Protein:

5g
Nutrition information isn't always accurate.