Have some leftover margarita mix in the fridge? Use it up with this easy, quick, and family-friendly recipe for margarita chicken!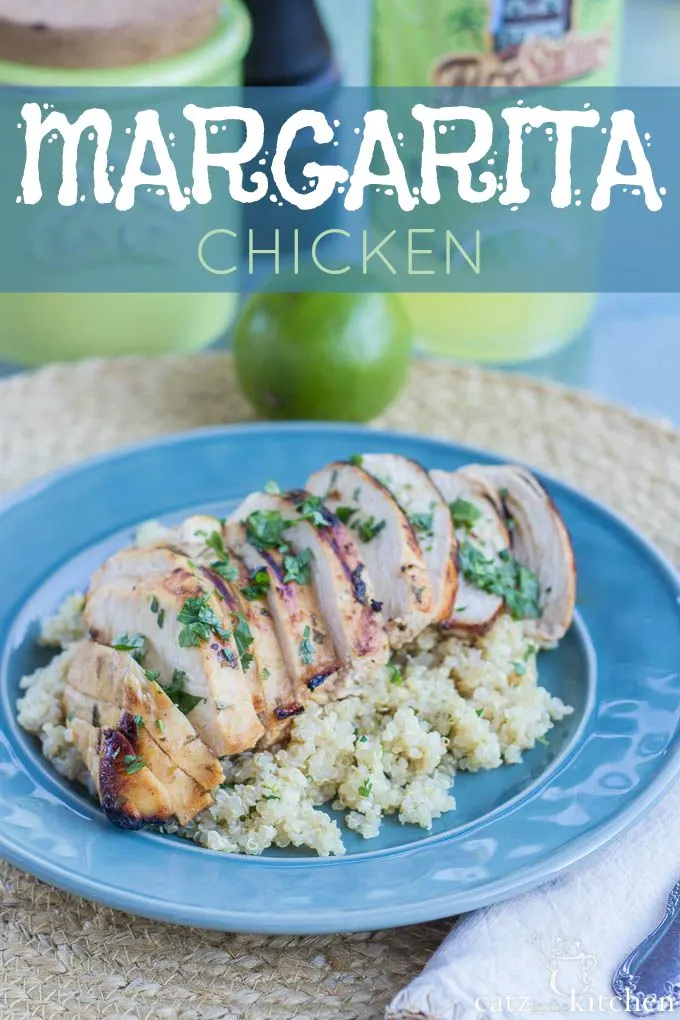 Back when I first started blogging in 2010, I found a recipe for margarita chicken that used a store bought margarita mix. The final product was so-so . It was really sweet and the margarita mix we had on hand was red…which made the chicken kind of pink, which certainly didn't look appetizing!
I remember not really being too impressed with the meal. Aside from the unsavory pinkish chicken, the dish was really sweet and kind of acidic. Needless to say, I never made it again.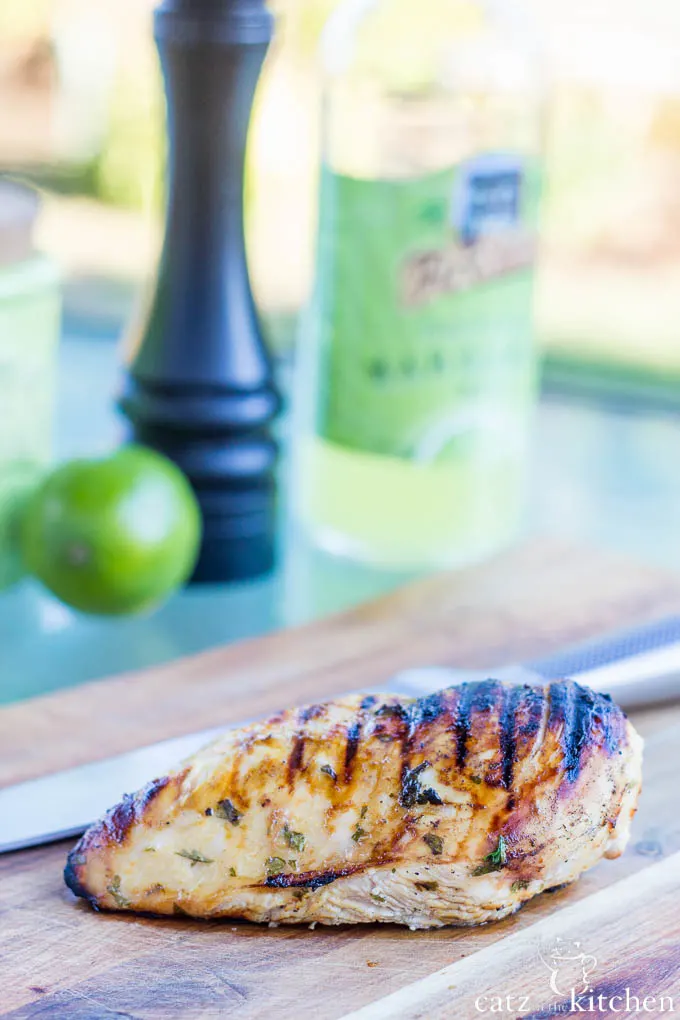 Fast forward to this year's Cinco de Mayo. I believe I made tacos that evening, but Josh (on a whim) picked up another bottle of margarita mix thinking it would be fun to have virgin margaritas with the kids to celebrate! The tacos were great, the margaritas were really sweet, and then I had 3/4 of a bottle of margarita mix taking up space in my fridge. What's a girl to do?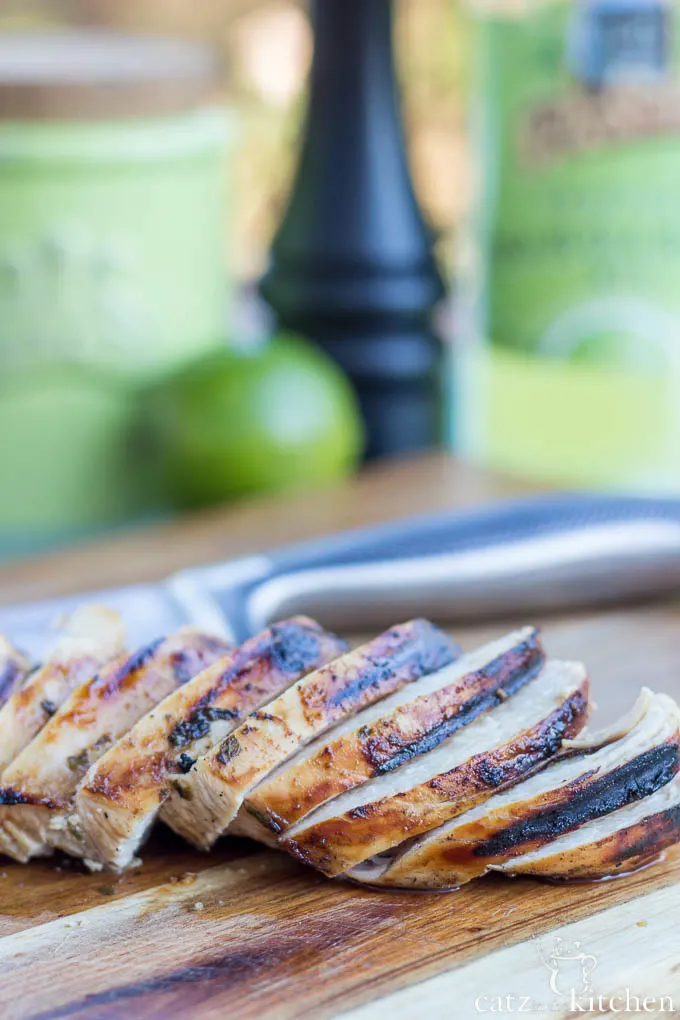 Remembering our margarita chicken from a few years ago, I made it my mission to create a new recipe using the margarita mix, seasonings, and other goodies to make a delicious, moist, Mexican-inspired grilled chicken entree.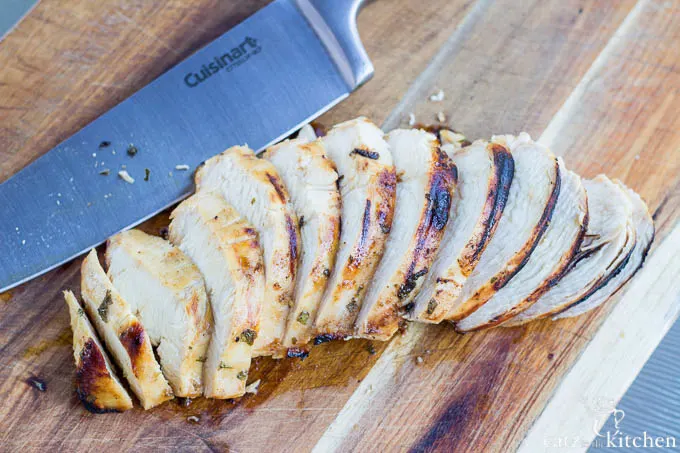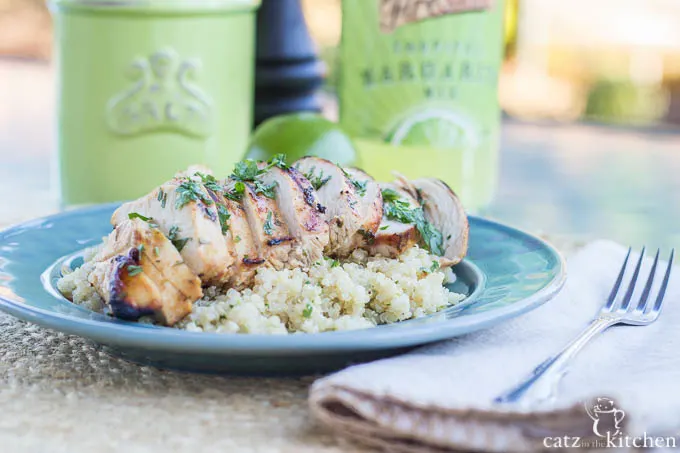 The result was amazing (if I do say so…)! The chicken is so tender and juicy and has so much flavor in every bite. It is super easy to prepare. Literally, mix the marinade together, throw it and the chicken in a ziplock bag, and let the flavors marinate together until you're ready to grill the chicken up! I mean, it is incredibly simple and just perfect for a busy evening.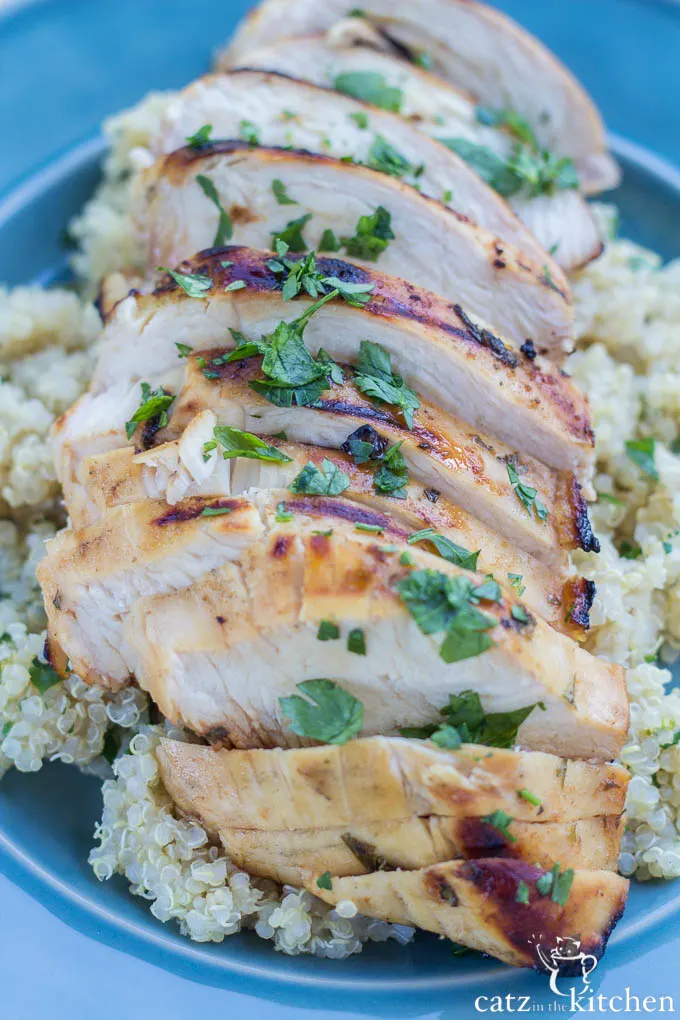 We've made this probably 2-3 times in the last few months just because of how easy and flavorful it is. And when you top the sliced grilled margarita chicken over a bed of cilantro quinoa, you've got the perfect dinner for your family to enjoy.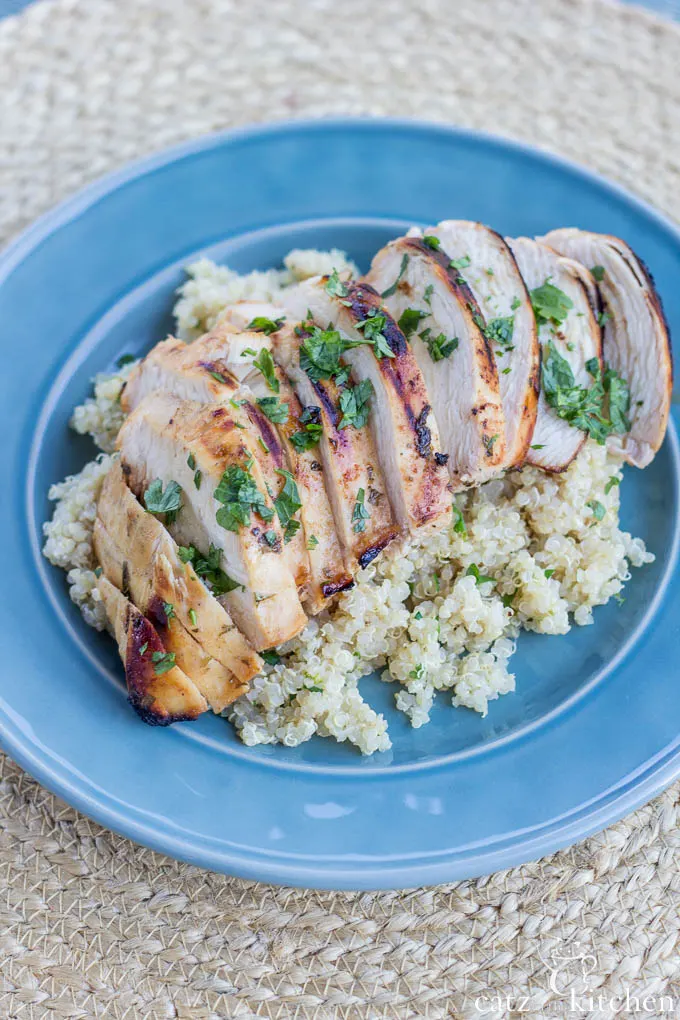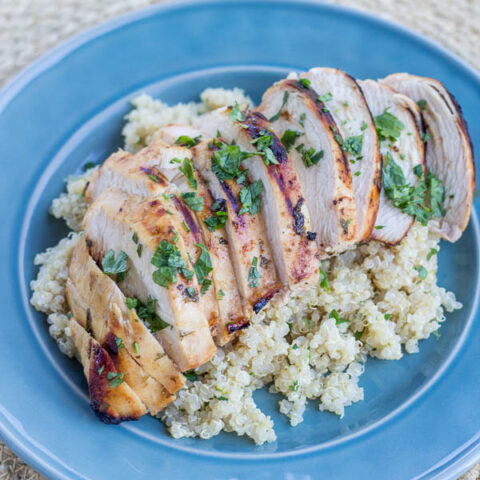 Grilled Margarita Chicken
Have some leftover margarita mix in the fridge? Use it up with this easy, quick, and family-friendly recipe for margarita chicken!
Ingredients
4 boneless, skinless chicken breasts
1/2 cup lime margarita mix
1/4 cup fresh lime juice
2 tbsp honey
1/3 cup + 3 tbsp chopped cilantro
1 tsp dried cumin
1 tsp dried coriander
1 tsp onion powder
1/2 tsp salt
freshly ground pepper
Instructions
Place chicken breasts in a ziplock bag.
In a small bowl, whisk together the margarita mix, lime juice, honey, 1/3 cup chopped cilantro, and seasonings. Pour over the chicken in the plastic bag, pressing out any extra air as you seal the bag.
Gently massage the marinade over the chicken and store in the fridge for 2-4 hours.
Pre-heat grill or barbecue to 400 degrees and cook chicken for 7-10 minutes on each side or until internal temperature of the chicken is between 160-165 degrees. (Josh usually pulls our chicken off the grill between 155-160 degrees because it will continue to cook once it comes off the grill.)
Allow the chicken to rest for 3-4 minutes before slicing on an angle.
Serve over a bed of Cilantro Lime Quinoa.
Nutrition Information:
Yield:

4
Serving Size:

1
Amount Per Serving:
Calories:

276
Total Fat:

5g
Saturated Fat:

1g
Trans Fat:

0g
Unsaturated Fat:

3g
Cholesterol:

102mg
Sodium:

383mg
Carbohydrates:

21g
Fiber:

1g
Sugar:

16g
Protein:

38g
Nutrition information isn't always accurate.