Need a tasty little cookie with your morning coffee? How about one that's iced and tastes of gingerbread? Try this recipe for Iced Gingerbread Biscotti!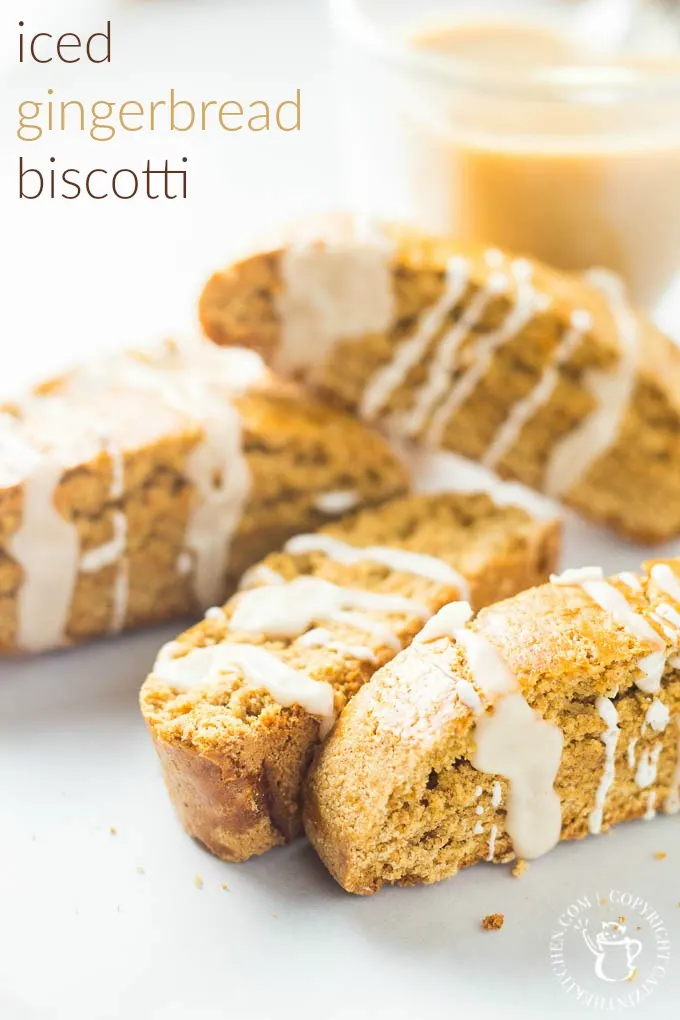 Biscotti and me go way back. I can remember the first time I ever ate it. I was in middle school and once in awhile my mom would treat me to a cute little cup of coffee. One time, she gave me a biscotti cookie to enjoy with my little coffee and told me that the traditional way of eating it is to dunk it in the coffee (like an Oreo in milk) and take a bite.
I was hooked.
From the first bite, I was in love with this Italian little cookie and I wanted more.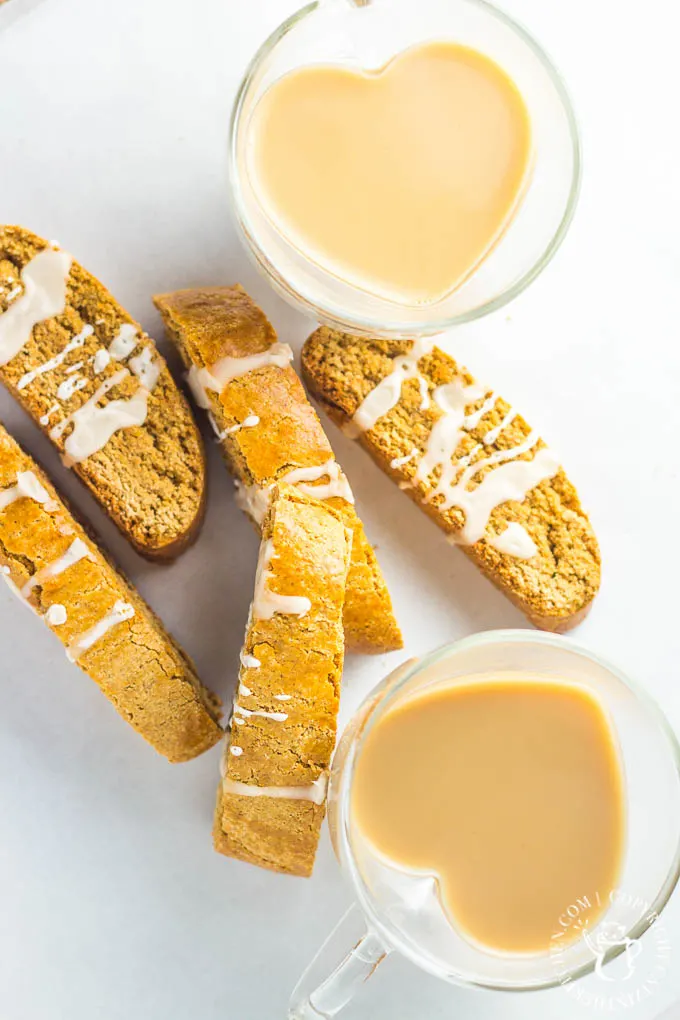 I don't bake biscotti very often (actually, this was only my second time – the first time was when I made pumpkin spice biscotti), but I always wish I baked it more. For some reason, I don't ever buy it from the store, but when I go to Cannon Beach on the Oregon Coast (or if I know someone who's going), I will try to snatch a Be-Bop Biscotti from an intimate little coffee shop called Bella Espresso.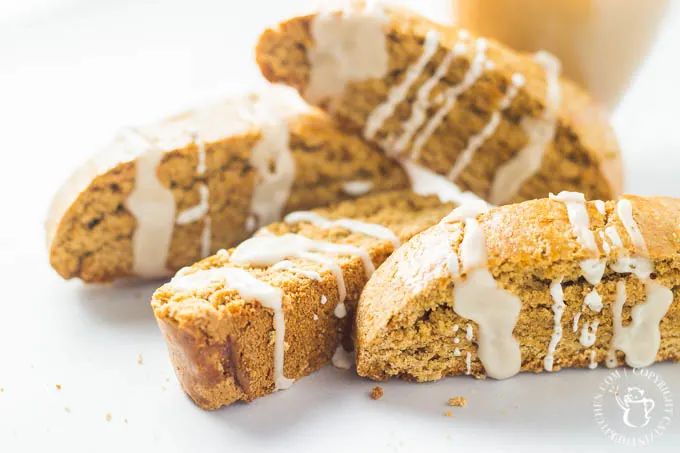 But I never eat it right away.
I tuck it away some place safe and wait until the right moment. If you are a mom, you know what moment I'm talking about. It's that moment when you've finally sat down from running after kids, taking care of chores, phone calls, or errands. It's that moment when you know the kids are off playing together and you won't be needed for a few precious seconds…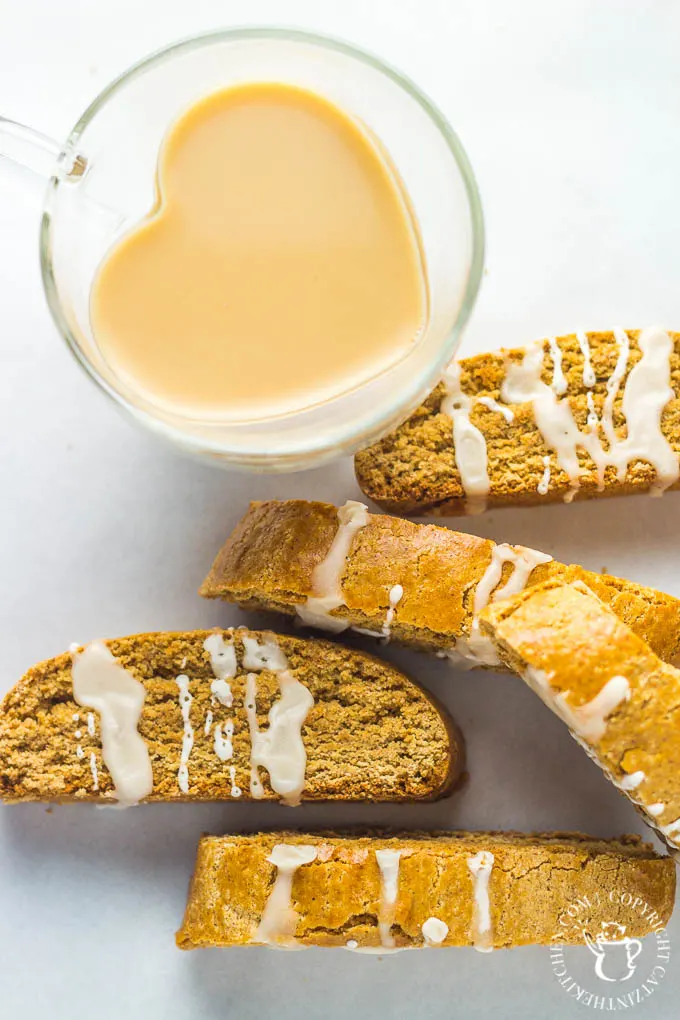 Which means…you can enjoy that cup of coffee without having to stop and do something else (which would usually mean having to reheat the coffee in the microwave). Doesn't that sound nice? I tell you, such moments do happen. Usually for me, they're between two and four in the afternoon, AKA "Golden Hour" in my house.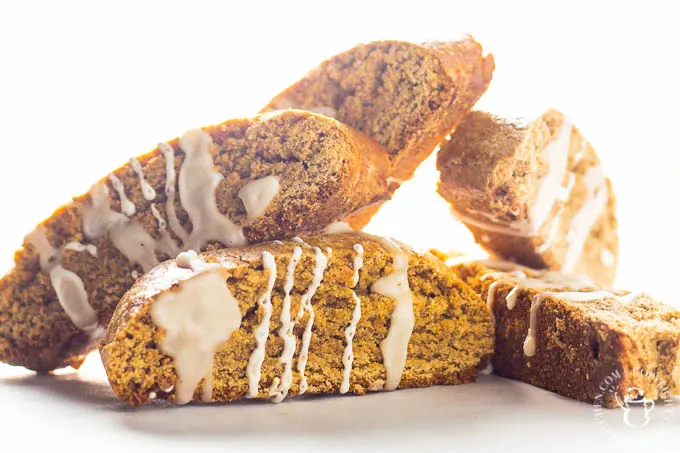 And when everything goes according to plan, and I can sip my coffee and dunk my biscotti, I tell you…
…for ten whole minutes everything is right in the world.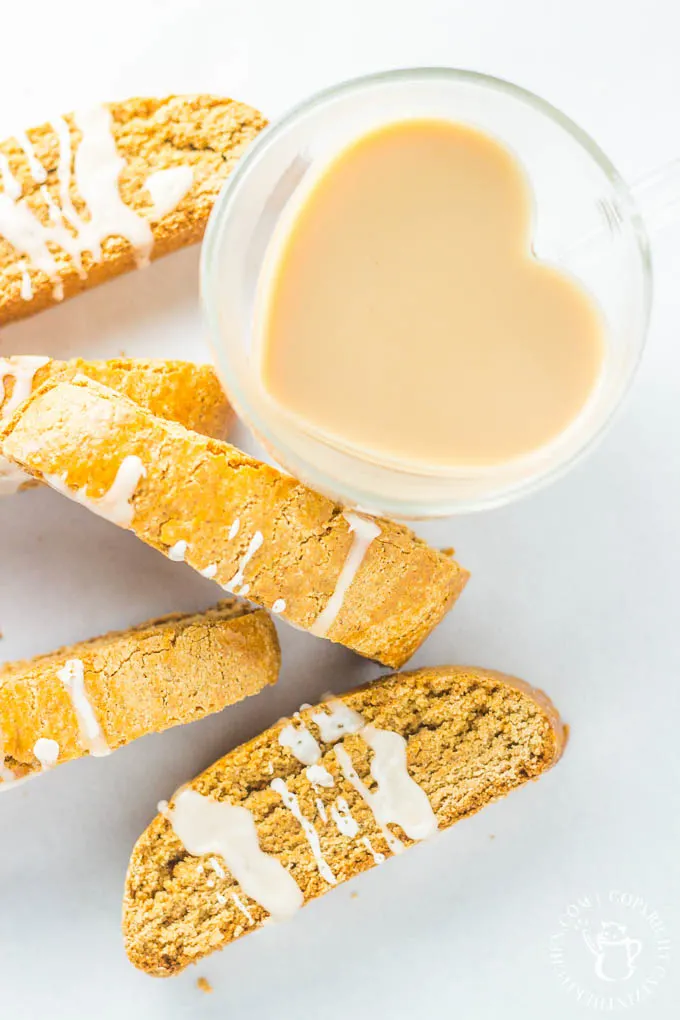 Gingerbread is a perfect flavor for this time of the year and it is even more perfect in biscotti! Whether you're enjoying breakfast, brunch, or something in between, this Iced Gingerbread Biscotti is the sugar on top!
Not to mention, a great addition to cookie tins for neighbors and friends!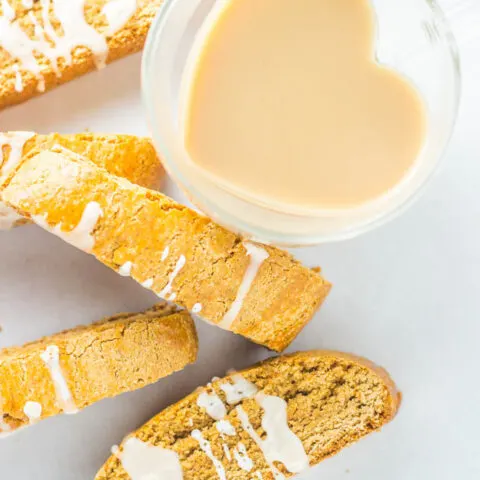 Iced Gingerbread Biscotti
Total Time:
1 hour
25 minutes
Need a tasty little cookie with your morning coffee? How about one that's iced and tastes of gingerbread? This recipe for Iced Gingerbread Biscotti is the ticket!
Ingredients
Biscotti
1 cup sugar
2 tbsp molasses
2 tsp vanilla extract
3 large eggs, divided
1 1/4 cups whole-wheat pastry flour
1 cup + 3 tbsp all-purpose flour
1 1/2 tsp ground cinnamon
1 tsp ground ginger
1/2 tsp salt
1/2 tsp ground cloves
1/2 tsp baking powder
Icing
2/3 cup powdered sugar
1 tbsp whole milk
1/4 tsp vanilla extract
Instructions
Preheat oven to 325 degrees. To prepare the biscotti, mix in the bowl of a stand mixer, the sugar, molasses, 2 tsp vanilla, and 2 eggs. Beat at a high speed until ribbons fall from the beaters (about 6 minutes).
Lightly spoon flours into dry measuring cups and level with a knife. Combine the flours and the next 5 ingredients (through baking powder) into a bowl and stir with a whisk. Add flour mixture to egg mixture; beat at a low speed just until combined. Divide the dough in half; place halves on a baking sheet lined with parchment paper. With lightly floured hands shape each loaf into an 8 x 4 inch loaf. Lightly beat remaining egg in a bowl; brush tops and side of loaf with egg. Bake at 325 degrees for 35 minutes or until golden brown. Remove loaves from baking sheet, and cool 10 minutes on a wire rack.
Reduce oven temperature to 275 degrees. Cut each loaf diagonally into 11 (1/2 inch) slices; place slices, cut side down on baking sheet. Bake at 275 degrees for 20 minutes, turning slices over after 10 minutes. Remove from pan, and cool completely on a wire rack.
To prepare icing, combine powdered sugar, milk, and vanilla; stir with a whisk until smooth. Drizzle icing over biscotti; let stand until icing sets. Store biscotti in a airtight container.
Notes
Sourced from Cooking Light
Nutrition Information:
Yield:

22
Serving Size:

1
Amount Per Serving:
Calories:

140
Total Fat:

2g
Saturated Fat:

1g
Trans Fat:

0g
Unsaturated Fat:

1g
Cholesterol:

27mg
Sodium:

88mg
Carbohydrates:

28g
Fiber:

2g
Sugar:

14g
Protein:

4g
Nutrition information isn't always accurate.