This easy, quick, low-calorie recipe for vodka penne is an addicting take on a hearty pasta dish. The unique creamy tomato sauce is a hit with all ages!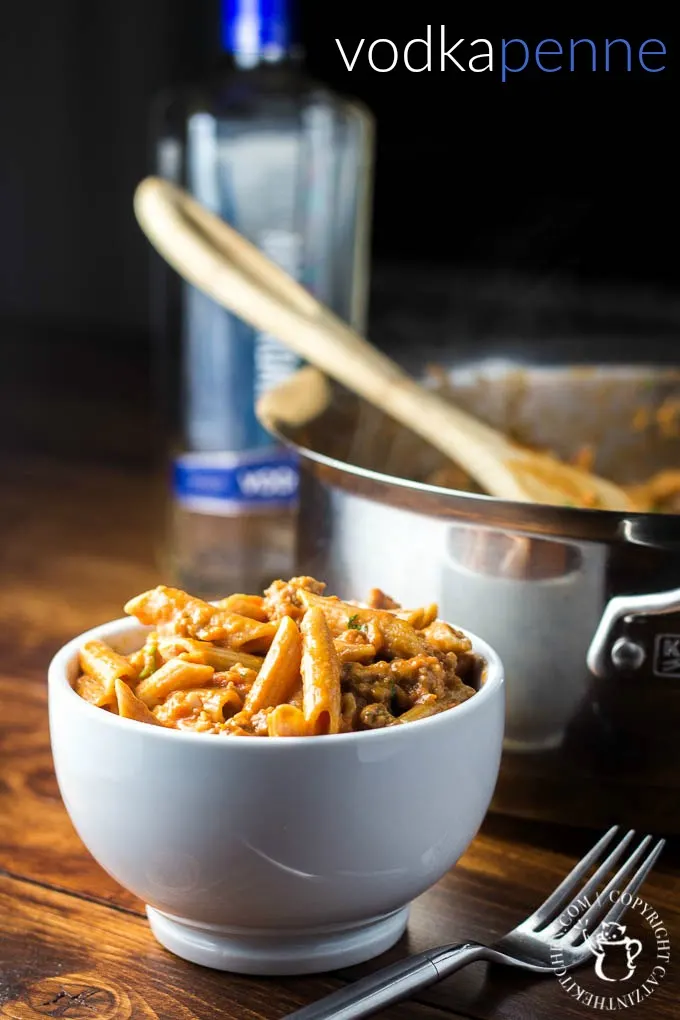 We have been meaning to bring you this vodka penne recipe for so long.
I don't even really know how long. Three years? Five? A long time. The first time we made it, we had no idea what we were doing, but it's so easy, even I couldn't mess it up, and we were absolutely blown away by how creamy, indulgent, and unusual it was. I'm assuming many of you have tried vodka penne at one time or another (many Italian restaurants and a few major restaurants chains have a version on their menus), but if you haven't (or even if you have!), what makes it unusual is the combination of a cream sauce and a red (or tomato) sauce. Typically, these things are separated in Italian cuisine, since they (literally!) don't mix! As I understand it, when you mix an oily sauce (cream) with an acidic sauce (tomato), the combination becomes unstable as the water base of both separates (any chemistry majors out there – here's where you jump in!).
That's not good.
But a creamy tomato sauce sounds heavenly, does it not? It does. No arguing on that point. These things are fact. So, how does one fix the stability problem above? Italian and French chefs have been fixing it for centuries by using wine as an emulsifier, but this particular combination needs something a little stronger.
Vodka.
I wish I could spin a yarn as I usually do about the origin of this dish – Hannibal survived on it while he sat atop his elephant in the Alps, Sennacherib had his personal chefs whipping it up for the builders of his canal to Nineveh, Arthur's round table was set with steaming, hearty bowls of it before heading out for chivalrous escapades…except it just didn't happen that way. Pasta dishes have a tendency to be something bordering on ancient, originating mostly in Italy, with its lengthy, well-documented, and celebrated culinary history. This one, though, is believed to have originated in period of antiquity known as…the 80's. Not the 1480's.
The 1980's. Disappointing, I know.
There's some evidence that it may stretch back as far as the 70's, but that's about all I have for you. No one seems to know exactly who came up with the idea – a chef in Rome wanting to bolster the consumption of vodka in Italy to the benefit of a seller of the spirits, an Italian chef in New York who needed something to thin his sauce and happened to have a glass of vodka nearby, or some other even less interesting recipe development scheme…in the end, vodka penne is an incredibly tasty creation, and I'm just glad somebody figured it out.
Supposedly, the vodka also unlocks flavors in the tomato sauce that are difficult to access any other way. It would appear that there is a bit of debate about this, but after having eaten the pasta many times, I don't find it hard to believe. It is a unique dish, and one that always has me headed back for seconds.
You can spice it up as much or as little as you want by choosing spicy Italian sausage instead of sweet or even just adding more ground cayenne pepper. We typically fix it a little on the mild side for our family, and the kids are crazy about it. In fact, I've never seen Christian (two years of age) devour something and demand seconds quite as quickly as he did with his little bowl of vodka penne.
It's a warm, filling bowl of pseudo-Italian comfort food.
Lastly…worried about the vodka? Don't be. The alcohol cooks off completely after finishing its job of helping the cream and tomato get along, leaving a delectable flavor combination you will come to crave!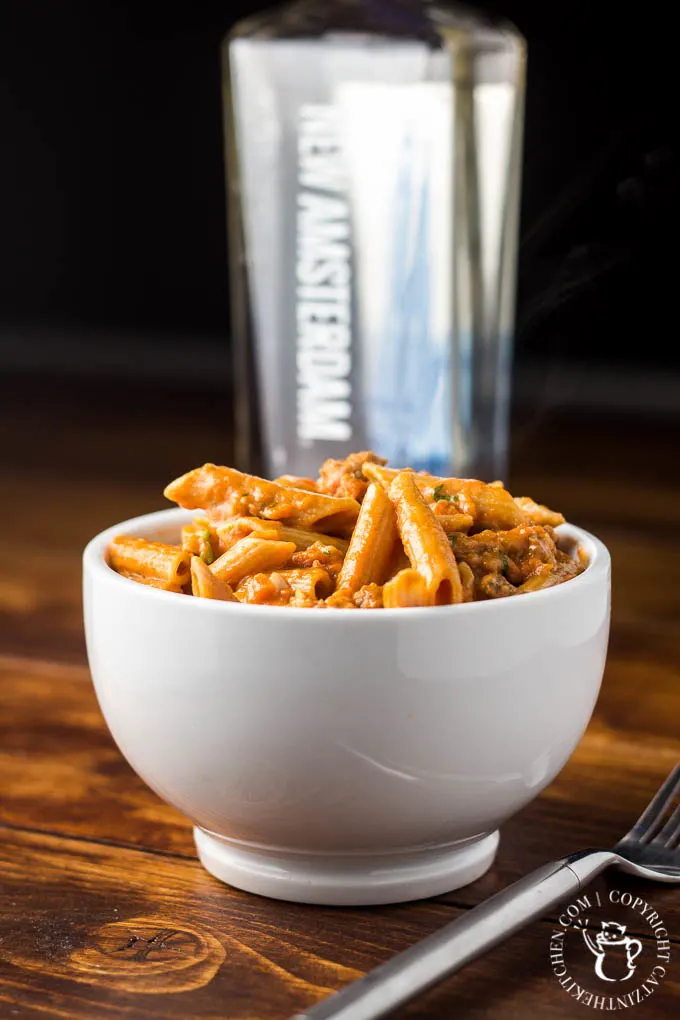 Oh, feeling fancy? Just call it Penne alla Vodka.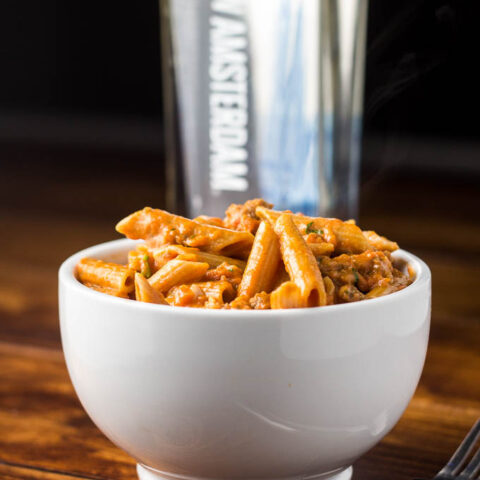 Vodka Penne
This easy, quick, low-calorie recipe for vodka penne is an addicting, indulgent take on a hearty pasta dish. The unique creamy tomato sauce is a hit with kids and adults alike!
Ingredients
1 lb penne pasta
1/4 cup extra virgin olive oil
1 lb ground sweet Italian sausage
1/2 tsp ground cayenne pepper (adjust to taste)
3/4 tsp salt
2 tbsp vodka
1/2 cup heavy whipping cream
4 cloves fresh garlic, minced
1 can (28 oz) crushed tomatoes
1/4 cup fresh Italian flat leaf parsley, chopped
Instructions
Begin cooking pasta according to package directions for al dente (typically, light salt a large pot of water, bring to a boil, add pasta, and cook for 8-10 min).
Heat oil in large, high-sided skillet, and add sausage, cooking until browned. Add garlic and cayenne, and keep cooking until garlic is golden brown.
Add salt and crushed tomatoes and bring to a boil, then reduce heat and simmer for 15 min.
Add cream and vodka, and return to a boil, then reduce heat and add pasta.
Toss over low heat for 1 min, then add parsley and serve immediately.
Nutrition Information:
Yield:

8
Serving Size:

1
Amount Per Serving:
Calories:

302
Total Fat:

18g
Saturated Fat:

6g
Trans Fat:

0g
Unsaturated Fat:

10g
Cholesterol:

34mg
Sodium:

554mg
Carbohydrates:

21g
Fiber:

2g
Sugar:

1g
Protein:

13g
Nutrition information isn't always accurate.