Have a New Year's resolution to live healthier? Start with this recipe for broiled rosemary salmon! It's easy, low-calorie, ready in 15 minutes, and incredibly good for you!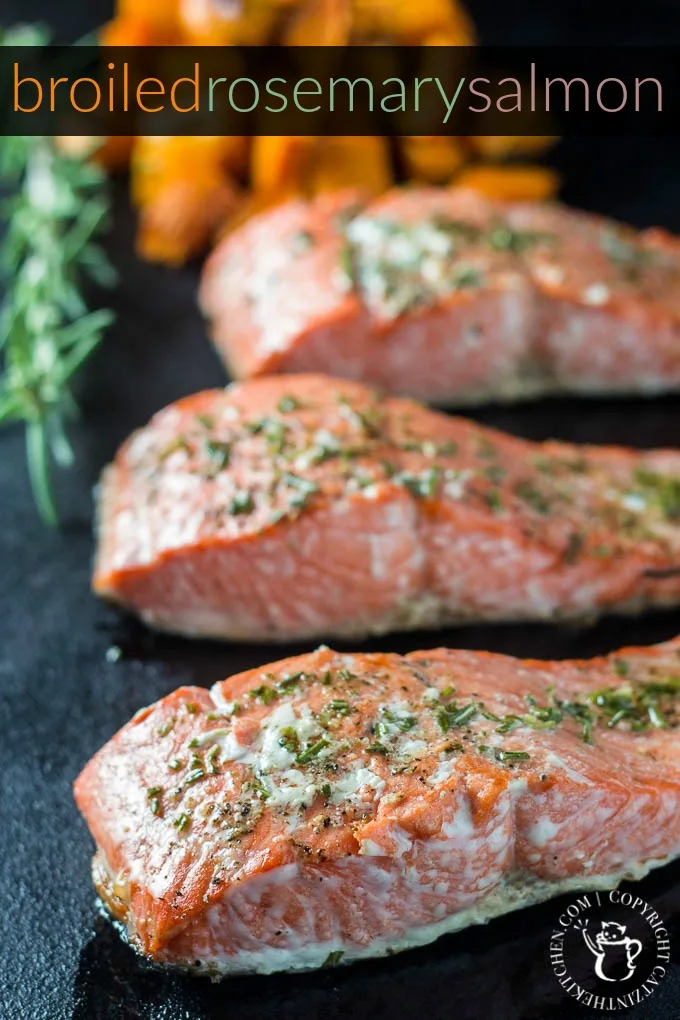 HAPPY NEW YEAR!!!
I hope you all are as excited as I am about the new year. A year full of possibilities, to challenge yourself, to grow, gain new friendships, heal past wounds, forgive, and better treat those around you.
It is only fitting that the first recipe of the new year is one that walks hand in hand with the second most popular New Year's Resolution – live a healthier lifestyle.
Betcha thought I was going to say lose weight or eat healthier. Nope! According to Time Magazine's survey, the number one New Year's Resolution is enjoy life to the fullest.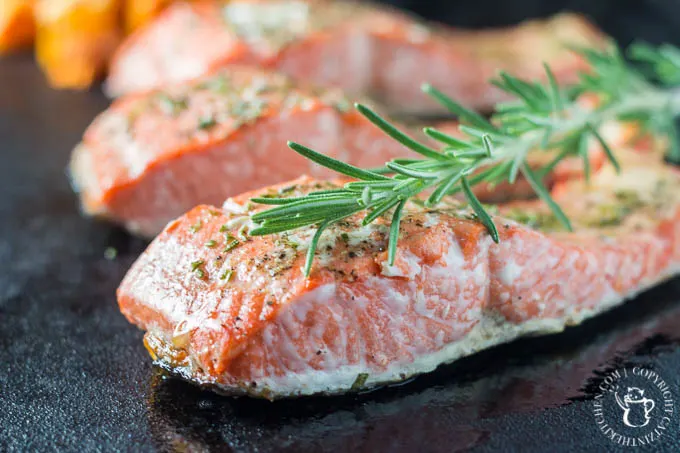 I can't say that I can argue with either of those top two, other than the fact that they are a wee bit self-centered (not in a bad way, per se, but seeing something like "treat others as I want to be treated" or "live life to the fullest with the people I love" would be nice to see…dream world?). I do think they balance each other out rather nicely. As far as resolutions go, I'm not going to make one (nor am I making an intentional word to live by for the year…).
I've found that when I choose an overly specific resolution, like drink less coffee, cook more French food, or read 25 books in a year, I set myself up for disappointment because I have a hard time sticking to these goals I've set for myself.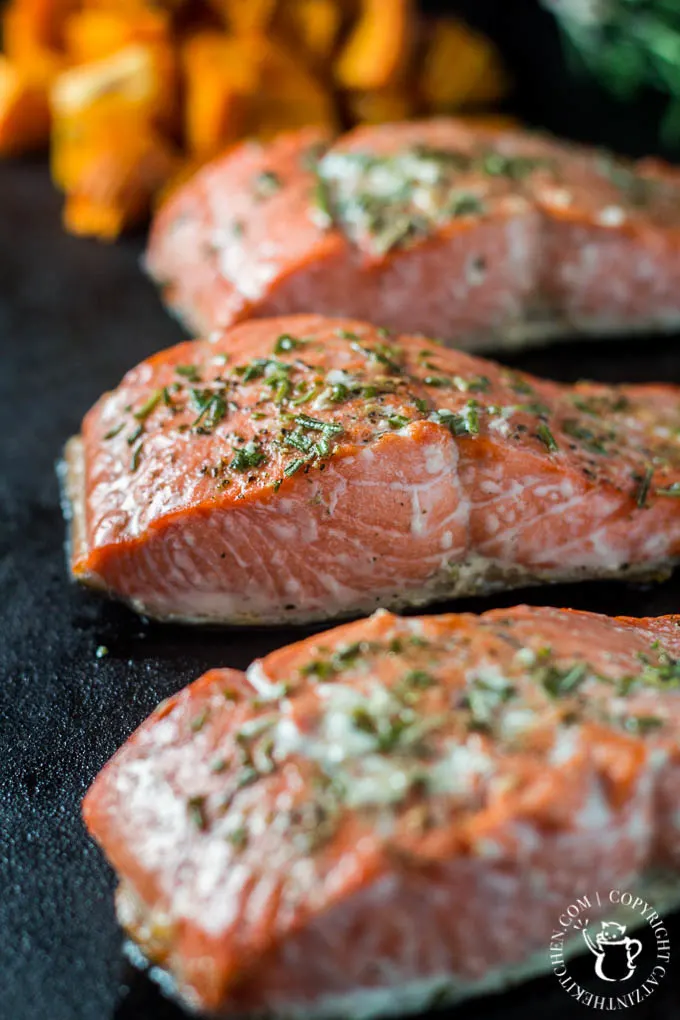 Anyone else ever feel that way? I think I'm just going to try and enjoy each day as it comes and not worry about tomorrow. No resolutions. No goals. Just live. (Well, to the extent that that is responsibly possible with three children at home…)
But if you are the resolution/goal making type, and one of those goals is to be healthier, I can help you with that!
One of the best things you can eat is salmon. It is full of protein, vitamin D, vitamin B-12, and omega-3 fatty acids. Eating salmon regularly has been proven to make you smarter and happier, actually reducing the feelings of depression. It also improves your sleep and builds children's brains! Who doesn't want brainy children? (haha)
Salmon also happens to be my favorite fish to eat. Growing up, we ate fish once or twice a week at my house. I've always been grateful to my parents for that because I grew up loving all kinds of fish – and I haven't met one I haven't enjoyed yet!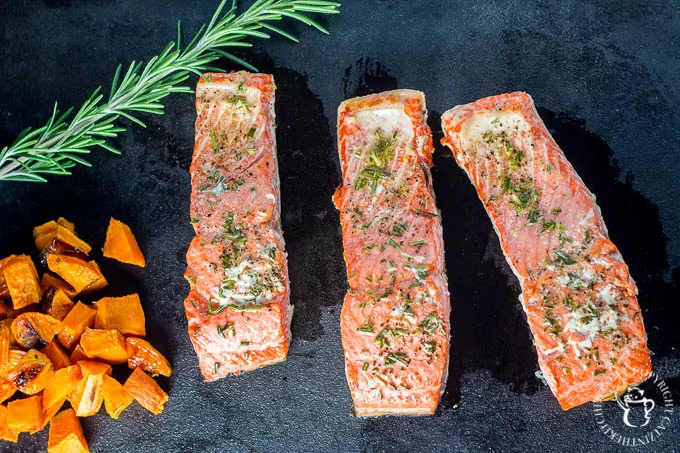 This Broiled Rosemary Salmon is one of my favorite ways to fix salmon. It is insanely fast. It is insanely delicious, and it is insanely good for you. My family loves it and I'm quite sure yours will too. The next time you see salmon on sale at the grocery store, don't hesitate…just grab it. You won't be sorry!
Broiled Rosemary Salmon
Have a New Year's resolution to live healthier? Start with this recipe for broiled rosemary salmon! It's easy, low-calorie, ready in 15 minutes, and incredibly good for you!
Ingredients
1 1/2 lbs (about four 6 oz fillets) wild-caught salmon (I used sockeye)
2 tbsp extra-virgin olive oil
4 tbsp chopped fresh rosemary
Sea salt and ground black pepper to taste
Instructions
Preheat your oven's broiler to high. Line a baking sheet with aluminum foil and coat with nonstick cooking spray.
Place the salmon fillets in the prepare dish skin side down. Drizzle with olive oil and add one tablespoon of rosemary to each fillet. Add a dash of salt and pepper.
Broil for 5 minutes, then flip the salmon and broil for another 4-5 minutes, or until the fish is opaque.
Notes
Nutrition Information:
Yield:

4
Serving Size:

1
Amount Per Serving:
Calories:

239
Total Fat:

17g
Saturated Fat:

3g
Trans Fat:

0g
Unsaturated Fat:

13g
Cholesterol:

54mg
Sodium:

53mg
Carbohydrates:

1g
Fiber:

0g
Sugar:

0g
Protein:

19g
Nutrition information isn't always accurate.