Make this tasty recipe for turkey taquitos as an appetizer or a main entree – your guests will demand them again and again!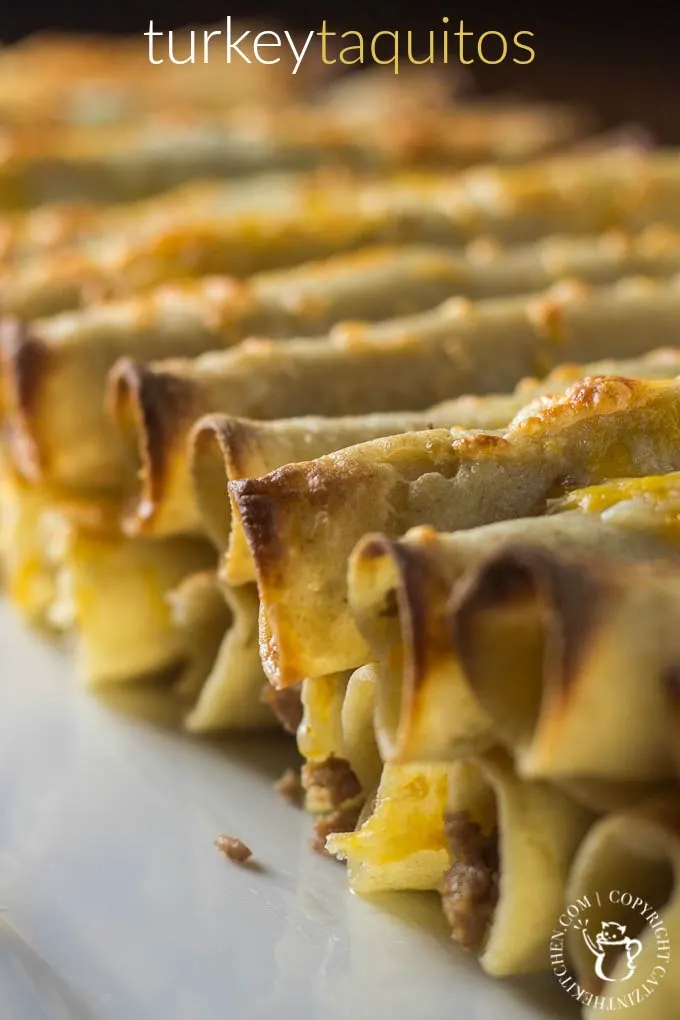 This recipe and its photos have been updated from the archives. The original post was published in March 2013.
I think it's fair to say that
Mexican
and
Italian
cuisines are always duking it out for the top spot on my favorites list. Of course, the wonderful thing about both of these incredibly popular pseudo-ethnic food genres is that their ingredient lists are so all-encompasing, their flavors so broad and varied, that they can lend the outer vestiges of their mammoth culinary umbrellas to a truly innumerable plethora of possible recipe combinations. Is there any end to the number of dishes one can make using Mexican or Italian cuisine as an inspiration? I think not.
Okay, enough rambling about the possibilities. Let's talk an actual recipe. Who doesn't like taquitos? They're crispy, snacky, and perfect for dipping or covering in sauces. They make a wonderful main entree, while just as easily posing as finger food or hors d'oeuvres as required. This particular recipe for taquitos is a fun and easy one I've been making for years, with minor variations here and there. Normally, though, we make it just a tad healthier by using ground turkey as the filling. Turkey taquitos. The amazing thing about ground turkey in taquitos, tacos, nachos, and the like is that once it's seasoned, you really can't tell it apart from its considerably less healthy comrade, ground beef. Don't believe me? Try this recipe.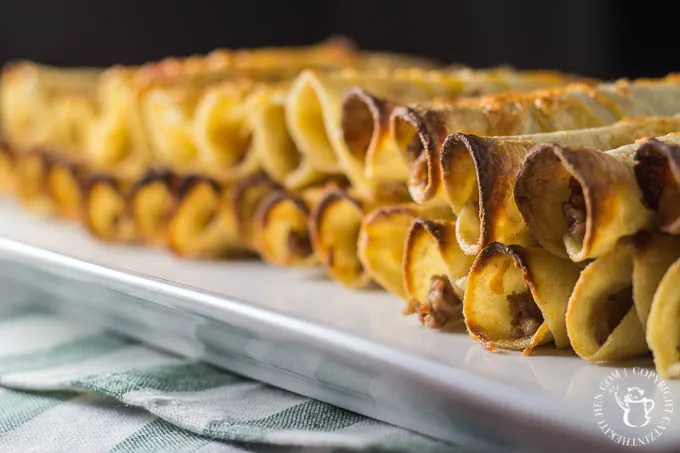 A note of caution, before you dive into the recipe below – it's very easy to burn your hands while working with hot oil (who knew?). Personally, as the resident "hot oil whisperer" in our household, I've burned the tips of my fingers so many times, I don't know that I have any nerves left in them (plus, I play steel string guitars, just to finish off any remaining nerve endings). Nevertheless, I recommend care, caution, paper towels, dish towels, gloves, spatulas, spoons, tongs, and chain mail to those of you with virgin finger tips. Basically, be careful. I'm all for sacrificing oneself for one's craft, but I'd rather not make that decision for you.
The benefits of making taquitos this way, as opposed to simply deep frying them, are that it is slightly (emphasis on slightly) healthier, requires less oil, and does not require a deep fryer (let's be honest, I love my deep fryer, but it's not something you want to be getting out multiple nights a week). And, truthfully, the end result is less greasy and just as tasty as traditional deep fried taquitos.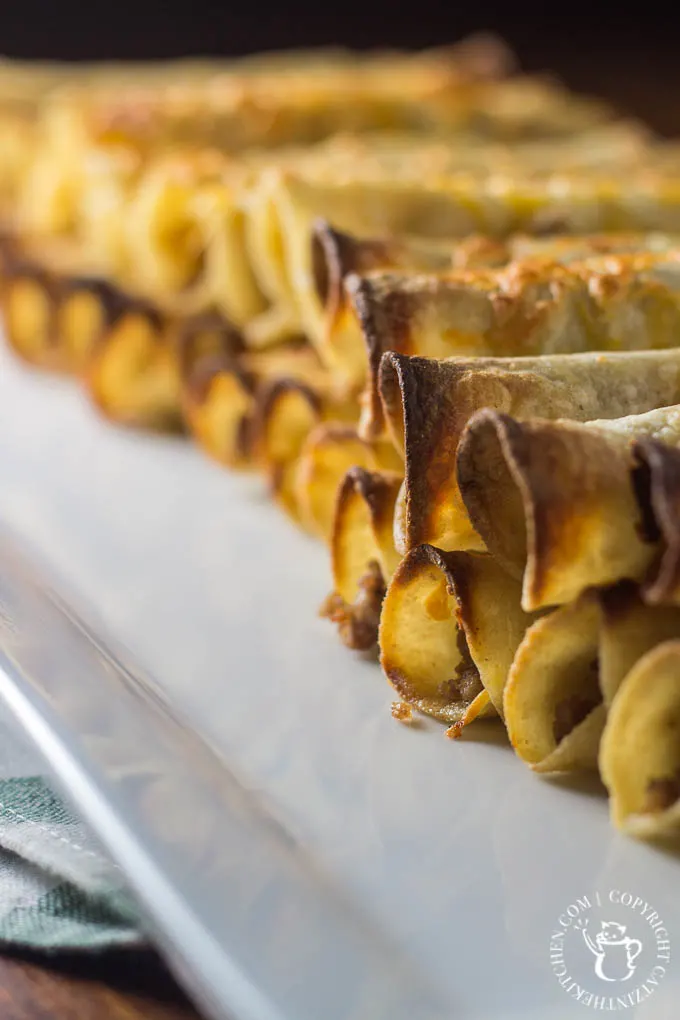 The sauce mentioned below did appear in the original recipe. We're working on improving and photographing it for a separate post. Coming soon to a blog near you…
This sauce is one of my favorite little creations. It's incredibly simple, and while I'm sure I'm not the first person to think of it, it has a phenomenal flavor, a decent amount of heat, and takes all of one minute to make – so I love it. I always make this right at the beginning and then put it in the fridge until I'm ready for it. Actually, this last time, I stored it in a squeeze bottle – my own personal chipotle hot sauce! Oh, one additional fringe benefit – use this in place of sour cream, and cut your calorie count dramatically.
Lastly, I apologize for the lighting in these photographs. We made these taquitos after getting home from the zoo one evening, and I didn't have them done until after the sun had gone down! They're much prettier in the daylight, I promise!
Turkey Taquitos
Make this tasty recipe for turkey taquitos as an appetizer or a main entree - your guests will demand them again and again!
Ingredients
20-25 6-in white corn tortillas
1/2 lb ground turkey
2 tbsp taco seasoning
3 oz water
1 1/4 cup Mexican blend shredded cheese
1-2 cups vegetable oil
Instructions
Brown turkey in a skillet. Add taco seasoning and water and simmer over low heat for about five minutes, or until water is absorbed, stirring often.
Heat vegetable oil in a medium size pan to medium heat. Use enough oil to bring the depth to about half an inch. Add additional oil periodically during cooking to keep oil level at about this depth.
Set up an oil-resistant workspace next to the burner (such as a large cookie sheet). Nearby, set up an additional cookie sheet. Line this cookie sheet with paper towels, and top the paper towels with a cooling rack (such as one used for baking, about half an inch to an inch above the paper towels).
Preheat oven to 450 degrees.
Slide two of the corn tortillas into the oil at a time, allowing them to bubble in the pan for 10-20 seconds. Turn them over and allow them another 10 seconds or so. Using tongs, remove the tortillas from the oil and lay them out flat on your workspace. Add about a tablespoon of turkey and a sprinkling of cheese to the edge of each tortilla. Roll the tortillas up tightly and lay seam side down on the cooling rack. Repeat for the remaining tortillas.
When all tortillas are filled and laying on the cooling rack, place them in the oven for 10 minutes.
Remove the taquitos from the oven, sprinkle with remaining cheese, and return to the oven for an additional two minutes, or until tortillas are crispy and cheese is melted.
Serve immediately, with dipping sauces and salsas according to your preferences.
Notes
Nutrition Information:
Yield:

22
Serving Size:

1
Amount Per Serving:
Calories:

290
Total Fat:

25g
Saturated Fat:

3g
Trans Fat:

1g
Unsaturated Fat:

20g
Cholesterol:

17mg
Sodium:

119mg
Carbohydrates:

13g
Fiber:

2g
Sugar:

0g
Protein:

6g
Nutrition information isn't always accurate.