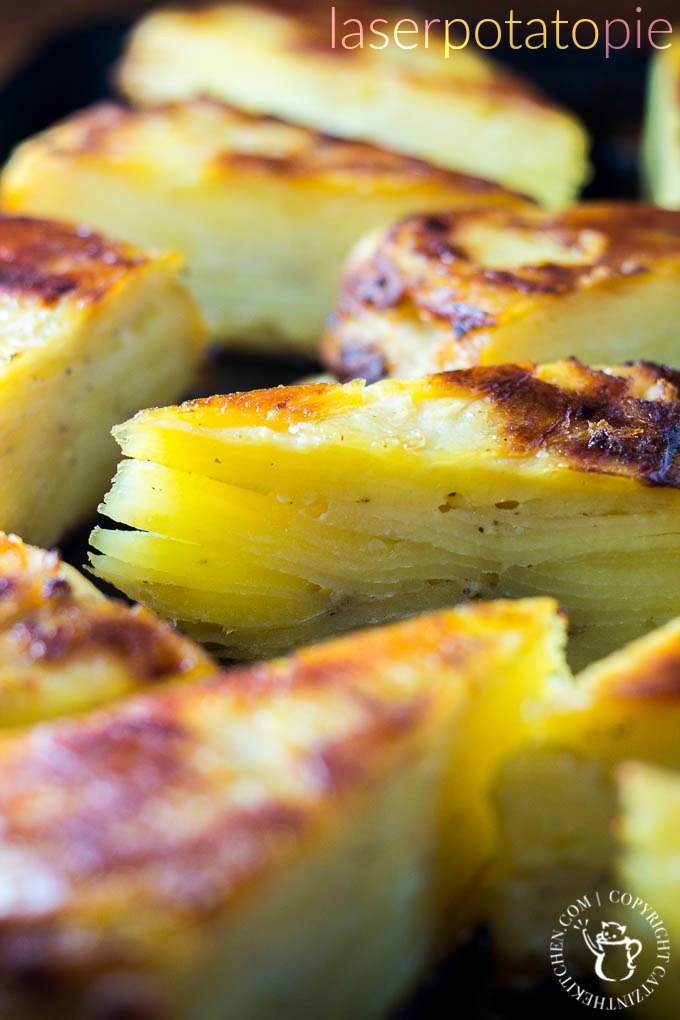 Potatoes.
I put them in the same category as eggs. As in, the category of things that I must have in the house at all times in case I need to make a random meal and nothing in the house sounds good but I don't want to eat breakfast cereal again.
You know what I mean?
Like eggs, there are roughly eleventy billion different ways you can prepare them, most of which are easy and delectable, and the rest of which are more challenging but equally delectable. I suppose that we wouldn't bother to blog many of the everyday potato dishes we make – baked potatoes, breakfast potatoes, mashed potatoes, scalloped potatoes, fries of all conceivable varieties – unless they were especially notable, but even still, there are a decent number of recipes in our potato archive. This is despite not being a particular focus, unlike, say, French Toast… (inside joke there for any regular readers…)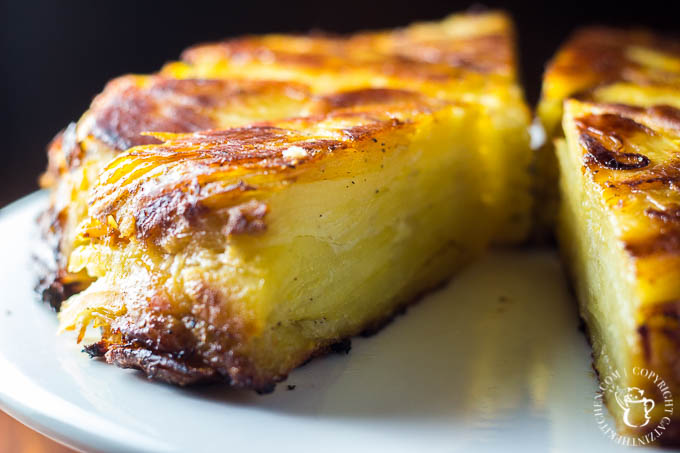 So, as you probably know, we reside in the beautiful, but incredibly soggy, Pacific Northwest. Home is a suburb outside of Portland, Oregon. Oregon is probably more known for its rain than anything else, but certainly not for its potatoes (though we are the Christmas tree capital of the world, if anyone was wondering). Neighboring Idaho, on the other hand…well, yeah. Potatoes seem to be the first thing that everyone thinks about when it comes to Idaho. And maybe that's fair – Idaho produces something north of 14 billion pounds of potatoes every year, and neighboring Washington nearly another 10 billion.
Still, I distinctly remember trying to earn a few extra dollars one summer in the semi-rural Oregon neighborhood I inhabited as a teenager, and one job I recall was digging up a field full of potatoes! It follows, therefore, that we must be growing some here, too. Turns out, it's more than some…we grow over two billion pounds of our own! I had no idea. You Idahoans and Washingtonians can look down on us and chuckle at our paltry multi-billion pound contribution to the potato pile…
…but our six million Christmas trees are pretty heavy (and they take a bit longer to grow, too).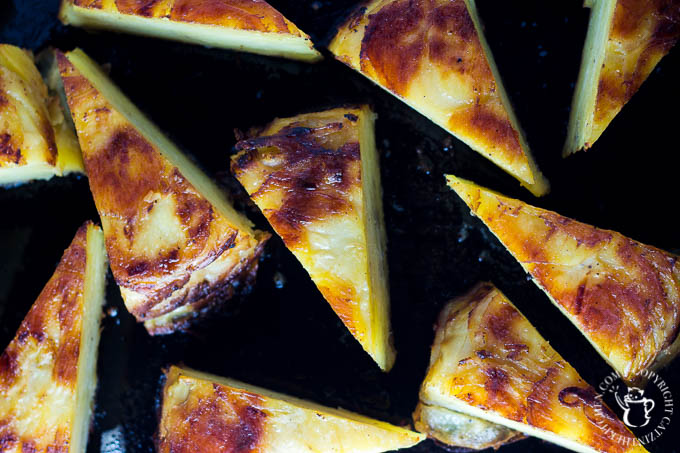 So, billions and billions of pounds of potatoes are produced every year, and we all know billions (literally?) of recipes to make with them. Does that mean there isn't anything new to do with them?
Of course not.
Enter this laser potato pie. I've never seen anything quite like it. It's a local legend, straight off the truly epic brunch menu at Portland's Olympia Provisions restaurants. Five pounds of golden potatoes in one cast iron skillet, bathed in butter, lightly accented by yellow onions gently sweated in even more butter. Apparently, the chef jokes with patrons that the potatoes are cut with a laser, and looking at the finished product, you could believe it!
It's a simultaneously supremely creative and incredibly simple way to elevate the humble potato to its rightfully prodigious place on your table.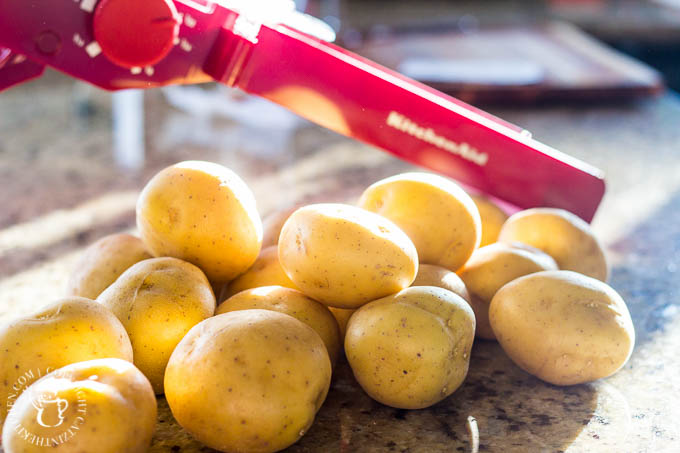 Peeling five pounds of potatoes will make you feel like you're in the army. Or what I imagine being in the army feels like. I tried it with a potato / carrot peeler, but a short, sharp paring knife is really the way to go.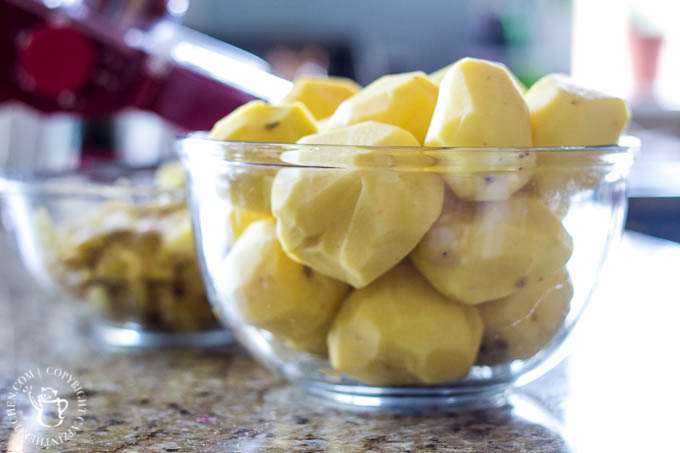 You'll need a mandoline slicer for this recipe – I suppose you could try to cut them by hand…but can you really cut 1/16 inch slices of potato (about 1.5mm)…evenly…without severely injuring yourself…and without your arm falling off? If you can…more power to you. I can't. Also, I don't believe you.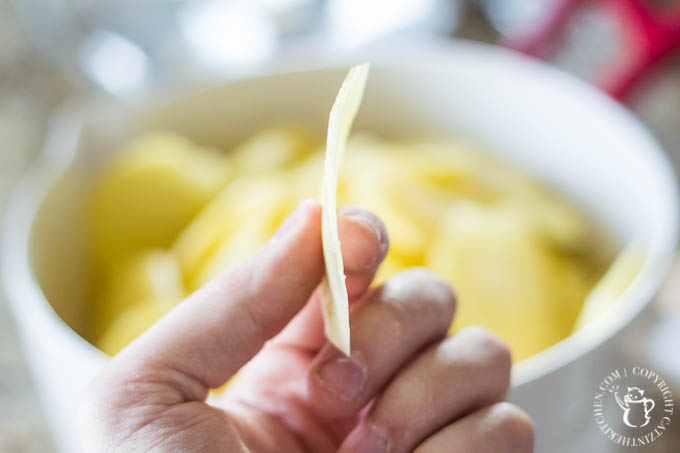 At any rate, you'll end up with a rather gigantic pile of extremely thin potato slices. So many that you'll swear they'll never fit in the suddenly puny-looking ten inch cast iron skillet you've set aside for the purpose. Note that the photo below depicts but a single potato.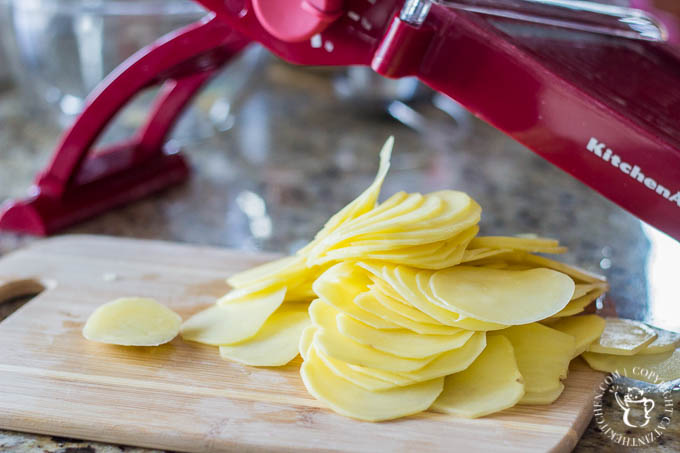 You'll need some place to accumulate your newfound treasure trove of un-crisped potato crisps.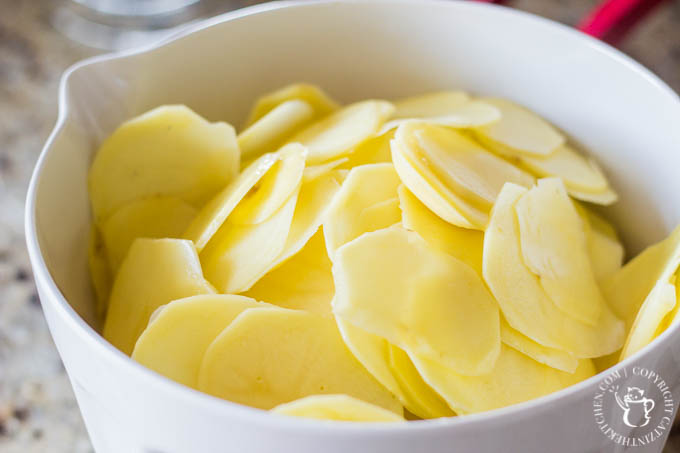 And, despite all logic and spacial reasoning, once you've sweated the onions in a wonderfully massive amount of that heavenly substance commonly known as butter, you'll find that all of your ingredients magically, improbably, and just barely fit in the aforementioned cast iron skillet.
How? Who knows.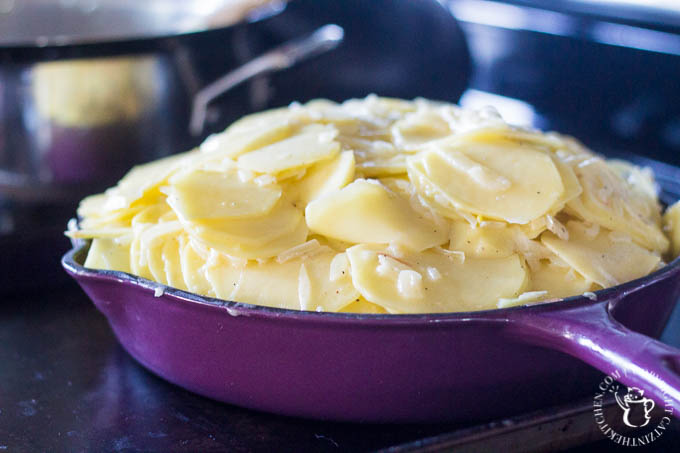 And from that point, you're into the relatively passive stages of the recipe, baking, cooling, refrigerating, and baking again.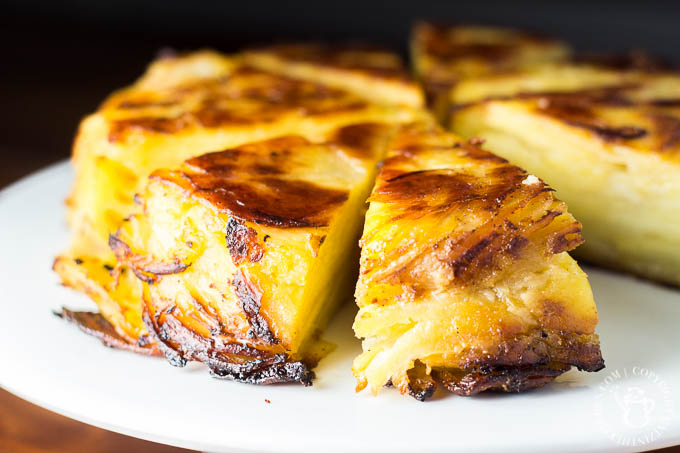 The fantastic bit here is that you can put in all the elbow grease virtually as far ahead of time as you want. Apparently, wrapped in plastic wrap, the pie will keep for a week in the fridge. And when you're ready for your potato dinner feast or brunch side, just pop it in the oven for about ten minutes and you'll be in business.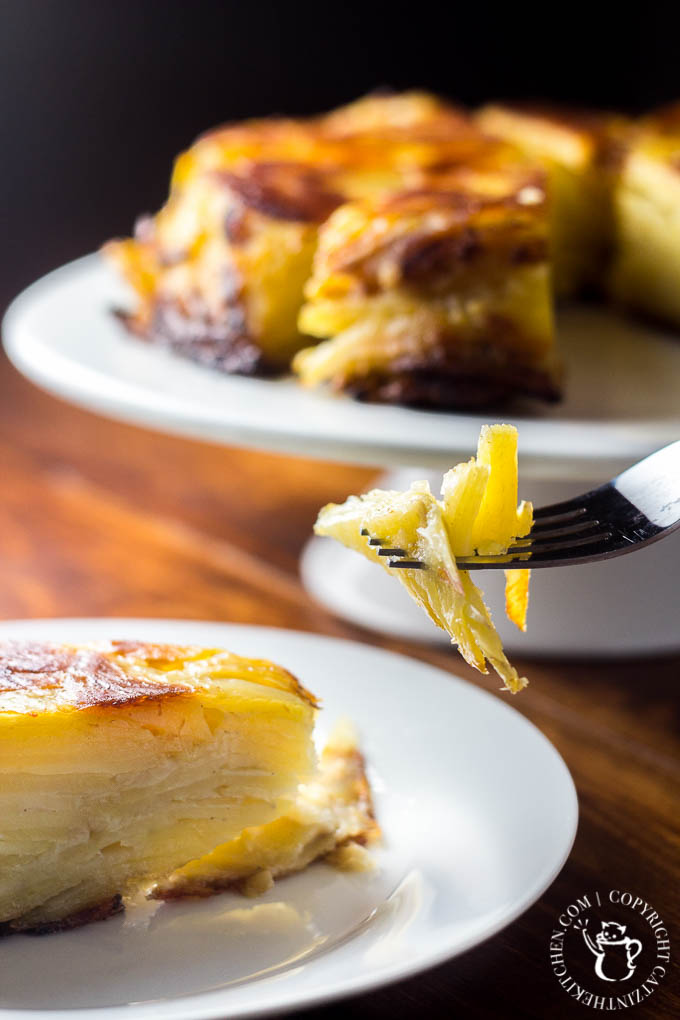 So, if you're ready for a decidedly different and mildly decadent application of our favorite flexible underground vegetable dreamed up right here in Portland, Oregon, dust off your mandoline slicer, break out your cast iron skillet, overturn your bushel of potatoes, and roll up your sleeves – it'll be worth it.
Want another amazing idea for punching up your potato repertoire? Try these Bombay Spiced Potatoes!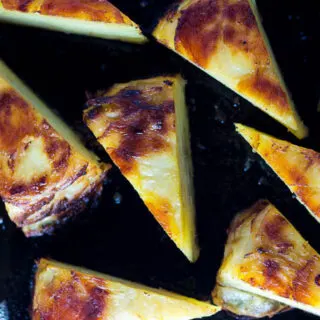 Laser Potato Pie
Ready to take potatoes somewhere you've never taken them before? Try this simple but elegant Laser Potato Pie recipe!
Ingredients
15 tbsp unsalted butter
2 large yellow onions
5 lbs gold potatoes
Kosher salt
Freshly ground pepper
Instructions
Peel the potatoes. Set mandoline slicer to 1/16 inch and slice all the potatoes.
Trace the top of a ten inch cast iron skillet on parchment paper twice, and cut both out with scissors.
Preheat oven to 400 degrees.
Thinly slice the onions, melt 12 tbsp of butter in a large pot over medium heat, and add onions to the pot.
Sweat the onions in the butter for about five minutes, remove from heat, and add the potatoes.
Toss the potatoes until well-coated in butter and onions are evenly distributed. Add salt and pepper to taste.
Place one of the circular parchment paper cutouts on the bottom of the skillet, and carefully add all of the ingredients to the skillet, building closely packed layers. Top with the remaining paper cutout and cover again with foil.
Bake for about 90 minutes, or until a thin skewer or long fork passes through the potatoes without resistance. You may wish to place a large baking sheet on the rack beneath the skillet, in case there is any overflow.
Set the oven to broil, remove the foil and parchment from the top of the dish, and broil uncovered for 10 minutes.
Allow to cool at room temperature, and then flatten gently with a broad spatula. Cover with plastic wrap and place in the refrigerator for at least five hours - overnight or longer if needed or desired.
When ready to eat, spread the remaining 3 tbsp of butter on a baking sheet and preheat the oven to 400 degrees.
Carefully remove the pie from the skillet by running a knife around the edges of the pan and overturning it on a cutting board. Slice it into twelve slices.
Transfer the pieces to the baking sheet and bake for about 10 minutes, until warmed through and browned. Serve immediately.
Nutrition Information:
Yield:

12
Serving Size:

1
Amount Per Serving:
Calories:

313
Total Fat:

15g
Saturated Fat:

9g
Trans Fat:

0g
Unsaturated Fat:

5g
Cholesterol:

38mg
Sodium:

70mg
Carbohydrates:

42g
Fiber:

5g
Sugar:

3g
Protein:

5g
Nutrition information isn't always accurate.
The US Potato Board provided financial support for the creation of this post. The photographs, opinions, and choice of recipe are all my own.