Need a dessert that's easy, yet complex, not too sweet, but totally addictive? This Chocolate Red Wine Cake is for you…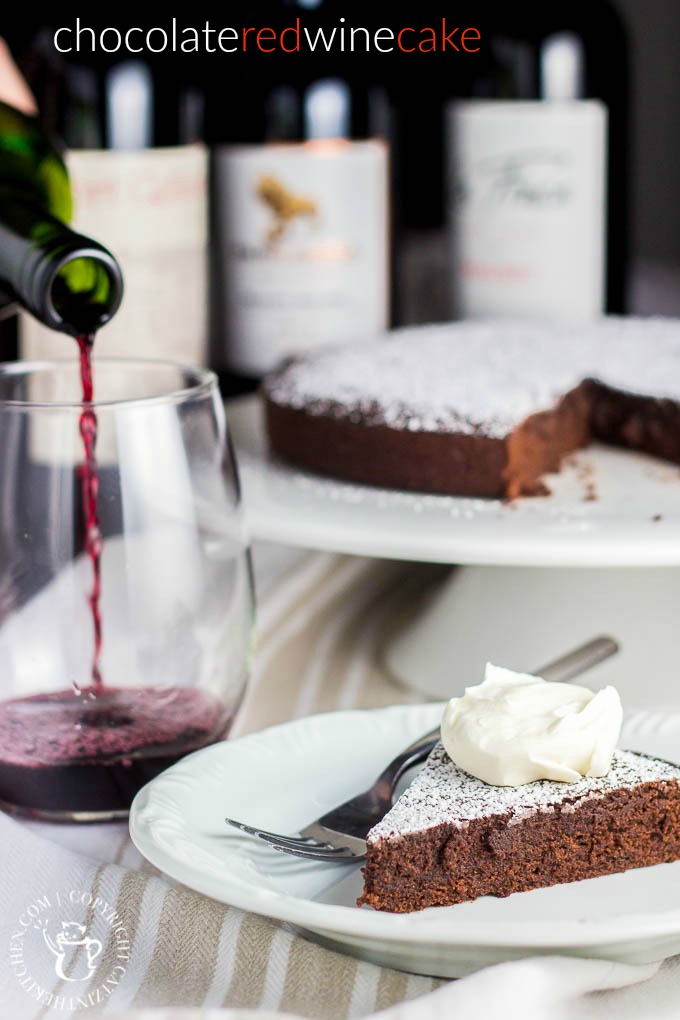 Josh and I have a little thing we like to do when we cook together. We turn on some music, sometimes jazz, like Michael Buble or Frank Sinatra, or sometimes just Adele radio on Pandora – in my opinion, you can never go wrong with those choices – then, Josh will pour us a glass of wine and we'll get cooking. Usually, the kids will give us some time alone before they come down and set the table or they play quietly around us, neither of which we mind at all. But for us, it's a really relaxing and romantic way to start the evening as a couple.
Also, I think it's a great example of what a happy, lovey-dovey marriage looks like to the kids. I want them to always feel secure about our relationship, and hopefully, when their time comes to get hitched, they'll have some idea of how to mold their own relationships.
But that is just really jumping the gun A LOT! I can't even think about any of them with spouses of their own…yet.
Don't get me started or I might hyperventilate.
I think what I love mostly about those evenings in the kitchen together is that it's an intimate time for us. We can have a grown-up conversation and really get into our day a lot more than we usually do. We'll stop mincing garlic and dicing onions (it's a job I usually try and stick him with because onions make me cry…), grab our glass of wine and really look at each other while we talk and sip and share.
While I love Valentine's Day (and I really do…especially now that I haven't had to be alone for one for 13+ years!), it can be kind of a frustrating holiday, too. I like the idea of a box of chocolate, but no way do I want to EAT a whole box…but I don't really want to share it either.
Haha, conundrum!
But I love cake, and chocolate cake is just so perfectly Valentines-y, ya know? A chocolate cake is the perfect solution to my box of chocolates problem. I love to share cake. I love to eat cake. And most importantly, I never feel a smidge of guilt for eating cake. Well, almost never.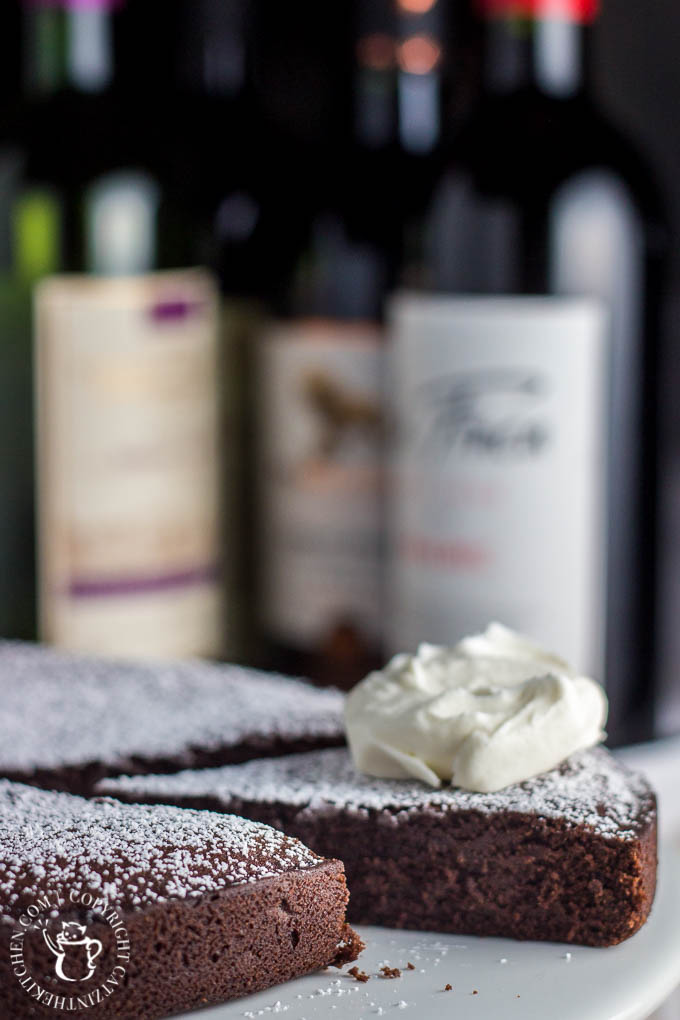 And a chocolate red wine cake?! Get out. It's amazing! My husband, who is not the world's biggest fan of cake (uh, hi, that would be me, over here waving and stuffing my face with cake) because they are usually too sweet for him, loves this cake.
Do you wanna know why he loves it? Well, it's a single layer cake. No fuss, no muss! Simple, elegant, and no pressure whatsoever! No "I'm getting a cavity right now" feeling at all. The flavor! Hello…chocolate and red wine? Think big dark chocolate brownie…with wine.
Can you even imagine it? It's deep and concentrated and reminds me a heck of a lot of a tall, dark, and handsome man I happen to call my husband! No, it doesn't seriously remind me of him, but that idea you get in your mind of what a tall, dark, and handsome anything looks like (could be a cup of coffee, pair of boots, Edward from Twilight…just kidding, not Edward…), that is what this cake is. Except it's flat, not tall. So there goes that. It's mysterious with its rich, full flavor but bright and dreamy with its mascarpone whipped cream. Basically, it's the perfect outfit, perfect dream, and perfect cup of latte with whipped foam on top you ever did think of.
Can a cake really be all that? Um, for me it can. This chocolate red wine cake is all that.
Your sweetheart will love it because it feels like a dessert for adults, but really it's completely delicious for kiddos, too (the alcohol cooks out, of course!). However, if you are anything like Josh and I, your kids will be lucky they got one slice because you and your hubby inhaled it after they were safely in bed…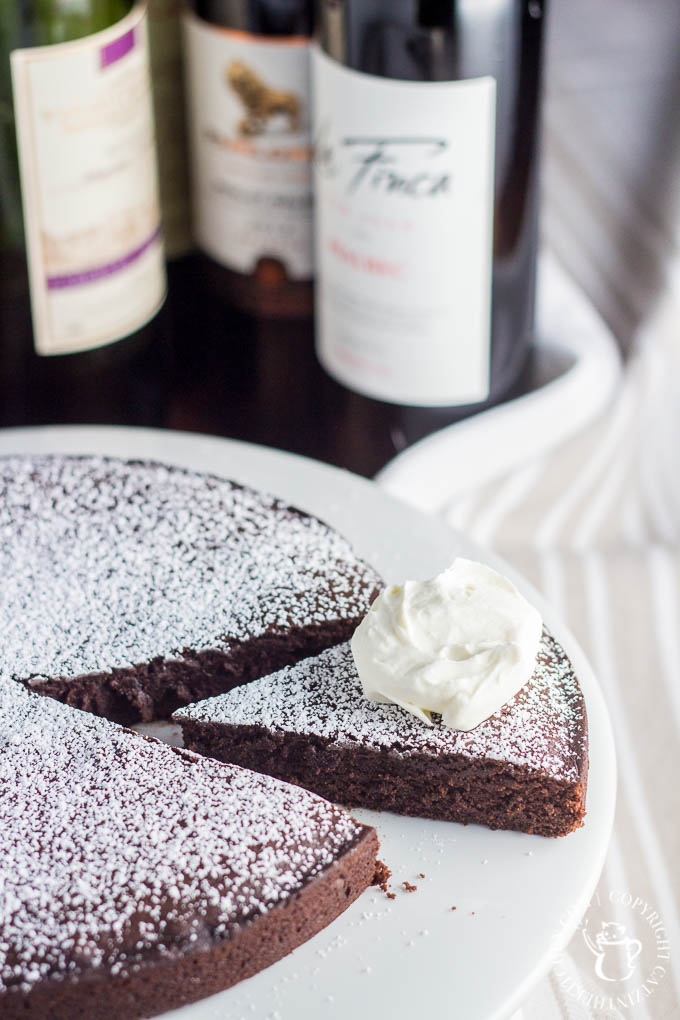 Then, if you are like me, you'll feel guilty and make them heart-shaped cheesecakes to win them back.
But seriously, if you are the "cooking at home" type of couple, surprise your loved one and bake up this cake. It's really simple, but has a unique, complex flavor that will have you going back for one more slice.
…and then one more slice.
This recipe originally appeared on Catz in February of 2012. The post has been rewritten and the pictures have been updated.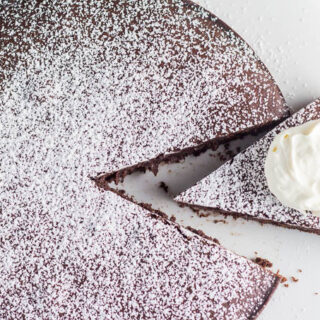 Chocolate Red Wine Cake
Need a dessert that's easy, yet complex, not too sweet, but totally addictive? This Chocolate Red Wine Cake is for you...
Ingredients
Cake
6 tbsp unsalted butter, room temperature
3/4 cup packed brown sugar
1/4 cup granulated sugar
1 large egg + 1 yolk
3/4 cup red wine, any kind you like ( I used a Cabernet Sauvignon)
1 tsp vanilla extract
1 cup + 1 tbsp all-purpose flour
1/2 cup Dutch cocoa powder
1/8 tsp baking soda
1/2 tsp baking powder
1/2 tsp salt
1/4 tsp ground cinnamon
Topping
1/2 cup mascarpone cheese
1/2 cup heavy cream
2 tbsp granulated sugar
1/4 tsp vanilla extract
Instructions
Pre-heat oven to 325* degrees. Line a 9-inch cake pan with parchment paper and spray the sides and bottom with non-stick cooking spray. Set aside.
In a large bowl with the paddle attachment (electric mixer works too) cream the butter until smooth. Add the sugars and beat for about 3 minutes or until fluffy. Add the egg and yolk and beat well. Pour in the red wine and vanilla extract and carefully blend on a low speed at first so the red wine doesn't splatter and stain your clothes. Then adjust the speed until mixed. Don't worry, this mixture will look odd an uneven. It's supposed too.
Sift the flour, baking soda, chocolate baking powder, baking powder, salt, and cinnamon over the red wine mixture and mix until it's about 3/4 of the way combined. Then fold the batter the rest of the way.
Spread batter into prepared cake pan and bake for 25-30 minutes or until toothpick comes out clean. (The top of the cake will be shiny and smooth.) Cool in pan for 10 minutes on a rack and then flip the cake out of the pan and allow to cool completely.
For the topping, whip ( I used a whisk attachment) the cheese, cream, sugar, and vanilla extract together until slightly stiff peaks form. Dollop the topping on to cake slices. Cover and store remaining topping in the fridge.
Nutrition Information:
Yield:

12
Serving Size:

1
Amount Per Serving:
Calories:

274
Total Fat:

19g
Saturated Fat:

11g
Trans Fat:

0g
Unsaturated Fat:

6g
Cholesterol:

83mg
Sodium:

225mg
Carbohydrates:

21g
Fiber:

1g
Sugar:

18g
Protein:

3g
Nutrition information isn't always accurate.