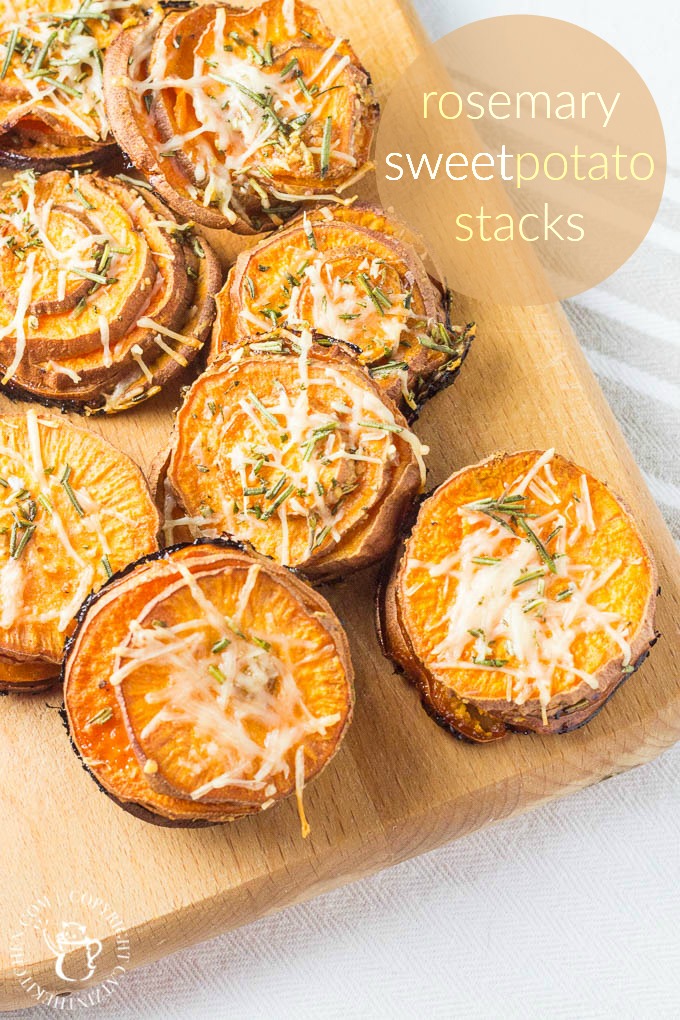 Fridays can be really busy days around here. Even though we don't do school on Fridays, we still get up early and try to stay super organized…well, that part isn't too hard for me most of the time. The organization, not the getting up early. I still think the getting up early is brutal, even though I typically wake up at six in the morning every week day anymore!
My Friday mornings usually look something like this: wake up and drink coffee while I schedule any last minute social media/Pinterest posts (newer mom-task here, but I bet many of you can relate!). Squeeze in a workout if I've got a quick 20 minutes to spare. Take a shower and make sure the kids are doing what they are supposed to be doing (i.e. their showers, beds made, eating breakfast…are kids ever doing what they're supposed to be doing?), and then we're out the door with hopefully everything we need, like the diaper bag, Bible studies, Eden's coloring bag, and all of my grocery shopping stuff, and then we're headed to Bible study, which is a relaxing reprieve before the errands that follow!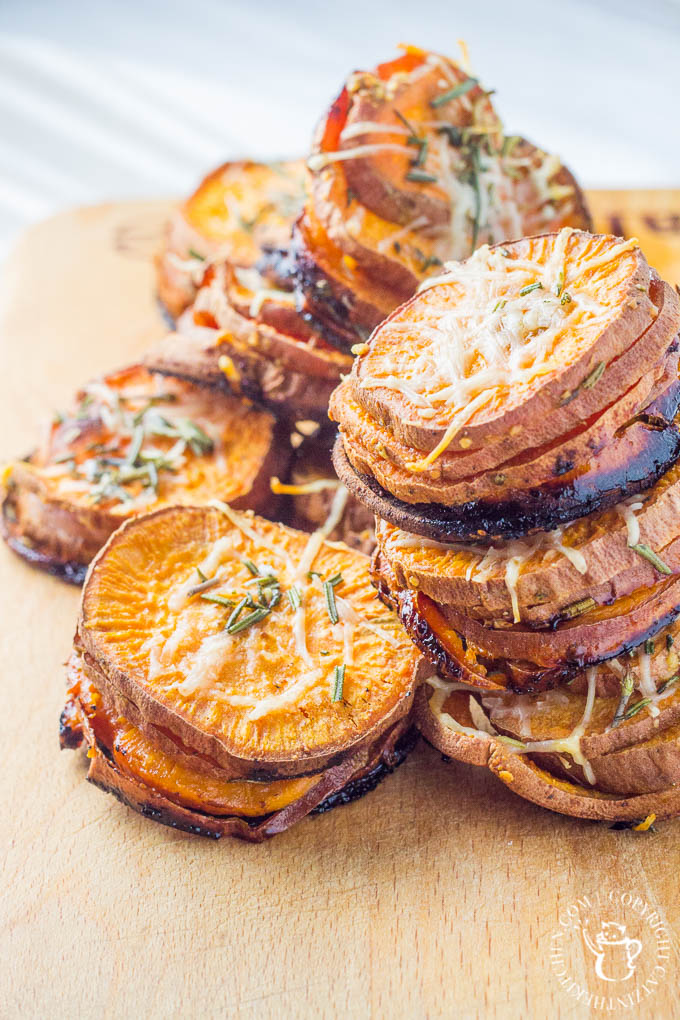 Among those errands, the kids and I go grocery shopping. Sometimes, the kids will stay with my in-laws while I do the shopping. But when they come with me, I'm always surprised at how long the shopping takes! #kids
Thankfully, I've got my right hand "man", Gracie, with me. While I push the cart and make sure Eden and Christian are behaving, Grace is in charge of my coupons and grocery list, guiding me through the aisles, reminding me of things we're out of that didn't quite make it to the list and helping grab things off the shelves. She is going to be a grocery shopping machine, that kid.
One of the things I almost always grab at the store (even if I don't really need them) is sweet potatoes. I just LOVE them! They're healthy, pretty, and have a great shelf life! Luckily, I can just keep them in my potato bin in the garage until I need them.
One evening while I was preparing dinner, I was looking for something different to do with sweet potatoes, when I saw these Rosemary Sweet Potato Stacks in one of my Pinterest boards. I had everything on hand, thanks to the rosemary bush that's planted in our backyard.
These stacks are so dang cute and really easy to prepare, but they taste…unbelievable. Slightly crispy on the edges, coated in a delicious rosemary mixture and roasted to adorableness in the oven!
I think my kids loved them not only because they tasted so good, but because they were in stacks. Christian really enjoyed picking them up with his hand on munching on them…which is not completely table manner appropriate…but he's 3, so I'm going to pick and choose my battles.
The next time you're at the store, grab a bag of sweet potatoes and make these little stackers. Your kids will love them and so will you!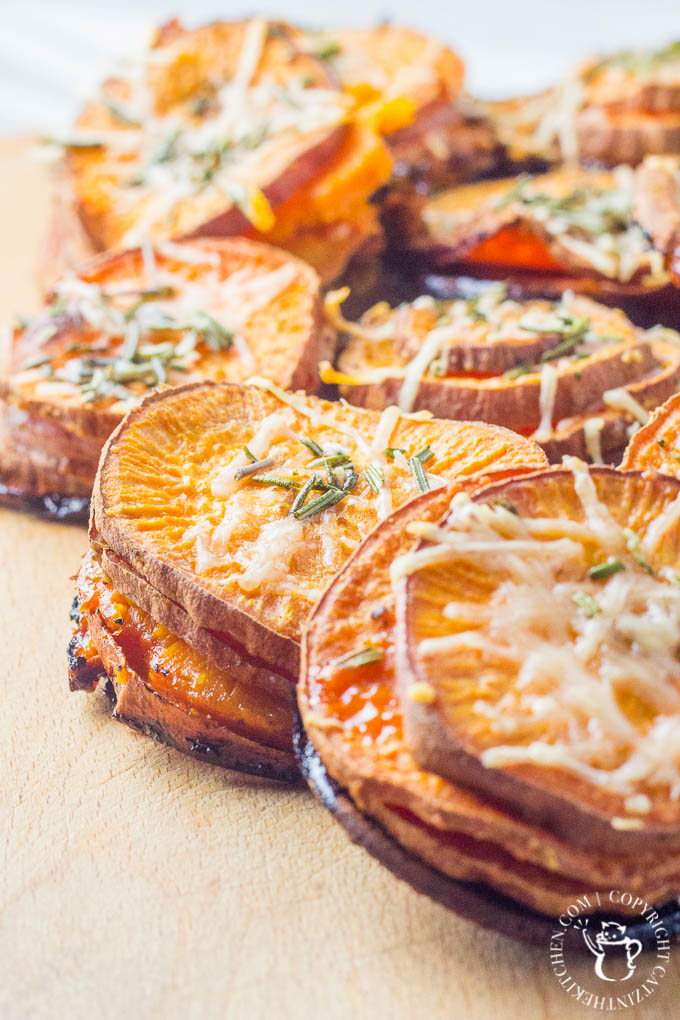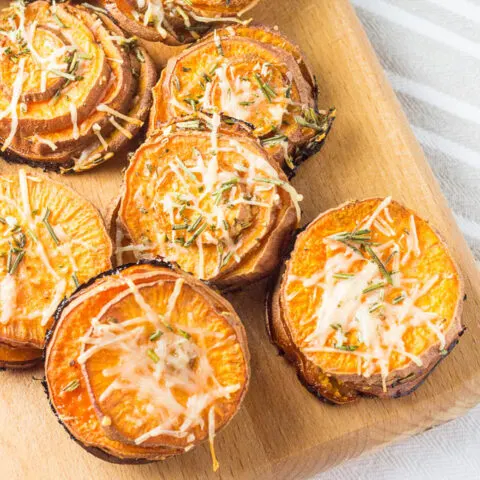 Rosemary Sweet Potato Stacks
This recipe for rosemary sweet potato stacks is quick, easy, snacky, kid-friendly, and healthy! What more can you ask for in a side dish?
Ingredients
5-6 large sweet potatoes, thinly sliced
2 tbsp unsalted butter, melted
2 tbsp coconut oil, melted
2 tbsp parmesan cheese, shredded + extra for topping
1 tsp fresh rosemary, chopped + extra for topping
Fine sea salt and pepper
Instructions
Preheat oven to 375*. Spray a 12 cup muffin pan with non-stick cooking spray.
In a large bowl, whisk together the butter, coconut oil, parmesan cheese, rosemary and sea salt and pepper. Add sweet potato slices to the bowl and mix until evenly coated.
Layer potato slices into muffin pan and fill to the top. (They slices will shrink down as they cook.)
Bake for 45-50 minutes or until the edges and top are golden brown and the center is tender.
Allow to cool for 5 minutes and then carefully remove with a spoon or edged knife. Top with extra parmesan and rosemary.
Nutrition Information:
Yield:

12
Serving Size:

1
Amount Per Serving:
Calories:

122
Total Fat:

5g
Saturated Fat:

3g
Trans Fat:

0g
Unsaturated Fat:

1g
Cholesterol:

6mg
Sodium:

71mg
Carbohydrates:

19g
Fiber:

3g
Sugar:

6g
Protein:

2g
Nutrition information isn't always accurate.