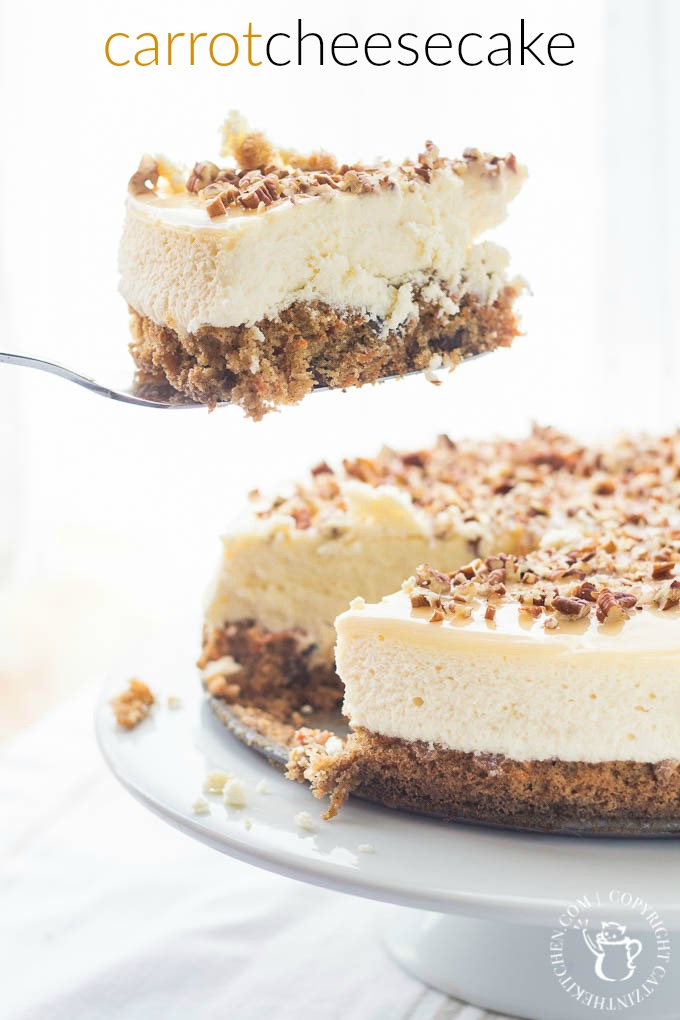 When I was trying to decide if I wanted to make a dessert or side or main dish to share with you for Easter, it was kind of a no-brainer. Of course, I was going to make dessert. I don't know about you, but I look forward to the dessert when it comes to a holiday meal. Not the side dish. Not the rolls. Not the main course, whatever that may be for you in your family. (For us, it varies widely depending on who we're spending the holiday with.)
I haven't been posting too many desserts lately on the blog seeing as the last few were for Valentine's Day. Which, I guess wasn't too long ago, but I just haven't been making many sweet treats for the family. I blame the leftover Halloween, Christmas, and Valentine's Day candy we've had in the house. (We're slow eaters, apparently.)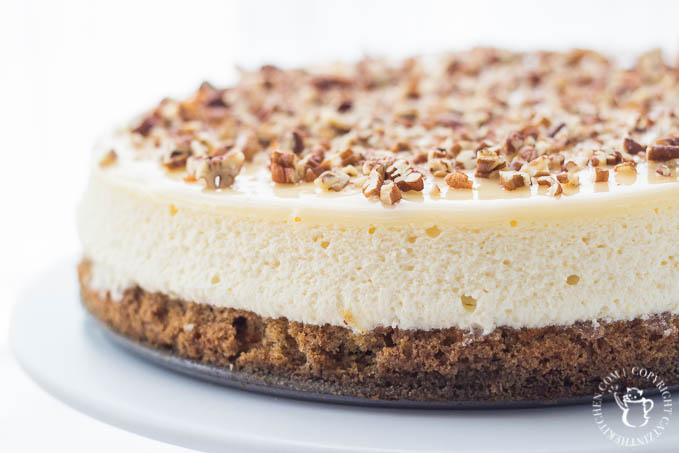 But, I felt obliged to give into my daughter's repeated pleas for cheesecake and make a Carrot Cheesecake for her the family. Grace loves carrot cake (she takes after her Aunt "Sisa") and she adores cheesecake. Since I only make a cheesecake a few times a year, I felt that her request had some merit and that we all deserved a little spring indulgence. It's our reward for putting up with so much rain this winter. We actually broke our already impressive wettest month on record…record…again in December!
I'm thrilled that it's spring, but oftentimes our springs here in the Pacific Northwest are just as wet and grey as our winters, so…
If that doesn't call for something sweet like a carrot cake with a cheesecake on top, then I don't know what does!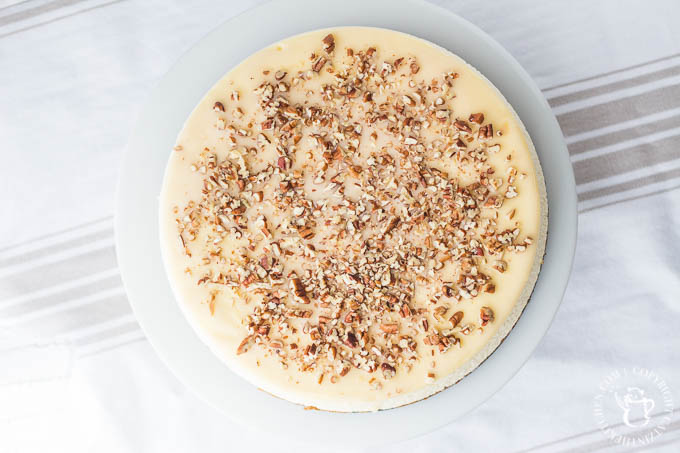 This Easter dessert has something for everyone, cake with shredded carrots, roasted pecans, and delicious aromatic spices. Which pretty much means a bunch of good stuff and no evil, wrinkly raisins. You're welcome! And then poured on top is a perfectly smooth and creamy cheesecake that's got the most delicious glaze with a scattering of more chopped pecans.
While it's true that there is a bit of prep and time involved with cheesecake (and this one is no exception), this dessert isn't too tough. I made the cake portion in the morning, the cheesecake portion in the late afternoon, and then I let it chill in the fridge overnight until I was ready to make the topping the next day. Just pace yourself, and it'll be super easy with zero stress.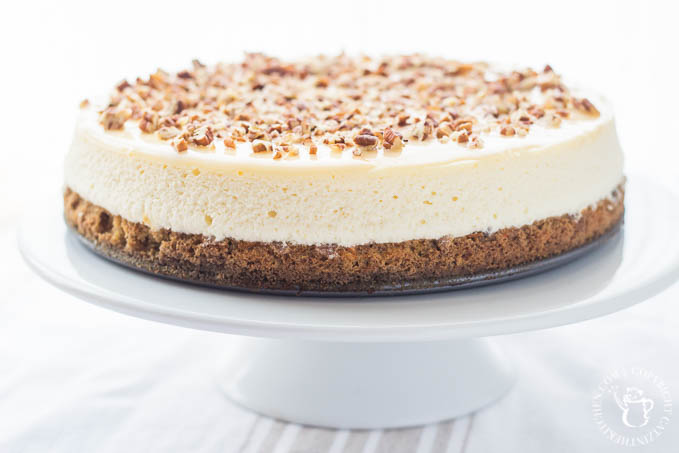 Our Easter Sunday is about celebrating our Savior's resurrection, enjoying our family, making memories while the kids hunt for Easter eggs (no religious significance, but still fun!), and breaking bread (or carrot cheesecake!) with our loved ones around the dinner table and reflecting on God's greatness and His blessings, which we wish for you and your family as well!
It's not about stressing over the food and dessert…which is why this dessert is a great make-ahead treat for everyone to enjoy!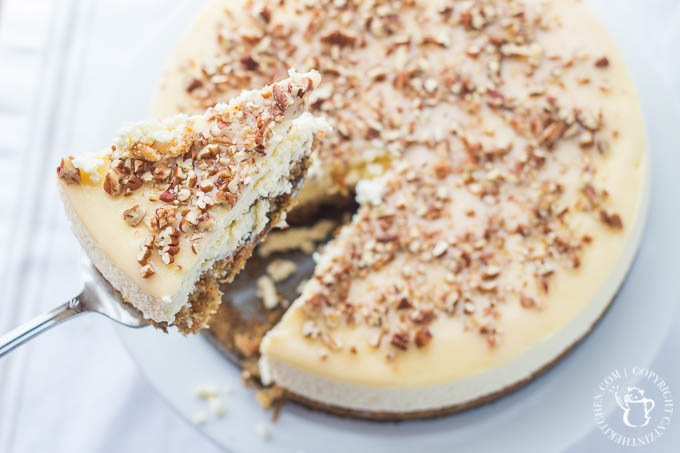 Carrot Cheesecake
Cook Time:
1 hour
30 minutes
Need a beautiful, delectable, festive make-ahead dessert recipe this holiday? How about some creamy carrot cheesecake topped with pecans?
Ingredients
Carrot Cake
1/2 cup pecan halves, chopped, plus more, chopped for garnish
1 cup all-purpose flour
1 tsp baking powder
3/4 tsp baking soda
1 tsp ground cinnamon
1/2 tsp ground ginger
Kosher salt
1/2 cup vegetable oil
1/2 cup sugar
2 large eggs
1 1/2 cups shredded carrot (2-3 medium carrots)
Cheesecake
Three 8-ounce pkg. cream cheese, softened
2/3 cup sour cream (I used Daisy Light)
2/3 cup granulated sugar
3 large eggs
3 tbsp all-purpose flour
1 tsp lemon zest plus 2 tbsp lemon juice from 1 lemon
1 tsp pure vanilla extract
Sour Cream Topping
1/2 cup powdered sugar
2 tbsp sour cream
1/4 tsp pure vanilla extract
Pinch kosher salt
Instructions
For the carrot cake: adjust an oven rack to the middle position and preheat oven to 350* degrees. Spread 1/2 cup of the pecans on a rimmed baking sheet and bake until golden and toasted, 5-10 minutes. Allow to cool, and then finely chop.
Combine the pecans, flour, baking powder, baking soda, cinnamon, ginger, and 1/4 tsp salt in a large bowl. Whisk together the oil, sugar, and eggs in a separate bowl. Stir the carrots into the egg mixture. Fold the carrot-egg mixture into the flour mixture until just combined. Pour the batter into an uncreased 9-inch springform pan and tap it on the counter to even out the batter. Bake until the cake bounces back when touched and a toothpick comes out clean when inserted into the middle, about 20-25 minutes. Cool completely.
For the Cheesecake: preheat oven to 350* degrees. Beat the cream cheese, sour cream, and granulated sugar in a stand mixer with a paddle attachment until smooth and creamy, about 5 minutes, scraping down the sides of the bowl as needed. Add the eggs one at a time, beating well after each addition. Beat in flour, lemon zest and juice, and vanilla, about 1 minute.
Pour the cheesecake mixture over the carrot cake. Wrap the bottom and side of the pan with large pieces of foil. Put the pan in a roasting pan or large baking dish and fill halfway up the sides with water. Bake until the cheesecake is a pale yellow and just jiggles slightly in the center, about 1 hour. Turn off the oven and let the cheesecake rest in the hot oven for 30 minutes. Remove, run a sharp knife around the edge and let cool completely on a rack. Cover and refrigerate for 8 hours or overnight.
For the sour cream topping: Whisk together the powdered sugar, sour cream, vanilla, and salt until a glaze forms. Spread on top of the cheesecake and garnish with chopped pecans. Refrigerate for at least 30 minutes before serving.
Notes
***The cake can be made a day ahead and stored in the pan, covered with plastic wrap.
Nutrition Information:
Yield:

12
Serving Size:

1
Amount Per Serving:
Calories:

517
Total Fat:

37g
Saturated Fat:

15g
Trans Fat:

0g
Unsaturated Fat:

19g
Cholesterol:

144mg
Sodium:

402mg
Carbohydrates:

41g
Fiber:

2g
Sugar:

28g
Protein:

8g
Nutrition information isn't always accurate.