This easy recipe for slow cooker curried sweet potato & carrot soup is spice-forward! This creamy bowl of spiced goodness will delight your tastebuds!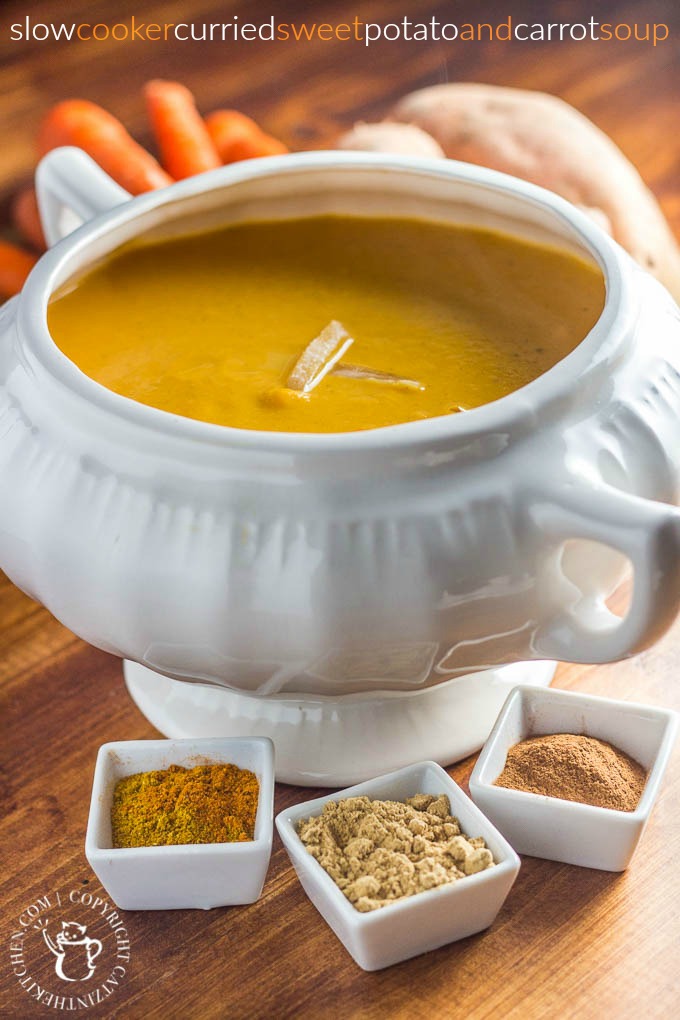 It's windy. It's rainy and it's cold. While it's beginning to look like spring outside – the trees are budding and the grass is growing like crazy – it doesn't quite feel like spring. Winter is almost over and I'm ready!
Who's with me?
Is it just me, or is winter wearing out its welcome? For me, I just feel tired. I'm tired of walking outside and getting rained on. I'm tired of having to lug umbrellas with me. And I'm tired of the rain trying to ruin my weekends!
All I want to do is hibernate in bed, drink tea, and binge on Netflix until spring. In fact, it's what I'm doing right now, except I'm also munching on a few Tagalong Girl Scout cookies. So, case in point. Not exactly practical with three kids, but, for the moment…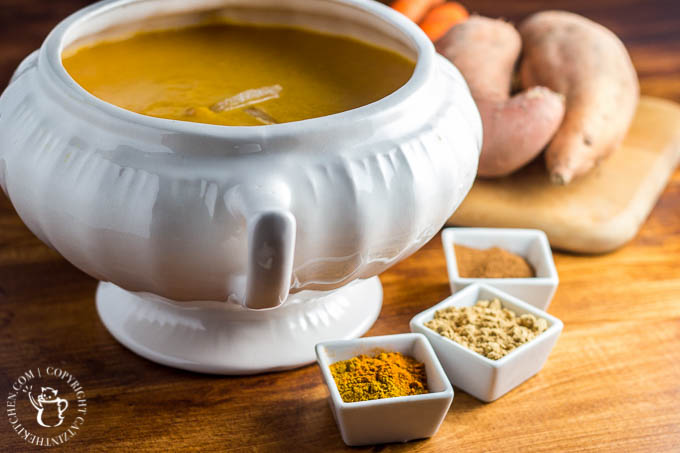 What I love about this soup recipe is that it allows me time to hibernate in bed because dinner is already simmering away in that lovely little invention, the slow cooker. Which also makes dinner clean up easy so I can get back in bed and continue my binge watching of Netflix.
I'm lying, of course. I don't actually lay in bed watching Netflix all day. There are definitely days where I wish I were laying in bed all day, doing nothing but watching tv…but when that happens it's usually because I'm sick and you know what I've discovered? Sick days in bed are not the same as non-sick days in bed.
The grass is always greener, right?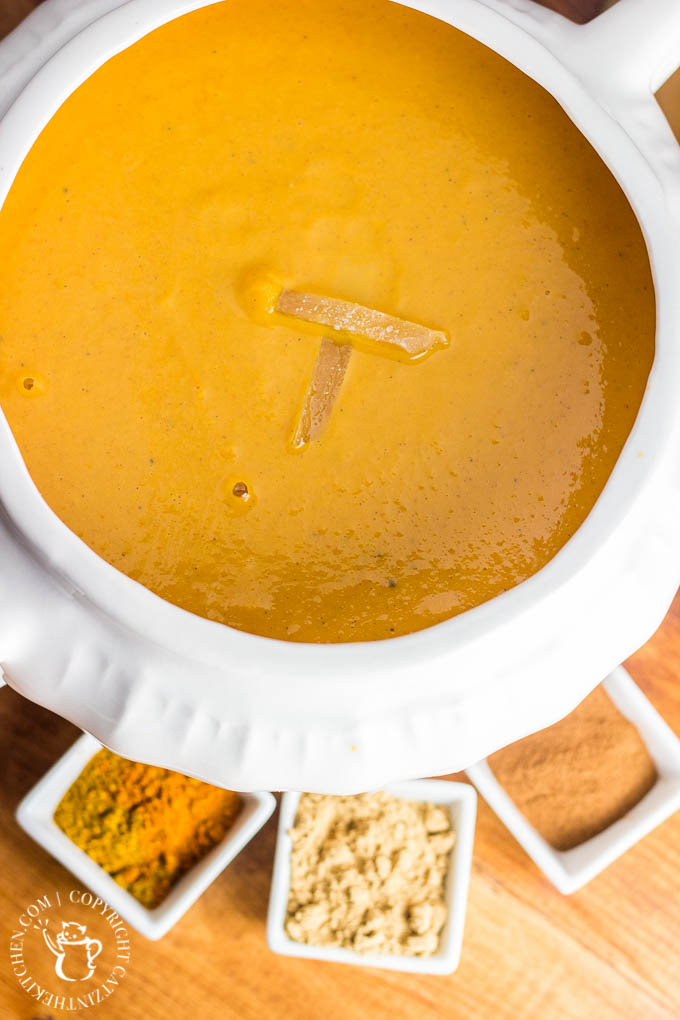 Anyways, about this soup. I've had it bookmarked in one of my cookbooks for several years now. I've always wanted to try a carrot soup and with the addition of curry and one of my favorite root vegetables ever, the sweet potato, I just knew this one was going to be a winner!
And being the highly intelligent person I am not, I was right! Unlike last week when one of the new recipes I was trying out turned out be lacking in flavor and was a major disappointment… #blah
This soup is NOT that recipe. If there's one thing it's not lacking in is flavor! There is an abundance of it! Definitely a zip that will keep you going for spoonful after spoonful.
And like I've said many times, "If I can get my husband to eat soup and enjoy it, then I call that a win!" Which this definitely was because he brought the leftovers to work the next day. Not "was sent with" – "brought"! Ha!
So make this before it's officially spring or really feels like spring so you don't miss out on some crazy good flavors. Also, there's the added benefit of improving your eye sight with all the carotene you're going to be enjoying!
Right?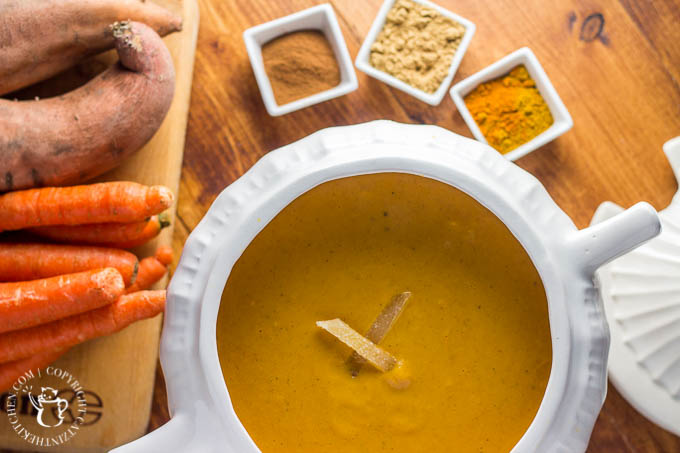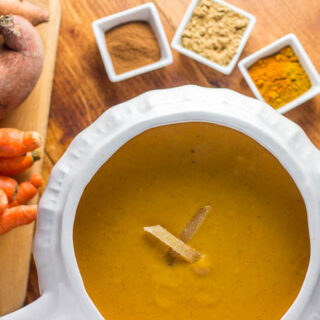 Slow Cooker Curried Sweet Potato & Carrot Soup
Cook Time:
8 hours
30 minutes
Total Time:
8 hours
45 minutes
This easy recipe for slow cooker curried sweet potato & carrot soup is spice-forward! Bland soup be gone, this creamy bowl of spiced goodness will delight your tastebuds!
Ingredients
2 medium - large sweet potatoes, peeled and cut into 3/4-inch pieces (about 5 cups)
2 cups baby carrots
1 small onion, diced
3/4 tsp curry powder
1/2 tsp salt
1/2 tsp black pepper
1/2 tsp ground cinnamon
1/4 tsp ground ginger
4 cups chicken broth
1 tbsp maple syrup
3/4 cup half-and-half
Candied ginger, for topping (optional)
Instructions
Place sweet potatoes, carrots, onion, curry powder, salt, pepper, cinnamon, and ginger in the base of your crockpot. Add chicken broth. Stir well to combine. Cover and cook on low for 7-8 hours.
Puree soup, 1 cup at a time in a blender. Return soup to crockpot or use an immersion blender to puree. Add maple syrup and half-and-half. Add salt and pepper. Cover and cook on high for an additional 15-30 minutes to reheat. Serve in bowls and garnish with strips of candied ginger.
Notes
Sourced from the Crockpot Recipe Collection (no link available)
Nutrition Information:
Yield:

8
Serving Size:

1
Amount Per Serving:
Calories:

407
Total Fat:

3g
Saturated Fat:

2g
Trans Fat:

0g
Unsaturated Fat:

1g
Cholesterol:

10mg
Sodium:

657mg
Carbohydrates:

95g
Fiber:

4g
Sugar:

82g
Protein:

3g
Nutrition information isn't always accurate.