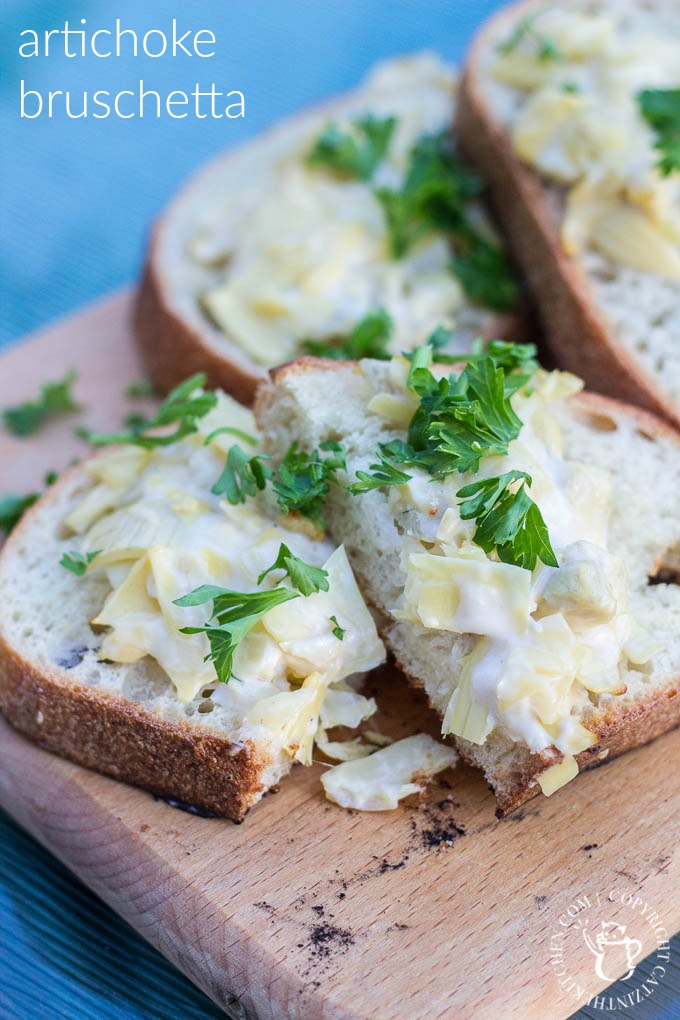 This recipe originally appeared on Catz in April of 2012. We have made it approximately eleventy billion times since then. It's so fast and so good…we just can't help ourselves! The pictures are new, and the recipe has been revised slightly.
Sometimes the appetizer is more fun (and tastier) than the actual meal. And, personally, I consider that a triumph. I mean, hey, if you can do more with fewer ingredients and less time…isn't that a win? My problem is simply that I usually come up with really tasty appetizers and run out of energy and creativity before I get to the main course. Not good.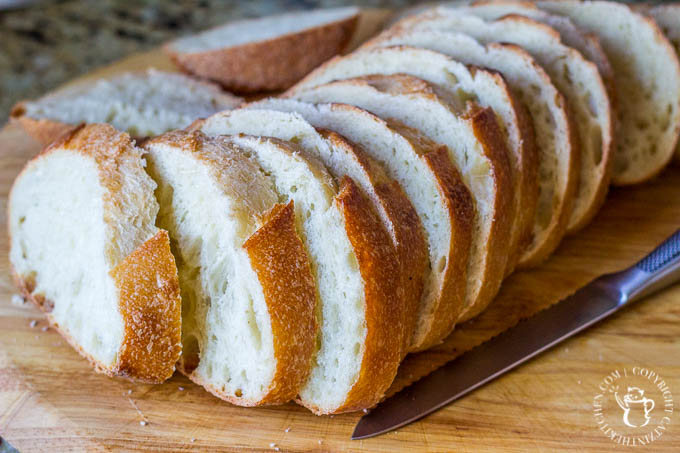 That's one of the many, many (many) wonderful things about this particular appetizer. Not only is it simple, relatively inexpensive, quick, and delectable – it's also versatile. Essentially, you can serve this as an appetizer before just about any Italian meal. That's right – all of your lasagnas, spaghettis, pizzas, raviolis, calzones, zitis, carbonaras, fettuccines, and strombolis have met their compliment.
Before we get in to the recipe proper, here are a couple of quick tips to keep in mind. One, the bread is an all-important component of this dish. Without the right bread, all is lost. If you have a bakery nearby, I strongly recommend a crusty, "artisan"-style Italian bread with roasted garlic baked into it. The loaf may set you back three or four dollars, as opposed to the dollar-fifty you can pick up a standard loaf of Italian bread for, but it's worth every penny.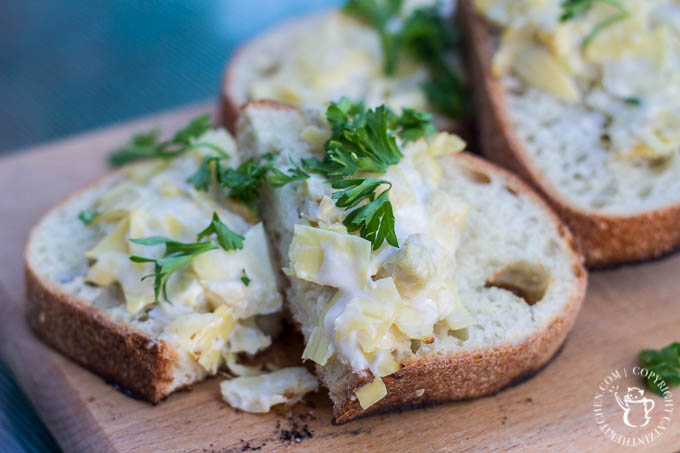 Secondly, if you can grill this, do so. It's very tasty under the broiler, and therefore it's absolutely a year-round favorite, but if you have a grill at your disposal and the conditions are acceptable (i.e., you can shovel through the snow and sleet to escape from your tornado shelter long enough to brave the impending hurricane and reach the life boat to sail through the flood waters and grab your protective gear to keep you safe from the storm of locusts long enough to get these on and off the grilling surface), use the grill. On to the recipe.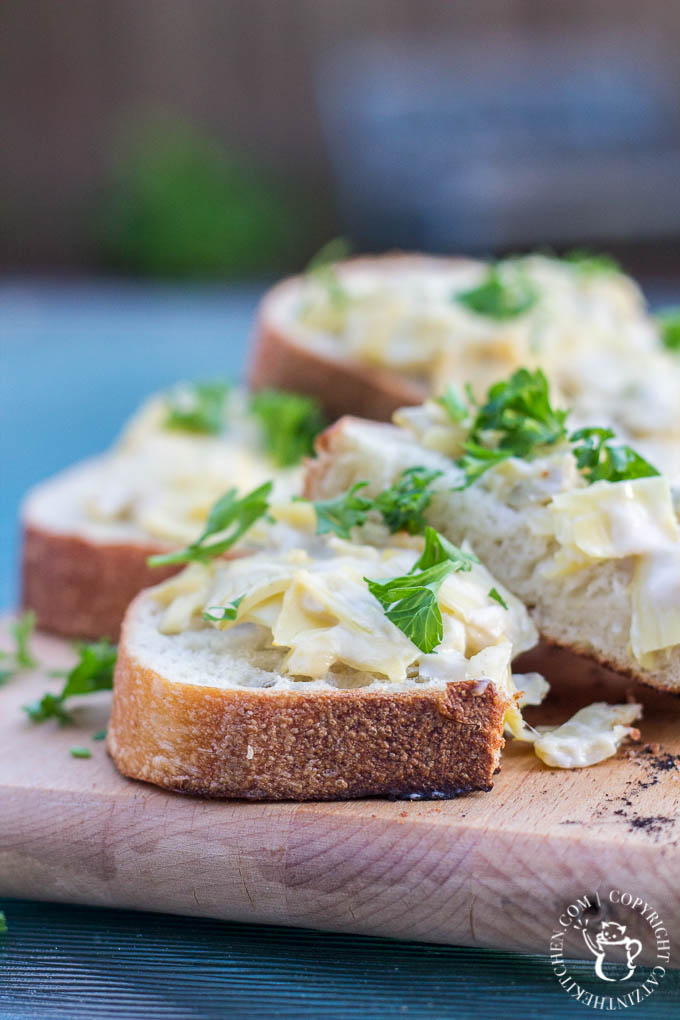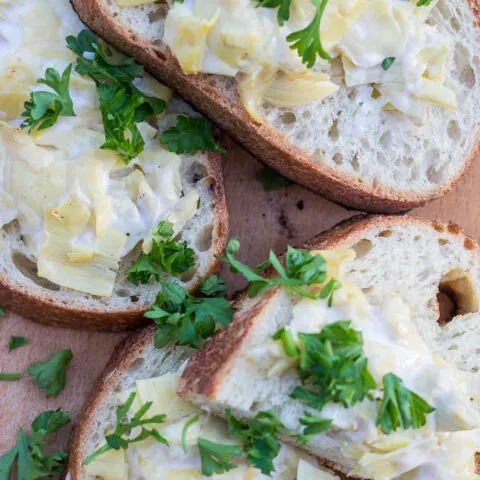 Artichoke Bruschetta
This recipe for artichoke bruschetta is probably our simplest, favorite appetizer! It goes well with pasta dishes and outdoor meals, and is ready in 15 min!
Ingredients
6.5 once jar of marinated artichoke hearts
1/2 cup of Romano cheese (or a blend of Romano/Parmesan), grated
5 tablespoons of mayonnaise
loaf of crusty bread, cut into thick (half inch) slices
Instructions
Drain and chop the artichoke hearts.
Put in small bowl and add mayonnaise and cheese. Stir together until well-mixed.
Spread mixture atop slices of bread.
Broil or grill for 2-3 minutes, or until cheese is slightly browned and bubbly in mixture.
Serve immediately.
Nutrition Information:
Yield:

12
Serving Size:

1
Amount Per Serving:
Calories:

220
Total Fat:

7g
Saturated Fat:

2g
Trans Fat:

0g
Unsaturated Fat:

5g
Cholesterol:

6mg
Sodium:

399mg
Carbohydrates:

31g
Fiber:

2g
Sugar:

4g
Protein:

7g
Nutrition information isn't always accurate.