Chocolate Coffee Crunch Pie is a dessert recipe that checks all the boxes! It's got velvety chocolate, savory espresso, crunchy walnuts, and whipped cream!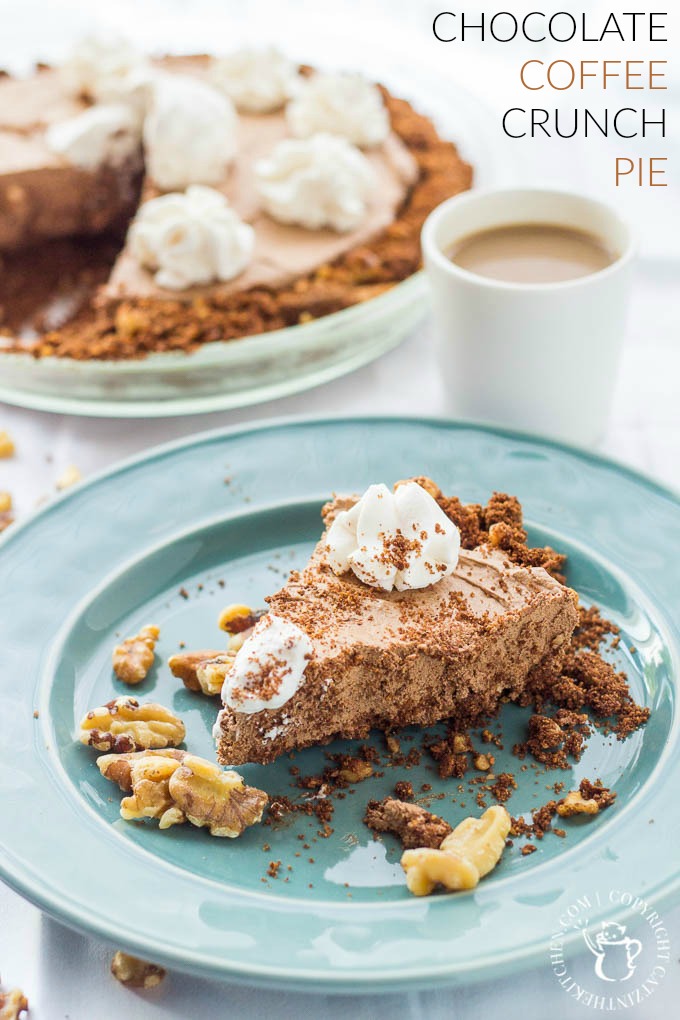 You guys, there has been a lot of pie eating over here the last few weeks and I think everyone is getting used to having something chocolatey or sweet after dinner. Especially Christian!
Christian is going through this "I'm going to take 500 years to eat my dinner" phase and let's just say it is NOT cute. Over the last 12 years of motherhood I've gained a lot of patience in a lot of areas, but this is not one of them. I'm all for enjoying a leisurely meal, taking time to talk and enjoy every bite of food that was "so lovingly" prepared by yours truly (or that hunky man I call my husband), but when it comes to taking 45-60 (…to 90) minutes for that cutie to finish the food on his plate…both Josh and I find ourselves running low on patience.
Oh, the areas God wants us to grow in, haha!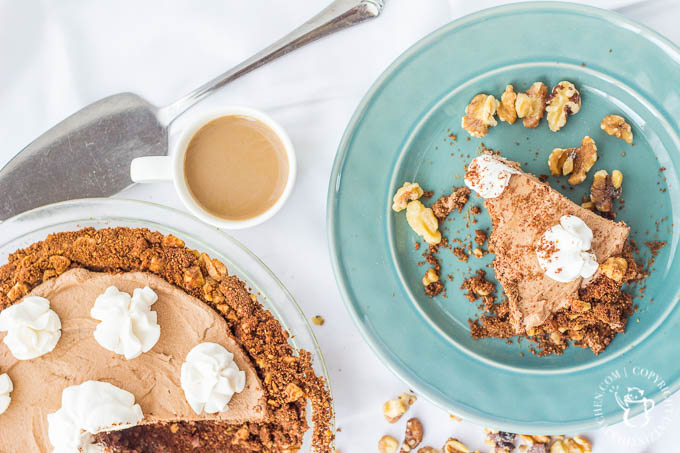 At least with the pie, I could hold it over his head and say, "No pie until you finish your food." Yes, I am that parent and unless you clean your plate like everybody else, no dessert! It's a little thing I like to call Tough Love. (Editor's Note: My great-grandmother called it "The Clean Plate Club" – we all wanted to be members!)
I guess it's a good thing that we don't have pie, and cake, and cookies (well, there have been an awful lot of cookies circulating through the house over the past few weeks, too) everyday, because…I'm pretty sure social services frowns upon parenting that's based on food bribery….or do they…?
Let's talk about this pie for a few, shall we? It's got:
Chocolate
Coffee
Sugar
Walnuts
…and let's not forget the homemade whipped cream either!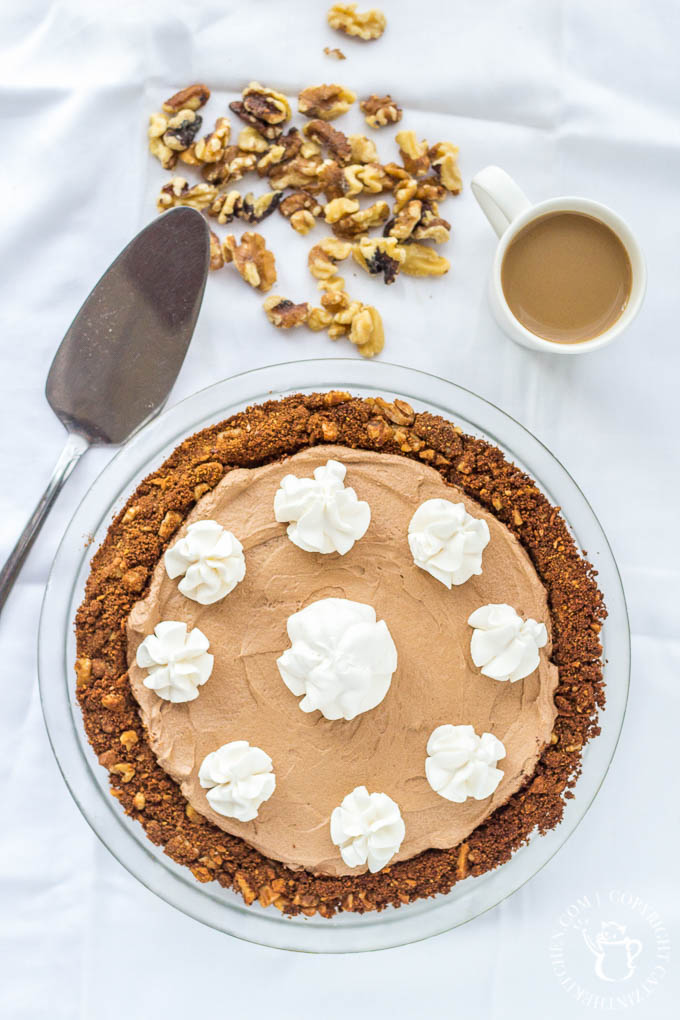 Basically, it's the pie of my husband's dreams except that it's missing peanut butter. Which I could have thrown in there…and I seriously played around with the idea.
BUT…I didn't do it. Why not? There are a lot of really yummy aspects of the pie and I honestly think that the flavor of the peanut butter would take away from the coffee flavor of the filling. And seeing that it's a pie for Father's Day and my husband is a coffee-obsessed kind of dad, I wanted to keep it a simple coffee and chocolate kind of dessert. If he wants a peanut butter and chocolate pie, I can whip this pie up in a cinch! Or he can make it himself…he can bake, after all!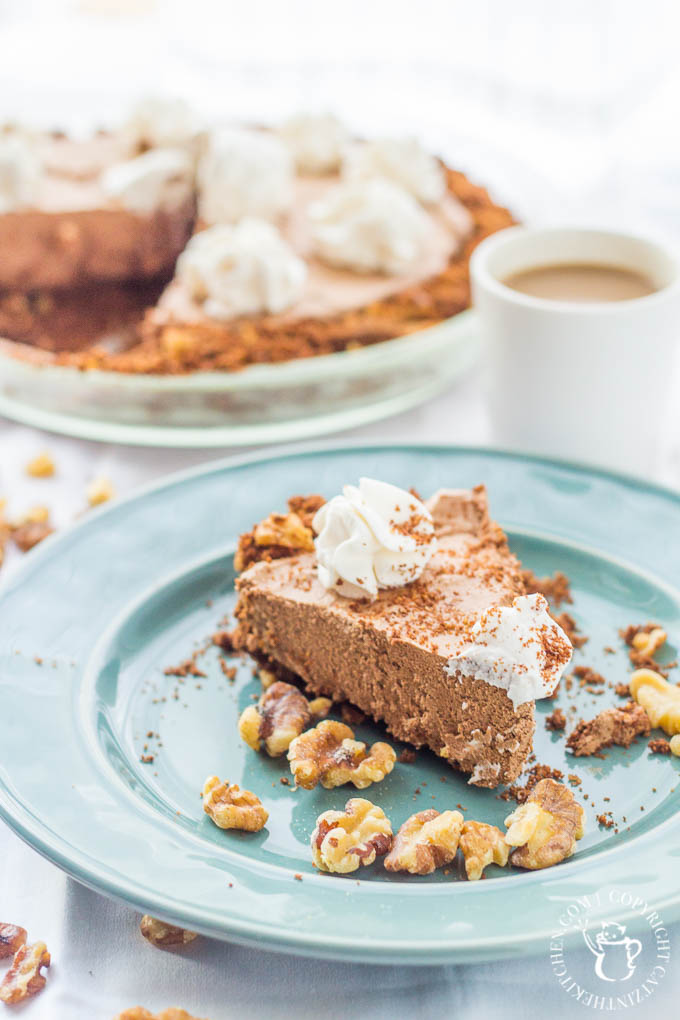 There are two delicious components to this pie. The first is the crust. While I'm not the world's biggest pie lover, I do LOVE a pie with a graham cracker crust. The crust on this pie is just so so yummy! It's more crumbly than stiff, which Josh said he liked, and it's full of delicious chocolate flavor and crunchy walnuts. Generally, I'm not the kind of person that like nuts tossed through my desserts, but the walnuts in this crust are just heavenly. Don't leave them out – I promise you'll be doing yourself a disservice!
The other insanely yummy part of the pie is the filling. It's a really and truly simple pie filling to make, but you cannot get ahead of yourself when it comes to incorporating the eggs. You have to beat each egg (there are only two) for five minutes each, one at a time. This is what makes the pie so fluffy and silky, and if don't have the "patience" for this (ha, see how I finally tied it all together there?), you will be sorry. Your pie will not have the texture that it needs to hold up all of that coffee flavor you're infusing into the chocolate batter.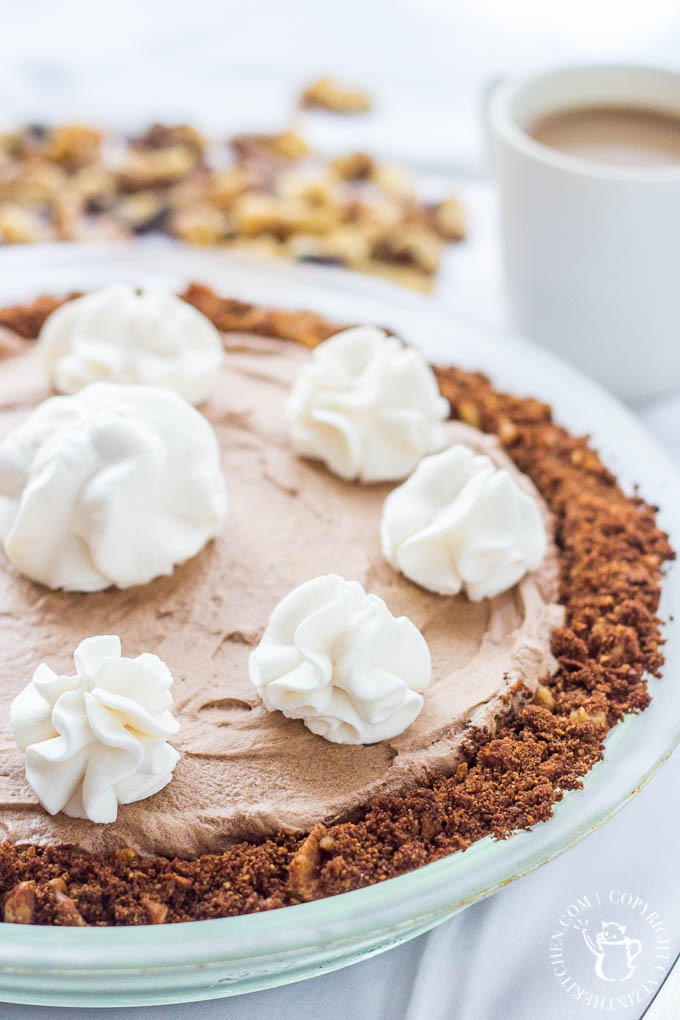 The other thing I really want to mention is that if you can make the pie and allow it to chill overnight, you will have even more of a coffee flavor soaked into the filling. The longer it chills, the more coffee flavor it has, which I know was perfect for Josh. If your husband or father is anything like Josh, I know they'll enjoy it just as much as he did.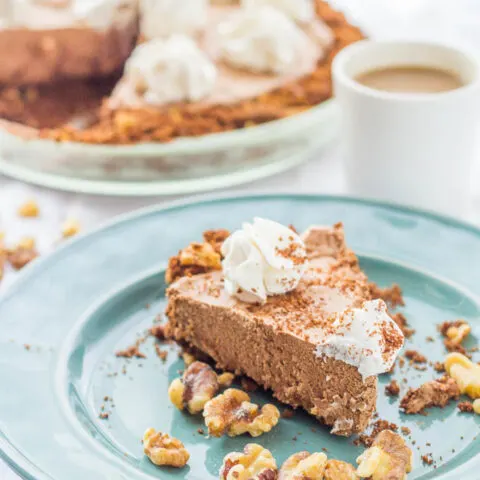 Chocolate Coffee Crunch Pie
Chocolate Coffee Crunch Pie is a dessert recipe that checks all the boxes! It's got velvety chocolate, savory espresso, crunchy walnuts, and whipped cream!
Ingredients
Chocolate Walnut Crust:
1 1/3 graham cracker crumbs
1/4 cup packed brown sugar
3 tbsp cocoa powder
3/4 cup finely chopped walnuts
1 tbsp water
1 tbsp vegetable oil
1 tsp vanilla extract
Filling:
2 tsp instant espresso powder
1 tsp boiling water
1/2 cup unsalted butter, softened
3/4 cup packed brown sugar
3 tbsp cocoa powder
2 eggs
Whipped Topping:
1/2 cup chilled heavy whipping cream
1 tbsp powdered sugar
1/2 tsp vanilla extract
Instructions
To make the crust: Heat oven to 375 degrees. In a medium bowl combine graham cracker crumbs, sugar, and cocoa. Stir in walnuts. Combine water, oil, and vanilla in a separate bowl and drizzle over the pie crust mixture, stirring with a fork. Press mixture firmly and evenly onto a 9-inch pie plate and up the sides and bake for 15 minutes; and allow to cool.
To make the filling: Dissolve instant espresso into boiling water and set aside. In a large mixing bowl cream butter. Add sugar and beat on medium speed for 3 minutes. Beat in cocoa and coffee mixture. Add eggs, one at a time, beating 5 minutes after each addition, scraping the sides of the bowl occasionally.
Pour filling into the cooled crust and chill 5-6 hours, best if overnight.
To make the topping: combine the whipping cream, sugar, and vanilla until stiff peaks form. Spoon dollops, spread the topping, or pipe onto the top of the pie one hour before serving and chill. Refrigerate any leftovers.
Notes
The cook time reflects the chilling of the pie.
Recipe from Hershey's Fabulous Desserts cookbook
Nutrition Information:
Yield:

8
Serving Size:

1
Amount Per Serving:
Calories:

389
Total Fat:

28g
Saturated Fat:

12g
Trans Fat:

0g
Unsaturated Fat:

14g
Cholesterol:

94mg
Sodium:

54mg
Carbohydrates:

32g
Fiber:

2g
Sugar:

25g
Protein:

5g
Nutrition information isn't always accurate.