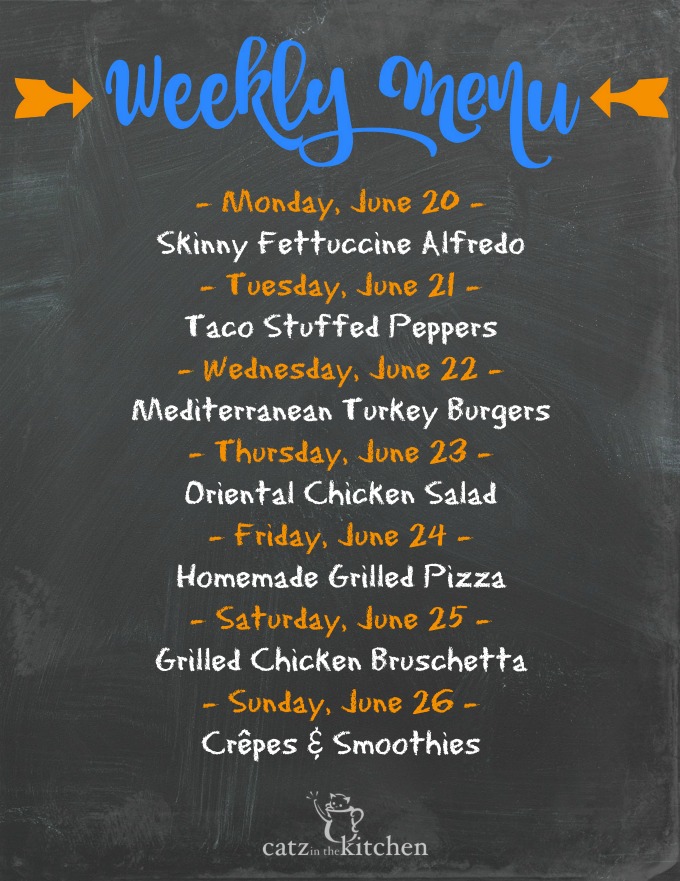 How was everyone's Father's Day? We celebrated with, of course, pie! I made this pie again per Josh's request and we had his parents over for a dinner. We made our teriyaki turkey burgers, but swapped the turkey for chicken and it was delicious!
We were all a little pie'd out from the afternoon so we skipped dessert, haha!
Remember last week when I told you we were starting a meal prep Sunday? Last Sunday's prep went so well and it was so nice and easy to pull out our breakfast and lunch when we needed it and everything was done! So we decided to give it a go again this week. This week, along with the overnight oats (I prepared ten jars yesterday!), we also made chickpea falafel patties with a quinoa tabbouleh salad to go together and Parmesan chicken wraps.
Let me tell you, I'm getting excited about lunch now…whereas before, it was the least exciting meal of the day!
With that, I'm going to leave you guys with this week's menu. Make sure you take a peek at older menus if you want some more great dinner suggestions. Enjoy the first day of summer/longest day of the year with your family tonight…maybe roast some s'mores?!
Have a great week everyone!