This Chicken Shepherd's Pie may look like a pan full of mashed potatoes, but it is flavorful and zesty, filled with the flavors of Swiss cheese, sage, and thyme!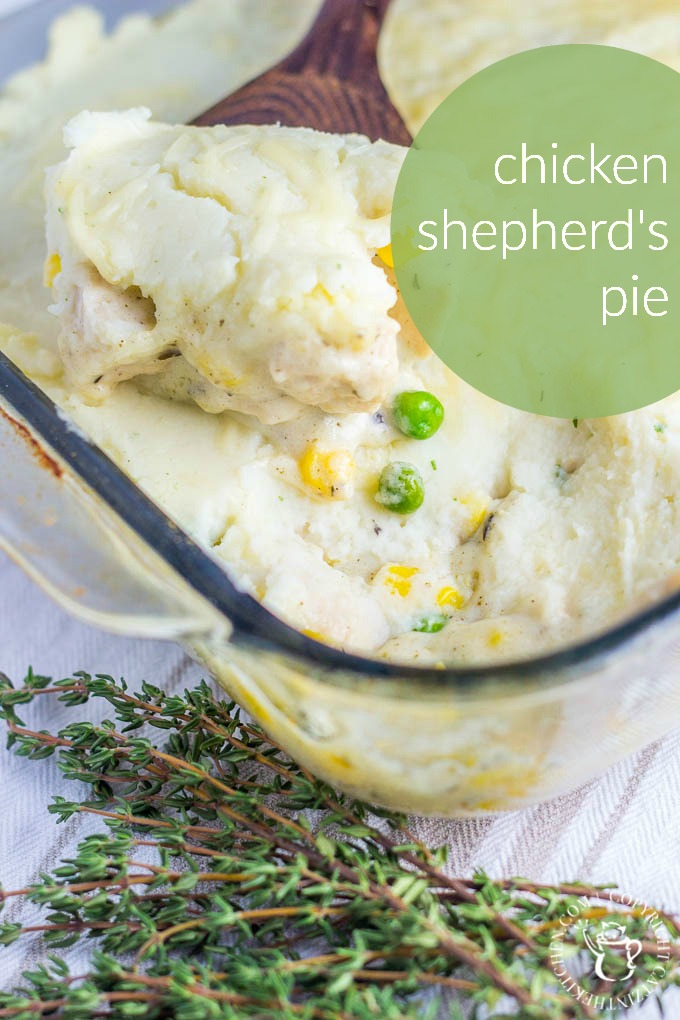 I can remember the first time I was introduced to this dinner. It was last April and we were in the process of moving into our new home. We had been so busy painting (nearly every room in the house with the help of several willing family members), unpacking boxes, and cleaning our rental house that the only meals we had been eating were fast food and pizza.
You can only eat so much fast food and pizza.
My sister-in-love Jewel offered to bring us a meal one night and I can't even begin to tell you what a lifesaver that was. After four days of eating burgers, pizza, and tacos, I was so happy to eat home-cooked meal! She brought us a salad, rolls, cookies, and this chicken shepherd's pie!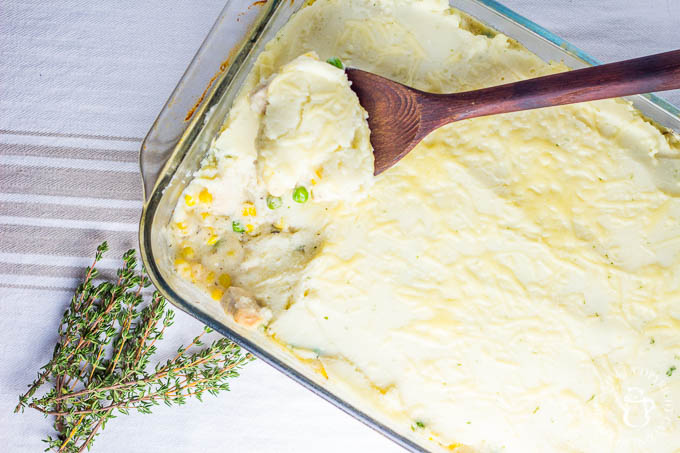 It was love at first bite. It comforted me like a meal my mom would have made when I was little. It warmed my body and it made me slow down and stop what I was doing and enjoy the meal that was so lovingly prepared for us. It also fed an army! I think we had leftovers (which I was all too eager to enjoy) for the next two days!
Speaking of leftovers, I'll just get this out of the way – it reheats beautifully in the oven the next day.
Of course, after eating the meal, I immediately texted my sister and proceeded to beg her for the recipe and, naturally, thank her for making us a meal.
Here's the funny thing about this chicken shepherd's pie. I already had the recipe and didn't even know it! A few months later I was organizing some of my recipe binders – tossing recipes I hadn't made and making a list of the ones I wanted to try – when I stumbled across this same recipe, except it was on the back of another recipe I had flagged to try!
I guess it was meant to be. (Though Josh did complain that it was very hard to photograph…)
Since my sister-in-love brought it to me and it continues to be her "go-to" meal to bring to people when someone might like a meal, it's become one of my favorites to bring to people, too. I usually swap between this shepherd's pie, teriyaki meatballs, and lasagna casserole and I really like involving the kids in the process. My oldest daughter, Grace, is becoming pretty handy in the kitchen, so I like to give her the job of grating cheese or scooping meatballs, perhaps sautéing chicken while the little ones will sometimes make "Get Well Soon" cards or pictures.
But even when not bringing a meal to someone, it's great to get the kids involved in the process of making dinner – it's a good habit for them to help serve someone other than themselves! The little ones are really good at setting the table and finding the various ingredients I need. The oldest, well, she is quickly becoming my sous chef. I just tell her what I need done and she gets it done!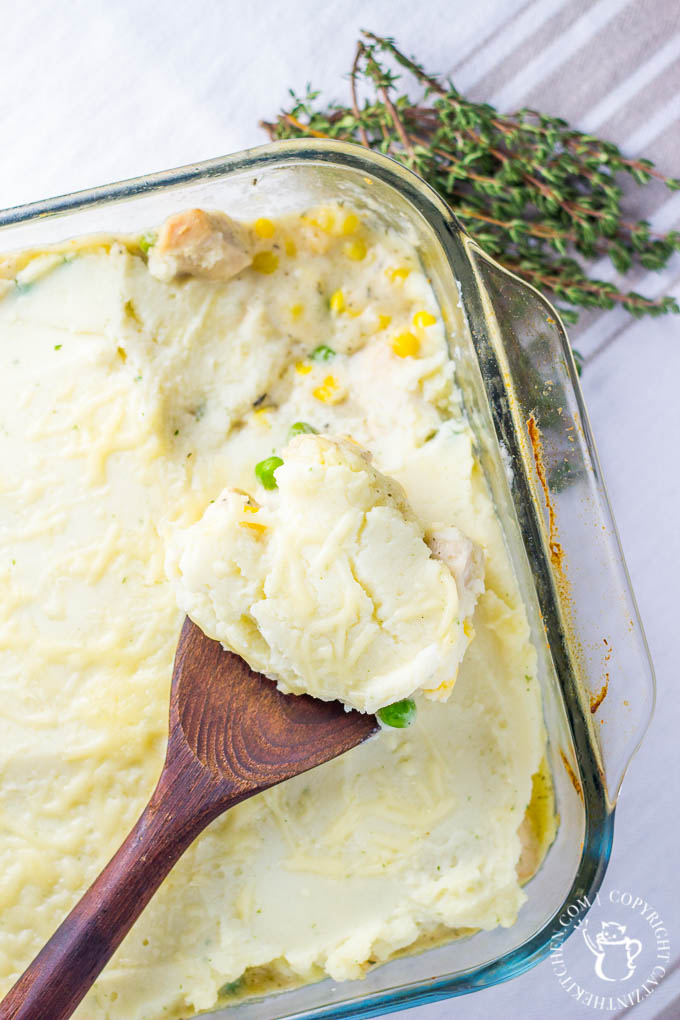 This is an easy and appropriate one to get the kiddos involved in. Let them pick out the frozen veggies to go inside (frozen carrots would be yummy and colorful), let another child stir the homemade cheese gravy, let them assist you with the mashed potatoes, whether they are out of a bag, like in this recipe, or homemade.
I've seen my kids' confidence bloom when I've let them assist me in the kitchen, and while sometimes, yes, it does take a bit longer and maybe some spills do happen, it's a wonderful opportunity to bond and slow down a bit with the kiddos. There is nothing like coming together at the end of the day and gathering over a warm, comforting meal like this one, especially when it was made together as a family. Enjoy!
Chicken Shepherd's Pie
This Chicken Shepherd's Pie may look like a pan full of mashed potatoes, but it is flavorful and zesty, filled with the flavors of Swiss cheese, sage, and thyme!
Ingredients
3 boneless, skinless chicken breast, cubed
4 tbsp unsalted butter, divided
2 pouches (3.6 ounces each) roasted garlic mashed potatoes or homemade
3 tbsp all-purpose flour
2 1/4 cups 2% milk
1 tsp dried sage
1 tsp dried thyme
1/2 tsp salt
1/2 tsp pepper
1 cup (4 ounces) shredded swiss cheese, divided
1 cup frozen peas
1 cup frozen corn
Instructions
In a skillet, cook chicken in 1 tablespoon of butter until cooked through and no longer pink; set aside and keep warm. Prepare mashed potatoes according to package directions.
In a large saucepan, melt remaining butter over medium heat. Whisk in flour until smooth an gradually add the milk. Stir in seasonings and bring to a boil. Reduce heat, cook and stir for 1-2 minutes or until thickened.
Remove from heat and stir in 3/4 cup swiss cheese until melted. Add peas, corn, and chicken and stir. Transfer to a greased 9x13 baking dish and top with mashed potatoes and sprinkle with remaining cheese.
Bake uncovered at 350* for 25-30 minutes or until heated through. Let stand for 5 minutes before serving.
Notes
Nutrition Information:
Yield:

8
Serving Size:

1
Amount Per Serving:
Calories:

323
Total Fat:

16g
Saturated Fat:

9g
Trans Fat:

0g
Unsaturated Fat:

5g
Cholesterol:

79mg
Sodium:

652mg
Carbohydrates:

22g
Fiber:

2g
Sugar:

6g
Protein:

24g
Nutrition information isn't always accurate.