Fresh, a little rustic, and oh-so-tasty, this Tomato Basil Pie recipe is just the dish to showcase those tomatoes bursting out of your garden this fall!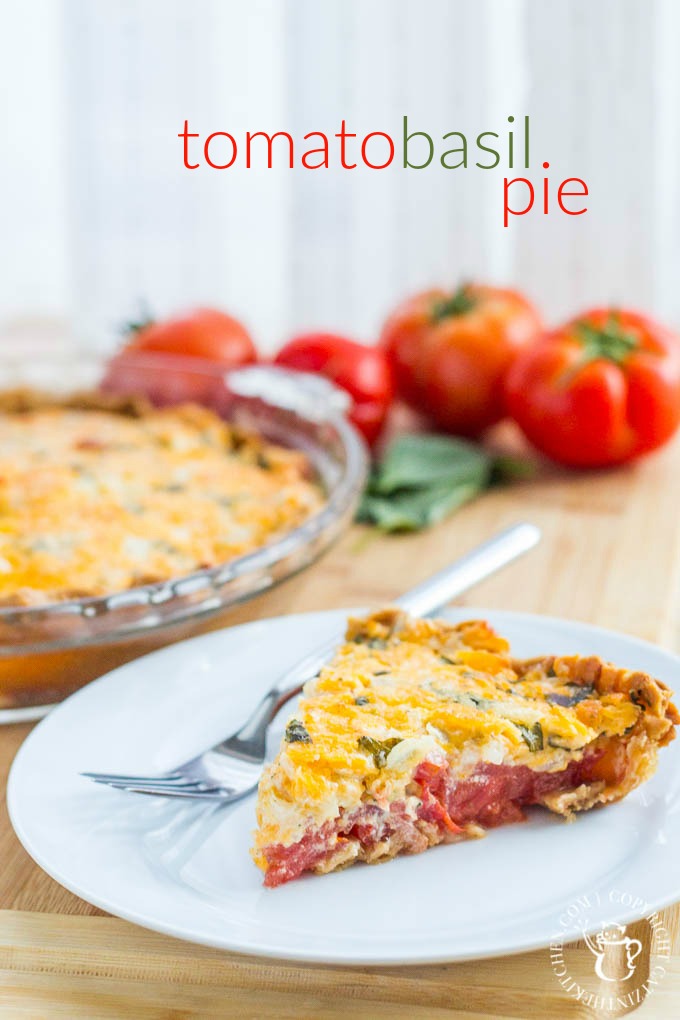 Something strange is going on in my garden. I can't quite figure out how it happened, but I am up to my ears in tomatoes! We only planted two plants (plus one cool little hybrid plant that grows cherry tomatoes on top and potatoes on the bottom – "ketchup and fries"!).
I didn't do anything special to the garden this year. In fact, I left the planting to Josh and the kids because I was under the weather back in April when we planted. The only thing I can think of is that maybe ALL the sun we had in April and May jumpstarted the tomatoes' growth process.
But who knows.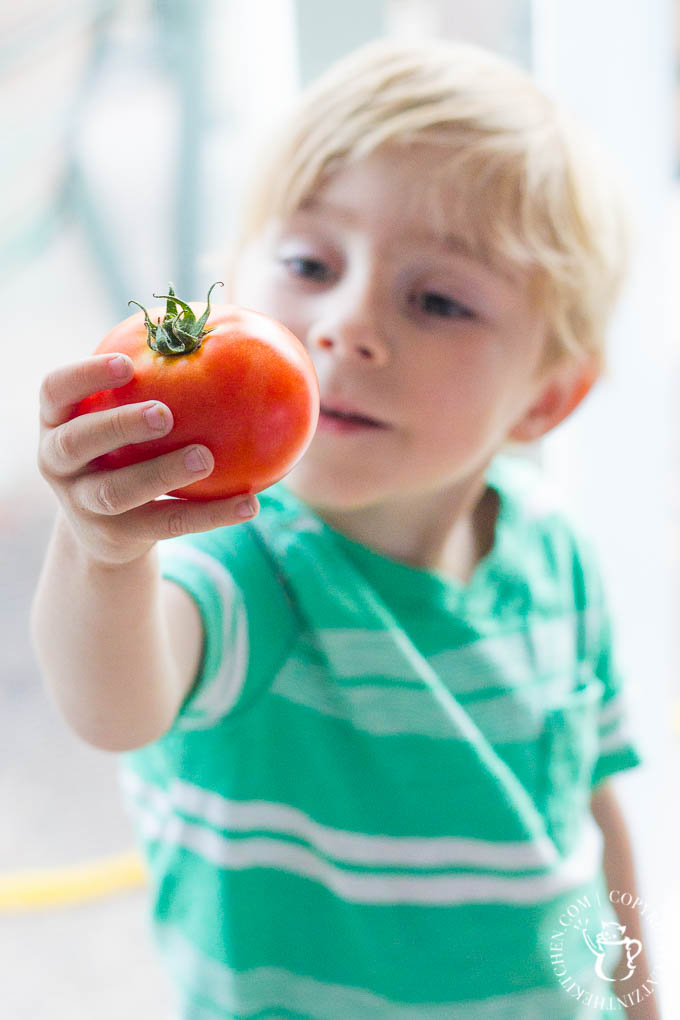 I put a picture up on my Facebook page early last week of just some of the tomatoes we had picked that day and one of my friends mentioned Mary Mac's tomato pie. I've heard of tomato pie before, but never had tried it. A quick Google search led me to the recipe and after looking at the ingredients I was definitely intrigued, but I didn't have everything that particular recipe called for…and living in the country, I just didn't feel like driving to the store.
#lazy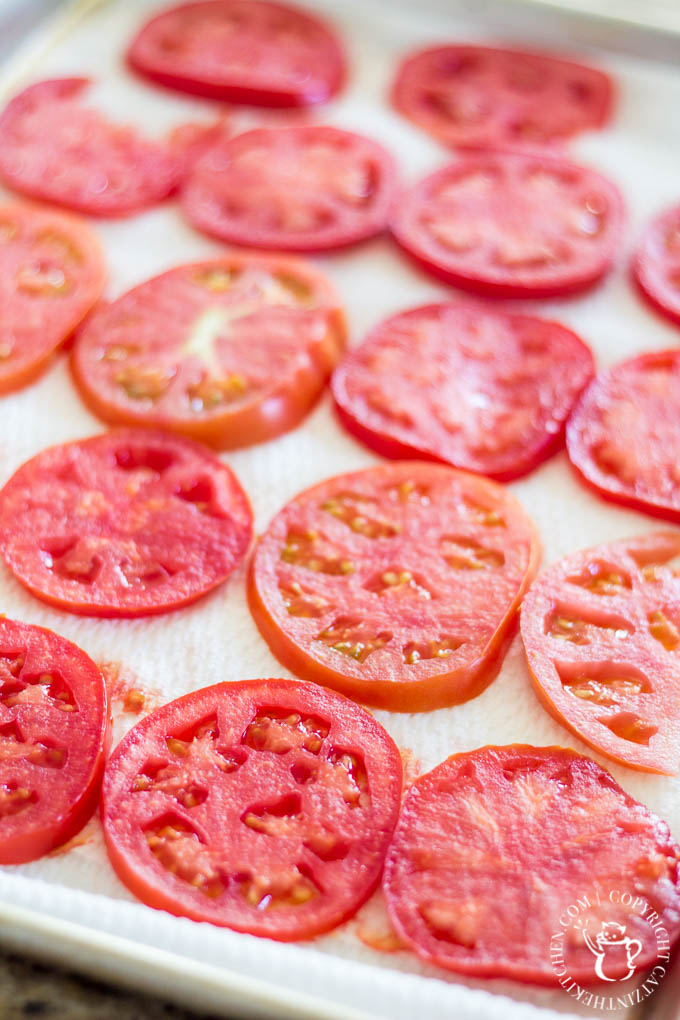 I found another version that I could adapt to what I had on hand, and if I do say so myself it came out pretty amazing! I think the kids didn't really know what to expect and Josh was a bit weirded out about the idea of a dinner pie…but c'mon, if you can eat chicken tamale pie and turkey pot pie, why not a tomato basil pie? Not all pies have to be sweet or strictly for dessert, right? (The Brits agree with me here, I know!)
A word to the wise, though – I used a pre-made pie crust, simply because I already had it on hand, but you could make a homemade version. Might I suggest Pioneer Woman's pie crust? It's my favorite pie crust recipe; and I've tried a few! Regardless of what kind you use, you will want to use weights to hold your pie crust down and keep it from cracking while it par bakes. If you happen to have pie weights (I've seen them at places like Ross and TJ Maxx before), that's great, or you could use dried beans as an alternative.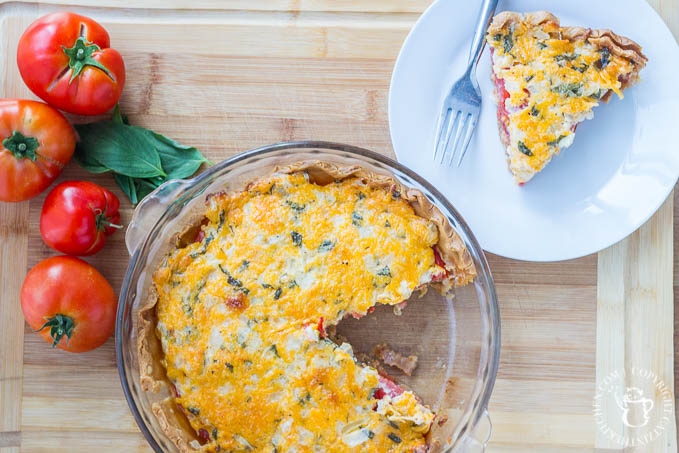 I did not use weights and my crust did puff up in the middle while it baked…and then split! Fortunately, it did not affect the slicing, texture, look, or feel of the pie. In fact, no one would have known unless I told them. So there's that. I do however suggest weighting the pie crust down. I would have, had I had any of the aforementioned pie weights or enough dried beans. Live and learn right? I should buy some beans or some weights for future par baking endeavors!
Now let's get into the pie a little bit. You guys, this is tasty stuff. I told Josh over dinner while we were eating this that it tasted to me like what I would eat if I lived on a farm. It tasted homey and comforting, but so delicious because of the fresh basil. It was rich and somehow indulgent despite being a pie made up of tomatoes!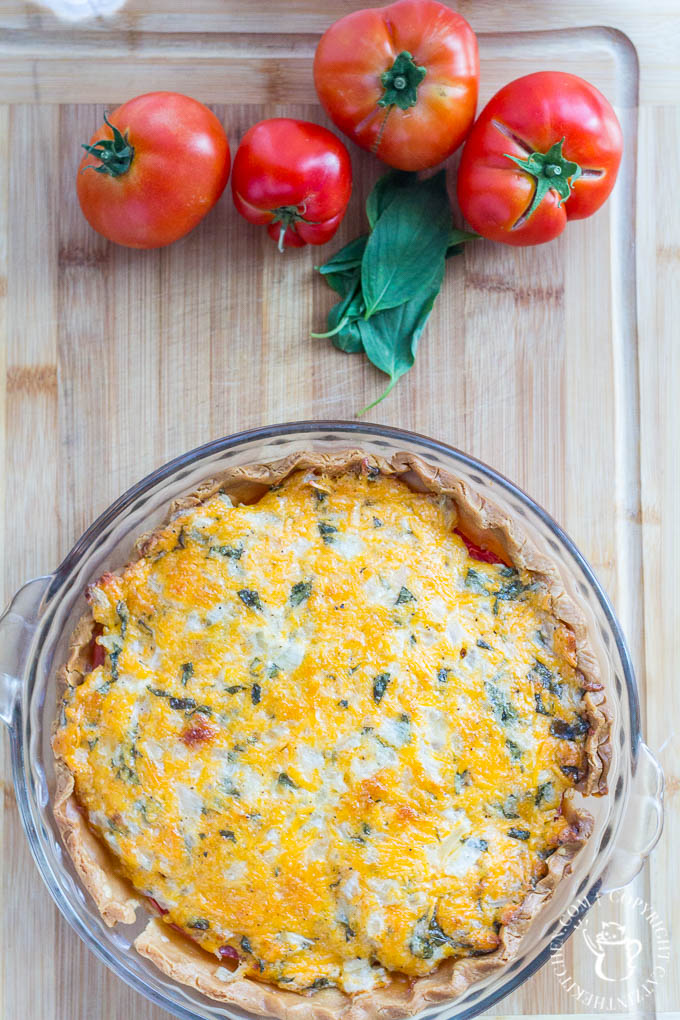 Remember how I said that the kids were a bit dubious and unsure of what to think of the meal? Well, the verdict is in and they all cleaned their plates and went back for seconds. Which is basically music to a mom's ears when you've kind of tricked them into a pie made up entirely of produce! I wasn't sure how filling the pie would be, so I did make a salad to go with it and it ended up being the perfect thing to accompany this dish.
If you're up to your ears in tomatoes, try this scrumptious country pie out, it's delicious and full of fresh, summer flavors!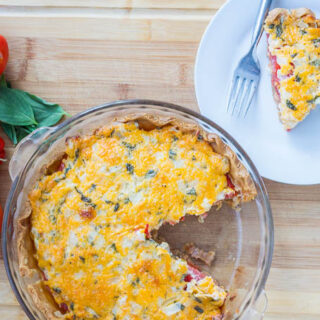 Tomato Basil Pie
Yield:
1 (9-inch pie) about 6 slices
Total Time:
1 hour
20 minutes
Fresh, a little rustic, and oh-so-tasty, this Tomato Basil Pie recipe is just the dish to showcase those tomatoes bursting out of your garden this fall!
Ingredients
1 pre-made pie crust or homemade pie crust
2 lbs tomatoes (I used a variety of heirloom and whatever else was growing in my garden)
3/4 tsp kosher salt, divided
1 cup sweet yellow onion, finely chopped
1/2 tbsp unsalted butter
1 1/2 cups grated sharp cheddar cheese
1/2 cup mayonnaise
1/4 cup fresh basil, coarsely chopped
1 tsp mild hot sauce
1/2 tsp freshly ground black pepper
Instructions
Line a rimmed baking sheet with several layers of paper towels. Arrange tomato slices on prepared sheet, sprinkle 1/4 tsp salt, and cover with more paper towels. Let drain for at least 30 minutes.
Preheat oven to 350 degrees and roll pie dough to a 13" round. Roll dough loosely around the rolling pin and lay over the 9" pie plate. Trim and crimp edges of the pie. Freeze dough for at least 15 minutes.
Line crust with foil and fill the bottom of the pie plate with baking beans or weights. Bake crust, rotating halfway through, 20 minutes. Remove weights and pierce all over the bottom of the pie with a fork, and bake again until very light brown and dry, about 10 minutes.
While the pie is baking, heat a large skillet over medium. Add onion, butter, and 1/4 tsp salt and cook, stirring occasionally, until onion is softened and just starting to brown, 5-8 minutes. Let cool.
Combine cheese, mayo, basil, hot sauce, pepper, onion mixture, and remaining 1/4 tsp salt in a medium bowl. Blot tomatoes with fresh paper towels to remove any remaining moisture. Arrange tomato slices in the pie shell and top with the onion/mayo filling; smooth.
Bake pie, rotating halfway through, until golden brown, 40-45 minutes. Let cool to room temperature before slicing.
Enjoy with a side salad.
Notes
Nutrition Information:
Yield:

6
Serving Size:

1
Amount Per Serving:
Calories:

671
Total Fat:

49g
Saturated Fat:

19g
Trans Fat:

1g
Unsaturated Fat:

26g
Cholesterol:

66mg
Sodium:

1042mg
Carbohydrates:

40g
Fiber:

4g
Sugar:

8g
Protein:

19g
Nutrition information isn't always accurate.