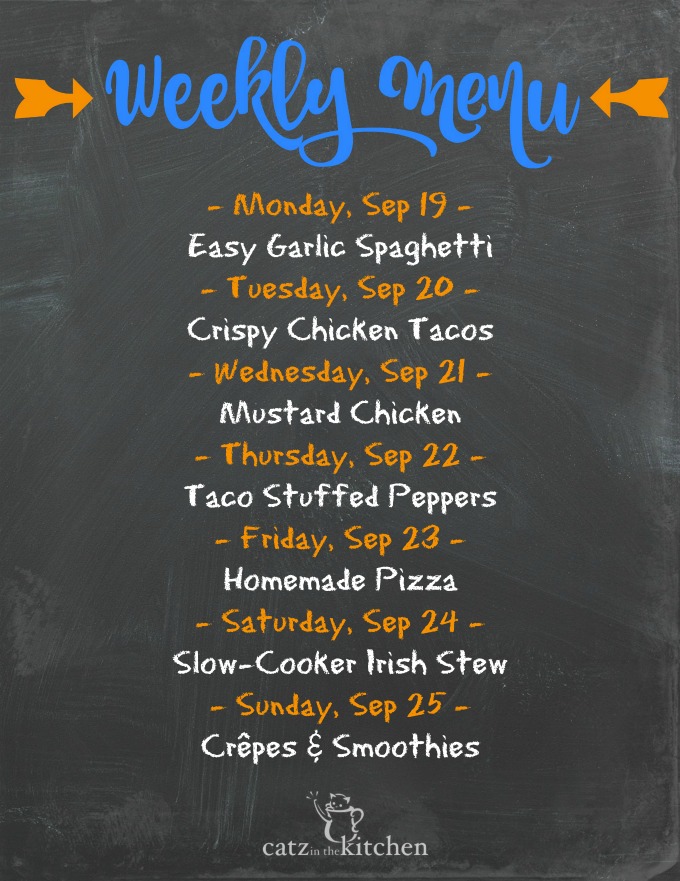 Would you guys mind if I just took a second and wished my dad Happy Birthday? Happy Birthday, Daddy! I know you aren't reading this today because you have a J.O.B., but I just wanted to throw it out into the blogosphere that I love you and I hope your day is wonderful!
For the record, my dad lives in Las Vegas and we don't see each other often. Which is a shame, because I miss him!
How was everyone's week? Ours was good. We finally got some rain over the weekend and our grass really needed it. Already, everything looks greener, though we had to trade our blue skies for grey ones. Compromise is the key to success…right?
The rain certainly put me in the "fall" spirit (which you guys all know…this Thursday is the first day of fall, right?) and I lit candles, had the pilot light lit in my fireplace once again, and even had Josh make me a homemade pumpkin spice latte. It was glorious. I'm ready! Bring on the season!
I hope you enjoy this week's menu. It's a tasty one! I'm pulling out a lot of foods that just sound comforting to me, but not at all lacking in flavor. I think you'll find that they are all very kid friendly, too.
As always, if nothing on this week's menu sounds good, please take a look at some of our older menus. There is usually a recipe on there for everyone! Have a great week everyone!!