The simplest of all beginner's recipes – cheap, made in a single dish, and ready in five minutes! To top it off, this easy homemade hummus is delicious!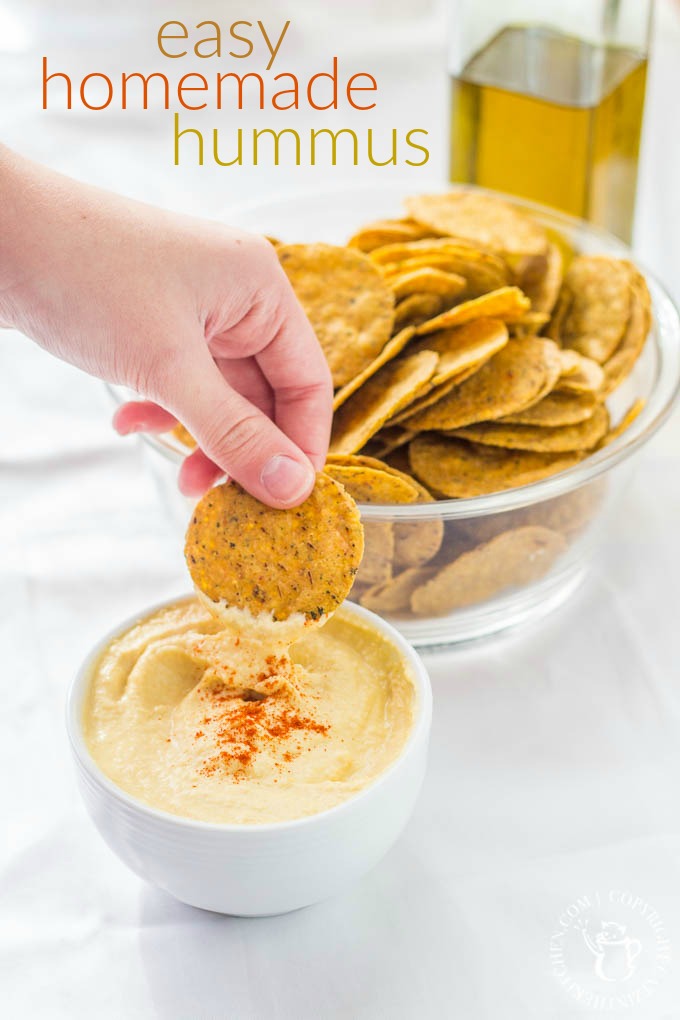 As Gracie, our twelve year old, is taking more of an interest in cooking and cuisine (and also becoming more responsible with things like knives and burners!), she's beginning to assemble a list of recipes she wants to make. Every couple of weeks, Chels will add the ingredients for one of Gracie's projects to the weekly menu, and, correspondingly, the grocery list. I suppose it's probably inevitable that she'd pick up a bit of our culinary enthusiasm by osmosis. As I've told her myself, no matter what you do in life, you'll always need to eat!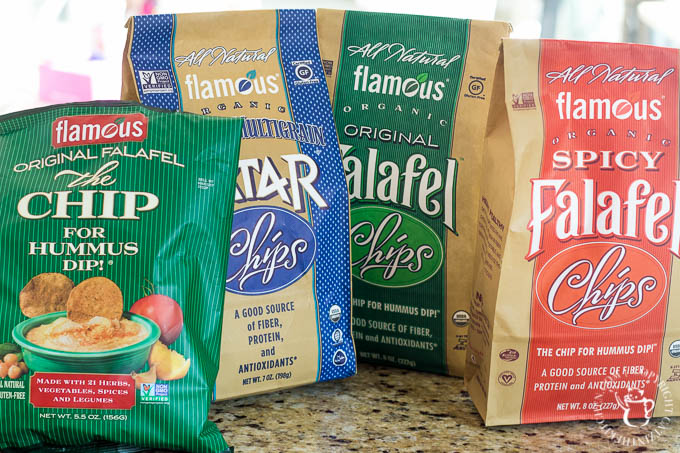 Grace has had this incredibly (and I mean incredibly) simple recipe for homemade hummus on her "to-make" list for quite awhile, but when these falafel chips from Flamous showed up on our doorstep, we knew the time had come to give it a whirl. If you haven't heard of these chips, or even if you're just not familiar with falafel (what?!), stop reading this post, go to their store locator, and buy all the bags you can get your hands on. I'm not even kidding here. Obviously, Flamous was kind enough to send us a sample, but I was completely hooked from the moment I bit into the first "original" flavor chip. I can't tell you how relieved I was to discover that our local supermarket carries these gems, because I'm addicted. The texture, the favor, the smell – everything about them is outrageously good. They are not paying me or asking me to say this. I rant about the things I love. I love these chips.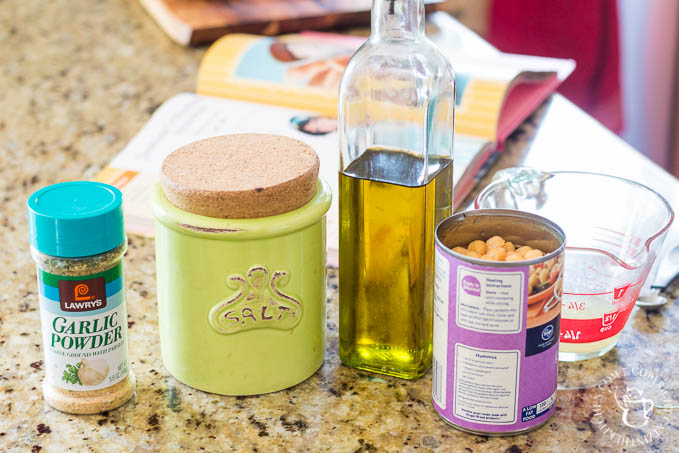 Anyway, about this hummus…
These are the ingredients. Chickpeas (better known in the US as garbanzo beans), lemon juice, olive oil, salt, and garlic powder. For us, these are literally all pantry ingredients. Chels picked up an extra can of chickpeas at the market just in case we needed more, and we occasionally run out of fresh lemons, but otherwise, this is something you can literally whip up on impulse, from ingredients you probably already have sitting around.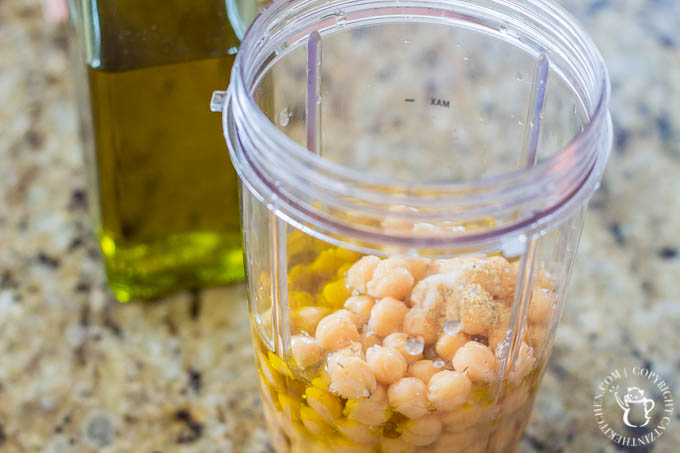 Any blender or food processor will work for blending everything together, but we used our NutriBullet. For the kids especially, it's a little simpler, maybe a little safer, and really, really easy to clean. And as for the recipe? It consists of two steps: place all ingredients in blender. Blend.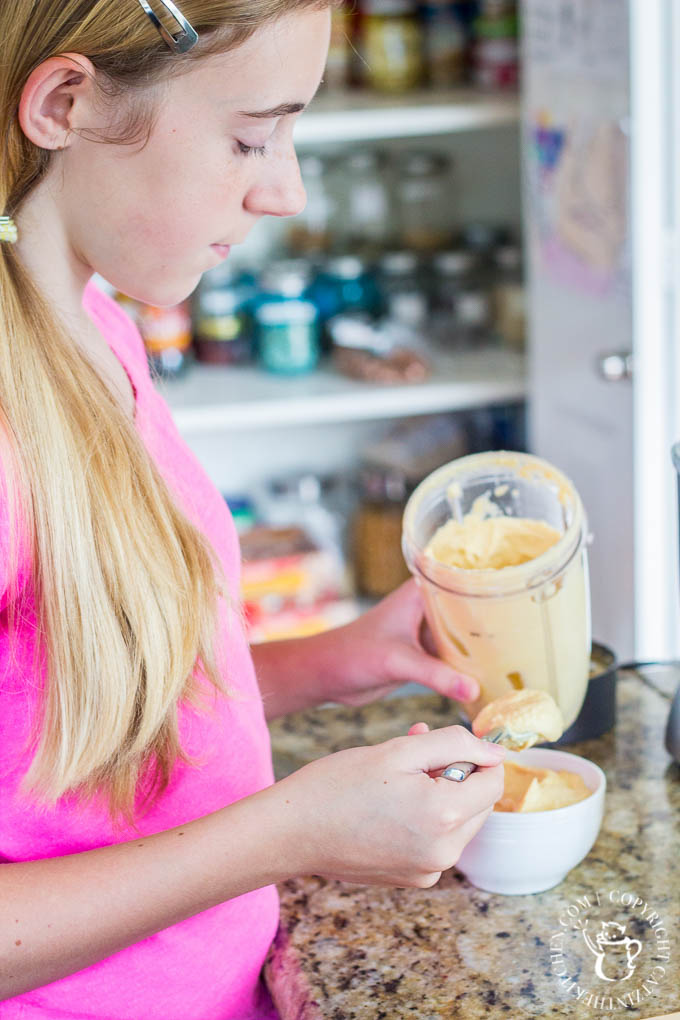 Gracie was able to do this all herself, of course, not that there was much to it! Once it was smooth, she scooped it out into a little bowl while we all gathered around like vultures. Fresh food doesn't last long in this house, let me tell you. One reason I continually question the wisdom of buying a bread maker (if you don't get that, you've probably never owned a bread maker…).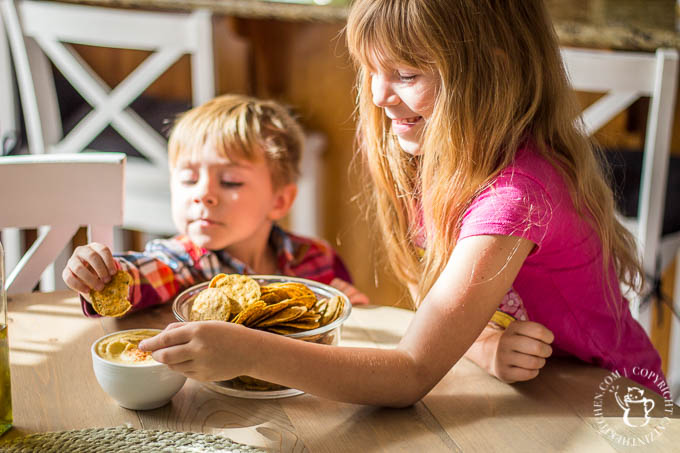 The end result here is spectacularly simple. The hummus has a very mild flavor profile, and it's light and fluffy. Obviously, you could begin to dress or punch it up by subbing in fresh garlic, for starters. In our case, the falafel chips themselves bring a ton of flavor to the table, and a mild hummus is exactly what we wanted. If you were using pita bread, on the other hand, you could definitely stand to up the flavor ante a bit.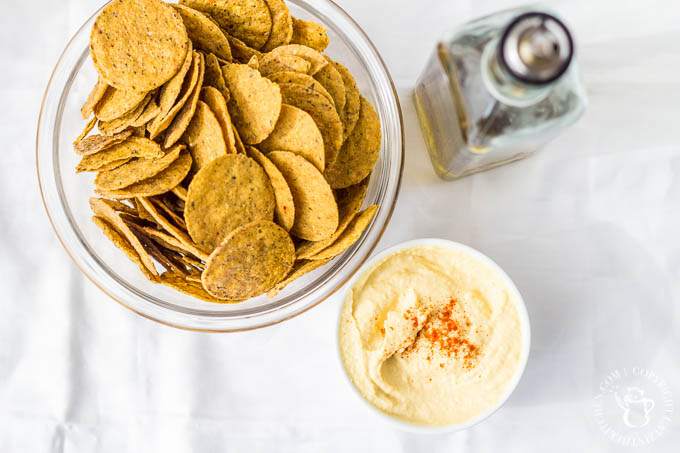 For serving, we sprinkled a bit of smoked paprika on top, and finished with a swirl of extra virgin olive oil. The first batch was gone in hours, so I made a second batch and stashed it in the fridge for late-night snacking. It lasted two nights. So, I can't tell you how long this will keep for…as I can't imagine anyone having that problem.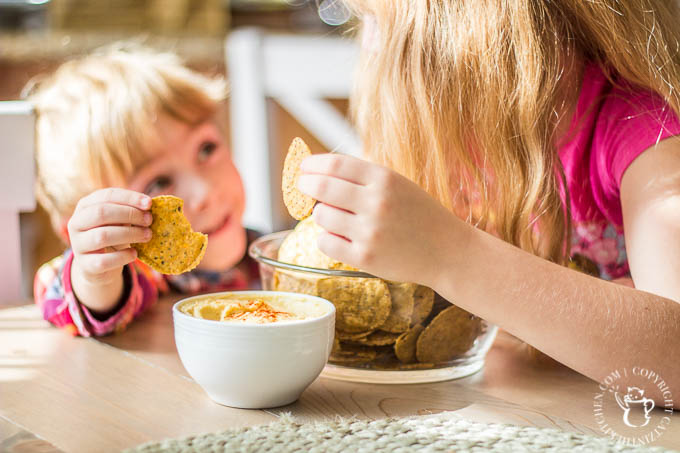 A couple of last words on these falafel chips (can you tell I'm becoming obsessed?). We tried all four bags. The two green bags tasted the same to me (different sizes and packaging, of course), but the flavor of the original is my favorite. Classic falafel taste. The spicy ones aren't spicy, just more…spirited! Suffice to say, they are mild enough that all of the kids liked them. The multigrain are equally yummy, but a little closer to a conventional multigrain chip in flavor. Try them all, but if you have to choose one, get the green one (original). And get an extra bag for me.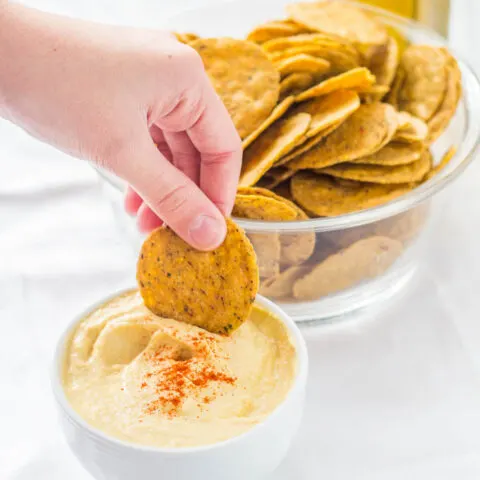 Easy Homemade Hummus
The simplest of all beginner's recipes - cheap, made in a single dish, and ready in five minutes! To top it off, this easy homemade hummus is delicious!
Ingredients
1 can (15 oz) chickpeas (garbanzo beans), drained
1/4 cup extra virgin olive oil (plus more for topping, optional)
2 tbsp fresh-squeezed lemon juice
1/4 tsp garlic powder
1/4 tsp salt
Smoked paprika (optional, for topping)
Instructions
Add all ingredients to a blender or food processor (we used our NutriBullet).
Blend until smooth.
Transfer to a bowl and serve with pita bread, raw vegetables, or falafel chips. If not finishing immediately, refrigerate remainder.
Nutrition Information:
Yield:

16
Serving Size:

2 tbsp
Amount Per Serving:
Calories:

31
Total Fat:

3g
Saturated Fat:

0g
Trans Fat:

0g
Unsaturated Fat:

3g
Cholesterol:

0mg
Sodium:

37mg
Carbohydrates:

0g
Fiber:

0g
Sugar:

0g
Protein:

0g