It's the holidays, and I don't know about you, but I don't have time for complicated. This chocolate cranberry spice cake is easy, so yummy, and festive!
You guys! We had SNOW this week!!!! Our very first snow in our house and I didn't even get a good picture of it. Why? Because it gets dark at four in the afternoon!!! WHAT? WHY?? Okay, okay, I could have probably gone outside before it got dark, but I was very busy cleaning my bathroom, folding four loads of laundry, putting a freshly dry cleaned bedspread back together…you know, #priorities.
And you know, I probably could have saved myself a lot of money by just getting our comforters dry cleaned because it made ALL the difference! I can't believe I waited this long to do it. Our bedspread looks nearly brand new again and all for about $30!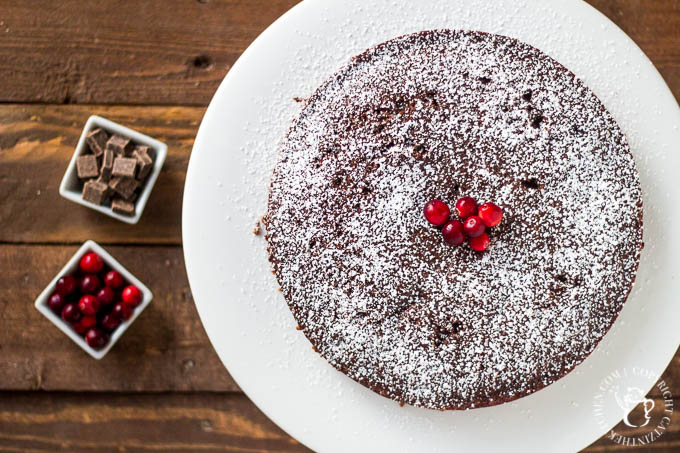 I tell you, it really is all about the little things…which include school closures. Let me be honest for a moment. I really love being home with my kids. It delights me to no end to hear the school bus roar by and see my chickies gathered around the table in their pjs. But…schooling is hard work and it takes a lot of brain power, a ton of patience, and a fair amount of creative thinking. All things I don't really possess. Ever.
However, it is so very rewarding. I would say that knowing you taught your child to read or watched them get an A on a test or show off their artistic abilities is almost as incredible as watching your tiny human take their first steps or say "mama" for the first time. One of those things all of us with school-age kids, no matter how they're schooled, can relate to, I'm sure.
Occasionally, the meteorologists take pity on me when they see I need a break after only three days of school and decide to announce "school closures for everyone!" Yeah, you better believe this homeschooling momma jumped on that bus real fast!
So, we're having a possible winter storm, and maybe one of these days, you might be, too. I propose a day of baking. I think baking is the best way to enjoy a winter storm with your littles (that is, unless you lose power, and then not so much). Turn on some music or a movie and get in the kitchen and whip something up. Maybe with the fire going…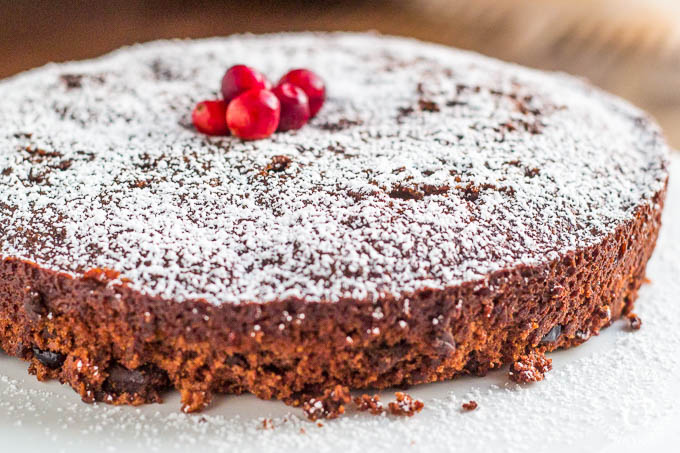 Last week, we played a rousing game of Risk with the kids. I had never played before, and while the kids were setting up the game and going over the rules, I whipped up this holiday cake that was perfect for snacking while playing a game.
It's got chocolate. It's got cranberries (you can use fresh or dried). And it's got delicious spices like cinnamon, nutmeg, and ginger. You don't frost this cake, so hello, easy peasy. Just a sprinkle of powdered sugar or a dollop of vanilla ice cream and you're good to go!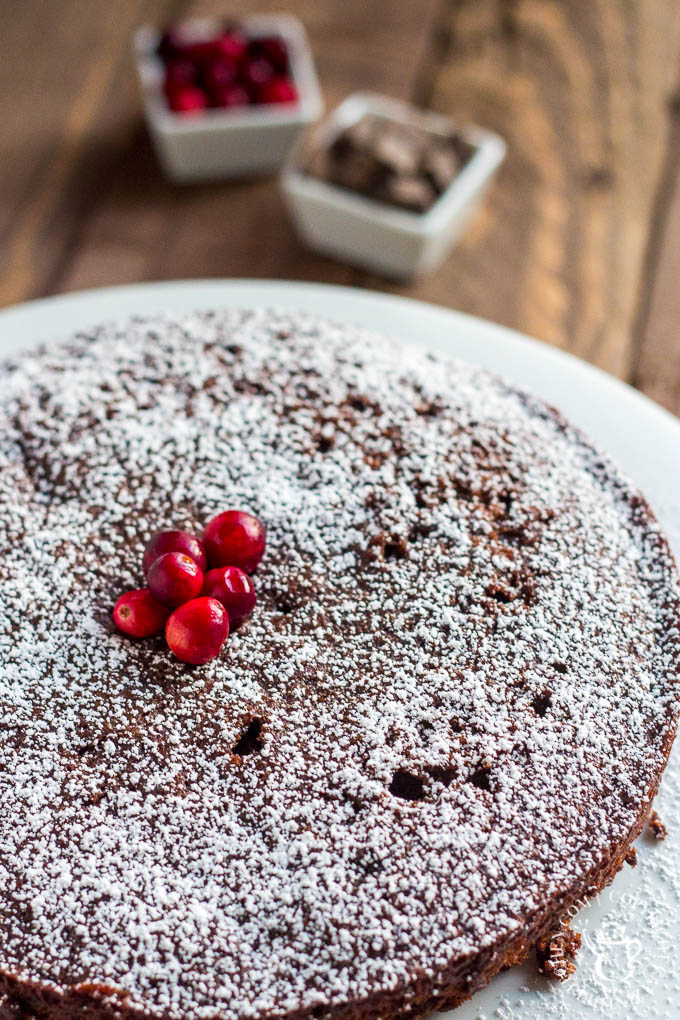 It's the perfect little holiday cake for company, for giving, for eating, for whatever. It's yummy, you guys. I've had a hard time keeping the kids out of this one. Did I mention it was easy? I love easy. It's the holidays, and I don't know about you, but I don't have time for complicated.
You'll love this cake, so make it during your next winter storm with your family. Happy snow watching!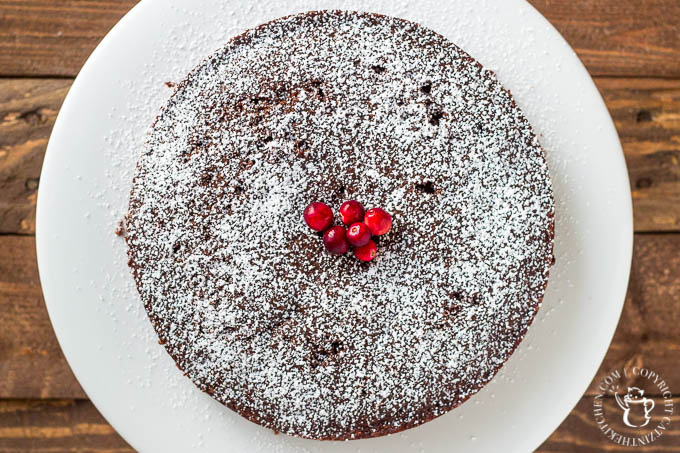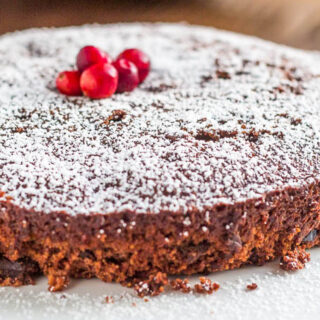 Chocolate and Cranberry Spice Cake
It's the holidays, and I don't know about you, but I don't have time for complicated. This chocolate cranberry spice cake is easy, so yummy, and festive!
Ingredients
1/4 cup unsalted butter, melted
1/4 cup Hershey's unsweetened cocoa
3/4 cup applesauce
1 cup all-purpose flour
1 cup granulated sugar
3/4 tsp baking soda
1/2 tsp ground cinnamon
1/4 tsp ground nutmeg
1/8 tsp ground ginger
1/4 tsp salt
1 egg, slightly beaten
1/2 cup dark chocolate chunks
1/2 cup fresh cranberries or dried craisins
Powdered sugar for topping
Instructions
Heat oven to 350 degrees. Grease a 9' cake pan and cut out a piece of parchment paper to fit the bottom of the cake pan and lay it inside the bottom of the pan, set aside.
In a small bowl, combine butter and cocoa, stirring until smooth; blend in applesauce. In a large bowl, combine the flour, granulated sugar, baking soda, cinnamon, nutmeg, ginger, and salt. Add cocoa mixture and egg; stir in the chocolate chunks and cranberries (or craisins).
Spread into prepared pan and bake for 30-35 minutes or until a wooden pick inserted in center comes out clean. Cool in pan on wire rack before inverting and transferring to a cake plate. Sprinkle powdered sugar over top.
Notes
Recipe adapted from Hershey's Fabulous Desserts
Nutrition Information:
Yield:

9
Serving Size:

1
Amount Per Serving:
Calories:

369
Total Fat:

11g
Saturated Fat:

7g
Trans Fat:

0g
Unsaturated Fat:

4g
Cholesterol:

36mg
Sodium:

186mg
Carbohydrates:

65g
Fiber:

2g
Sugar:

50g
Protein:

3g
Nutrition information isn't always accurate.