Quick and tasty while healthy and full of flavor, this one pot chickpea curry is definitely a recipe you and your family should try!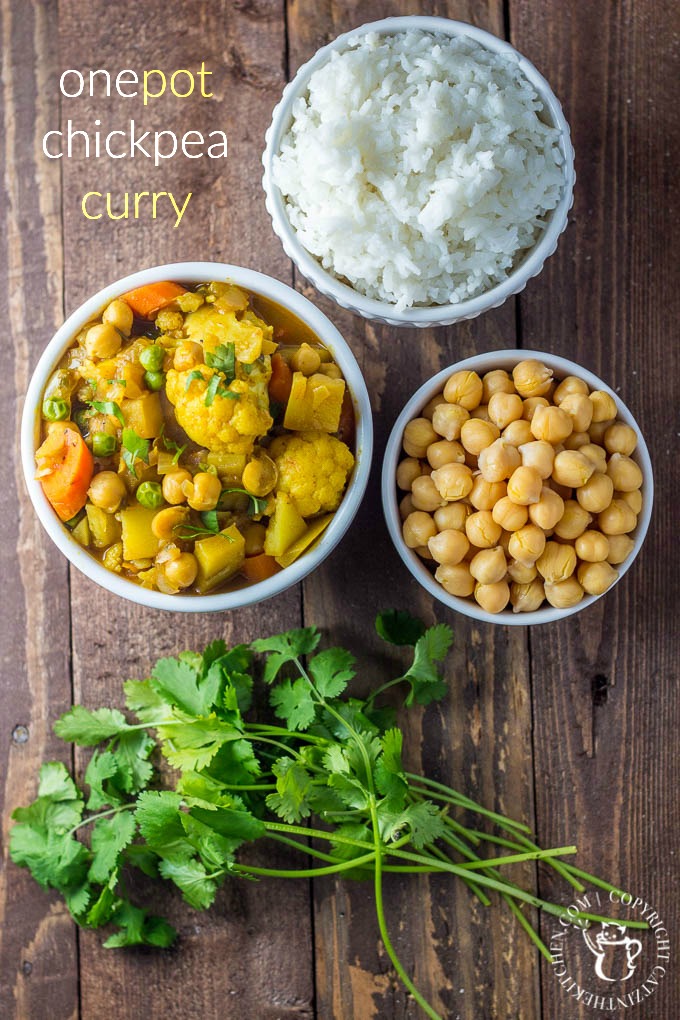 I think I go through stages where I definitely want to spend more time in the kitchen and work through the different processes of a meal slowly. I like that. I think that under the right circumstances, it can be very calming and fun.
Which is a lot like working out! No, seriously! I'm actually "one of those people" that likes to workout. Again, it can be fun if you find the right workout, but also quite therapeutic.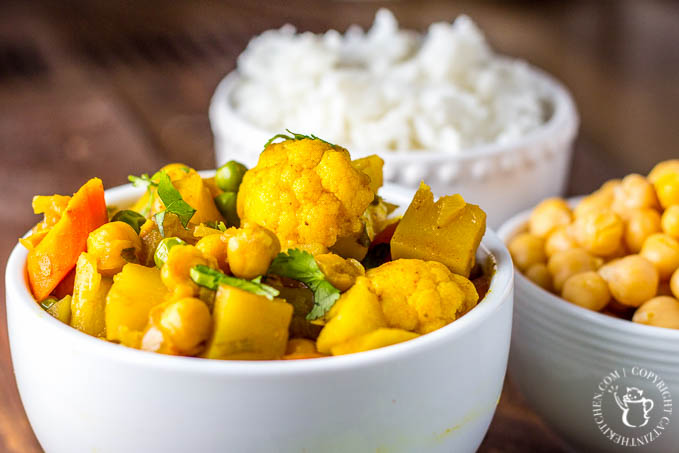 But then there are days or weeks when it is struggle city to workout, let alone stand in the kitchen for even 30 minutes and cook a meal. My meal planning can be the same way. Sometimes it is as easy as pie to plan out a menu. But then other weeks, I hit a wall and I can't think or plan to save my life!
I'm definitely going through a stage right now where one pan (or pot), easy meals are my favorite things to make because they don't require a ton of work from me. And usually, if I'm on my game, I can have a lot of things prepped in advance making my cooking time even easier!
Do you ever find yourself in the same place?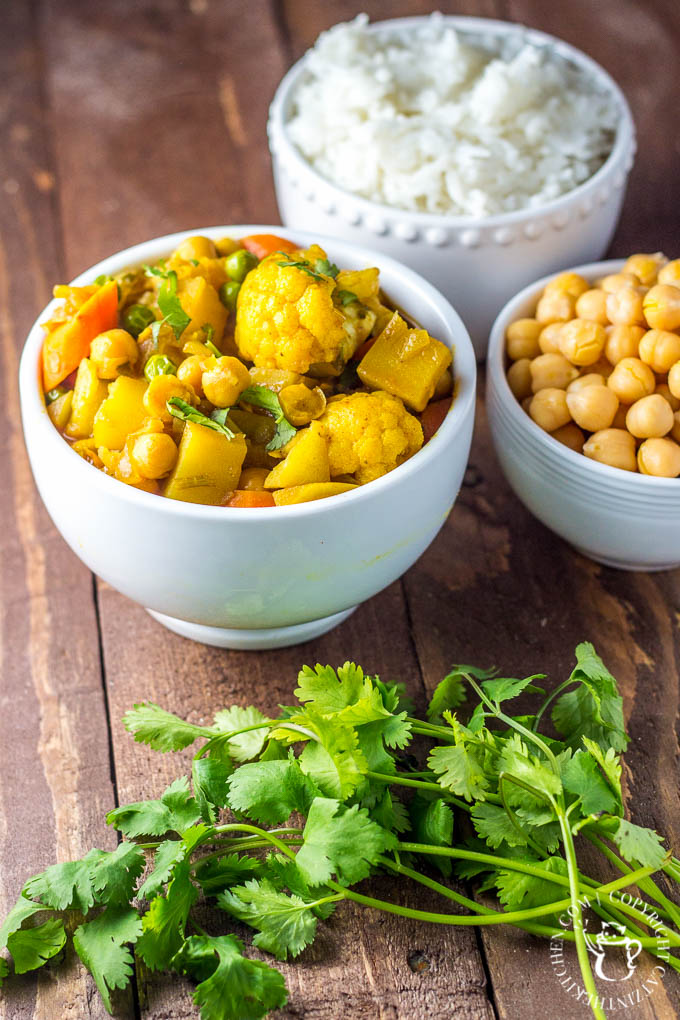 Enter a new Meatless Monday favorite, chickpea curry. This one pot wonder is so good it makes me want to come back for more! You might also be interested to know that this particular curry dish is apparently a vegan one as well, if that's your thing.
Here's what I love about this dish – it's full of vegetables and flavor. Chickpeas (you might see them labeled as a garbanzo beans) are not veggies at all and not even really very bean like, but they are part of the legume family. The great thing about chickpeas is that that are chock full of protein and fiber and are said to be one of the healthiest things you can eat. We, of course, love them in hummus, but they are also delicious thrown into a soup or added to salads. Aside from the chickpeas, cauliflower, carrots, potatoes, and peas are added to the mix.
All super inexpensive ingredients.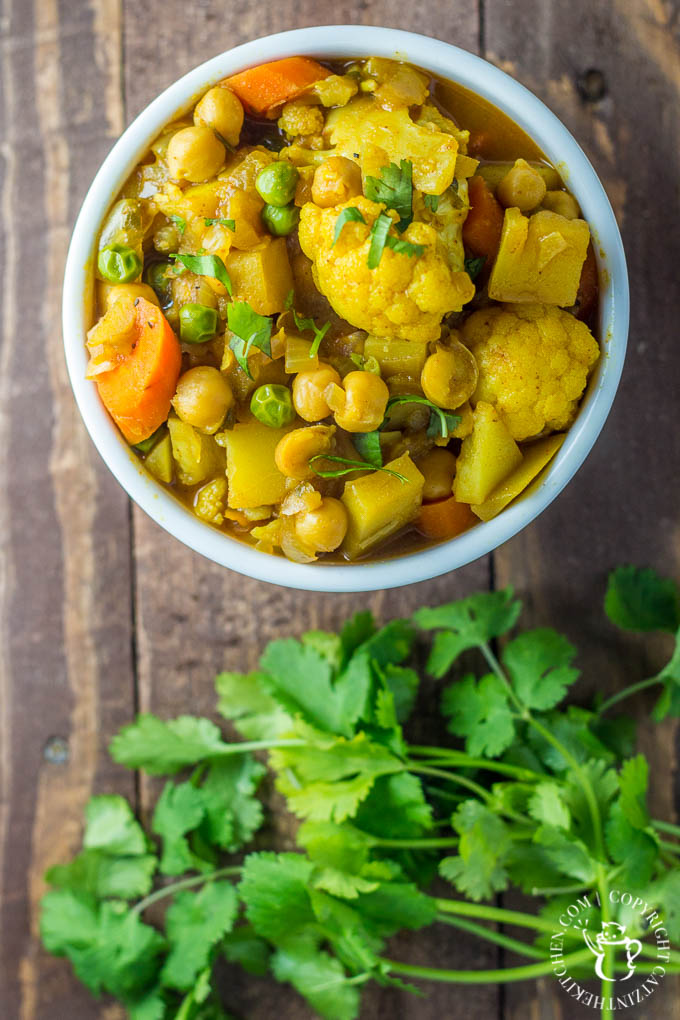 It's really just a matter of sautéing the ingredients together with a few flavor enhancers before simmering to make this meal completely drool worthy. This is one of those "make your own" take out dinners that is really good. Plus, if you've got kids, it gets them not only eating some vegetables, but also eating a meal they may not have had the option to try yet.
Or maybe…you yourself haven't had the option of trying it before either! What are you waiting for?
Oh, and here's a cute little "behind the scenes at Catz" photo of Gracie and Christian helping Josh with some late night food photography – I couldn't resist sharing with you!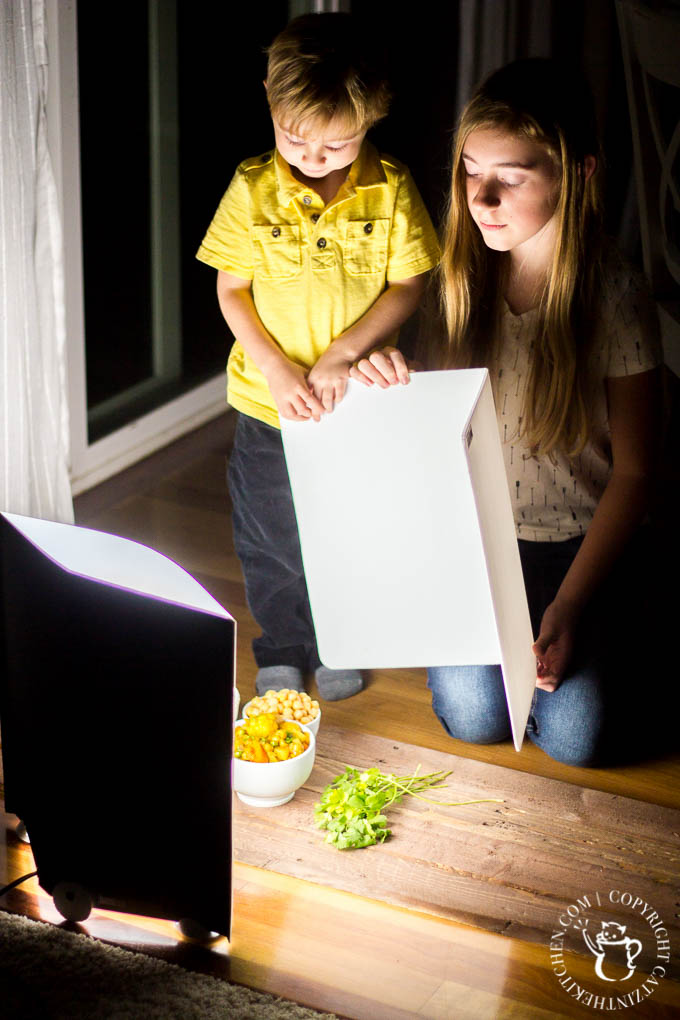 One Pot Chickpea Curry
Quick and tasty while healthy and full of flavor, this one pot chickpea curry is definitely a recipe you and your family should try!
Ingredients
1 tbsp coconut oil
1 medium sweet yellow onion, thinly diced (about 1 cup)
1 tbsp fresh ginger, minced
4 cloves garlic, minced
2 tbsp curry powder
1/8-1/4 tsp cayenne pepper
2 1/2 cups vegetable broth
2 tbsp tamari
2 tbsp pure maple syrup
2 tbsp tomato paste
3/4 lb yukon gold potatoes cut into 3/4 in. pieces
2 lage carrots, sliced diagonally 1/4 in. thick
4 cups large cauliflower florets
1 (15 oz) can chickpeas rinsed and drained
1 cup (from 13.5 ounce can) coconut milk
1/4 cup fresh cilantro, finely chopped, plus more for topping
1/2 cup frozen peas
Salt to taste
Instructions
Melt coconut oil in a heavy 4 qt. pot over medium heat. Sauté onion until lightly browned 5-7 minutes. Add ginger and garlic and sauté until fragrant, about 30 seconds. Add curry powder, cayenne pepper, broth, tamari, maple syrup, and tomato paste and stir, salting to taste. (The tomato paste will dissolve the longer the curry cooks).
Add potatoes and carrots, cover pot and bring to a boil. Reduce the heat to a simmer and leave the lid ajar so the steam can escape from the pot. Cook, just until the potatoes are tender, about 10 minutes. Add cauliflower, chickpeas, coconut milk, and cilantro. Stir gently to incorporate. Return to a simmer with lid ajar and cook just until the cauliflower is tender, about 5-7 minutes. Fold in peas and cook for about 1 minute. Remove from heat and add additional salt if needed.
Allow the curry to sit for about 5-10 minutes before serving over rice.
Nutrition Information:
Yield:

6
Serving Size:

1
Amount Per Serving:
Calories:

223
Total Fat:

5g
Saturated Fat:

3g
Trans Fat:

0g
Unsaturated Fat:

2g
Cholesterol:

3mg
Sodium:

776mg
Carbohydrates:

39g
Fiber:

8g
Sugar:

11g
Protein:

9g
Nutrition information isn't always accurate.