What makes this delicious, crumbly apple pie an Irish apple pie? We can't say for sure, but if this is what being Irish tastes like, we're in!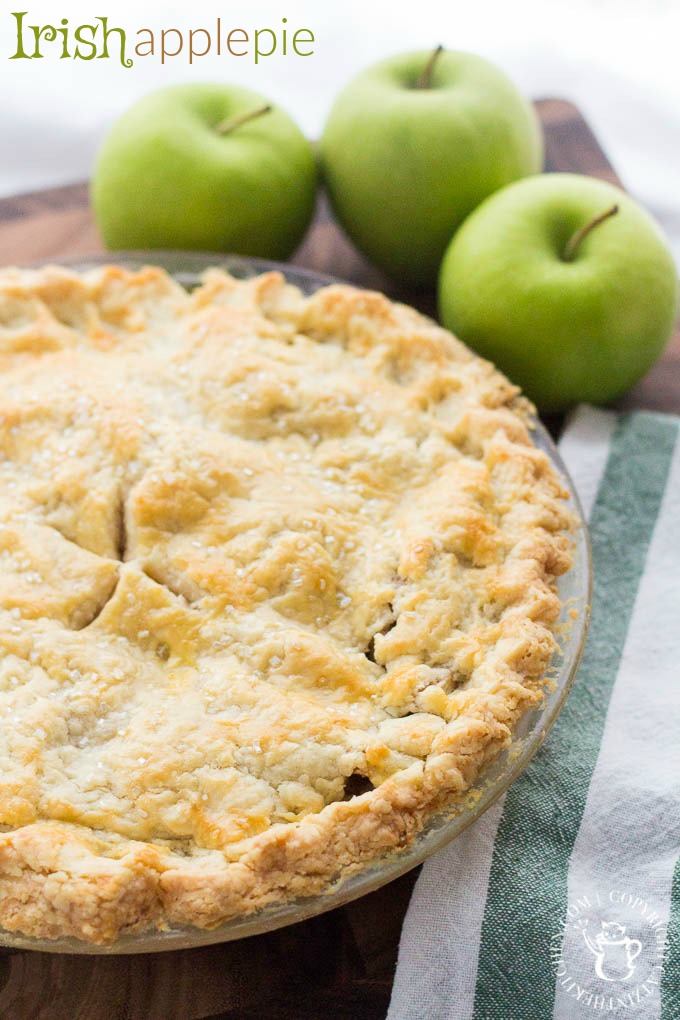 One of my goals as a home cook is to continually improve my baking skills. I'm not a trained cook by any stretch of the imagination. What you've seen on the blog is what I've picked up from my mom or what Josh and I have learned through trial and error (and Food Network!). One thing I have zero expertise in is cake frosting. I would love one day to take a class on all things cake related, because I love cake and cake makes everyone happy.
Since I have yet to get myself to a cake decorating class or even watch a YouTube video on the topic, I'm continuing to work on my pie-making skills, which is still very much a work in process – I'm okay with that. I didn't even make my first pie crust until I made this pie with the assistance of my mom when I was in my late 20s! (Please forgive the old photos. They are sweet and full of memories, but not good at all!)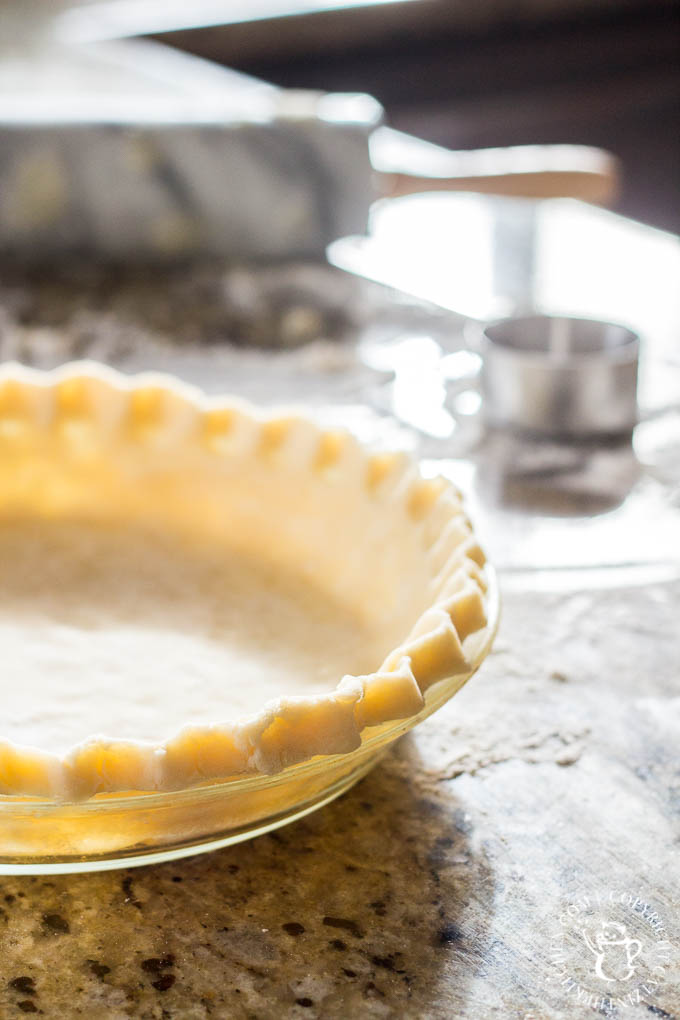 I don't want this to be the case with Gracie. Things like roasting a chicken and making a homemade pie crust can be intimidating if you've never done it before, so all the more reason to get Grace in the kitchen working on mastering these crafts so that when she is in her 20's and maybe has a family of her own, or wants to bring someone a pie, or has friends over, or just feels like eating pie, she can whip out a homemade pie without any hesitation.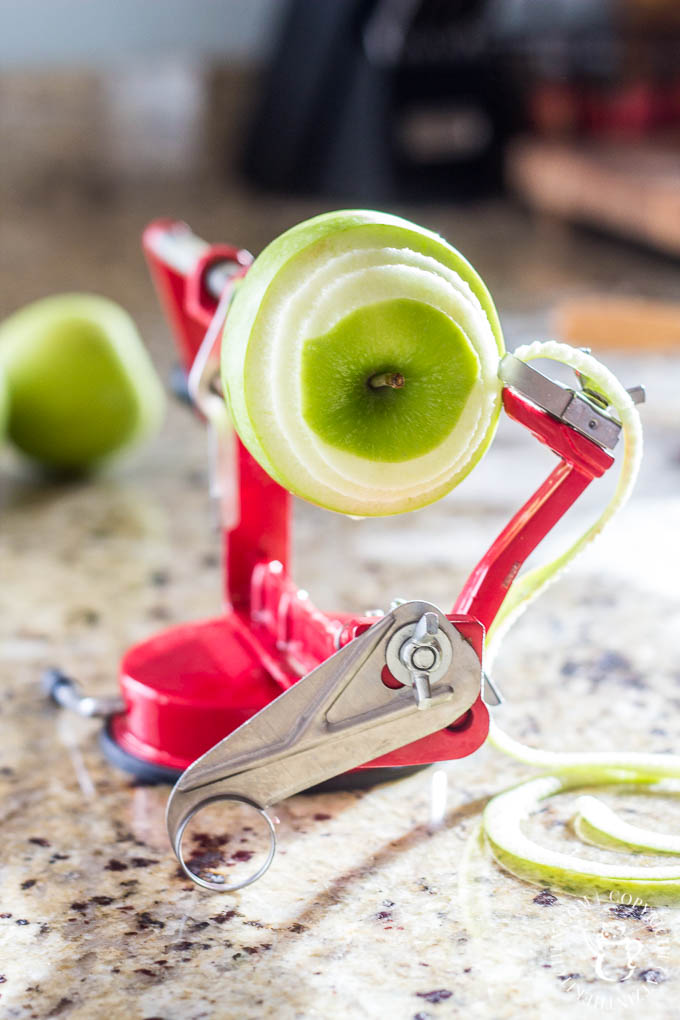 Besides, one of the whole ideas behind this blog is to learn and grow in all things culinary as a family. Which is why for the most part, she made this whole pie. I showed her how to roll out the bottom layer of the pie crust and place it in the pie pan and flute the edges and then I let her do the top crust. I was so proud of her because she was intimidated and scared, but she did a lovely job…and this pie crust, while not the usual crust I make, was incredibly flaky, flavorful and worth making again!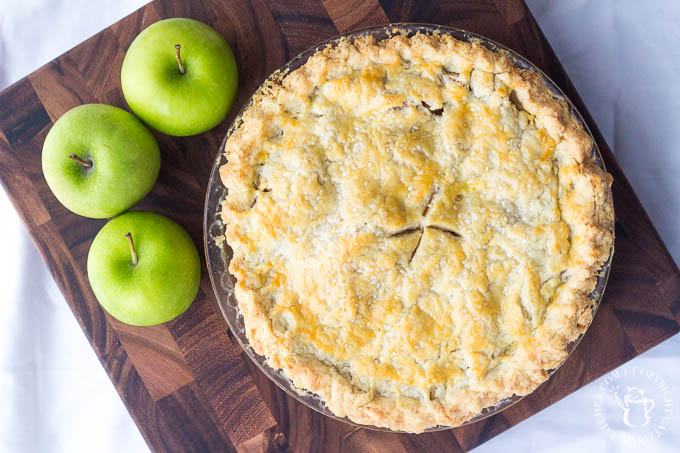 Let me just say, it's getting pretty handy having an (almost) teenager in the house who also likes to cook and bake. Every day, she gets more and more involved in our dinner preps, if not making the meals completely by herself, and she is wowing me daily with her enthusiasm to help out.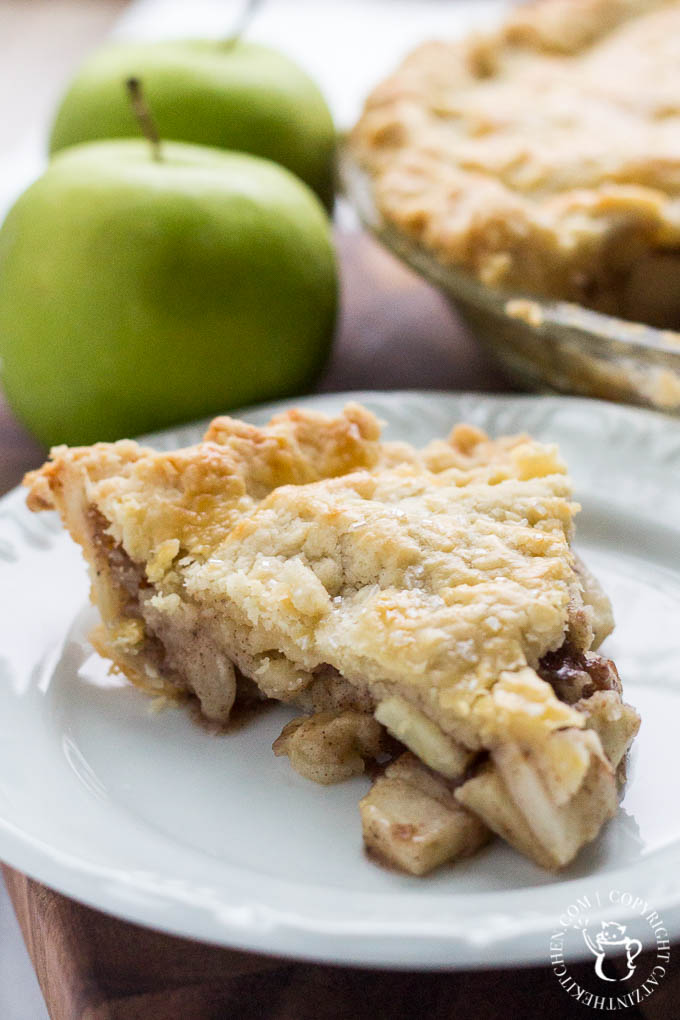 It's such a blessing to our whole family!
Believe it or not, this is our first apple pie on the blog, and just in time for St. Patrick's Day, too. I love an excuse to try something new and you certainly can't go wrong with a classic like apple pie, or in this case, what I'm told is a classic Irish apple pie!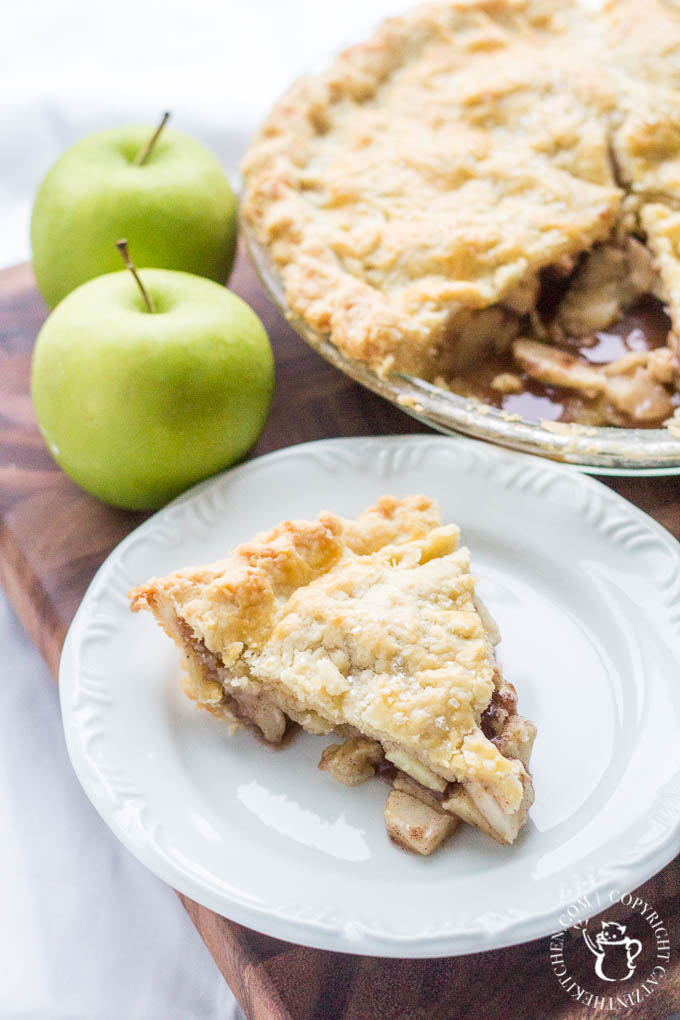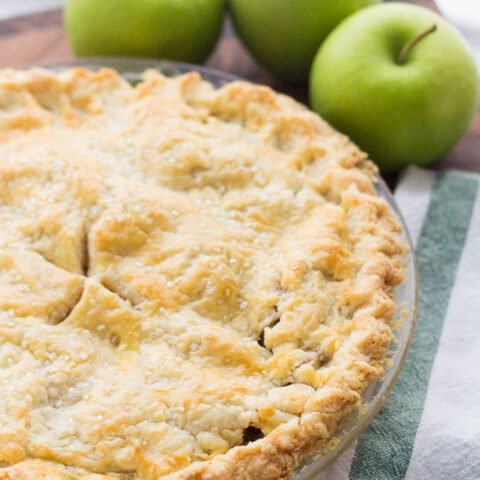 Irish Apple Pie
Prep Time:
1 hour
15 minutes
What makes this delicious, crumbly apple pie an Irish apple pie? We can't say for sure, but if this is what being Irish tastes like, we're in!
Ingredients
1 1/2 cups all-purpose flour
3/4 cup cake flour
1/2 tsp salt
1 tbsp granulated sugar
1 cup unsalted butter, chilled and cut into chunks
3 tbsp shortening
1/4 cup sour cream
1/8 tsp lemon juice
6 small-medium Granny Smith apples, peeled, cored, and sliced
1/2 cup granulated sugar
2 tbsp all-purpose flour
1/2 tsp ground nutmeg
1 tsp ground cinnamon
1/2 tsp allspice
1/8 tsp lemon juice
1 egg, beaten
Sanding sugar for topping the top crust with
Instructions
Preheat oven to 350 degrees. Grease a 9 inch pie pan.
To make the crust: In a large bowl, combine flours, salt, and sugar. Cut in butter and shortening until coarse crumbs are formed. Mix in sour cream and lemon juice. Keep mixing the dough until a dough forms into a ball, dough be slightly lumpy and that's okay. Wrap dough in plastic wrap and store in fridge and chill for 1 hour.
Once chilled, take dough out of fridge and cut in half, keeping one half covered and in the fridge.
Roll dough to 1/8 inch and lift into pie shell, trimming overhang of pie crust edges.
To make the filling: Place sliced apples into a large bowl. In a small bowl, combine sugar, flour, nutmeg, cinnamon, and allspice. Sprinkle the mixture over the apples and gently toss with a fork. Pour apples into prepared pie plate and pour lemon juice over the top of the apple slices.
Roll the remaining pie crust out. Brush outer crust with beaten egg and place the top crust over the apples/ Crimp pie shell and edges together. Brush entire pie with egg wash and sprinkle lightly with sanding sugar. Cut 4 slits into the middle of the pie crust to allow steam to escape and bake in the oven for 45 minutes, or until golden brown. Allow pie to cool completely before serving and serve with whipped cream or ice cream.
Nutrition Information:
Yield:

9
Serving Size:

1
Amount Per Serving:
Calories:

471
Total Fat:

27g
Saturated Fat:

15g
Trans Fat:

0g
Unsaturated Fat:

10g
Cholesterol:

81mg
Sodium:

144mg
Carbohydrates:

53g
Fiber:

4g
Sugar:

23g
Protein:

5g
Nutrition information isn't always accurate.